Up close with China's elderly "red band volunteers"
Mr. Tan and Mr. Li, Beijing retirees in their 60s and 70s, are best friends who enjoy getting together on the weekend to protect the neighborhood.
Each Sunday afternoon shift brings forth new challenges for the two men, who've been watching their slice of Chaoyangmennei Street for more than 10 years, seated at a sidewalk station with a flag and two folding chairs. There's foot traffic to direct, lost tourists to set straight, passing neighbors who might linger awhile and chat, and—Tan beats his chest proudly as he says this—the opportunity to be the eyes on the ground, the front-line witness and reporter of any wrongdoing, suspicious activity, or public safety incident to the local police.
"As residents of this community, it's up to us to unite together and protect our homeland," says Tan, referring to not only himself and Li but around 200 neighbors, mostly fellow retirees, whom he claims to have beaten out for the coveted Sunday slot in the zhiyuanzhe (volunteer) program run by the Chaonei Toutiao residential community. Nationwide, the China Volunteer Service Federation (CVSF) claims to have 4 million volunteers registered on their online recruitment platform. The actual total population may be much bigger, as this number does not include volunteers recruited offline from the neighborhood, nor all the independent outings organized by companies, schools, party committees, and military units to fulfill a community service requirement or build team rapport.
Volunteers registered with the CVSF include university students, stay-at-home parents, and retirees alike, and duties range from clearing trash in the subway to reading to elderly neighbors. The group that has come to define the concept in the public eye, however, are "community volunteers," groups of (usually elderly) residents connected to local party committees or community service centers, who visibly gather in the street and sport red armbands in the line of duty. In Beijing alone, according to the Department of Civil Affairs, there are over 1.6 million such volunteers registered as of the end of last year, organized into around 15,000 teams, many with self-chosen nicknames like the "Sunshine Persuasion Corps" or "Old Pioneers." According to the AFP, around 85,000 of these individuals were registered specifically for public security duties as of this summer, working in tandem with the public security bureau and urban management officers (chengguan).
While some, like Li and Tan, work on weekly rotation, October's 19th CPC National Congress, like all major national events, was an occasion for these volunteers to come to the fore in the lives of urban residents—and the media. The state propaganda machine had been busy spinning the mobilization as a means to "reinforce ordinary people's sense of happiness and gain" in line with the objectives of the congress, to quote party newspaper Guangming Daily. AFP, however, interpreted the deployment of volunteers alongside increased subway security and uniformed guards in the street as a "comprehensive security apparatus" and "a reminder of the scrutiny that the Communist authorities maintain over citizens."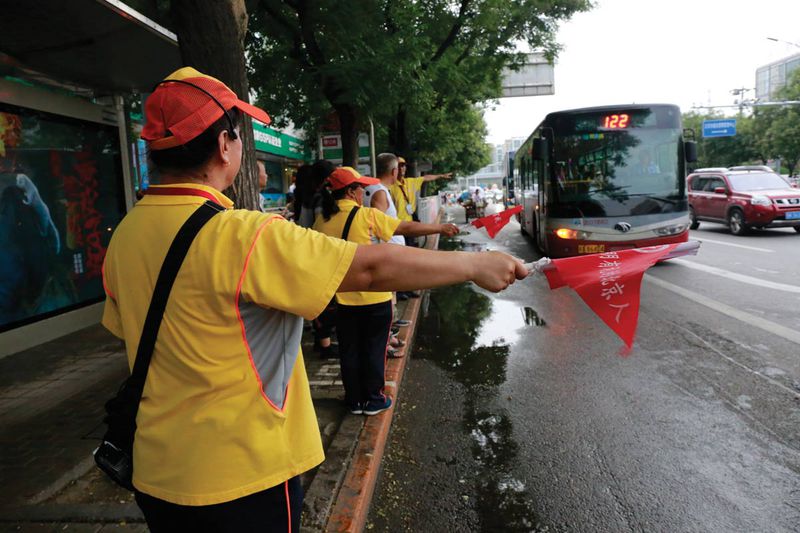 The volunteers don't necessarily agree with the comparison. Tan describes their work as a "convenience" for people, while a fellow volunteer surnamed Ma, whose station is inside the gate of her compound, sees them as a better alternative to security guards: "I know everyone here; I know where to send package deliveries. Everyone who volunteers is a member of this community, so they're really serving one another."
The collusion between volunteers and public security forces also varies by place. At the community service center of Donghuashi Beili Dongqu, a relatively affluent Beijing neighborhood, residents' council director Ma Lin tells TWOC that most of his community volunteers don't go on neighborhood watches but instead work behind the scenes: inspecting tower blocks for trash, checking up on seniors who live alone, and disseminating awareness of issues like health care or fire safety. Meanwhile, compared to the more sedentary volunteers in the well-located Chaonei Toutiao, neighborhood watchers in the suburbs or smaller cities may walk their beats, actively seeking out lawbreakers such as illegal vendors and loiterers.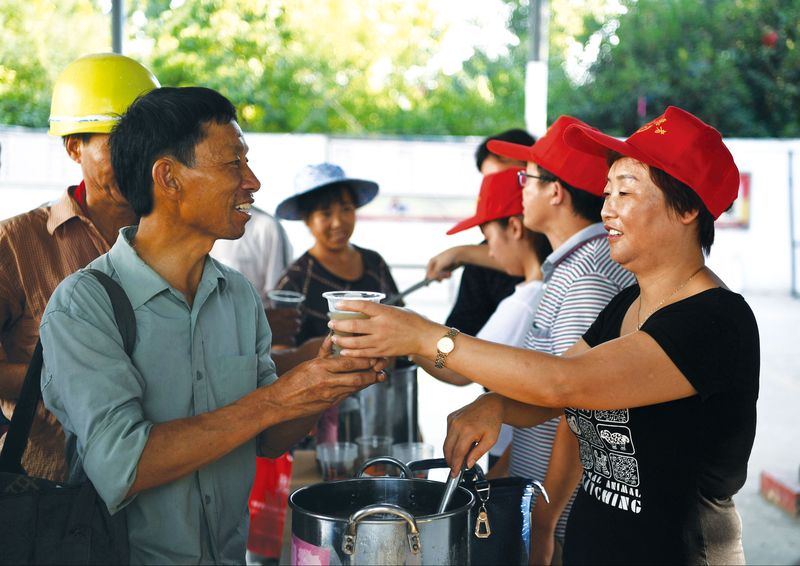 Yet the notion of volunteers as part of a state "apparatus" isn't far-fetched. Director Ma Lin reveals to TWOC that individuals like Tan and his neighbors—truly voluntary workers who simply walk in to offer their services—are a rarity in the country.
"We put up notices to recruit volunteers, but few sign up; a lot of people are afraid being locked into a commitment," Ma says. Instead, for events like the party congresses, local party committees often end up "calling up" party members in order to get all hands on deck. One local volunteer, directing traffic at a bus stop, told TWOC the quickest way to find a volunteer opportunity is not by looking for community or online programs, but simply speaking to one's "unit leader."
According to Ma, another reason ordinary people are reluctant to participate in volunteer programs is that China currently lacks legal protections for volunteers, and volunteers themselves are liable for any injury or property damage they incur in the line of duty. Media reports about seniors falling and breaking bones after a long day at work—or the case of Huang Kai, the 2008 Wenchuan Earthquake volunteer who suffered a car crash en route to the disaster area, and whose his hospital fees plunged his family into poverty—deter residents from signing up (or letting their elderly parents do so).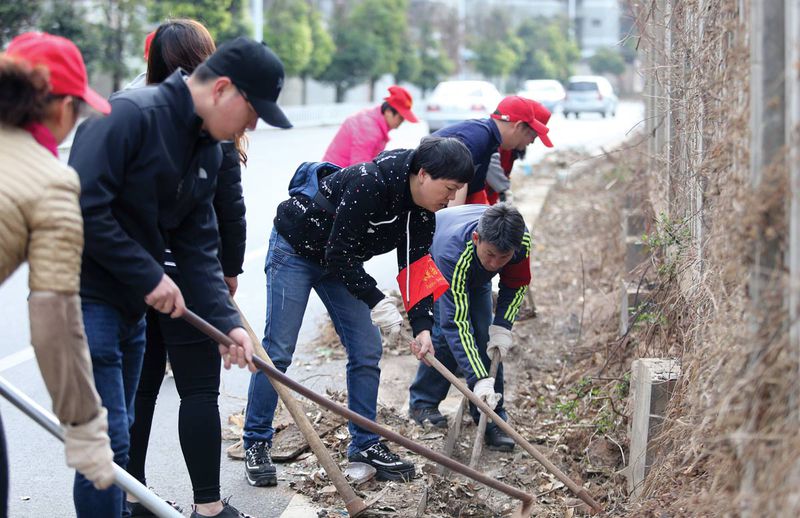 "Chinese society has not yet become conscientious about volunteering," Ma says. As of yet, in spite of the risks, the only benefits that most volunteers receive from his community center are enrichment events like an annual Lunar New Year party or music lessons. Then again, Tan says, "it beats sitting at home."
---
Armband Army is a story from our issue, "Cloud Country." To read the entire issue, become a subscriber and receive the full magazine. Alternatively, you can purchase the digital version from the App Store.
---