Last weekend's Wuhan Marathon was the latest in China's "marathon mania"
The brave new world of Chinese marathon-running continued its record-breaking growth last Sunday at the second annual Dongfeng Renault Wuhan Marathon (or "Hanma," as the kids are calling it), when 22,000 runners slogged through a steady drizzle past Wuhan's most well-known landmarks for cardiovascular health, classy recreation, and that sweet endorphin rush.
With a record 122,371 runners (link in Chinese) having applied to enter when registration opened last December—with almost 60,000 applying just on the first day (link in Chinese)—it's double last year's number of 61,378 applicants, or around 20,000 on the first day.
Several entrants had competed three weeks earlier at the Chongqing Marathon ("Chongma"), which also saw a record of around 70,000 applicants for 30,000 spots, which includes the full marathon, half-marathon, and a 5K "mini-marathon." In all, according to China Daily, China's "marathon fever" led to 2.8 million people participating in 328 marathons in China in 2016, an 85 percent increase from 2015, and around 25 times the number of marathons held in 2010.
The numbers of Chinese runners in international marathons are also increasing, with 150 Chinese entrants at the London Marathon in 2016, compared with 29 in 2015.
China Daily attributes China's new marathon craze to the combined result of "fitness, fad, and finance," noting that it has become a "new cool" especially among the young and the middle class. The low barriers for participation in distance running—little need for specialized skill, equipment, and training venue—make it the ideal sport to satisfy the masses' new appreciation for health and recreation. Though the Beijing Marathon, which first started in 1981, has been open to amateur runners since 1998, the explosion of interest is a recent one owing to the nation's rising GDP, which has been linked to demand for sports and fitness.
Another of China Daily's many reports on the phenomenon quotes Tian Tongsheng, a 63-year-old Chinese distance-running celebrity who completed the "marathon grand slam" (defined as running a full marathon on seven continents and the North Pole), in describing a Chinese team he led at the 2016 London Marathon as "corporate executives, entrepreneurs, businessmen, employees from global Fortune 500, who are considered as China's emerging middle class and usually hold a new perception of health. Running a marathon to them has become a 'new normal' and a new lifestyle."
The financial aspects come with the numerous corporate sponsors attracted by each marathon, especially the honor to have the marathon branded in their name. Generally, the corporation that headlines a city's marathon is a homegrown enterprise—the Dongfeng Motor Corporation, for instance, is one of China's "big three" automakers, founded in Hubei province and has be headquartered in the provincial capital of Wuhan since 2003. Other companies promote themselves by entering teams of employees in the race.
For city officials, hosting marathons are also a boost to local tourism and a chance to bring publicity to their city. Organizers report that around 60 percent of entrants at this year's "Chongma" were from out-of-town with "increasing" numbers from other countries (including the top-three finishers of both the men and women's races). Routes are designed, with the help of loops and switchbacks, to take runners past the city's best attractions: Wuhan's started in the old foreign concession and covered the Yangtze River Bridge, the 1911 Wuchang Uprising site, and the East Lake. The annual Beijing Marathon ("Beima") in September starts at Tiananmen Square and circles most of the old city before finishing at the Bird's Nest Stadium.
Marathon mania doesn't come without problems: A race in Qingyuan, Guangdong saw over 12,000 cases of injury (including the same people treated multiple times) in March, 2016, including 17 people who were hospitalized. Following this incident, international media accused Beijing of "pushing too fast" (though it's unclear what they were said to be pushing); the local paper reported (in Chinese) the cause as organizers' neglect to provide proper equipment such as towels, giving out a "bar of soap that looked like food," and not vetting the applicants properly, which led to a large number of improperly trained first-timers joining the race. A survey of 10,000 runners from running site Iranshao.com concluded that six out of seven runners have had injuries related to running, likely due to lack of injury-prevention awareness.
Perhaps this was why the "Hanma" carefully cultivated an individualistic and non-competitive vibe: under the slogan "Make Your Own Style," runners were welcome to race in costume, live stream themselves racing with selfie stick in hand, and stop for photo ops at various landmarks and distance markers on the way. Spectators were encouraged to turn out and cheer in large numbers to show the "friendliness" of Wuhan residents.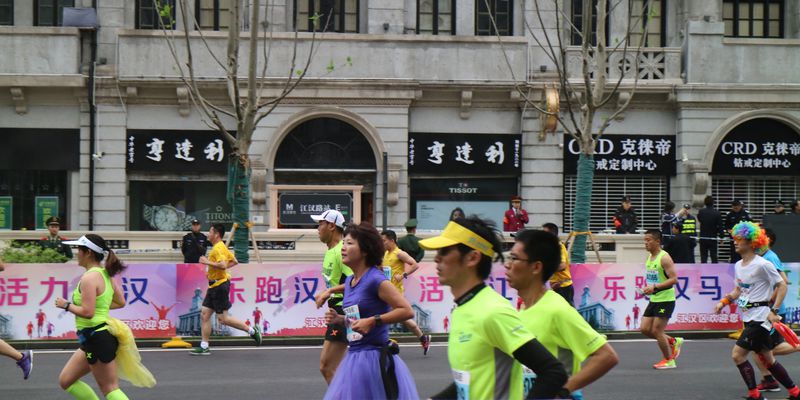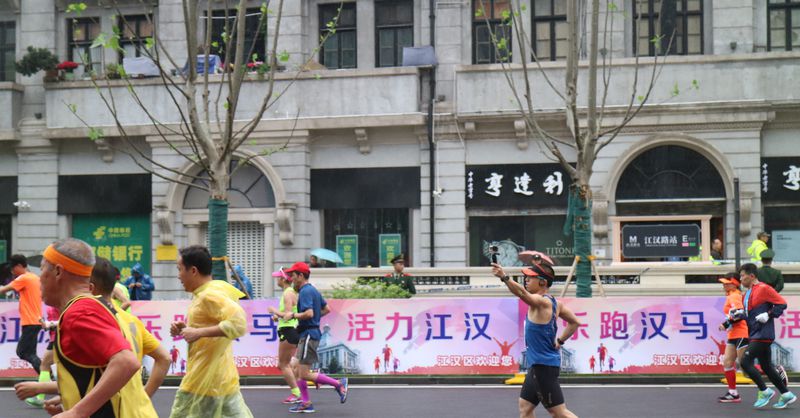 For those who made it through the weekend's race without incident, their times may also help them qualify for the country's oldest and biggest marathon event of all, the "Beima" held in September in the nation's capital. Due to over-subscription, registration is no longer on a first-come, first-served basis, and there is instead an application process based on the runner's previous achievements and other criteria. There, they could potentially face the challenge of (literally) their lives: racing 42 kilometers in smog.
Photos by Hatty Liu
---