Indie farce offers a historical study in modern corruption
Based on their stage play of the same name, Zhou Shen and Liu Lu's no-frills hit Mr. Donkey (《驴得水》) is not just a smoldering critique of corruption within modern society. It may represent a precedent for homegrown comedies to match, and in some cases outstrip, their Hollywood counterparts.
While Hollywood hits like Logan, Arrival, and Resident Evil have dominated the Chinese box office this year—nine of the 10 top-grossing hits of 2017 so far have been Hollywood productions—the film market has undergone several changes over the past few years. These have included the sleeper success of nonstate-backed Chinese films such as Lost in Thailand (《泰囧》, 2013) and The Mermaid (《美人鱼》, 2016), which raked in 208 million USD and 553 million USD respectively, and gave hopes to the country's stagnating film industry (The Mermaid, Stephen Chow's environmentalist comedy epic, still holds the number-one gross earnings spot, above Furious 7).
Enter Zhou and Liu's Mr. Donkey, a low-budget look into the human and emotional roots of corruption that quickly exploded into the market, earning rave reviews from critics and audiences alike. The film's dark humor, punchy delivery, and witty script quickly made it last year's highest-rated movie on China's IMBD equivalent Douban, garnering an impressive 8.3 out of 10. Its success has prompted a revival of the original play, most recently in Beijing in April, as well as interest in the commercial possibilities of independent film.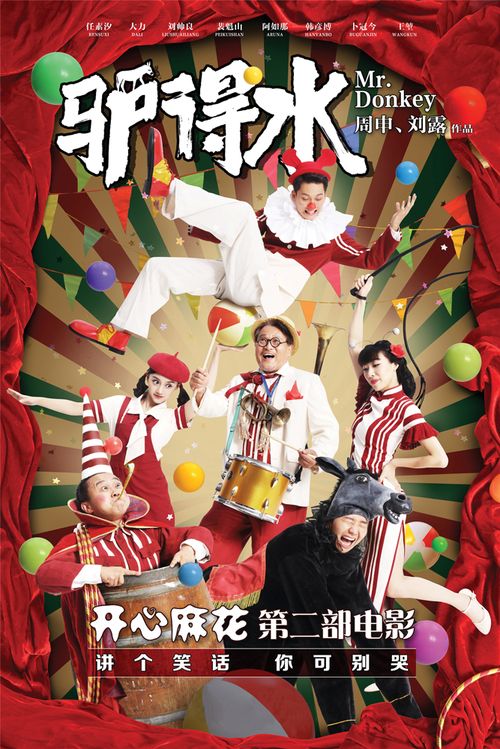 Recently, the greatest upsets in the industry have not come from massive productions going head-to-head, but low budget New Wave directors going gold: the serial killer thriller Black Coal, Thin Ice (《白日烟火》, 2014) garnered both awards (including a Golden Bear) and commercial success internationally and at home, while Jia Zhangke's A Touch of Sin (《天注定》, 2013) was widely admired in China, despite never being approved for domestic box-office consumption. Meanwhile Zhang Yimou's sci-fi fantasy opera The Great Wall (《长城》), replete with 3D visuals and a ponytailed Matt Damon, was so widely panned that People's Daily claimed that reviewers' negative criticisms were causing "serious harm to the Chinese film environment."
Initially written for film, directors Zhou and Liu were found to adapt the script for Mr. Donkey for the stage due to lack of money, then turned it back into a screenplay after a successful theatrical run. The film is set in 1942 in a remote rural village in China. There, a school administration team is struggling to find funding, as their school is defunct and bereft of students.
In the first act, they find a potential saving grace: by naming the titular pack beast, which brings them water daily, as an English teacher, the protagonists are able to procure additional funding. But they are inevitably drawn, too, into a web of lies and deceit. The farce thickens when a government administrator decides to pay a visit, forcing the teachers to see their improvised plan (and own foibles) to the bitter end: One teacher has digestion problems, another is hot-tempered, the dean is trying to raise a daughter, while their solution is dress up an illiterate local coppersmith—who can speak Mongolian—to play the "English teacher."
The second act sees the unraveling of these characters and their lives, and the plot quickly sheds its comedic nature, as each character becomes a study of identity and greed under duress. The government official, too, has his own bad habits, in this case "the optimal allocation of resources," namely taking backhanders.
While classified as a comedy, the movie is a not-so-subtle look at how rational acts of self-interest can quickly become absurd, especially when looking at how the film portrays government and modern society. The directors are able to get away with such scathing critiques of greed and corruption by presenting its present-day commentary in a historical setting, in this case the Republic of China.
Regulations in the Chinese film market have limited foreign imports in order to boost Chinese films' rankings. But the fact that smaller productions that eschew the cookie-cutter mainstream culture are slugging it out with American and Chinese films for the top-earner spot is a testament to the strength and progress of China's domestic talents.
While Mr. Donkey is an independent film, its message has resonated with such magnitude it has shot to instant fame. It is a relevant and timely commentary on the concerns of the everyman and woman, especially regarding corruption and the individual's place within the rule of law. The conversation it started should not be ignored.
---
Movie Quotes
After helping to convince the inspector of his English teaching bona fides, the coppersmith feels slighted and betrayed by the scheming teachers. He returns to give a speech about the value of education and dignity
I remember the first time I arrived at the school, the headmaster told me, "Education for all without discrimination," everyone should be educated.
Wǒ jìde wǒ dì yī cì láidào zhège xuéxiào shí, xiàozhǎng gàosù wǒ, yǒu jiào wú lèi, rénrén dōu yīnggāi jiēshòu jiāoyù.
我记得我第一次来到这个学校时,校长告诉我,有教无类,人人都应该接受教育。
I also met a coppersmith here once, who did his part with honesty. But just because he hadn't been educated growing up, he was looked down upon, bullied, and used, after which he was scolded to his face.
Wǒ yě céngjīng jiànguo zhèli de yí ge tóngjiàng, tā hěn běnfen, kě jiùshi yīnwèi cóng xiǎo méi shòu guò jiàoyù, jiù bèi rén kànbuqǐ, bèi rén qīfu, bèi rén lìyòng, bèi rén lìyòng wán le, hái zhǐzhe bízi mà.
我也曾经见过这里的一个铜匠,他很本分,可就是因为从小没受过教育,就被人看不起,被人欺负,被人利用,被人利用完了,还指着鼻子骂。
I hope his children won't suffer like him. So this money should be used for education; I won't take a cent.
Wǒ xīwàng tā de hòudài búyào xiàng tā yíyàng, suǒyǐ zhè bǐ qián jiù yīnggāi yòng zài jiāoyù shang, wǒ yì fèn dōu búyào 。
我希望他的后代不要像他一样,所以这笔钱就应该用在教育上,我一分都不要。
---
Mr. Donkey is a story from our issue, "Wheel Life China." To read the entire issue, become a subscriber and receive the full magazine. Alternatively, you can purchase the digital version from the App Store.
---