It's a lot more than just Friends and The Big Bang Theory on China's streaming platforms
Chinese TV fans got another rude shock this month, when popular foreign shows were suddenly yanked off two top video-sharing websites, part of a government move to "standardize" online films and programs.
Bilibili, which boasts more than 150 million active users, elected to remove not only most of its foreign shows, including American, British, and Thai programming, but even categories such as "American drama" or "BBC" that had long existed on the site. Chen Rui, the site's executive director, told The Paper that the removals were a pre-emptive act of "self-censorship," after a month or two of which they will restore all approved content (anything not approved is gone for good).
AcFun, another popular video-sharing website, has also removed most of its foreign films and TV shows.
But in the meantime, there's still a smorgasbord of foreign shows being streamed and downloaded in China, legally or not. Here's a list of top-ranked English-language shows on different platform where they're still hosted—for now.
Sohu 搜狐
Sohu ranks its shows by number of weekly views. By this metric, Prison Break is its most popular show–Season 1, Season 2, Season 4, and Season 3 take first, second, third, and eighth places respectively. Sitcoms are also beloved: The Big Bang Theory, Friends, and 2 Broke Girls all occupy popular places. Also on the list are The Strain and The Vampire Diaries.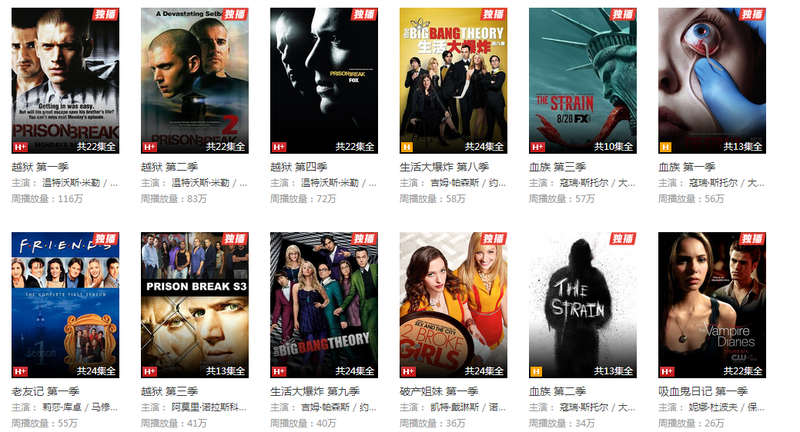 When it comes to British shows, Agatha Christie: Poirot is a favorite: No.1 place goes to the The ABC Murders (1992), with A Murder in Mesopotamia (2001) in third place (non-Belgian-detective drama Street Fighter: Resurrection comes in second). The business biopic Mr. Selfridge Seasons 1, 4, 3, and 2 respectively take the fourth,  fifth, sixth, and ninth places. Two seasons of Mad Dogs occupies the seventh and eighth spots. Trailers for Black Mirror and Sherlock come in next, indicating the the huge popularity of these two shows. Also on the list is the five-episode tourist show Welcome to London, made for the 2012 London Olympic Games.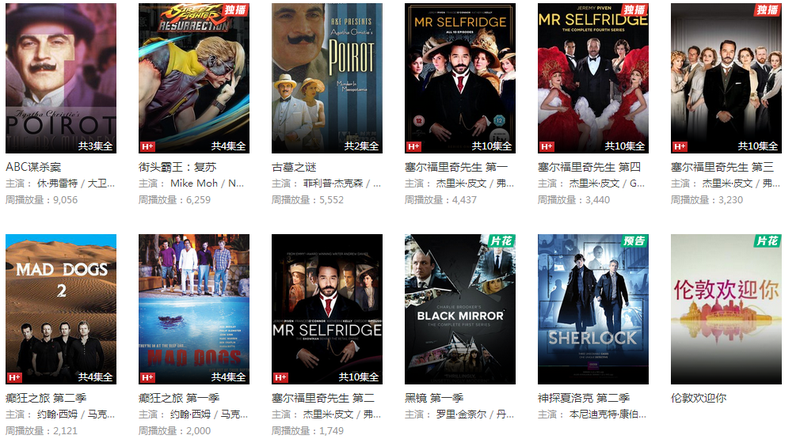 iQiyi 爱奇艺:
The web platform doesn't explain the results of their "hottest shows" rankings, but, compared to Sohu, iQiyi's top shows are more varied in genre. This Is Us, a drama about family life produced by NBC, comes in first, followed by Grandfathered, Billions, Lost Girl (Season 1 and 2), Second Chance, Blacklist, Stitchers, Powers, and Person of Interest.

As for Brit lovers, there is only one show available on this platform—recent Christie remake And Then There Were None. At least it appears iQiyi viewers also love cozy crime.
Youku优酷
On Youku there is a straightforward list based on accumulated views, and the shows are more in line with what is also popular with young audiences in the US. For American drama, the top ten places are split between five shows: Agents of S.H.I.E.L.D, The Flash, Arrow, 2 Broke Girls, and The Vampire Diaries.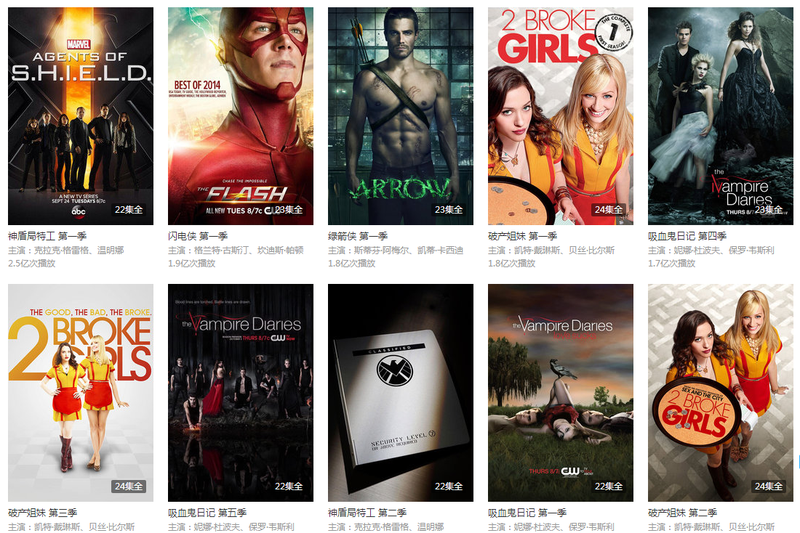 As for Youku's British shows, there are Sherlock and Downton Abbey, with eight positions on the top 10 conquered by those two hits. The No.1 spot is occupied by the iconic British character Mr. Bean. Modern spy classic The Night Manager is No.7.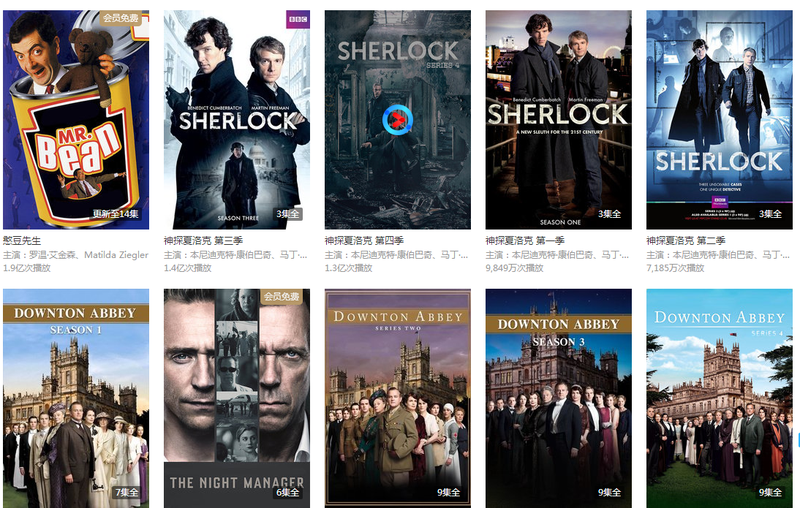 According to the most-recent list of shows, Under the Dome is the most viewed American show this week, and Mr. Bean is still the champion of British shows.
Tencent 腾讯:
Tencent's rankings seem to be based on reviewers' ratings, and reflect the critical esteem of US viewers too.
When it comes to American dramas, the top 10 best-rated dramas are Game of Thrones and Modern Family, with Season 4 of Thrones achieving the highest with 9.7 out of 10. These two dominate the list, until the 12th position, which is filled by the final (and arguably, weakest) season of The Wire.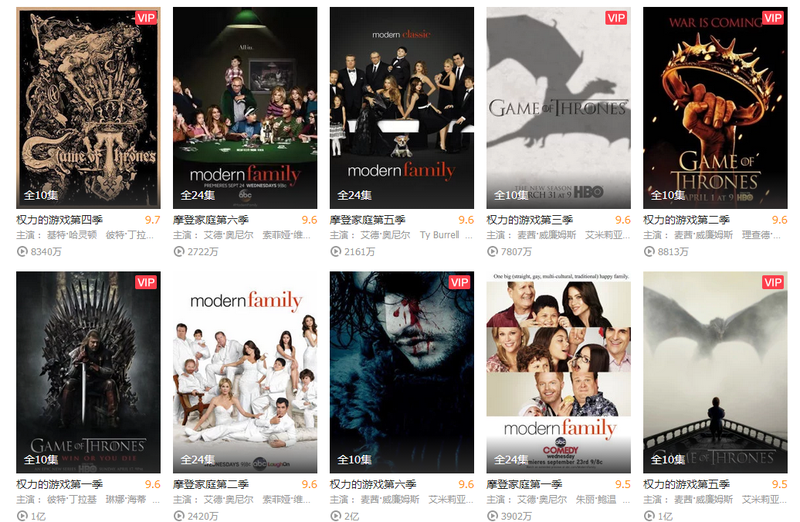 The fourth season of sitcom The IT Crowd gets the highest rating category in the Brit category, followed by The End of Time: Part Two, a Doctor Who Christmas special. Endeavour, Poirot, and Miranda come next; The Village and Accused are also on the list.
PPTV 聚力视频:
On PPTV the top five American shows, as rated by viewers, are Season 3 and Season 2 of Fringe, Season 1 of 2 Broke Girls, and finally, Season 2 and Season 1 of Suits.
The site's own rankings based on "popularity" (no detail given on how this is calculated) show that the top 5 are Agents of S.H.I.E.L.D (Season 1 in first place and Season 2 in third), Season 11 of Criminal Minds (second place), Season 1 of Fringe (fourth place), and Season 1 of 2 Broke Girls (fifth place).

No British shows can be found on PPTV, even though the site has a dedicated  "British" category. The existence and popularity of these shows was correct at the time of publication—but may change or vanish with no explanation at any moment.
Cover image from igo99.cn
---