Stabbing in Beijing, new hot couple, WeChat updates, and face tech
The Viral Week That Was is our weekly round-up of the previous week's trending memes, humor, rumor, gossip, and everything else Chinese netizens are chatting about. Think of this as a nicotine patch to help ease yourself into the week after suckling on the smokey teat of the weekend.
Stabbing in Beijing
On Sunday, a man armed with a knife went on attack at Xidan Joy City mall in Beijing, killing one woman and harming 12 others.
The suspect, a 35 year-old man from Henan province, was arrested at the scene of the crime and taken away by the police. It is reported that the man's motives were "anger" and "personal grievances."
According to reports, the attack started at around 1 p.m. inside a restaurant. Videos and pictures of the incident quickly spread on WeChat and Weibo, though many are now inaccessible.
This video of the alleged attacker at the Joy City mall today is now making its rounds on WeChat https://t.co/FLmTZQ7mW9 pic.twitter.com/eyWRvA8TOJ

— Manya Koetse (@manyapan) February 11, 2018
New Couple On Top
Meanwhile, in the more gossip-laden sections of Weibo, the most liked/commented/seen post of the last week consisted of two sentences.
Han Geng , former Super Junior member and current Chinese actor/singer/reality TV participant, announced both his birthday and new girlfriend to fans.
The female in question is American actress Celina Jade, who made her name as Shado in the CW TV series Arrow (she was also in Wolf Warrior 2).
Fans were quick to add their congratulations to the thread, both for the birthday and for the relationship.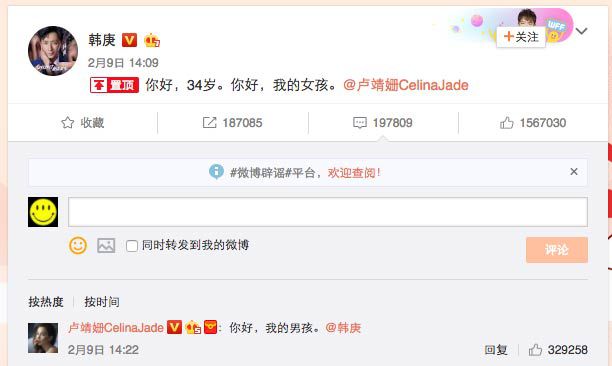 WeChat Updates Game and Accounts
After the popularity of Tiao Yi Tiao, the WeChat mini game that made its debut at the end of last year, WeChat has now updated the game to encourage more competition.
Previously, users could only compare scores, with bragging rights going to those who manage the most points within a given week. Now, the app has made it possible to play together.
Up to 10 players can be added to a single run, in which users take turns to make jumps. Those who fail will be forced out and made to watch, while others continue until there is only one player standing.
Meanwhile, WeChat has now made it possible to edit articles posted from official accounts.
However, in an effort to not encourage negligent posting, each post are allowed a maximum of five changes, which do not include changes made to feature images and abstract.
Speaking of official accounts, previously, individuals could register up to five official accounts, while organisations could have 50. The app has now changed those numbers to two and five, respectively. It is still possible to open up more, but a lengthy and complicated approval process will deter many considering.
Police Scanning Faces
Police in Zhengzhou are the first wave of police officers trying out facial recognition technology to fight crime.
Armed with the latest in eyewear, these police officers will be scanning faces during the travel rushes of Spring Festival. The glasses are connected to a database of wanted criminals and will scan faces for matches.
Unfortunately for privacy advocates, any concern over private data may  fall on deaf ears. In recent years, China has implemented many systems that use face recognition without much resistance from the public.
And while it may be useful, let's not forget that facial recognition technology is not flawless.
Cover image from SCMP
---