From Boston to New York to California, Chinatown bus lines battle stereotypes and create a lifeline between Chinese-American communities
Saturday, 5:27 p.m.
North Quincy T Stop, Boston, MA
"Hello? I'm calling from Coach Run Bus, I just want to make sure you come to take the bus, or no? We are located in the parking lot near the McDonald's entrance. You have three minutes."
The bus attendant, a woman in her mid-20s, does a head count, clicking her ballpoint pen intermittently. The driver returns from his cigarette break. He clips in his seatbelt, closes the door, and the engine purrs to life.
The bus lurches from the parking lot, out onto the I-95 highway for the 215-mile journey ahead.
It was along this route, between Boston and New York City, that curbside intercity bus travel was born two decades ago. Now a multi-million-dollar industry transporting tens of millions across the United States every year, the first service took New York Chinese garment workers to visit their children attending colleges in Boston. Nicknamed "Chinatown buses" due to their popular pick-up locations in Chinese communities, these bus lines pick up at hundreds of stops on the East and West Coast, sustaining family ties, transporting workers to jobs, and connecting individuals with services in urban centers.
From the center of Manhattan to truck stops in the Deep South and diners in the southwest desert, Chinese communities in America are linked by veins of gasoline and steel.
Saturday, 9:45 p.m.
Manhattan Chinatown, NYC
Half-hour before our scheduled arrival, we are crossing the bridge into Manhattan, approaching New York's glittering skyline. The bus drops off on the bustling corner of Canal Street and Chrystie Street, the epicenter of Manhattan Chinatown. This is the Fertile Crescent of long-distance buses; in this one-mile stretch, there are at least seven bus companies that whisk passengers across the country every half-hour.
The scenes are similar: A white coach pulls up at a storefront, which doubles as a ticket office and waiting room. Passengers throw their luggage unassisted into a compartment on the side of the bus and are waved onboard.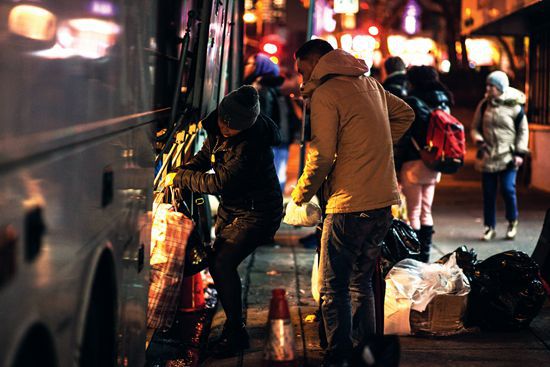 I pause in front of 139 Canal Street, the historic former storefront of Fung Wah Bus. The first-ever curbside intercity bus company, Fung Wah was built from the ground up by the chain-smoking erhu musician and father of two, Peilin Liang.
Liang left Zhuhai, Guangdong, for New York City in 1988. For nine years, he bused tables, delivered for a noodle factory, and shuttled garment workers in a van between Brooklyn and Manhattan. In 1997, Liang borrowed 60,000 USD from family members to start his own company.
"Some people start restaurants," Liang told The New York Times in 2004, "I started a van service." Fung Wah Transportation Co. began with just four vans.
When passengers chatting with Liang told him that they wished to visit their children at college, Liang bought a permit to carry passengers on federal highways. In 1988, Liang organized his first intercity trip between New York and Boston for 40 USD roundtrip, half the price of other bus companies. Liang emphasized, "I really wanted to provide a service to people who don't speak English."
In one month, Liang increased his service from one trip per day to three. Over several years, vans became minibuses, and then 57-passenger coaches. Liang regularly pulled 15-hour days driving buses and running operations while his wife ran the ticket booth from 6:30 a.m. to 10 p.m.
It was precarious business. Liang paid bus drivers 100 USD each round trip, which could take eight to 10 hours of driving, averaging to about 11 USD per hour. It cost 700 USD more to cover the tolls, fuel, maintenance, and insurance per round trip. If the 57-passenger bus was full, Liang made a profit of 340 USD; if it was empty, he lost money. Nevertheless, there was potential to make thousands in one day—and for many years, Liang did.
Other bus companies cropped up on the curbsides of Chinatown almost overnight, expanding routes to Philadelphia, Washington D.C., Atlantic City, and other destinations with large Chinese communities.
For the first few years, marketing usually consisted of a ticketing agent standing on a curb with a handheld sign. This changed in 2002, when software developer Xiangping "Jimmy" Chen launched GotoBus.com, an online sales platform for Chinatown bus companies. Itineraries were listed in English, and the prices did their own talking. College students, cash-strapped travelers, and travel bloggers descended upon the buses like a divine revelation.
Friday, 3:39 p.m.
South Station, Boston, MA
At Terminal 24 of Boston South Station, Mrs. Yu chats to me between departures and arrivals. With an easy smile, she tells me that she left Taishan, Guangdong, in 1991, and began working in a sporting goods factory in South Boston. When that closed, her husband found an advertisement in a Chinese-language newspaper, and Mrs. Yu began working as a full-time attendant for Lucky Star Bus in 2006.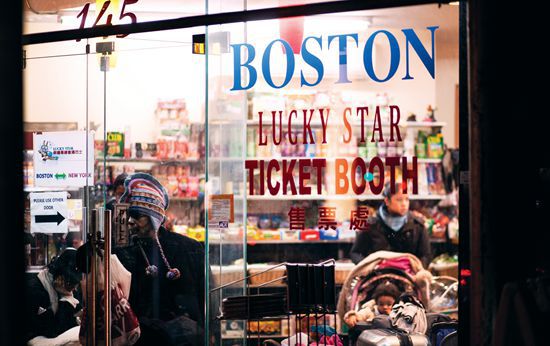 Back then, tickets were 15 USD one way. "The lines were always so long, there was no time for me to sit!" she exclaims.
As more Chinatown companies entered the market in the mid-2000s, competition reached fever pitch on the original Boston-New York route. In what became known as the "fare wars," tickets dropped as low as 10 USD each way, with companies sometimes operating at a loss to continue their services. Between 1997 and 2007, Chinatown buses attracted 7 million annual riders across the Northeast United States, taking 60 percent of Greyhound's market share in the region.
It wasn't long before the stalwarts of the American transportation industry began to take notice. International bus companies did what they could to cut down on competition, often miring Chinatown buses in bureaucracy and protracted legal battles; small immigrant businesses did not have the pocketbooks to fight back.
I had always wondered why Chinatown buses picked up in Boston's South Station bus terminal rather than at a curbside like in other cities.
In 2004, at the behest of lobbyists from Peter Pan and Greyhound Bus Lines, the City of Boston issued 11,000 USD in tickets to Fung Wah and ordered all buses to cease curbside operations, leaving only one terminal for all Chinatown bus companies to share. Peter Pan and Greyhound already controlled nearly all 29 terminals in South Station.
Corporations scrambled to launch their own curbside intercity bus lines modeled after the Chinatown buses. In 2006, international conglomerate Coach USA launched Megabus, advertised as a "no-frills bus service." In 2008, Greyhound and Peter Pan teamed up again to launch BoltBus. Decked out in bright colors, with amenities such as wifi and power outlets, corporate bus lines went for the jugular of the college student and young professional market.
Although it's still one of the larger Chinatown bus companies, Lucky Star is now past its boom era. Tickets never drop below 25 USD each way. On a Friday evening, there is no line at the ticket stand, and the agents sit playing Cantopop on their phones.
"It's very boring," Mrs. Yu says. "People get on, get off, get on, get off—in between you just wait."
Sunday, 8:42 a.m.
Top Care Pharmacy, Flushing, NY
After the Department of Transportation cracked down on curbside pickups, operators rented out their own storefronts and lease them to each other. In smaller cities, the bus picks up wherever contracts can be negotiated. The schedule aggregator Chinatown-Bus.org lists 417 stops spanning 24 states, including Asia Buffet in Chattanooga, Tennessee; Pho Kimmy in Cincinnati, and GreatWall Supermarket in Rockville, Maryland. In North and South Carolina, Burger Kings and Shell gas stations are the most common locations.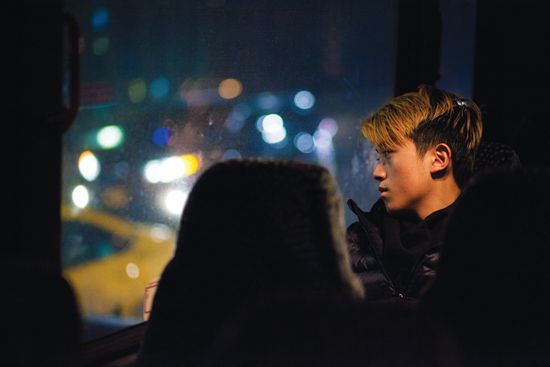 Many of the newer companies differentiate their service by adding stops in small cities or outlying neighborhoods with large Chinese communities, such as here in Flushing, the fastest growing ethnic Chinese enclave in New York City, housing 30,000 Chinese-born individuals.
An elderly Boston woman with a bright blue rolling backpack and a full head of dyed-black curls tells me she came to New York to celebrate her friend's 70th birthday. "We're not young anymore," she laughs in Cantonese-accented Mandarin, revealing a sweet, gap-toothed smile.
"Retirement can get boring," she admits.  For many elderly Chinese, it is easy to feel isolated or cut off from community life, especially in suburban areas. It's the reason why my own grandmother returned to China a decade ago, rather than face the lonely hours when my parents were working and their children at school.
As bus networks expand to more and smaller Chinese ethnic enclaves across the coast, I marvel that a septuagenarian with little English ability has easily traveled hundreds of miles alone simply to have dinner with friends.
Sunday, 1:28 p.m.
PandaNYBus, Manhattan Chinatown, NY
Chinese companies not only connect networks of families and friends, but the resources of larger Chinese communities with those living in smaller towns.
For the migrant laborers dispatched by employment agencies to far-flung jobs in small-town kitchens and nail salons, or for undocumented people who do not have the paperwork to fly, a bus ticket can be literally a ticket out of poverty. Many passengers return to New York to renew their work permits or immigration status. A Chinese street ad near the bus ticket offices, with no English subtitles, lists services rendered on the third floor of a walk-up: "Student visa, 10-year visa, asylum visa, proof of economic status for visa sponsorship, Chinese-English translation, visa extension, work permit, green card, re-entry permit, quick divorce."
In the storefront of PandaNYBus in Manhattan, passengers queue for the 3 o'clock departure to Richmond, VA. Mrs. Lin has come to New York to post clothes to her family in China, gesturing to two gigantic suitcases containing a long list of brands: "Nike shoes, Columbia waterproof jackets." They're cheaper to mail from New York than Richmond for tax reasons. "Nike shoes here can be as low as 30 dollars. In China, people pay up to 1,000 RMB for these shoes!"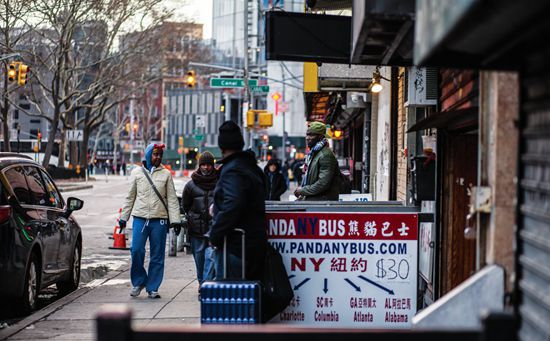 Mrs. Lin tells me that she has worked in Chinese restaurants in Richmond for 17 years. "When I got here, I didn't know a word of English. I started from ABCs. Every morning I watched Channel 10 from 7 to 10, then went to work in the restaurant from 10:30 to 10 at night. I got home 11, had no energy to do anything except watch some TV, call people back home, and go to sleep."
"If you want to make something of yourself in this country, you can't be lazy," she says. "You have to do the work that the white people don't want to do. You need to work harder than white people—if you're lazier than them, who will hire you, right?" I nod tentatively. "In law, we are all equal, but at work, on the street, this is still the white people's country."
I open my mouth to say something, but Mrs. Lin adds with an edge of fierceness to her voice, "But we are here to change our mingyun"—our destiny.
I wonder if Fung Wah founder Liang believes in destiny. After 17 years of building his business into an operation with millions in annual revenue, his fleet was finally bled dry by bureaucracy and big business in 2015.
In 2012, regulators closed 26 Chinatown bus lines for failing to meet safety regulations. In March 2013, the US Department of Transportation ordered Fung Wah to cease operations, citing cracked frames, fraudulent vehicle maintenance records, widespread hours-of-service violations, and failure to test drivers for drugs.
Safety is paramount, of course. But once Fung Wah invested in training and reapplied for its operational license, the application was denied. After spending hundreds of thousands of dollars over 22 months, Fung Wah was finally allowed to return to the road in 2015.
However, by that point its terminal in Boston South Station had been snatched up by other lines. Due to the City of Boston's regulations, as lobbied for by Peter Pan and Greyhound, that was as good as a death sentence—with nowhere to pick up passengers, what was the point of having trained drivers and upgraded fleets? After years of sinking big bucks into lawyers, Liang put his hands up in July 2015, and surrendered his business.
The crackdowns on Chinatown bus lines were driven by media reports on tragic accidents in 2011 and 2012. Yet it is difficult to separate judgments of safety from the public imagination. Chen, the founder of GotoBus, keeps a blog in which he lists news reports of accidents on bus lines across the industry.
In 2011, a Greyhound bus crashed into a truck due to a sleeping driver, and a BoltBus driver was caught driving under the influence. In 2012, four passengers died when a Megabus crashed into a low overpass. In 2013, a BoltBus crashed and slid down an embankment, hospitalizing 14. These companies were not the main targets of politicians rallying around safety, nor asked to cease operations.
When Fung Wah closed, Vice wrote that it "didn't surprise anybody" and published a collection of Chinatown bus line stories with pithy titles, such as "River of Shit" and "Chickens and Mystery Passengers." It was, however, on a Canadian Greyhound bus in 2008 that a man was literally beheaded and cannibalized onboard.
As scholars Nicholas J. Klein and Andrew Zitcer write, "Buses serve as moving articulations, containers for passengers' perceptions of Chinatown." Rumors and exotic fantasies encircle Chinatown buses like a thick fog, but for America's Chinese community, they serve real, unmet needs.
As Mrs. Yun and I chatted, a lithe-looking man, perhaps in his late 30s or early 40s, dashed in and out the depot, dropping off grocery bags. There were now ten. "They're hot pot ingredients," the man says, smiling. "I'm a big eater." In Richmond, the ingredients "don't have the lu flavor that Guangdong people like so much."
Two men wheel a cardboard box in on a dolly into the ticket office: "205 hinged lid containers," the box says—they are the styrofoam boxes used for takeout. The box is placed next to another that reads "Pacific Dream Seafood, live Dungeness crab."
The next morning, those boxes could be in Jacksonville, North Carolina, or Youngstown, Ohio, along with the riders whose fresh memories of 70th birthday parties and grandchildren ring in their ears. And as they pull away en route to the next community, another Chinese immigrant will come aboard holding empty suitcases and full grocery bags, trying to find a comfortable position to sleep.
Photography by Tina Xu
---
Chinatown Express is a story from our issue, "The Noughty Nineties." To read the entire issue, become a subscriber and receive the full magazine. Alternatively, you can purchase the digital version from the App Store.
---