Beijing exhibition gives digital makeover to ancient Chinese culture
Taking an elevator in a dark "database"; scanning QR codes to create a virtual world; getting a custom photo taken in front of an electronic screen—all of these experiences can be had at the Asia Digital Art Exhibition, which runs from May 16 to June 15 at No. 6, Chuangye Road in Beijing's Haidian District.
Part of the state's Conference on Dialogue of Asian Civilization (CDAC), the exhibition aims to update Chinese and Asian cultural heritage using digital technology.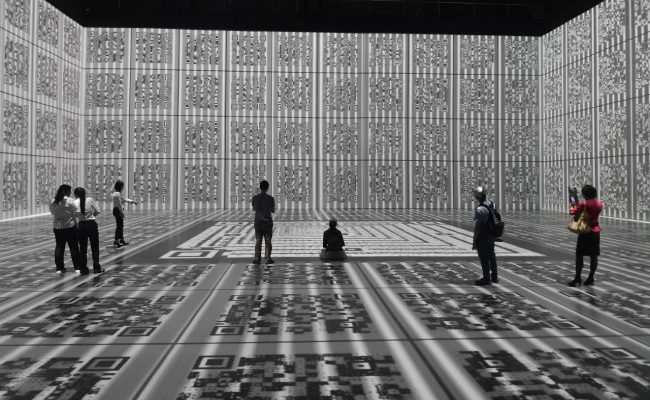 Artists from 12 countries and regions across the world apply videos, photos, maps, and VR technology to create dazzling audio-visual experiences. Digital technologies such as VR and 3D printing are used to present traditional Chinese culture, such as calligraphy, ink painting, opera, and kung fu, in an accessible and immersive way.
The first exhibition inside the venue, "The Character of Characters," is a hand-painted animation inspired by Yuan calligrapher and painter Zhao Mengfu's (赵孟頫) "Guanyuan Shanzhuang." Conceptual artist Xu Bing, vice-president of the Central Academy of Fine Arts, recreates the process of writing Chinese characters on a 16-meters screen, thus capturing the relationship between the stroke order and the formation of a Chinese concept. "The second stroke in Chinese calligraphy builds upon the first…and the last stroke balances out the entire structure," Xu explained to Atron.com, stating that he hoped the exhibition would show the Chinese nation's ability of "grasping the whole" using the parts.
Artists Qiu Zhijie and He Xiaodong are the architects of "Jingdong AI Generated Map," an exhibit attracting long lines of selfie-taking visitors. A map with ink painting characteristics is automatically generated by AI when the audience speaks a city name in front of the screen. As compared to looking at traditional maps, which simply show directions, "By drawing maps, going deep into the details, we can understand the story behind the map," Qiu tells the Beijing Youth Weekly. (The following video shows the author generating a map of Hangzhou).
Another highlight of the exhibition is a series works by Hong Kong-based German artist Tobias Gremmler, which show the artist's perspectives on Chinese calligraphy, opera, and kung fu. Specifically, Gremmler is inspired by the postures and behaviors of the operatic roles, and uses digital media to depict different movements in opera (see video below) and kung fu.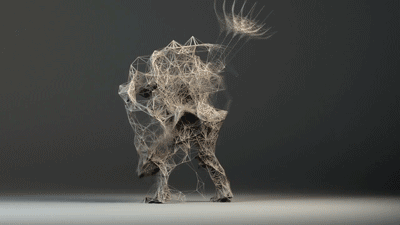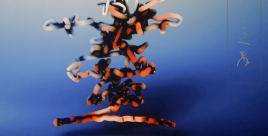 The CDAC is held in response to China's state-level push to strengthen cultural ties among Asian countries, while the exhibition pushes audiences to visualize China's cultural inheritance in a digitalized and modernized way. Even without such political and artistic dressing, though, visitors can enjoy a spectacle for senses, and perhaps come out seeing culture differently—or digitally.
Photographs and videos by Jessica Zhang
---