Celebrate our new issue on Sunday, July 28—with games, prizes, and pianist David Lai
Summer is here—and so is The World of Chinese "Amusement Issue!" Come celebrate with us at our launch party on Sunday, July 28, from 6 p.m. to 8 p.m.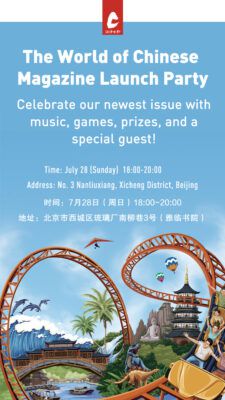 Crayfish taste test
How did this 1930s import from Japan become one of China's most popular summer dishes? And how exactly do you eat it? We demystify these questions with a crayfish taste test!
Q&A and concert with blind pianist, David Lai
This issue includes a feature on blindness in China. David Lai, a recent graduate of the Central Conservatory of Music, will join us for a conversation about his experiences learning the piano, passing the infamous gaokao, and navigating Beijing's subway while visually impaired. He will also give us a special performance!
Post-80s childhood games
China has changed a lot in the last 30 years, but many of our editors still remember fondly the low-tech games they played as children, and want to share them with you. We'll teach you how to play jianzi (毽子), gun tiehuan (滚铁环), zhua shizi (抓石子), and more!
Location: No. 3 Nanliuxiang, Xicheng District, Beijing (inside a traditional siheyuan courtyard)
地点:雅临书院,北京市西城区南柳巷3号
Entrance is free, but we suggest that you purchase magazines and drinks from our lovely venue host as a thank-you!
---