Five Chinese artists battling the Covid-19 outbreak with creativity
In the wake of the Covid-19 outbreak, Chinese artists are battling the virus with their brushstrokes. Whether they're celebrating medical workers, promoting national unity, or playfully interpreting the daily fear of contamination, these five artists have added their work to the "viral" discourse, which we have republished with permission below. 
Duyi Han (@duyi.han, Instagram)
Shanghai-born, US-based artist Duyi Han made headlines in early February with his chapel mural "The Saints Wear White," which honors the dedication and sacrifice of China's front-line medical workers. Images of anonymous medical workers in decontamination suits, masks, and gloves are digitally projected onto the ceiling and walls of a Christian chapel in Hubei province. 
An architecture graduate from Cornell and current creative director of boutique design studio Doesn't Come Out, Han blends the structural frame of a Christian church with murals of contemporary doctors and nurses to striking effect. His work elevates the medical workers to figures of religious significance and evokes a feeling of reverence.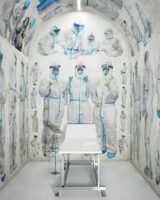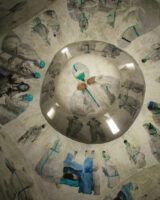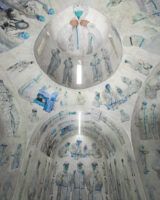 (Images from @duyi.han, Instagram)
In an interview with RADII Media, Han said he created the chapel images "so that we have a subject to put our hope and faith in, and feel emotionally connected with, even if people don't experience it physically yet." He plans to physically paint and open the mural to the public as soon as it is safe to do so. 
Tommy Fung (@surrealhk, Instagram)
Tommy Fung likes to play with reality. Known by his Instagram alias, Surreal HK, Fung is famous for his doctored images of Hong Kong street scenes that he hopes "make people smile." The Covid-19 outbreak hasn't dampened his enthusiasm. 
One of Fung's new photos features a man's head replaced with a tentacled, demogorgon-inspired mouth from the popular Netflix show Stranger Things. The caption reads, "Nowadays when you see someone coughing and not wearing a mask." Another image shows two lovers in space suits with the caption, "You better use protection on this Valentine's day."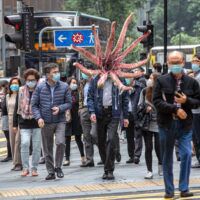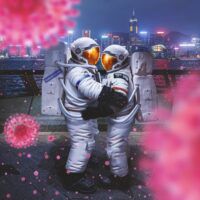 (Images from @surrealhk, Instagram)
Zhang Junjie (@深蓝_深蓝, Weibo)
Artists in China have also been called upon to produce "patriotic" art. "Combat Disease With Art" is a competition organized by the China Academy of Motion Picture Arts and the Beijing International Design Week Organizing Committee with the stated aim of "showing the Chinese people's national spirit of patriotism and unity."
Shanghai-based illustrator Shen Lan, real name Zhang Junjie, has used the competition to raise awareness of the wildlife trading practices which may have played a role in the Covid-19 outbreak. His submission is made up of a series of "wanted" posters for different wild animals suspected of being hosts for the virus. "Blame me?" asks the caption above each animal. Below, there is a description of the different diseases they carry. The final poster shows a human accused of "having selfish, greedy, and hypocritical genes, causes large numbers of animals to go extinct."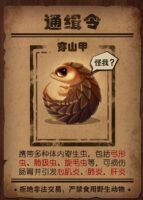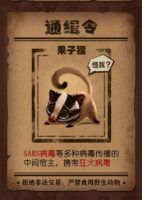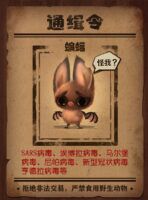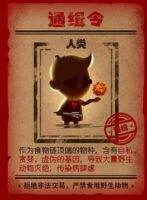 "Wanted" series; pangolin, civet cat, bat, and human (Images from @深蓝_深蓝, Weibo)
He Ping (@依恒CG, Weibo)
Yi Heng, original name He Ping, is a painter and illustrator based in Beijing. His portraits of Wuhan nurses for the "Combat Disease With Art" competition depict the personal determination of the women working to contain the virus. Their eyes look directly into the viewer's, revealing the human behind the mask. 
Of his subjects, Yi Heng wrote on Weibo, "They are experts, doctors, nurses, wives, and daughters. . . At this time, they (all of them) are all soldiers!" His work was featured in a Weibo post by state broadcaster CCTV celebrating medical workers and researchers.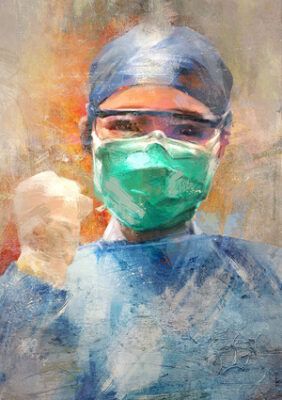 (Image from @依恒CG, Weibo)
Shen Chen (@心境澄明灬沈晨, Weibo)
Shen Chen, a freelance illustrator and game concept artist from Shandong province, is using his talents to champion China's unity in the face of the pandemic, also via the "Combat Disease With Art" competition.
In the image, China's national struggle against the virus is shown through the epic lens of cosmic warfare and chaotic battleground. Respiratory expert Dr. Zhong Nanshan, head of the National Health Commission's Covid-19 investigation team, takes centerstage, driving a death blow to the virus with a giant syringe.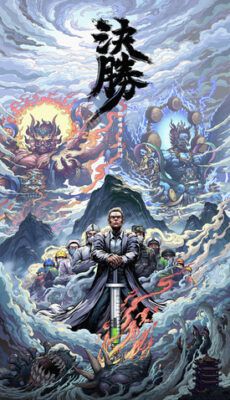 (Image from @心境澄明灬沈晨 Weibo)
Cover Image from @依恒CG, Weibo
---