Can Chinese museums and capitalism mix?
The Forbidden City: imposing, majestic, and most of all forbidden—unless you have the RMB for the entry fee. The extent to which the Palace Museum should make a profit or simply be a national monument has always been a matter for debate. When a Starbucks was opened there in the year 2000, it was seven years before Rui Chenggang, a news anchor for China Central Television, would build his nationalist credentials by leading a campaign to remove this capitalist blight from China's cherished monument. He successfully got it removed in 2007 after thousands of Chinese citizens backed his campaign. In truth, the Starbucks had been copping criticism for its location ever since it had opened and had already removed all signage.
Rui again put the Forbidden City in his crosshairs in 2011, alleging that a cabal of wealthy elites was conspiring to create a club with clandestine events inside the Forbidden City that charged a 150,000 USD membership fee. The Forbidden City hit back, saying there was no such club but later backpedalled and said that a commercial subsidiary had erred in making those offerings without consultation. Rui, himself, has since fallen from grace and is serving time for corruption.
The cost of capitalism in China's cultural hubs is a constant source of conflict. So, where should these institutions draw the line and how successful should they be before they're more of a business than a cultural mainstay? As for the state of the Forbidden City, its reach goes well beyond its walls.
IMPERIAL TRENDS
Decades ago, if you wanted souvenirs relating to the Palace Museum in Beijing, you didn't have many choices. You went there. Today, when you're searching for some merchandise on Taobao, China's largest online shopping portal, it's easy to click into a royal-style shop by accident and find that it's run by the Palace Museum itself. Hawking palace-inspired goods ranging from ten RMB to 1,000 RMB, you can find imperial robe T-shirts, folded fans with calligraphy etched upon them, and cartoon-style emperor figurines for kids.
At a press conference in Beijing in May, Palace Museum curator Shan Jixiang told media that the museum sold more than 8,700 "cultural and creative products" and that sales revenue had reached nearly one billion RMB in 2015.
The Palace Museum opened its Taobao shop in 2008, but its sales weren't impressive and it wasn't hard to see why. The products sold online were just as traditional and common as their offline counterparts. In 2014, designers realized that their "cultural products" required a certain panache. Nowadays, you can easily find imperial earphones in the shape of Qing Dynasty bead necklaces worn by high ranking officials in bygone eras, one of the best sellers in the Palace Museum's Taobao shop."I like it because I always need earphones and they are funny and fashionable," says Ma Dan, a satisfied customer. "You can say it's a little weird, but that's exactly why I like them. They are really eye-catching. I can tell those designers worked really hard." A little slice of slang has popped up to describe this niche style of combining culture and fashion, "selling cuteness on imperial order" (奉旨卖萌).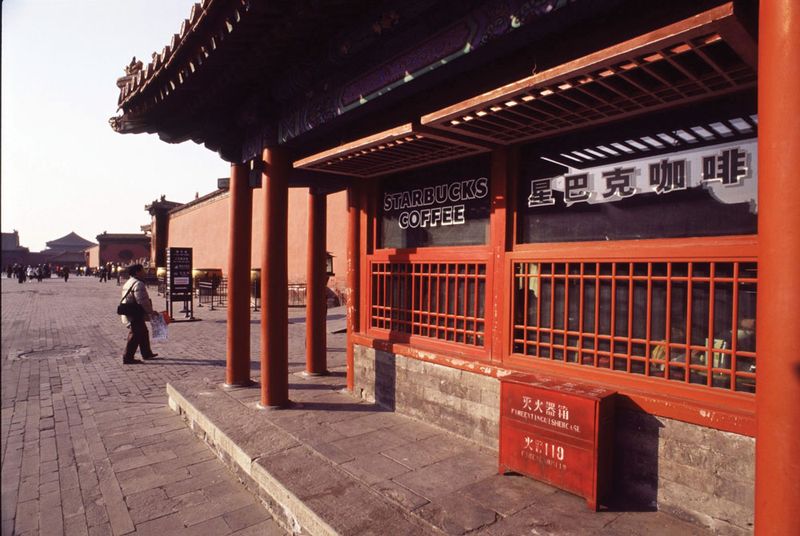 "They succeeded because of their originality and creativity. We always say, 'Creativity is king,'" says Ding Peiwei, a postdoctoral scholar in Cultural Industry Management from Shandong University, "They broke the stereotype about the Palace Museum, integrated many trendy and modern elements into it, and thus shortened the distance between the museum and the public. To some extent, we can say such creative products have attracted new audiences."
It isn't just Starbucks under fire; there is a great deal of unease about the commercialization of the Forbidden City. "Culture is borderless, but as a business brand, Starbucks represents Western commercial culture. Even in the field of coffee, Starbucks is regarded as 'fast-food culture'. The Forbidden City is an important symbol of Chinese traditional culture, so many people thought it was inappropriate to have a Starbucks outlet there," says Ding. "But these cultural products use elements of the palace itself; it is not something from the outside. That's the difference. Maybe that's why it is easier for people to accept."
MUSEUMS FROM WEST TO EAST
The palace museum is not the only successful example. More and more Chinese museums are trying to launch their own cultural products; the National Museum of China sold more than 270,000 cultural items in 2015, and it held design competitions for products in 2010 and 2015. By the end of 2015, the National Museum of China had been involved in the development of more than 3,000 products, with the IP rights to more than half these belonging solely to the museum. The Prince Gong's Mansion's products are particularly popular among younger people, with annual sales of more than 70 million RMB; Mawangdui health pillows, developed by the Hunan Provincial Museum, have also been a big seller; the Sanxingdui Museum in Sichuan Province looked for Bronze Age product ideas by launching a design competition in May of this year. Museums around the country are realizing that the treasures on their shelves mean treasure in their coffers.
Even the government has lent support to these efforts. This year the State Council issued guidelines that the Ministry of Culture should encourage national-level and provincial-level cultural organizations (museums, galleries, libraries) to experiment with cultural products, allowing them to set prices, own intellectual property, and establish commercial enterprises to manage cultural products.
But at the same time, others argue that museums, especially public museums, should maintain their gravitas and focus on their core task of spreading culture and learning. Ding thinks that people have pushed this issue too far. "As a public institution, a museum should of course undertake its mission of spreading culture, but it doesn't mean that museums can't be commercialized at all. We tend to set commercialization in opposition to its cultural mission, but that's a biased attitude. Commercialization is not necessarily vulgar or flighty," Ding says. "These museums have rich cultural resources, so we should consider how to exploit and promote them. Commercialization is something we should explore, not something we should fear. If the practitioners choose commercial activities selectively and ensure the quality with the help of relevant supervision, it won't affect cultural values at all."
FINE LINES
In practice, however, it's not always very easy to distinguish what helps and what hurts, especially when matters go beyond selling a few earphones and dolls. In April of this year, the Chinese version of the wellknown South Korean reality show Running Man filmed its first episode at the Hangzhou Museum, which triggered heated debate online. The show features a game in which cast members engage in a competition to remove name cards off one another's backs. Furious netizens argued that these uncivilized games could endanger historical relics—as could the garish stage lighting.
The popularity of the show meant that the controversy spread far. Some said that shooting a TV show there broke the quiet atmosphere of the museum; others insisted that shooting a reality show in the museum could help promote the collections. In a survey conducted by Sina News in April, 60 percent were against museum commercialization.
"An influencial reality show can bring more attention for the relics. That's the bright side," says Ding. "But now the focus of the controversy is the security. If filming the show really threatens the relics, we should certainly pay attention. After all, commercialization shouldn't be placed above the museum's function as a public service. But the risk is manageable. For example, we can design some less severe games. That's not difficult."
Ding believes that, in most cases, the question is how it should be done rather than whether it should be done. Another Zhejiang TV reality show, 24 Hours, proved Ding right. This show filmed an episode in the Nanjing Municipal Museum, but the conditions were quite different. They didn't go into the exhibition hall; instead, they just shot it in the outside courtyard and near the historic buildings. It was well received.
Others have been less fortunate. In April this year, the Nanjing Municipal Museum allowed a real estate company to hold a promotional event at its Dacheng Hall in the Chaotian Palace, a state-protected cultural site. The event featured Chinese kung fu movie star Jackie Chan.
On that day, hundreds of people flooded in to catch a glimpse of the star, and not long after the curator of the Nanjing Municipal Museum Peng Jian was suspended. He was penalized for failing to file an application for the event. According to relevant heritage protection relevant heritage protection regulations, they should have gotten approval in advance. Other museum leaders received administrative and Party punishment for their roles in the event.
---