Finding the family-friendly in China's gambling mecca
Peering through the ruins of St. Paul's Cathedral, an iconic facade that justifiably serves as one of Macau's most instantly recognizable tourist attractions, you can, if you position yourself just right, catch a profound glimpse of the "real" Macau. Framed by one of St. Paul's stone doorways, the city's skyscrapers glimmer alluringly in the distance, a striking juxtaposition that neatly summarizes the core appeal of this former Portuguese colony. In Macau, you see, the sacred rub shoulders with the sinful, the high-brow walk hand in hand with the low, and the city's intoxicating mix of Mediterranean mystique and Pearl River Delta divinity is unforgettable.
However, whereas most go to try their luck in roulette and ribaldry, I was unsure how Macau would be with two hyperactive rugrats in tow. It's a playground for adults with cash to burn, yes, but can this city of serial sin keep the family entertained? In short, yes. Though it's famous as being Asia's Las Vegas (which is an understatement because it far surpasses Vegas in terms of gambling revenue), it's also a city of history, culture, and leisure—if you know where to look.
Macau is inundated with top-class hotels, from the iconic geodesic dome of the Grand Lisboa Hotel & Casino—an eye-catching structure that resembles a giant lotus leaf and includes a much-lauded Michelin Star restaurant—to funky old-town ex-flophouses that still retain the gritty glamour of the city's glory days. Macau has something for everyone, accommodation-wise.
For families looking for a haven of tranquility amongst the city's bustle, the reasonably priced Grand Lapa Hotel comes highly recommended, not only for its wonderfully leafy and peaceful outdoor pool area, but for its location and courteous staff. In the immediate vicinity of the Grand Lapa there are a number of playgrounds and small restaurants on hand, including the lovely Dr. Carlos d'AssumpÇão Park, which stretches all the way down to the Pearl River estuary, affording lovely views of the cityscape.
Macau by Foot
If you plan on staying in Macau for just two or three days, then you'll want to try and cram in as many of the city's multitude of attractions and sights as you possibly can, which in a city of Macau's relatively puny size is really not much of a problem. In fact, most of the city's major tourist attractions are within walking distance of one another, which is great news for people who like to take in the sights on foot, exploring less-traveled nooks and crannies as they go. A good place to begin your walking tour of Macau is at the foot of the aforementioned Grand Lisboa Hotel & Casino, which will give you and your family a glimpse of the city at its most brash and glitzy. The Casino Lisboa is my personal favorite casino in this area; it's a charmingly retro structure with an iconic orange and white tilde façade that radiates an ice-cool kind of 1960's gambling glamour. At night the area flicks a switch and becomes a kaleidoscopic panorama of gaudy neon and flashing LED.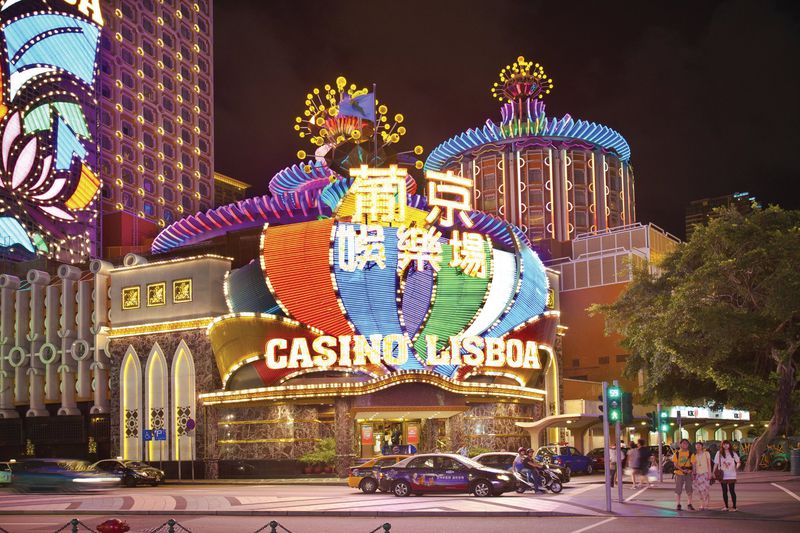 From here, visitors can take a short walk along the splendid Avenida de Almeida Ribeiro, also commonly known as San Ma Lo (新马路), toward the famed Largo do Senado, a square known for its distinctive black and white tiled floor and surrounding colonialera Portuguese buildings, which combine to create a unique scene. In fact, Mediterranean-style tile mosaics and details are a major feature of Macau's overall aesthetic, from the handsome public pathways littered with interesting tile creations to sun-kissed white and blue road signs that you'll see dotting the roads and alleys. Facing the square is the rather grand Leal Senado ("Loyal Senate"), which is one of Macau's most important historical buildings. It got its name from the legislative body that sat here during Spain's 60-year tenure over Portugal in the 1600s. The loyal group refused to recognize Spain's sovereignty over their homeland, and after Portugal re-claimed its independence, King João IV ordered a heraldic inscription to be placed inside the entrance hall, which can still be seen today. With plenty of space for the kids to run around, Largo do Senado is a good place to take refreshment and pause, as a number of attractive restaurants vie for your attention and hard-earned Macanese pataca. Surrounded by attractive pastel colonial-era structures, the square really does transport you back to the "old country."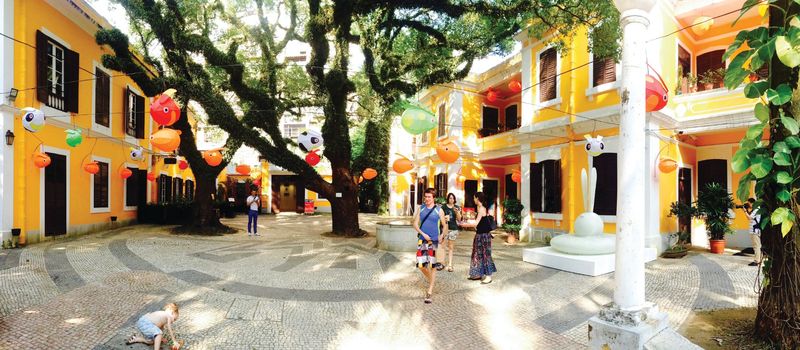 Rested and well-nourished from egg tarts and other local delicacies, you can then take a rather lovely walk towards Macau's piece de resistance, the famed ruins of St. Paul's Cathedral, and take in a number of charming, idiosyncratic sights along the way. One such sight is the the Igreja de São Domingos, a gorgeous, lemon-colored 17th-century Baroque church that sits just to the rear of Largo do Senado and is one of many fine religious structures you will find in Macau.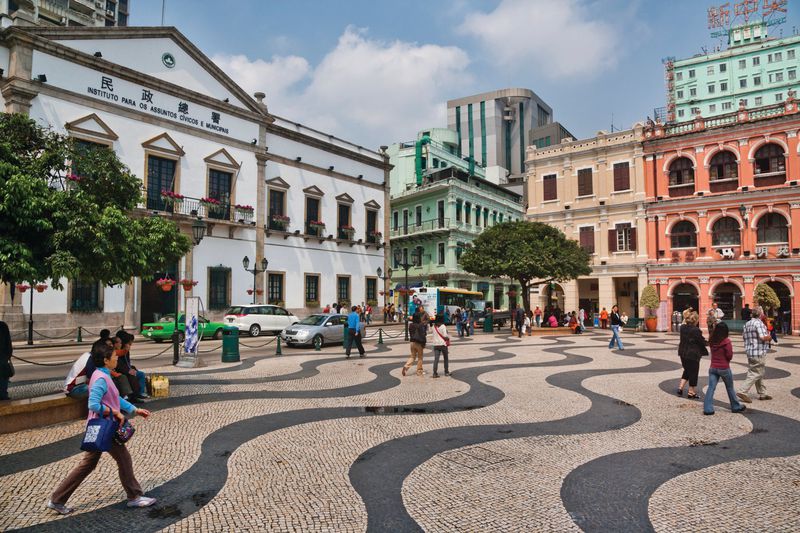 Forming a delicious juxtaposition with the opulent Portuguese mansions and garrisons found around Largo de Senado—and handily en-route to the Ruins of St. Paul's—is the snappily named Rua da Felicidade, aka Macau's Street of Happiness (福隆新街). Along this short and narrow alley you get an authentic glimpse at how the city's Chinese population lived in the midst of what was, during the 19th and early 20th century at least, a bustling, full-blooded Portuguese colony. Here, in stark contrast to the sunny pastel tones and elaborate faÇades found elsewhere, the buildings are uniformly light grey and brilliant red, accentuated with fine woodwork details and inscriptions that recount largely forgotten local legends. The antithesis of new Macau's shiny malls and casinos, the Rua da Felicidade offers a look at how ordinary people once lived in this most intriguing city.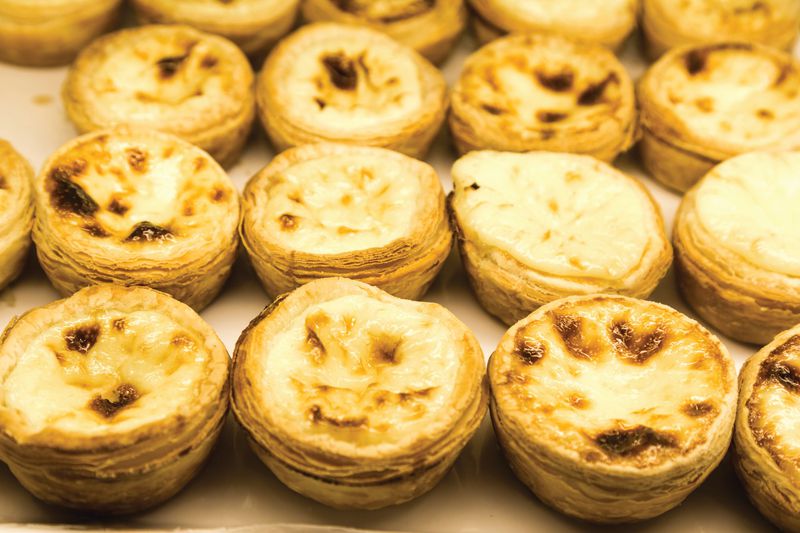 While the Street of Happiness' array of local snacks and souvenir shops may put a smile on your face nowadays, back in the day it was more salacious pursuits that gave punters reason to cheer, as the Rua da Felicidade was Macau's resident red light district. A bona fide den of iniquity, the street was home to prostitutes, gamblers, bootleggers, and much more beside, the knowledge of which adds another level of mystery to this rickety, uniquely memorable thoroughfare.
When you finally make it to the Ruins of St. Paul's—already feeling oddly familiar with the view no doubt thanks to its ubiquity whenever one Googles Macau—the location's beauty is nonetheless undimmed. Set at the top of a hill that commands fine views of the snazzy modern Macau skyline beyond, the ruins radiate a profound, stoic kind of power that stems from not only the site's inherent religions connotations, but from the fact that, despite all the changes taking place right under its nose, some things remain unchanged. In this sense, the ruins offer a fascinating window into another world, to a long-gone era.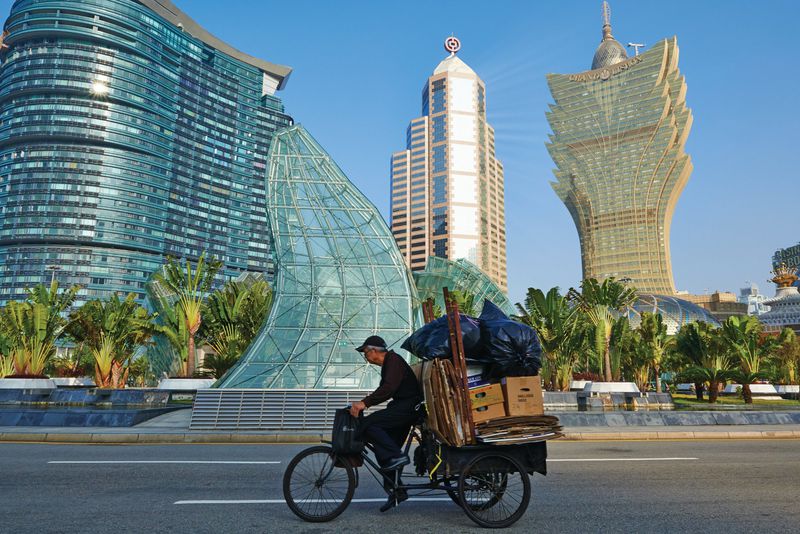 Built between 1602 and 1640, the structure was once one of the largest Catholic churches in Asia, but as Macau's standing in the world waned in the 19th century, the building was destroyed by a monster typhoon in 1835. Today all that remains is its magnificent façade. Intricately carved by Japanese Christians, the site is quite rightly the jewel in Macau's glittering crown, and any visit to the city ought to include a good hour or so at the ruins, taking in both the marvelous artistry of the church itself and the wonderful views of Macau that stretch out beyond. Moreover, if you time your visit right, you'll find yourself in an ideal place to watch the sunset before jumping in a rickshaw to head back to your lodgings (and to get those little ones into their pajamas).
Indiana Jones and the Bairro de São Lázaro
For film buffs out there, Macau also serves as the backdrop for the opening scenes of 1984's Indiana Jones and the Temple of Doom, in which Dr. Jones finds himself in a glitzy old Shanghai nightspot looking for that blasted antidote. Macau was chosen as the location for the film's opening bit by director Steven Spielberg thanks to its narrow streets and colonial-era architecture that, back in the early 80s at least, bore striking similarities to pre-World War II Shanghai.
If you're so inclined, you can kick off Day Two of your Macau adventure by taking a short cab ride to the location used as the exterior of Club Obi Wan (located on Praça de Ponte e Horta on the site of the Best Western Hotel Sun Sun), inside which Dr. Jones got into all kinds of trouble with Lao Che and his shady henchmen. Although the lovely lime green building used in the movie is now a bland chain hotel, it's still worth visiting as, in my book at least, some of the movie's magic still lingers in the air.
To see more Indiana Jones locations, head toward the nearby San Ma Lo, where the resulting car chase through "old Shanghai" was filmed (i.e. "Hey Lady! You call him Doctor Jones!"). While in the neighborhood, you can have a spot of Portuguese lunch in the delightful MS Blossom Cafe near the Best Western Hotel Sun Sun and opposite a small city park.
Since you will have covered all the most famous Macau spots on your first day, the best thing to do on Day Two is to simply follow your nose and explore on foot. That is what my family and I did and were rewarded with an area of startling beauty named the Bairro de São Lázaro (望德堂坊). This elegant, tree-lined collection of bunting-festooned downtown blocks is perhaps one of Macau's best kept secrets, loved more by locals than the tourists who sometimes struggle to see beyond the twin lure of the casinos and the Ruins of St. Paul's.

Wandering around, marveling at the almost perfect, yellow-tinted street scene as dappled sunlight dances on the ground, it truly is hard to believe that you're in Asia and not in some sleepy Mediterranean aldeia. Elaborate, classical façades cast long shadows on black and white tiled squares, and even the street lamps here are works of art. On the Sunday that my family and I visited the area, a bustling arts and crafts fair spilled out onto the pedestrian streets, and a group of immaculately turned out school children sat in the sun performing a classical recital.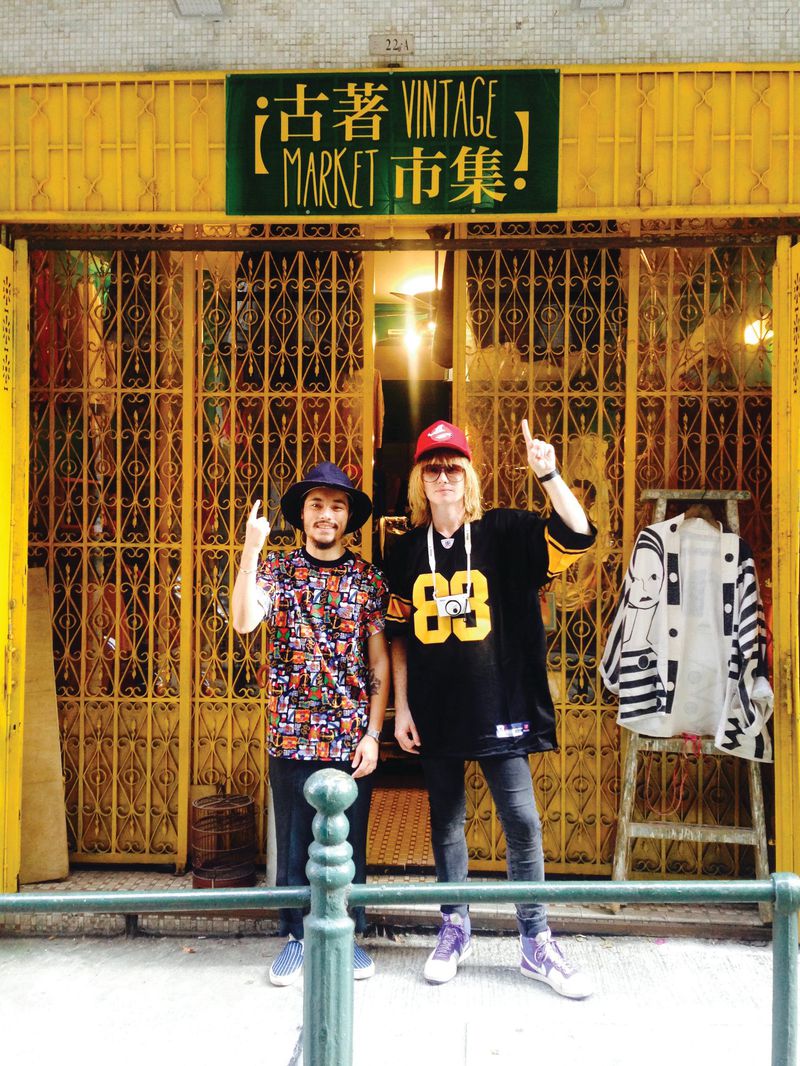 Located in this stunning area is the Albergue da Santa Casa da Misericordia (or Albergue SCM), a shaded, picturesque walled courtyard surrounded by gnarled ivy-covered trees and yet more immaculate Portuguese-style buildings. A cultural hub for Macau's Portuguese roots, you'll find a small art exhibition space here that usually houses free art shows as well as a neat little shop specializing in Portuguese products called Marcearia. Moreover, if you want a traditional Portuguese meal, the local restaurant Albergue 1601 is very popular—and there can be few better places to recline and enjoy a nice glass of red whilst the kids run around the shaded courtyard in the whole city. The discovery the Albergue da Santa Casa da Misericordia was one of the highlights of the trip.
As your short trip comes to an end, close by is the Vintage Market, a treasure trove-like vintage store jam-packed full of cool threads, retro knick-knacks, and funky gifts. Owner Terentius Jorge Chan, a fashionable young man with a love of all things sepia and nostalgic, represents a new generation of international-minded Macau residents who combine a deep love of their home city with wider appreciation of pop culture from Japan, the United States, Europe, and beyond. Next to Vintage Market is a shop that specializes in vintage furniture and is also run by Mr. Jorge Chan. Looking for unique gifts to take home? Well, look no further.
Let's face it, family or no, you will want to step into a few of the casinos if for nothing else than the ambiance and tales to tell. From the impressive Wynn Macau, an opulent, bronze-tinted glass monolith that sits on the mouth of Nam Van Lake (which in itself is worth visiting if only for its lovely tree-lined shoreside public boulevard) to the imposing Macau Tower, which affords unbeatable views of this wonderful city, Macau's mix of the old and the new, of the futuristic with the historical, makes a city excursion here one that you and your family will remember for years to come.
As with many small, dense cities, you will always feel as if you are inches away from something novel and truly spectacular. Macau's limitless array of charms makes it a unique, historically rich, and surprising city indeed.
---
Macau About That? is a story from our issue, "Taobao Town." To read the entire issue, become a subscriber and receive the full magazine. Alternatively, you can purchase the digital version from the App Store.
---