How the Communist Party of China is turning to turning to boy bands to get its messages across
It's a playbook we're all familiar with: A popular Western service, such as Google or Twitter, gets blocked in China, only for a politically correct domestic clone to swiftly replace it. Now the diplomatic fallout of the THAAD missile defense system's installation in South Korea appears to have prompted the same tactics in the realm of music.
Ever since THAAD was rolled out, hostility toward Korea products has left mainland fans of K-pop and melodramatic soaps without easy access to their favorite entertainment (the government denies there is any official ban on these products). Domestic pop artists are attempting to step into the gap with their own version of K-pop—with lyrics firmly in accordance with "Chinese values."
Actually, though K-pop has a worldwide fanbase, some of its songs are also aimed at promoting specific South Korean ideologies. For example, last year South Korean government was reported to be blasting songs about female empowerment and democratic values over the border into North Korea.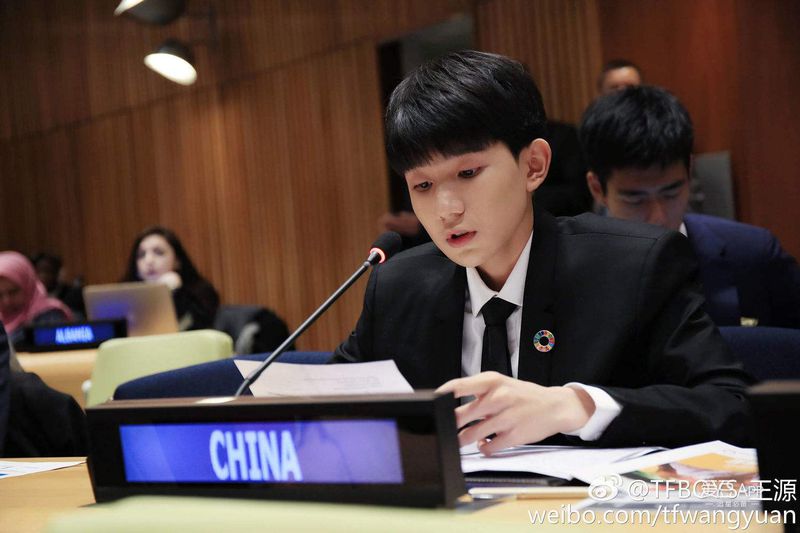 "Me Gustas Tu" (Spanish for "I Like You"), is popular in South Korea for empowering girls to overcome shyness in asking a boy out on a date. This song is also known for its repetition at a tremendous high volume at the North Korean border.
In China, however, Mandopop is ambivalent about promoting certain themes which are common to teenyboppers worldwide: young love, for example, is still highly frowned-upon by the older generations. But there is one field in which Mandopop stars can be sure of state support: politics. More specifically, Party politics and the vigorous support of its policies.
Call it "popaganda." The country's answer to One Direction TFBoys, is famous for promoting Chinese values of studying and common courtesy through pop music. In fact, each of their three members has more than 13 million followers on Chinese social media Weibo. The band released a music video singing a cover of "We are the Successors of Communism" (written in 1961), the official anthem of the Communist Party's Young Pioneers. Soon enough, the Communist Youth League of China made an official MV of the song, and the band became the face of Chinese soft-power across international media.
Other platforms, such as QQ Music, have also become grounds for pop artists to deliver political messages. Although it's unclear if they truly emerged out of the grassroots or as a propaganda campaign, in 2014, a handful of seemingly fanmade videos applauding President Xi Jinping became popular overnight when they were shared more than 10 million times on Chinese social media. Check out this pop song called "Xi Dada Loves Peng Mama" (nicknames for the President and the First Lady, respectively).
Among other similar pop songs, we could find:
Our Xi Dada
The Idol Xi Dada
Marry Somebody Like Xi Dada
Be a Man Like Xi Dada
Perhaps the most popular songwriter in this offbeat pop sub-genre is Wufeng Jifeng, who is known for writing songs that praise the Chinese government's leaders and criticize Western institutions. Jifeng's most famous pop hit is "As You Wished," which praises China's first Prime Minister Zhou Enlai. He has also written Rap and Rock songs that vary in boldness according to the music genre.
In 2014, President Xi Jinping called for artists to "carry forward the banner of the Socialist core value system" and "use true-to-life images to tell people what they should affirm and praise, and what they must oppose and deny." Although the statement didn't discriminate between genres, the most affected was arguably the rock scene, particularly in cities like Beijing, which has a vibrant music scene but which has seen some venues shut down.
The lack of ground for emerging artists, especially for pop ones, has led Chinese singers to look for opportunities abroad. Although, unfortunately for them, Beijing's attempts to control cultural expression often extends beyond mainland China. The clearest example is last year's controversy surrounding Chou Tzu-yu from Taiwan, part of a K-pop group called TWICE , who was forced to make a public apology after she was found holding an ROC flag on Korean television.
Chinese pop artists, especially those living abroad, now need to decide whether they want to look more like TFBoys or Chou Tzu-yu. Some of them have already made their decision. Victoria Song from f(x), Yixing Zhang from EXO, Fei from miss A, and Cao Lu from FIESTAR, for example, gained popularity in China after sharing images of their stand in favor of Beijing's claim upon South China Sea's territory via personal accounts.
Government is intertwined with music in many ways in China. China's First Lady, Peng Liyuan, was herself a contemporary folk singer serving in the artistic wing of the PLA. But maybe there's a new way emerging? Uighur pop singer Ablajan Awut Ayup, or "AJ," might be considered western China's answer to Justin Bieber. He uses his lyrics to bridge China's majority Han ethnic group and the Uighur ethnic group through tuned beats in fluorescent music videos.
And his tunes are pretty good.
Cover photo from hdslb.com
---