In just five years, China's solar industry went from "life support" to global superpower, but are darker times ahead?
In late 2012, China's solar industry was on "life support." The warning came from Li Junfeng, deputy director of the energy research institute of the National Development and Reform Commission, the department which manages China's renewable energy policy.
So many solar panels were being produced that their value was plummeting; Li indicated that a crisis was on the horizon unless the world, including China, dramatically slashed production.
The problem intensified in 2013 with a dispute between China and the EU which continues to this day. Solar-panel producers claimed that China was exporting cheap solar panels to the EU, subsidized by the Chinese government in various ways, and "dumping" them in their market. The EU maintained this was unfair competition that was destroying their own producers.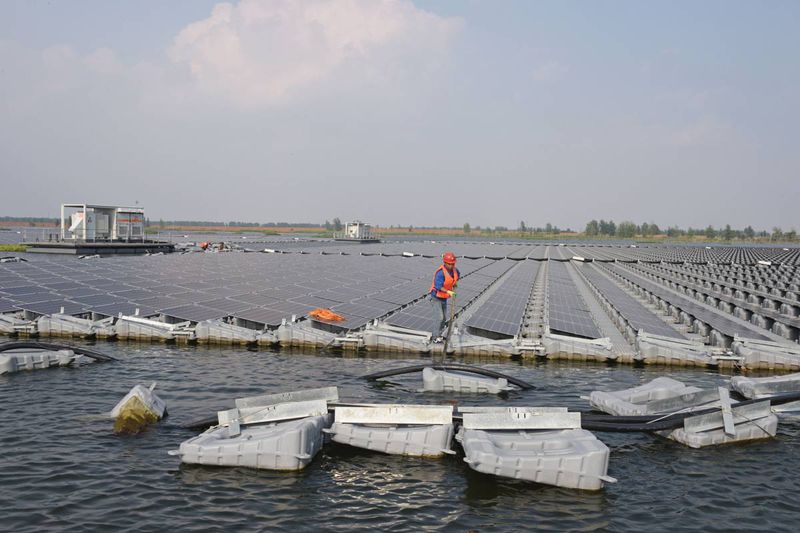 The argument still hasn't been resolved and, this February, the European Council decided to extend tariffs on Chinese panel imports for another 18 months. This was actually seen as a softening in the EU stance. The extension was shorter than expected and there are indications that the tariffs could be further scaled back, as the cost of producing solar panels has fallen globally.
The EU tariffs are one of the few stumbling blocks still left for a resurgent Chinese solar industry, which, just five years after being at death's door, is now regarded as a solar superpower in a business worth 100 USD billion globally, and expected to expand by an estimated 13 percent annually. In 2016 alone, China was responsible for half the world's solar capacity, doubling the size of the domestic industry, and it's not slowing down.
In 2008, China set a goal of 1.8 gigawatts for its solar capacity by 2020; in 2014, that was dramatically revised upward to 100 gigawatts. The target was met this year, when China installed 10 gigawatts in July alone. Reuters recently reported that its industry was expected to produce 60 gigawatts worth of solar panels in 2017 alone, a 25 percent increase on the previous year.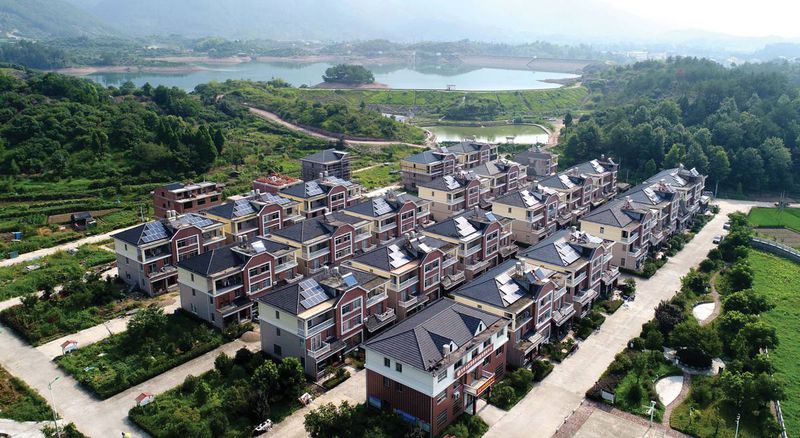 China recently unveiled the world's largest floating solar farm, in a flooded coal-mining region in Anhui, an experimental project which aims to see whether still bodies of water can be utilized for power generation.
That's far from the only large-scale project recently completed. A 250-acre farm in the shape of a panda was recently unveiled, along with plans for another 100 panda-shaped solar-panel farms across Asia. Even this massive project seems minor in comparison to the proposal presented to the UN by China's State Grid Corporation in late 2016, suggesting the creation of a global grid by 2050. Under this ambitious plan, solar, wind, and hydroelectric power would be generated in areas with abundant resources, and sold across borders to population centers that need power.
It's a hell of a plan, and would have been unthinkable five years ago. But how did this stunning turnaround happen?
Industry publication the Scientific American, citing the US Department of Energy (DOE), points to Germany, which launched a program to promote rooftop solar panels in the late 1990s. The policy proved so popular that domestic production was overwhelmed by demand. The deficit was met by China, with the aid of German capital, technology, and expertise. After Italy and Spain launched their own renewable-energy incentive programs, Chinese manufacturers realized that there was ongoing EU demand to be met, and began to seek more overseas solar investment—expertise and materials, such as polysilicon supplies, needed to fuel its industry. They also bought foreign companies, or lured them to work in China with the promise of cheap labor and tax credits.
The process took decades, as it required building huge, often automated factories, and acquiring multiple technologies, during which China's solar future was uncertain. Renewable energy demand has come in booms and busts, but one constant was that China's solar expertise and manufacturing capacity were making steady improvements. As global prices plummeted, China's domestic demand started to ramp up. Partly as a consequence of the low prices and ready availability of the technology, local governments began offering their own variants of the original German program, and China was suddenly in an envious position.
In the US, the industry was "showing severe signs of stress," Forbes magazine in 2016 noted. "Given the tricky accounting and the prevalence of China-based companies among the panel-makers, that stress may very well be understated." Despite once being at the forefront of solar power, the US will now do well to hold the number two spot by 2020, and only by increasing its innovation and then cost-cutting, according to the DOE.
It's been a strange journey, in many respects. If the "panda farm" wasn't enough, there is still the mystery of which Chinese entity is funding Senegalese-American rapper Akon's billion-dollar credit line to install hundreds of thousands of miniature grids in 17 African countries, part of his Akon Lighting Africa charity project.
Then there's the fate of Suntech, once the world's biggest photovoltaic-panel producer, headquartered in Wuxi, Jiangsu province. Suntech may still be a force to be reckoned with, but hasn't been the same since 2013, when its business was brought crashing down to Earth amid allegations of fraud against its European joint venture and low margins, which meant Suntech defaulted on US bonds to the tune of 541 USD million.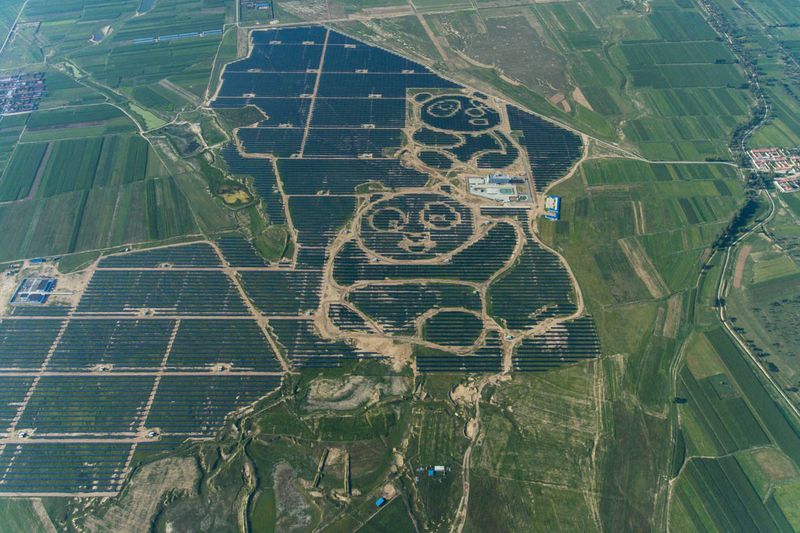 The risks associated with razor-thin margins are just as acute today, if not more so. Some Chinese companies are still forgoing the EU's sales quota and minimum price requirement. Canadian Solar, JinkoSolar, and Trina Solar were three mainland firms that happily sold into Europe at cutthroat prices, regardless of the steep tariffs of up to 45 percent imposed on cheap products, simply because they have the capacity. Rather than accepting the quotas and price restrictions, these companies are taking the hit simply because they need to offload the products.
But there are other potential problems lurking on the horizon for Chinese solar.
It's not just Europe that has put up resistance to cheap Chinese solar dumping. The US has been engaged in what one Washington Post commentator called "a game of Whac-a-Mole" by first banning Chinese imports, which make up around 60 percent of solar panels in the US, then banning imports from other regions or countries that China is re-routing its solar exports through. After two US manufacturers, Suniva and SolarWorld, complained about Chinese exports from the mainland, one company reportedly moved production to Taiwan, resulting in a ban on Taiwanese products as well. Companies in Malaysia, Thailand, and Vietnam have also been accused of acting as smokescreens for Chinese solar overcapacity.
But while Suniva warns that Chinese overcapacity, helped by unfair state subsidies and support, are pushing out products at "irrational low" prices only they can afford in "an insane race to the bottom," there are also American businesses that rely on low-cost solar panels and are lobbying heavily against any increase in tariffs. They claim that tariffs could end up crippling demand downstream by raising process, ultimately hurting employment, as well as reducing the uptake of solar panels—with an environmental impact to match. Whatever decision the US authorities make, there are going to be angry voices on both sides. Even Akon, in a rambling YouTube video, took aim at the US government over the existing and more limited tariffs, claiming they were part of a plot by George W. Bush to favor the oil industry and were helping to sabotage his efforts to bring electricity to Africa.
While the future of solar power may still be under a cloud, one aspect is not: China will be at the center of the storm, for better or worse.
---
Everything Under the Sun is a story from our issue, "Down to Earth." To read the entire issue, become a subscriber and receive the full magazine. Alternatively, you can purchase the digital version from the App Store.
---