These critically successful Chinese films were based on horrifying true stories
Real-life crimes have inspired many Hollywood movies, from Bonnie and Clyde and The Thin Blue Line to The Wolf of Wall Street and American Hustle. It's no exception for Chinese filmmakers, though they have to comply with instructions from the State Administration of Press, Publication, Radio, Film and Television (SAPPRFT) to avoid too much violence, detailed depiction of crime, or an overly pessimistic tone.
One may get such consolation from fiction, but reality is rarely as comforting. In order to get a domestic release, some films, such as Li Yang's Blind Mountain, use alternative endings; others never get a release in China, despite their efforts. Here are the five best Chinese crime films, and the chilling and dramatic real-life cases behind them.
Blind Shaft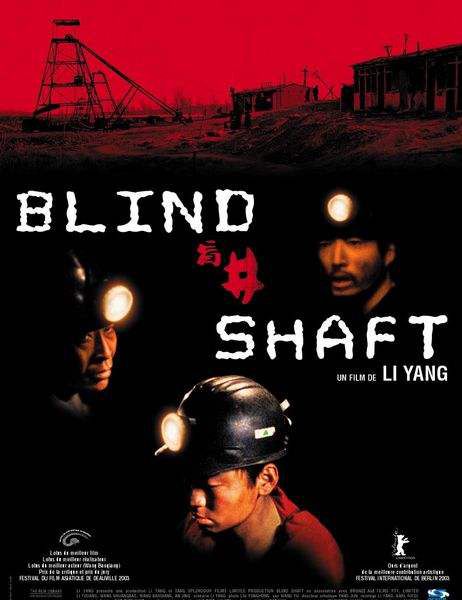 Few realize that Li Yang's 2003 cult classic Blind Shaft (《盲井》) is actually the first of a trilogy: The second, Blind Mountain (2007), below, is about female trafficking, while the third, Blind Way, which tackled similar themes, was released in April and sank without trace. The original, though, follows two murderous miners who lure migrant workers to work in remote coal mines, where they fake accidents and claim to be relatives to collect compensation from the mine owners.
The film is not based on one crime but a short novel, Shen Mu (Sacred Wood) by Xingang Liu, that was inspired by a whole spate of them: Starting from the late 1990s, when unregulated small mines boomed across the country due to a rising demand for coal, "Blind Shaft murders" —as they later came to be known in the media—were committed on large scale, even developing into a chain operation in Shanxi, Shaanxi, Inner Mongolia, and many other mining provinces. In the largely unregulated private sector of the mining industry, small mine bosses chose to settle working accidents by paying a large sum of compensation, for fear of their illegal operation being discovered by authorities. Inevitably, this habit quickly came to exploited by unscrupulous criminal gangs.
Blind-shaft murders were normally organized within the same village, often within the same family. One of the earliest series of murders that served as  inspiration for others were committed by over 60 Shaanxi villagers led by Pan Shenbao. Pan's gang lured at least 28 migrant workers to their death, scamming 520,000 RMB in two years. Pan and 10 other criminals were sentenced to death in 2000.
Though Blind Shaft has never been released in China, the title has become a byword for mining murders. The government has made continuous effort to regulate the industry, notably closing down a series of small illegal mines in 2009, but migrant workers remain one of the most vulnerable groups in China, whose social status and welfare demands urgent attention.
Blind Mountain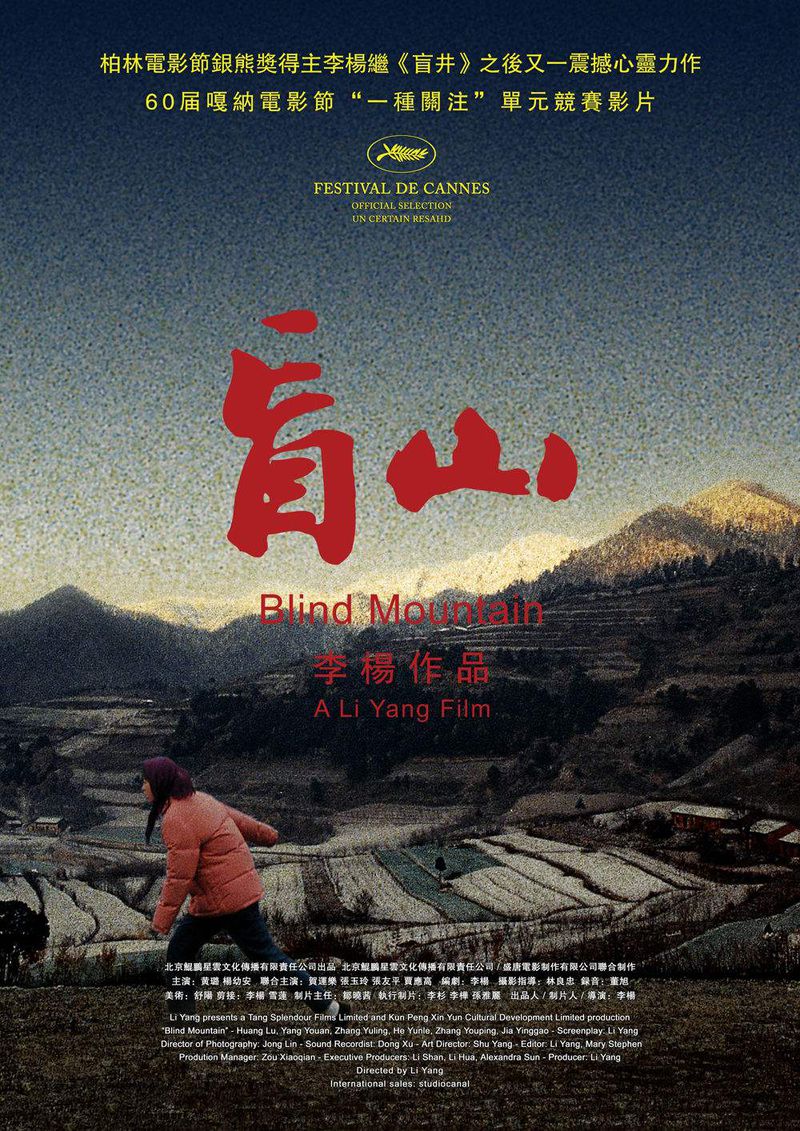 In Blind Mountain (《盲山》,2007), director Li Yang took on another heavy subject—the abduction and sale of women across China. Bai Xuemei, a college graduate, is tricked into going to a northern mountain village in the early 1990s, then sold as a wife to a local peasant and forced to have his child. The film is adapted from a real crime in 1998—a case so influential that Chinese first lady Peng Peiyuan, then the vice-chairwoman of the Standing Committee of the National People's Congress, attended the appeals court.
In 1994, a 22-year-old woman named Wang Xiuying from Shenyang, Liaoning province, was abducted and sold to a 49-year-old peasant in Luoding, Guangdong province. Over the next three years, she was forced to give birth to two children, while the villagers all turned a blind eye to the abduction and Wang's failed attempts to flee.
After constant abuse from the peasant's brother and his wife,  Wang snapped and threw sulfuric acid over the couple's son, and six other elementary school students accompanying the child at the time, seriously wounding two. Wang was originally sentenced to death but, on appeal, the sentence was commuted to death with a two-year reprieve (reduced to life with good behavior).
To secure Blind Mountain's mainland release, Li changed the ending: Bai is rescued by police, but has to leave her child behind in the village. In the original ending, a desperate Bai kills her abusive husband and the credits roll.
People Mountain, People Sea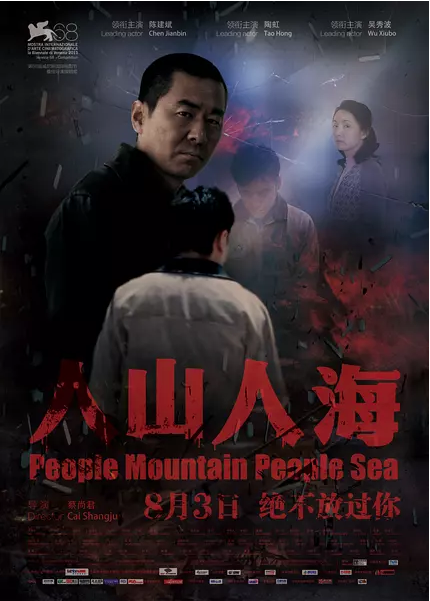 In the award-winning 2012 movie People Mountain People Sea (《人山人海》), directed by Cai Shangjun, protagonist Chen Laoda has his life upended when his younger brother is murdered. Disappointed at the police's lack of progress, Chen sets out on a journey of revenge, searching for the killer across various provinces. When he finally discovers the criminal in an illegal coal mine, Chen finds himself in a dangerous situation.
This film is very loosely based on a real-life event that took place in 2007. When a 31-year-old motorcycle-taxi driver named Dai Tianyun was stabbed to death on a mountain road in Guizhou province, his five brothers lost patience with the police and decided to bring the murderer to justice themselves.
They had one clue: Dai's motorcycle had been stolen, and as one of his brothers had helped him switch tires before, he was familiar with the treads. The brothers searched a 200-square-kilometer area and eventually found the motorcycle in a nearby village. The brothers guarded the exits of the village and called the police, but the killer managed to escape.
Over the following year, the brothers quit their jobs and dedicated themselves to revenge: They motorcycled across nine provinces, a journey of over 10,000 kilometers, to bring the murderer to justice. Finally, in 2008, they captured Dai's killer, Lu Fengren, in a brickyard in Liuzhou. The brothers forced Lu to return to their younger brother's family home as an act of contrition, then turned him in to the police.
After the story broke, one brother told the Beijing News that they had been contacted by the families of many other murder victims, hoping to get their help, but this putative A-Team had turned them all down, stating they were just ordinary citizens.
The whole stunning saga also served as the inspiration of the 2016 dark comedy Cock and Bull (《追凶者也》), directed by Cao Baoping, featuring a mechanic forced to investigate a murder in order to clear his own name.
A Touch of Sin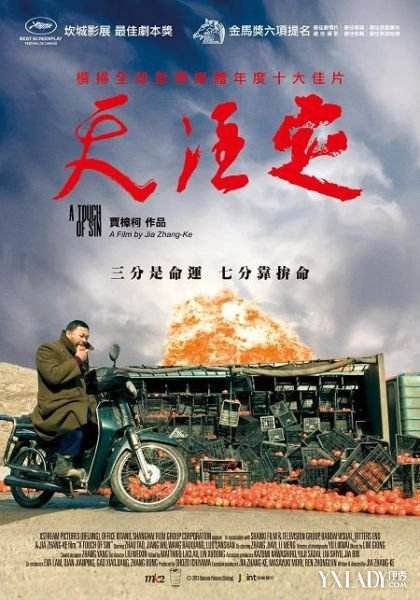 Written and directed by top-tier filmmaker Jia Zhangke, A Touch of Sin set out to capture the dark side of China's social reality—and did it so well that, despite cuts, the film ultimately failed to secure a much-anticipated domestic release (and immediately became a sensitive subject).
It's a portmanteau movie, woven around four superficially interconnected tales, each ripped from the headlines of notorious real-life events. The first (and, arguably, the best) segment is based on the story of Hu Wenhai, a coal mine contractor in Dayukou village, Shanxi, who, following a long-running dispute with village officials that included allegations of corruption, lost a bid to renew his contract in 2001. Hu did not take the loss lightly—he shot and killed 14 officials and villagers who he had grievances with, and seriously wounded three more. The massacre shook the nation, and Hu was ultimately executed in 2002, although he claimed the killings were a service to the people.
The next part features a murderous drifter, loosely based on Zhou Kehua, a former mercenary and prolific serial robber, who came to be known as "Brother Headshot" (Baotouge 爆头哥) for his habit of shooting victims at close range; Zhou killed ten people between 2004 to 2012, including a security guard and policeman. Following a massive manhunt in 2012, Zhou was shot and killed by police in Chongqing.
In the end, the drifter bumps into a woman—her story is a faithful retelling of the infamous Deng Yujiao case. A KTV waitress in Hubei, Deng stabbed two officials who tried to sexually assault her, killing one and wounding the other in 2009. Although found guilty of willful and malicious injury, the case became a cause célèbre during the trial, and the court choose to appease public opinion by giving Deng no criminal penalties, arguing that, because of the self-defense plea and the fact that she turned herself in, she had been punished enough.
The last case in A Touch of Sin is rather more low-key in portrayal: It's based around the series of 14 suicides of Foxconn factory workers in Shenzhen between 2010 to 2012, which raised global concerns over Foxconn's working condition and its workers' mental health.
Saving Mr. Wu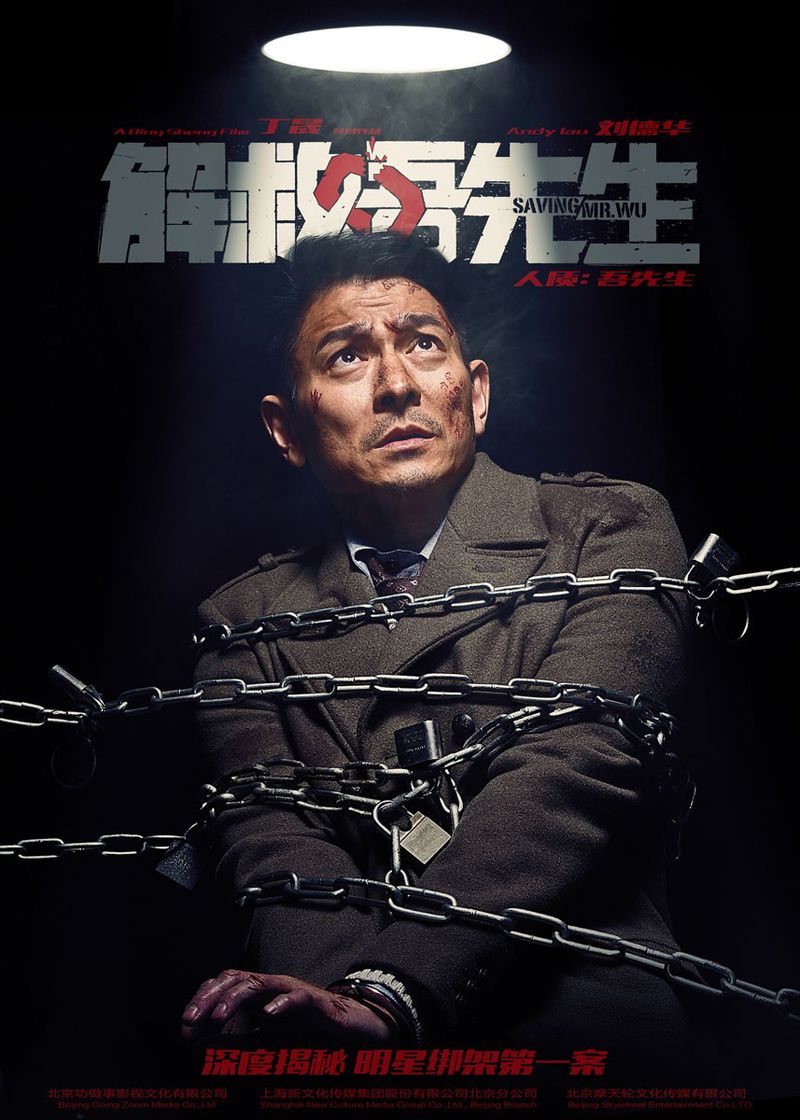 In Ding Sheng's Saving Mr. Wu (《解救吾先生》, 2015), a Hong Kong film star (Andy Lau) is kidnapped by criminals disguised as policemen, while the real police try to rescue him before it's too late.
The story is adapted from an actual kidnapping case from 2004, when actor Wu Ruofu was taken by men claiming to be police outside a Sanlitun bar. Local Chaoyang police soon linked the kidnapping to a similar case in Pinggu district and identified a suspect, Wang Lihua. Wang was arrested on the way to pick up the ransom, while police traced the location where Wu was being hidden. Wu was luckily rescued, and Wang later confessed that he had been planning to kill the actor once he got the money, as he'd already murdered the hostage in the Pinggu case.
Wang and three of his accomplices were sentenced to death and executed in 2005.
Cover image from Mtime
---