China's metro technology goes global with Ethiopia's first light rail network
When Shenzhen Metro employee Gao Junzhang first arrived in Addis-Ababa four years ago, the local transit situation was less than efficient.
"The streets were very crowded; there weren't even any traffic lights," Gao tells TWOC, recalling his first impression of the city.
As senior engineer for one of the world's largest rapid transit networks, Gao was part of a 90-person team of Chinese metro experts sent to Ethiopia's capital in 2014 to help develop the city's light rail system. Just a year later, in late 2015, the 475 million USD rail network went into service.
Now boasting the world's largest high-speed rail (HSR) network, logging the highest annual passenger volume on subways across 20 cities, China has been positioning itself as the world's transit authority in the 21st century. China's "rail diplomacy," a feature of its foreign policy since the 1970s, received a high-speed makeover in 2011, when Beijing's policymakers began to push for mainland rail companies to bring "bullet train" technology to developing countries; now HSR has been linked to projects in over a dozen countries in Southeast Asia, Eastern Europe, and Africa.
A trans-Eurasia system of HSR links is now central to China's Belt and Road Initiative. "Connection by HSR not only stimulates the economy of each country en route," notes rail scholar Wang Mengshu. "China's HSR [industry] can also use the Belt and Road as a strategic opportunity to 'go global' on a larger scale."
By comparison, intra-urban transit has not been attached to many high-profile state drives. However, there was no reason why a nation that has developed the "complete package" in advanced subway technology, personnel, and market experience couldn't take its gospel to the less-developed regions of the globe, according to Yang Zhongbo, project manager Addis-Ababa's light rail project: "It's an opportunity for China to share its experience with development, and showcase the fruits of its development."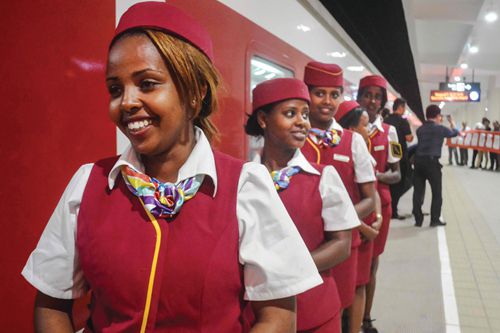 Construction of the Addis-Ababa Light Railway Transit (AALRT), as the system is officially known, was negotiated in 2007 between the state-run Ethiopian Railroad Cooperation and the China Railway Engineering Corporation (CREC). According to Yang, who is a director within CREC, the Ethiopian government secured the land and "public's support" for the project. China was responsible for the construction, project management, and 85 percent of the construction funding in loans—a so-called "package deal" of construction standards, equipment, and network and rolling stock design.
The day-to-day operation and maintenance of the network have been delegated to consultants from the Shenzhen Metro, who have been asked to train local staff to take over roles ranging from driver to signal-reader after their departure, scheduled for 2019. Gao intimates that the transition has not been without hiccups. To date, the AALRT consists of a north-south and an east-west electric tram line, running from the suburbs to the city center, a total of 34 kilometers of track, some elevated above the confluence of cars, auto-rickshaws, and diesel-guzzling minibuses.
Financial difficulties have impeded the network from running at full potential. While China typically funds the construction of its overseas rail projects, its partners in developing countries often pick up the tab for operations. In a survey published by the Institut français des relations internationals in 2017, passengers cited overcrowding, long wait times between trains, and lack of safe road-crossings to access stations factors that deter them from riding more often, though on the whole, the passenger volume has increased since the system opened: Up to 150,000 tickets are sold each day, and the system mainly serves commuters, students, and low-income workers.
These losses are familiar to Chinese Belt and Road projects—its Sri Lankan airport and Indonesian HSR projects have been plagued by loan issues—but they haven't reduced China's enthusiasm for the AALRT. Four more phases of the project are already planned, consisting of additional lines and line extensions. "The local economic situation means we can't develop as fast as the public wishes," Yang admits, "but going forward, we think our plans will include more detailed coordination with other local traffic options and travel habits."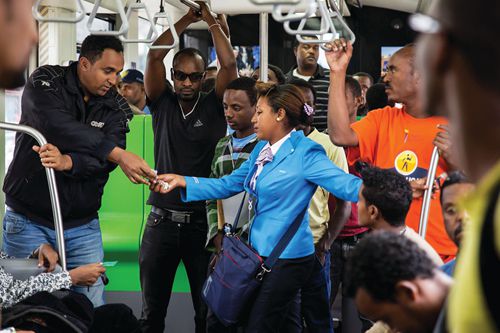 It may be that China's ambitious projects in developing countries are simply too important to fail, politically. "Often, with these contracts, the other side has no money for you, but the Chinese embassy tells you to grit your teeth and complete the contract at all costs," Gao says. "The Belt and Road has a philosophical meaning—when a country develops to a certain stage, it looks outward to motivate further [development], and finds a platform through these investments. Chinese companies then return to become competitive."
Gao has appreciated his experience, notwithstanding first impressions. "I feel that a lot of [Chinese] organizations focus on 'our amenities' and 'our culture' that we're going to take abroad," he says. "In Africa, though their economies may not be robust, their management style is derived from Europe and the US, and Chinese companies benefit from the influence."
"The right ways to communicate, to do business, a German-[educated] accountant who taught us how to bill our consulting hours—our experience 'going global' has been more about what we can learn."
In the meantime, the vast African continent promises more contracts to be won. "[The AALRT] has benefited the local government and the public, but also other countries," Yang says. "It has raised interest from the governments of surrounding countries to bring in Chinese companies, their technology and their expertise."
---
Training Wheels is a story from our issue, "The Noughty Nineties." To read the entire issue, become a subscriber and receive the full magazine. Alternatively, you can purchase the digital version from the App Store.
---