"Language exchange" apps may be making study harder—by being too popular
"This app has too many users, we're no longer operating it in China"—said no app developer ever; except, it is rumored, Wei Lihua, the founder of popular language-exchange app HelloTalk.
The source of Wei's statement, which was circulated by several bloggers, remains unclear. The closest is an interview with Sohu blog Edu Talk in late 2016, when Wei declared his team was "no longer marketing the app domestically" because their Chinese user base, about 25 percent of the app's then 4 million users, far outstripped the overseas demand for Mandarin exchange partners. That was only the beginnings of the troubles for the overseas-educated, Hong Kong-Chinese entrepreneur.
Founded in 2012, HelloTalk is essentially a mobile update to the old "penpal" concept. Believing that conversing about one's culture and interests with fellow students is more conducive to language learning than the traditional classroom, the apps matches users based on their native and target-language settings and interests. In the app, users can privately message each another in 160 languages, helped by features such as translation and sentence correction. They can also take part in group chats and make public broadcasts (or just advertise for more partners) in a "Moments"-type feature. Competitors Tandem and Hello Pal also allow partners to play mobile games together or share voice messages using professionally recorded phrasebooks, respectively.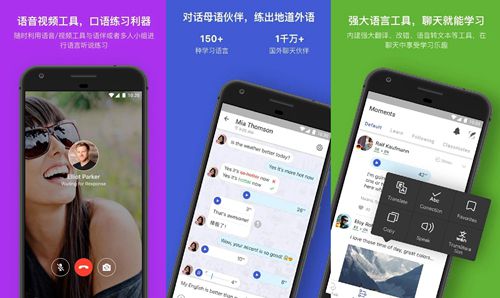 HelloTalk now claims to have 7 million users in more than 200 countries, but still hasn't seemed to cracked the code of being both "guerilla" and "globalized" at the same time. In his Edu Talk interview, Wei characterized his project as an "enormous early-stage investment" and "a mini-WeChat that's more complicated than WeChat." Not only does the software need to support translation, transliteration, correction, reading aloud, and other functions for each language, but the company requires a suite of knowledgeable staff or local partners for each foreign market.
Then there are the security issues: On the dedicated Baidu Forums of all three major apps, a plurality of recent posts have warned against scammers and pick-up artists who seem to treat the apps as more global—and less scrutinized—versions of Tinder. Sexual harassment issues threaten to derail HelloTalk's original mission of promoting cultural exchange and friendships, along with language practice: Harassment reports on Baidu are meat and drink to nationalistic netizens who simply reply,"The app has killed my good opinion of foreigners."
"[Language exchange] apps do influence a lot of education on foreign languages study, but the relationship depends on [the user's] network, and they won't be the trend of studying languages," an ESL teacher, John, tells TWOC. Indeed, Wei told Edu Talk that HelloTalk's product was only 35 percent complete, with the other 65 percent to consist of online courses from foreign teachers, live broadcasts, and a paid Q&A platform. In 2017, Berlin-based Tandem officially launched with a business model of selling online tutoring services to language-exchange users—"Enhance your practice," urges Tandem's App Store description. "Reach your language goals at lightspeed!" 
---
Learning Difficulties is a story from our issue, "Vital Signs." To read the entire issue, become a subscriber and receive the full magazine. Alternatively, you can purchase the digital version from the App Store.
---