Shanghai's jazz scene persists, led by a group of octogenarians who refuse to quit
When Crazy Rich Asians hit movie theaters last summer, most praised the spectacular visuals and the groundbreaking representation of Asians in a Hollywood blockbuster.
An unforeseen bonus was the toe-tapping tunes that penetrated the scenes, many of which took inspiration from Mandarin-language jazz, and have been credited with for making the genre "hot again."
Director Jon M. Chu supposedly had Chinese jazz adaptations playing in the background during casting auditions, and one of his muses was Liaoning-born, Shanghai-based singer Jasmine Chen, whose vocal talents are utilized in three of the movie's tracks.
Chen has been vocal in her appreciation for Shanghai's jazz scene, which dates back to the 1920s and 1930s in the city's foreign concessions. Venues from The Paramount nightclub to the Astor House Hotel hosted jazz luminaries as Jimmy King and Whitey Smith's orchestra in their ballrooms.
Today, one of the best-known Shanghai jazz locale is the Fairmont Peace Hotel on the Bund, which hosts The Old Jazz Band. The group, made up of musicians in their 70s, 80s, and 90s, has been performing at the venue since 1980.
The Old Jazz Band has had its share of accolades: It was once recognized by the Guinness Records as the world's "oldest" jazz band. It has also entertained world leaders, including US presidents Jimmy Carter, Ronald Reagan, and Bill Clinton (who reportedly joined in on the saxophone).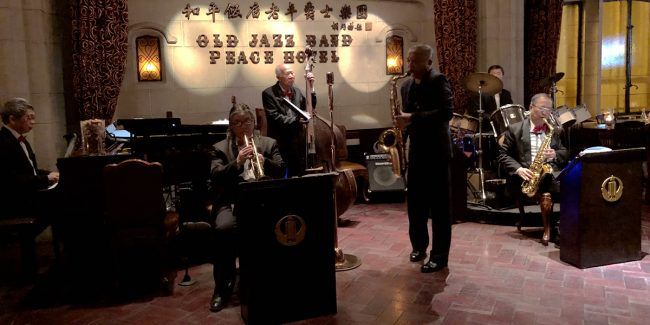 During a recent trip to Shanghai, I stopped by for drinks and a concert, securing a seat at the bar directly in front of the band. They played for hours late into the night, occasionally accompanied by a young female Chinese jazz singer. However, the instrumental sets were what truly got the audience going—the band was adept at choosing traditional crowd-pleasing melodies and giving them a big-band vibe, as shown by the examples below:
"Ye Lai Xiang" (夜来香) / "Evening Primrose"
Written in 1944 by Li Jin Guang (黎錦光), the melody and lyrics of this jazz number are famous throughout China, and give a melancholy yet sensual description of smelling a flower at night while thinking of one's lover. It was notably covered by Taiwanese pop star Teresa Teng in 1978.
"Shanghai Tan" (上海滩) / "The Shanghai Bund"
This song is not actually a jazz classic; it was adapted from a 1980 Cantopop classic, the theme song of a Hong Kong period drama of the same name. Set in Shanghai in the 1920s, the film is often compared to The Godfather for its portrayal of the city's criminal underworld.
"Nü Ren Hua" (女人花) / "Woman Flower"
This is another classic set to jazz, performed originally by Hong Kong chanteuse Anita Mui, known as "Madonna of the East." Another melancholy tune, the lyrics tell the story of a woman who cherishes a lonely love, fragile as a flower, inside of her heart.
Cover photo from VCG. Other photos and videos by Emily Conrad
---