They've become a boom industry—but are study abroad agencies really necessary?
Eleven years ago, Ms. Jia made up her mind that her 7-year-old daughter, Taotao, would go to university overseas—ideally in the US, but alternatively, Europe or Canada.
As the time draws near to put those plans into action, though, Jia has discovered that for most parents, the more important decision is not which country or major their children should pick, but whether an agency should shepherd them through the process.
For Chinese parents and students with little knowledge or experience overseas, study abroad agencies have long been an attractive solution, and services are becoming increasingly sophisticated. For the right price, they can oversee every step of the process beyond the college application itself, from helping students choose a major to arranging visas, finding student accommodation, and even career counseling.
According to statistics from industrial research and analysis website Chyxx.com, China's study abroad industry was worth approximately 159 billion RMB in 2016, comprising language training institutes, application consultants, and services for students overseas. Recently, the industry has become a lightning rod for controversy, with news agencies from PRI to Reuters accusing consultants of helping Asian (and particular Chinese) "high society" perpetrate "higher education-related fraud."
Within China, however, an increasingly middle-class clientele is defensive of these businesses, citing their benefits as counselors and mediators which level the playing field for Chinese families navigating complex admissions procedures in an unfamiliar language and culture.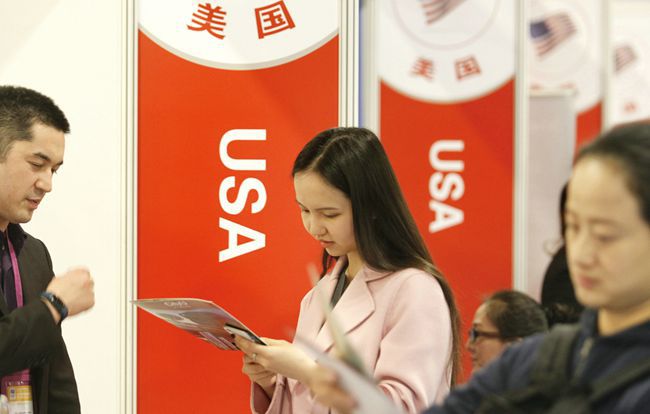 "Every student needs professional consulting services," Tan Nini, founder of Shenzhen education consultancy firm SANSH! Edu, tells TWOC. "Applying for a university is more than just submitting some forms." Challenges for Chinese students applying abroad range from a dearth of extracurricular activities due to China's exam-oriented education system, to a lack of teachers who can write letters of recommendation in the right language and style.
"Even really independent students need guidance in presenting their extracurriculars and brainstorming for their paperwork," Tan explains, adding diplomatically that "those with poorer practical abilities need step-by-step help to complete their profiles." Students can receive help like identifying community service projects to demonstrate their "well-roundedness," translating award certificates and reference letters, or even ghostwriting personal statements—all depending on how much they can pay, and how far they're willing to go to make sure they get in.
Yet these businesses are largely a recent phenomenon. A group of 30 children aged 12 to 15, sent to the US by the Qing government in 1872, are generally acknowledged to be the first Chinese overseas students. Until 1978, only 140,000 others had followed in their footsteps.
After Reform and Opening Up, that number saw a sharp increase, and over 10 million Chinese students have since left the country to pursue their education in a foreign country. According to the "Project Atlas 2017" report by the US Institution of International Education, China accounted for 32.5 percent of all international students at American universities and colleges, a total of 350,755 students in 2016. It is also the largest source of international students for Britain, Australia, New Zealand, Canada, Germany, France, and Japan.
The majority of such students in the early Reform years were government sponsored, but over 90 percent of the total 662,100 students who studied abroad in 2018 were self-financed, according to the Ministry of Education, providing the market for a plethora of agencies which claim to simplify the complex process and assure their clients a successful placement.
According to Tan, such agencies exist in almost every country, even in the US, but the Chinese are viewed as being especially dependent on their services. "Chinese students may rely more on the agencies to 'decorate' their application materials, or even complete procedures on their behalf," she admits.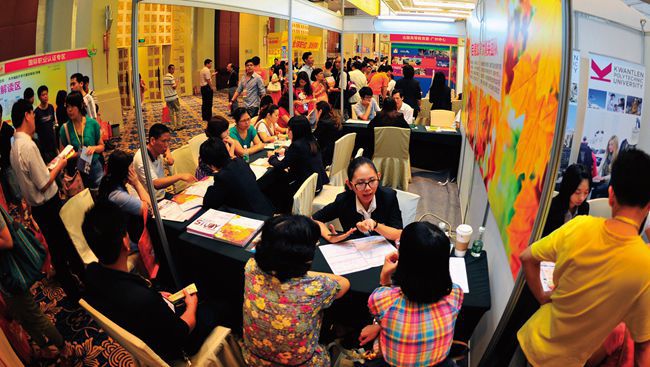 Meng Chenyu, who works at a Guangzhou agency, claims her team can get almost any student into college, unless the student fails to pass the majority of their exams, or doesn't show up to class at all: "The success rate of our clients' application is nearly 100 percent"—though she admits the company will not take on what they consider "hopeless" cases.
The application can take up to three or four years' preparation; Meng's youngest clients are in the American equivalent of the eighth grade. "Exams like the SAT or ACT, which they need to revise over three or four years, are what American students have been preparing for their whole life," Tan explains. "Additionally, Chinese students often lack experience in English reading and writing, critical thinking, and extracurricular activities, so they need more help."
Chinese schools' emphasis on testing creates more disadvantages  than an unattractive CV. "Chinese students spend most of their time in the classroom, meaning that they were given less opportunities to think independently," says Li Yaguang, founder of Beijing-based Wisdom Person Education Technology, pointing out that an agent's work may start long before the students download their application forms. "It's often hard for them to even choose a university or major by themselves."
Li estimates only about 10 percent of her clients have a clear idea about where and what they study. The rest go abroad often simply because their parents told them to, while the parents, to some extent, base their decisions on advice provided by the agency.
Agents also sometimes mediate conflicts between the more overbearing parents and their children. "I had a student interested in cooking, while his parents tried to make him study finance," recalls Tan. "We finally persuaded him to study food science as a compromise."
Other clients try to control the agency's level of involvement. Tony Deng, a graduating Beijing senior headed for Pennsylvania's Haverford College, used an agency only to help him proofread paperwork, and for "emotional support." "I just felt there needed to be a person who accompanies you for the three years of high school, who inspires you to think about what you can say in your application, and think about yourself," he says. "It can be a tutor at school, so why can't it be an agency?"
Amid growing concerns about unscrupulous practices in the industry, some are choosing to bypass a third party. Deng's classmate Qi Yu'an (pseudonym) was admitted into the University of Wisconsin–Madison and the Rensselaer Polytechnic Institute on his own efforts. "I'm not saying all the agencies are unreliable, but you can't guarantee you won't be gouged," he tells TWOC.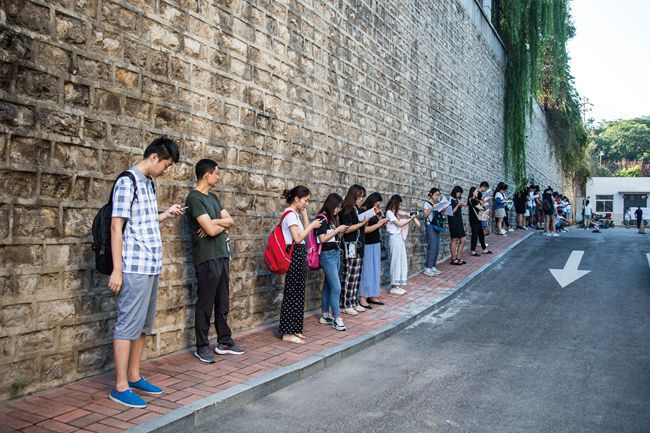 Jia is conflicted about hiring an agent for Taotao for the same reason: Agency fees can now run to hundreds of thousands of RMB. The New York Stock Exchange-listed New Oriental Education and Technology Group charges an average 4,500 USD for a basic consultation, generating 150 million USD revenue for the company in 2016. "It could be a waste of money," muses Jia, "but if I don't use an agency, I am afraid I'll regret it in the future."
Clients of shady agencies risk worse problems than simply getting overcharged. In March, William Rick Singer, a purported college counselor and author of self-help books for college admission in the US, was discovered to have been fraudulently "helping" students get into their chosen colleges—either by cheating on the SATs or ACTs, or by falsely identifying themselves as student athletes. According to the Wall Street Journal, Chinese families were some of his biggest clients—one allegedly paid 6.5 million USD to get their child into Stanford.
In 2016, the Shanghai-based Dipont Education Management Group was exposed by Reuters for giving thousands of dollars in perks or cash to admission officers at top US universities to grease applications. Former Dipont employees also revealed that the consultants ghostwrote application essays, altered recommendation letters, and digitally erased bad grades on one student's high-school transcript.
In March, students and ex-employees picketed the Beijing headquarters of Cheng Huai Technology, which runs the widely known Taisha Study Abroad Consultancy, after many of its offices shuttered without warning. The company left a backlog of unpaid salaries and at least 115 clients, most of whom had paid up to 50,000 RMB for applications that may now never be completed.
Continued government efforts to regulate the market have been mostly unsuccessful. In 1999, the "Provisions on the Administration of Intermediary Services for Studying Abroad Market," a joint directive by the Ministry of Education, the Ministry of Public Security, and the Administration Bureau for Industry and Commerce, stipulated that all intermediary agencies must be accredited by the Ministry of Education.
In response, institutions without accreditation rebranded themselves as "consultancies." "There is no unified standard of practice or pricing, and as a result, consumers find it hard to distinguish the licensed from the unlicensed," Sang Peng, president of the state-backed Beijing Overseas Study Service Association (BOSSA), told the World University News in 2014. "Both licensed and unlicensed agencies are competing against each other in the Chinese market."
In 2015, the law was abolished and a flood of small, private agencies entered the market. (BOSSA has a system for verifying applicants' records and a complaints hotline, but this only applies to its member agencies, who represent a fraction of the thousands operating in China.)
Optimists hope the internet can improve the situation by making information increasingly accessible, and sifting out bad actors or low-quality services. "Today, there is less market for agencies that can only provide mechanical 'form-filling' services. The players are pressured to be more professional, provide more crucial and niche services," claims Tan.
Li agrees, stating that, because of the increasingly fierce competition, many agencies today are trying to develop new markets, including services such as airport pickups, accommodation, campus registration, and even career planning. "Chinese students are spoiled. They need more help abroad than at home," she claims. "But I think the market can sustain itself for at least five or ten years."
Qi has even become more accepting of agents himself, after the ordeal of his own DIY application. "If you don't have a good GPA or scores, don't be as haphazard as me; getting an agent to proofread at least is better than struggling on your own," he says.
"On the other hand, that means you won't learn anything in the process. Once you start attending university, once you want to apply to grad school, or even when you get a job—maybe you'll need to hire an agent again."
---
Abroad Ambitions is a story from our issue, "Funny Business." To read the entire issue, become a subscriber and receive the full magazine. Alternatively, you can purchase the digital version from the App Store.
---