Stand-up comedians discuss how to succeed in China's political and economic environment
Thirty minutes before showtime, a young Chinese crowd is already thronging the entrance of Shanghai's Comedy UN, whose latest location in an office building near Nanjing Road still smells of fresh paint. Inside, dance music pulsates through the small, dark theater as 32-year-old comedian-owner Storm Xu fidgets, preparing for the night's performance.
Xu is no stand-up newbie, having quit his day job at General Motors in 2015 to found Comedy UN. "I didn't want to keep performing in sh***y rooms," he explains. "For comedy performances in China, a lot of owners of cafes and bars will let you use their space. But they actually couldn't care less about comedy; all they want to do is increase foot traffic."
His club, which holds 130 folding chairs, now organizes up to six performances each week with a roster of 20 Mandarin and 15 English-speaking comedians. "I feel fulfilled being able to nurture other talents and give them a venue for their comedy," he tells TWOC, noting that comedy venues in Mandarin were non-existent when he returned to his native Shanghai in 2012, after studying in Australia. Back then, Xu had exclusively performed at English-language open mic nights, regaling expat audiences with gripes about his ex-girlfriend.
Now, he performs entire Mandarin stand-up shows for the Chinese military—a sure sign of the rising popularity of this imported comedy form in China. One major reason is the plethora of new platforms, from short-video apps like Douyin and Kuaishou to self-produced web shows and podcasts, which allow comedians to create and promote their own content.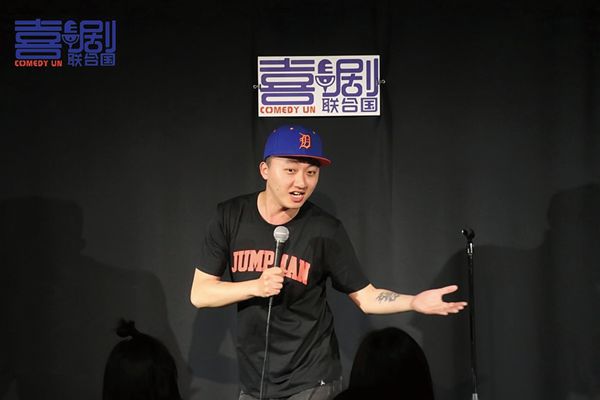 According to Beijing-based comic Daniel Dan, this model is unprecedented in China's entertainment industry. "The idea of a 'grassroots artist' is a relatively new concept. [Traditional entertainers] had to study at a drama institute or underneath a master. Very rarely were talents 'discovered' like in the West," he notes, discussing his own uncommon beginnings as a biochemistry-turned-English major at the Beijing Institute of Technology. "But for modern stand-up, you can make your own career."
According to David Moser, dean of Peking University's Yenching Academy and a scholar of Chinese humor, a master-apprentice lineage was essential of China's traditional xiangsheng ("crosstalk") comedy prior to 1949. But even after the founding of the PRC, a rigid model persisted as danwei, or state-operated work units, hired performers to learn Beijing-dialect xiangsheng and sent them to perform around the country. "Comedy became highly politicized because it was viewed as a mechanism to help standardize spoken Chinese," Moser explains.
Comedy first saw a revolution in the 1980s through television—namely CCTV's annual Spring Festival Gala. Its inaugural broadcast in 1983 featured xiangsheng comedians as hosts, and skits which satirized everyday conditions, albeit avoiding overtly political topics. "China was in the process of urbanizing, and a lot of skits featured country bumpkins moving to the city and essentially getting everything wrong in the process," says Moser. "It resonated [with] what real people were going through."
Eva Hart, an amateur stand-up who grew up in Jilin province, agrees. "I remember when I was a girl, every punchline of every joke from the Gala inevitably became phrases of the year." One of her favorite skits, from 2001, featured Northern comic Zhao Benshan tricking a healthy man into exchanging his bicycle for old crutches.
"Now, most people just watch it to make fun of it," Hart notes with a trace of sadness. Indeed, today's audiences have found the Gala's attempts to address modern topics to be toothless at best, and offensive at worst (a 2018 skit in blackface, "celebrating" Sino-African relations, comes to mind). While Hart chalks up the Gala's decline to more sophisticated audience tastes and media competition, others blame censors' over-caution about satirizing socio-economic schisms.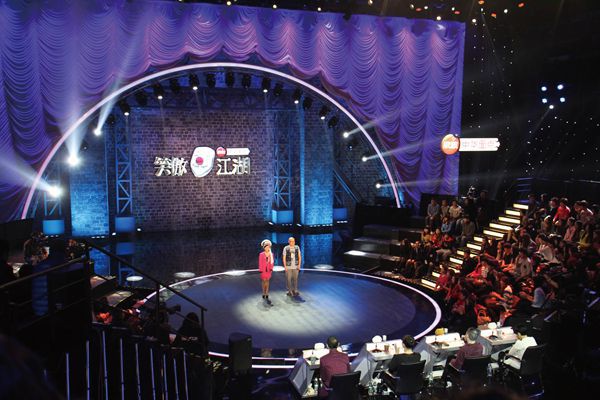 The comedy revolution continued with the commercialization of Chinese television during the 1990s. "When CCTV started selling television advertising, it meant that the 'free money' to produce whatever sort of comedy show you wanted was gone," says Moser. "To survive, comedy had to become more market-savvy, and began to look for inspiration from modern life, as well as from the West." This not only led to a decline in xiangsheng's visibility, but also the rise of sitcoms, from 1993's I Love My Family to 2009's Love Apartment (inevitably, inspiration often led to imitation: the latter was accused of cribbing whole plots and jokes from American standards like Friends and How I Met Your Mother).
Stand-up was conspicuously missing from this line-up. Bilingual comic Jesse Appell, the Boston-born founder of Beijing's US-China Comedy Center, thinks that the language itself was a challenge: "Mandarin has no linguistic, cultural, or historical equivalent to stand-up comedy," he tells TWOC. "Anything that's funny that is not traditional xiangsheng is simply referred to as 'talk show' (脱口秀, tuōkǒuxiù). Even a podcast can be a 'talk show' if it's funny."
Things began to change, though, in 2010, when Chinese-American comic Huang Xi, better known in English by his stage name, Joe Wong, performed at the annual Radio and Television Correspondents' Association Gala in Washington D.C. Videos of Wong's act went viral in the mainland due to the way he poked gentle fun at then-US Vice President Joe Biden, who was in attendance. The Jilin native's mockery of his own career path—he'd obtained a PhD in biochemistry from Rice University, before pursuing comedy—also resonated with mainland comics.
In 2013, Wong returned to China to host a CCTV show—a big morale boost for the local Beijing comedy scene. The following year, Canadian comic Mark Rowswell, or Dashan, known as China's "most famous foreigner" for his performances of xiangsheng on state TV in the early 90s, returned "on a mission to introduce Western stand-up to China…working the [national] university circuit on his own dime," according to The Atlantic.
Tony Chou of Jinan, Shandong province, was one of the new generation of comics drawn to stand-up by videos of Wong. Like Comedy UN owner Xu, Chou began attending English-language open mic nights in 2013, and recalls the difficulties many of his peers had with the format. "In the early days, you would see a lot of Chinese comedians going up on stage with scripts or flashcards in their hands, or frantically trying to memorize their jokes in front of the mirror before the show," Chou laughs. "They didn't understand improvisation, and viewed stand-up comedy as funny drama."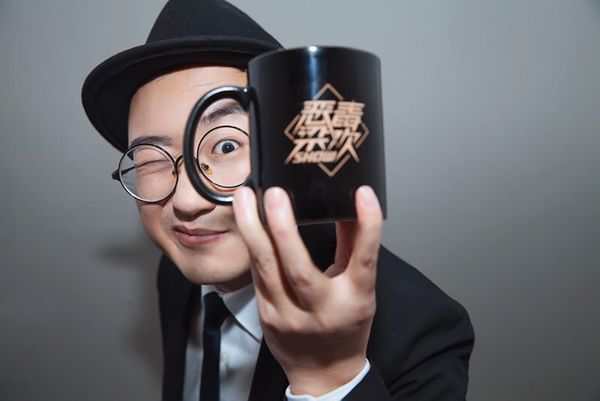 In 2014, visiting Irish comedian Des Bishop asked Chou to help him start a comedy club, Youmo Xiaoqu (幽默小区, Humor Section), which put on Chinese shows roughly once a month. Chou picked up the slack once Bishop left China, quitting his reporter job at CCTV and establishing a long-running partnership with The Bookworm, a popular Beijing bookstore where Youmo Xiaoqu now hosts a weekly show. Having recently celebrated the club's five-year anniversary, Chou boasts to TWOC that the club is profitable even without a permanent venue, with a pool of 60 Beijing-based comedians and 100 others across China.
Even so, Chou supplements his income with a day job as a producer, writer, and performer for internet portal Sohu, corporate gigs, and Chinese shows on the Norwegian Cruise Line. He also appeared in a Hong Kong film. "At the moment, the only way a Chinese person can do stand-up full-time is if they take another job in the industry: running shows; finding television or hosting jobs, or managing and owning their own club," notes David Jacobs, the manager of Beijing's English-language Comedy Club China.
One challenge of live performances in China is that increased profitability can come at the risk of government involvement: "Open mic nights and shows can't get too big, or else it might make the government uneasy and they may put restrictions on crowds," Daniel Dan notes. "But how can you make real money with small crowds?"
Storm Xu claims that the risk of operating Comedy UN is "not worth losing any sleep over." When crackdowns come, however, they can be sudden and sometimes permanent. Comedy Club China lost its former venue at a café in Beijing's Wudaokou quarter after an audience member complained about a joke on a social issue. "Our open mic nights are kind of in a gray space. Besides, large gatherings of foreigners attract government attention, especially if they are giving unscripted speeches," manager Jacobs explains.
Jacobs cites the sudden closure of Shanghai's Kung Fu Komedy club, shortly before last October's China International Import Summit, as a cautionary tale. Previously credited with making Shanghai China's "comedy capital," the influential club's shuttering sent shockwaves across the scene, though former co-owner Andy Curtain has stated it was "less dramatic than it sounds" when authorities came to the club during a Wednesday open mic night: "They were like, 'Yeah, you're not allowed to do this anymore,'" he told the "Lost in America" podcast in March. There were options to re-open, but after consideration, Curtain decided it was like "putting a Band-Aid on a sinking ship."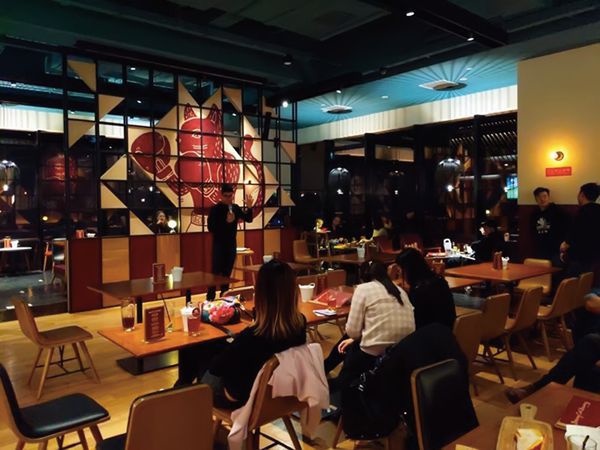 Live comedy is not the only medium that has had to deal with sudden regulatory reversals: In July 2018, Youku's localized version of Saturday Night Live was taken down without explanation soon after release (then returned quietly, with a second season announced for this coming June.) Last year, Neihan Duanzi, ByteDance's popular app for memes and humorous videos, was abruptly shut down for "vulgar content," much to the disappointment of its 30 million users. One anonymous user lamented: "When Duanzi was censored, I felt a certain pain in my heart, like someone had taken my child from me."
"Humor doesn't have to be political to be funny," Moser comments. "Older comedians who have already developed their craft seldom complain. However, the younger generations, who are trying to create something new, feel [the government influence] much more strongly."
Tony Chou knows this all too well: In 2017, he was employed by Sohu to perform on the popular late-night internet talk show, the Liang Huan Show. Despite quickly gaining popularity, only nine of the 12 episodes of the season were broadcast; five can still be found on the internet. Reportedly, the show fell on the wrong side of the authorities due to a single joke. "As comics, we all understand that we need to be within the boundaries of some line," Tony Chou comments. "The problem is that the line is always changing."
Some comics have dealt with this by self-censoring. The Chinese system often leads the country's comics to overly rely on self-deprecation, according to Hart. "In China, you can focus your jokes on your own individuality, but not individuality in the context of society." Many of Hart's jokes revolve around her American husband, and few Chinese comics develop ideas beyond family drama, dating issues, or job pressures.
That doesn't mean that Chinese comedy is devoid of diversity: Dan, who claims to have the "self-awareness" to stay away from political topics, often delves into his experiences growing up in a small Hunan village as a member of the Yao ethnic minority. One joke relates to the village custom of putting a 5 kuai bill in a dead person's open coffin, which led confused outsiders at the funeral to try to "one-up" one other by throwing in larger and larger denominations.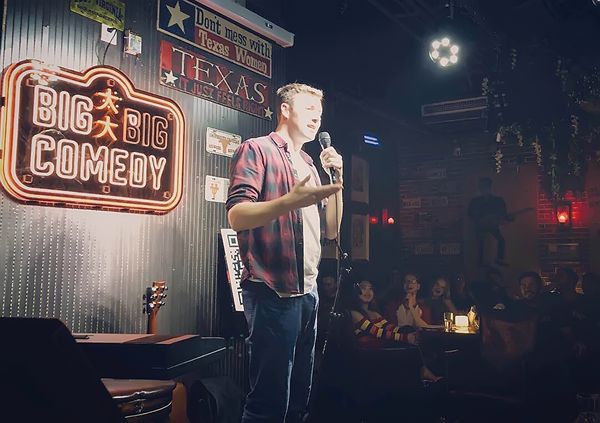 Hart believes that comedy remains empowering, in spite of these challenges. Comparing it to China's traditional xiangsheng, which is scripted and takes a long time to master, she notes that "stand-up is based on your own story; your own perspective. Everyone can participate because no one is the same. Everyone has a unique voice and perspective that are theirs alone."
For Dan, this was what drew him to comedy in the first place, after shows like Friends and Shameless helped him deal with depression during university. "When I first went to a comedy open-mic night…it was less about comedy and more like therapy," Dan recalls. "I hated studying biochemistry and I was in the process of coming out. I remember I started my set with a self-introduction, 'My name is Daniel Dan. I am gay.' Then my dad died and I turned to comedy to cope. For a while, I would start my set with, 'My name is Daniel Dan. My dad just died.'"
The days of independent comics and unique perspectives may be numbered, however, as "comedy start-ups" flood the scene with venture capital. Sensing the advantages to monopolizing young talent, companies like Fun Factory (Xiao Guo Culture Company), Dan Li Ren, and Beijing Talk Show Club are hiring stand-up performers under exclusive contracts, funneling them into affiliated web shows or offline clubs and tours—and in the process, creating a model strikingly similar to the master-apprentice relationships of the past.
Beijing-based Dan Li Ren is funded by Tudou, the Alibaba-backed streaming site on which their contracted comics perform. In 2017, Shanghai's Fun Factory purchased the Chinese rights to Comedy Central Roast, a web program in which comedians poke fun at a celebrity, after securing 120 million RMB from China Media Capital and Wang Sicong, scion of the Wanda Group.
Within a year, Fun Factory's localized version, Roast, had racked up over 3.6 billion views on streaming platform Tencent Video. "Everyone wanted to do stand-up after that," Dan explains. "But the TV show producers were from a different era; they didn't have a clue how to incorporate Western-style comedy into their programs." As the company's stable of TV and web shows became increasingly varied, more comics were needed to fill the slots, but China's underdeveloped stand-up scene proved problematic. "Stand-up was underground and there was only a limited number of truly talented and experienced comedians," says Dan.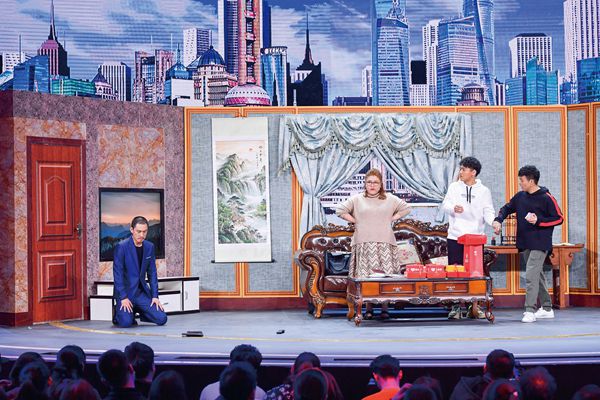 The competition within this small pool was cutthroat—often to the detriment of local comedy scenes. One independent comedian told TWOC anonymously that Shenzhen was one of the hardest-hit scenes, as comics relocated to Shanghai with their Fun Factory contracts. Many are lured by the prospect that, if their offline performances under the company get laughs, they'll have a direct pipeline to be cast in Fun Factory or its investors' online programs.
More established comics are concerned by the effect these companies may have on the nascent stand-up scene, noting that the terms of the contract can be exploitative and monthly salaries are low, especially for young talents. The aforementioned anonymous comedian compared the business model unfavorably to that of the shared-bike industry, in the fierce competition to accrue talent and debt just to gain market share. "Their incentive is not to create the best comedy, but to grow their own teams."
"Creativity is not just about investing money and getting a return; the equation is much more complicated than that," notes Tony Chou. While he is excited about the new capital flooding into the comedy sphere, he worries that market influences could cause stand-up to follow the "K-pop model"—"putting less emphasis on the individual and just finding good-looking people to tell jokes that other people write for them."
In spite of these concerns, Daniel Dan is currently signed to a start-up (which he declined to name), and is grateful to be allowed to make a living from his craft. His day job requires writing and directing Mandarin-language sketch comedy for other contracted comics at the company's clubs in Beijing, leaving his evenings free for his passion—English-language stand-up. "Jokes cannot be written in an office somewhere. The industry requires offline performances for the audience to determine if your ideas and jokes are actually funny," observes Dan, who explains that he hopes to "explain China to the world" through his comedy.
Tony Chou, though, is still doubtful of the new model's sustainability, noting that many web shows—the holy grail for comics, as well as investors—last only a couple of seasons. His work with Sohu has opened Chou's eyes to the unforeseen considerations of profit-making in programs, which often rely on one major underwriting sponsor because "most platforms assume people won't pay for content."
"In the West, there is one major stakeholder—the audience," reflects Chou, who is set to star in a forthcoming Sohu program modeled after Conan O'Brien's eponymous show. "In the Chinese model, you must worry about the audience, the sponsor, as well as the government. Producing something that all three can agree on is a nearly impossible task."
Still, Chou remains optimistic, noting that lower-tier cities are developing their own scenes. Independent clubs are popping up in cities like Shenyang, Xi'an, Qingdao, Xiamen, Taiyuan, Shijiazhuang, Chengdu, and Suzhou, though the best local talent still risk getting "poached" by comedy start-ups in Shanghai or Beijing.
"Stand-up comedy is on the rise and we must protect it," Chou notes with hope. "If we follow the early days of rock-and-roll in China—if we don't make waves, we will definitely succeed."
---
Funny Business is a story from our issue, "Funny Business." To read the entire issue, become a subscriber and receive the full magazine. Alternatively, you can purchase the digital version from the App Store.
---