Lego-certified builder Andy Hung discusses his new show in Beijing and his passion for the brick
Years ago, when he worked as a trader on the Hong Kong Stock Exchange, Andy Hung would decompress in the evenings by playing with Lego at home.
Since then, the 39-year-old Hung has turned his nocturnal passion into a career as Greater China's first Lego Certified Professional (LCP). In the fall of 2019, Hung exhibited his "Dynasty of Brick" at Beijing's Indigo Mall, including 14 never-before-seen Lego sculptures which took Hung's team over six months to make.
Hung's Hong Kong-based studio, Legend Creative, employs 10 full-time employees, as well as between 20 and 30 part-time or weekend employees, who make scupltures out of the iconic Danish toys for display and exhibition across Greater China. Although often described as works of art, none of Hung's works are for sale due to his status as one of the world's 14 LCPs, extreme Lego enthusiasts who build Lego sculptures as a full-time or part-time profession.
The LCP title—which offers factory discounts on the Lego bricks used in sculptures—can only be earned by the company's opaque internal nomination process. Hung, who received his first Lego set as a child from his parents, and became interested in building as a teen, had previously entered several Lego-building competitions. In 2013, as he was considering leaving finance for a more creative profession, Hung was approached by a Lego executive who was interested in growing the toy's market in China, and invited him to participate in an interview with the company.
"In the interview process, I needed to show the Denmark headquarters how I was going to combine Chinese culture with Legos in creative ways to engage with Chinese children, young people, and their parents," recalls Hung, who was put on probation in 2014 and became a certified LCP in 2015.
Although Hung has found inspiration from many different sources (including fashion brands; his Lego reproduction of the Gucci Sylvie handbag in 2018 caused waves in some fashionista circles), Chinese culture remains the major fount of inspiration, as evidenced by his recent works. "Dynasty of Brick" features life-size Terracotta Warriors, massive Sichuan opera masks, and hand fans with intricate flower "embroidery."
The highlights of the exhibition are the architectural pieces, which include a model of The Forbidden City made up of more than 500,000 Lego bricks, originally shown at the Danish Cultural Centre in Beijing in 2017. There are also Lego models of the Great Wall, the Temple of Heaven, a Beijing traditional siheyuan courtyard, the Bund in Shanghai, Wuhan's Yellow Crane Tower, the Tangyue Memorial Archway in Anhui province, and more.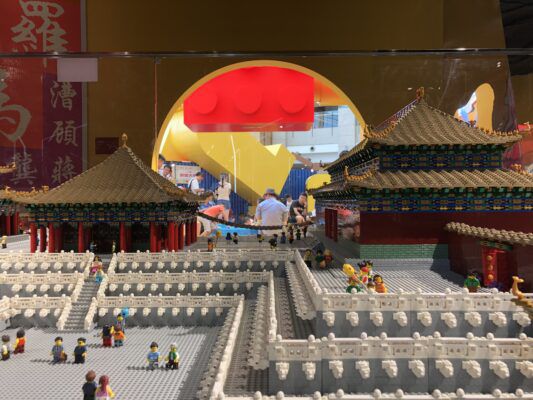 However, these intricate dioramas are also memorably "human": tourists being pulled through the historic sites in rickshaws; grandfathers in wheelchairs next to grandchildren holding ice cream cones; and a farmer tending to her crops. All are depicted by Lego people that make these historical reproductions come alive.
Other pieces are less immediately recognizable, as in the case of Hung's favorite sculpture "Dragon Flying Over the World." "It is one of my studio's newest sculptures and one of the biggest ones we have done in recent years," Hung says. "Unlike many of our architectural works, this is something abstract; it comes from the imagination. And yet, it a symbol of the Chinese people and taps into the feelings we Chinese share universally."
Perhaps the most poignant display is a small glass case filled with some of Hung's first Lego sculptures. The simple model airplane and helicopter highlight how far the master-builder has come since receiving his first Lego kit over 30 years ago. "In spite of an increasingly digital world, Lego captures children's imaginations in a special way," says Hung. "You cannot replace the ability to create something with your hands."

















Additional reporting by Tan Yunfei (谭云飞); photos by Ai Tian 
---