Exhibit honors Chinese "shrimp painting" tradition through the works of one of its milestone artists
Playing with shrimp and tadpoles in the local lake as a child, Zhejiang-born Zhang Dewen probably never expected to one day become the latest in a lineage of Chinese shrimp-painters stretching back to ancient times.
Staged from November 2 to 4 at the CPPCC Culture and History Museum in Beijing, the "Zhang Dewen Calligraphy and Painting Exhibition" gives new definition to "watercolor" by showcasing six decades' in the artist's portraits of shrimp, crab, goldfish, and aquatic plants in vivid and flowing ink.
Born in 1943, Zhang began copying the shrimp art of Ming dynasty painter Xu Wei at age 5 with the encouragement of his mother, a fan-painter who felt the boy's affinity with the neighborhood's water creatures. At age 11, Zhang was introduced to Qi Baishi (齐白石), the 20th century's best-known shrimp painter, who was then in his 90s. Zhang then served as Qi's apprentice until 1956, a year before Qi passed away.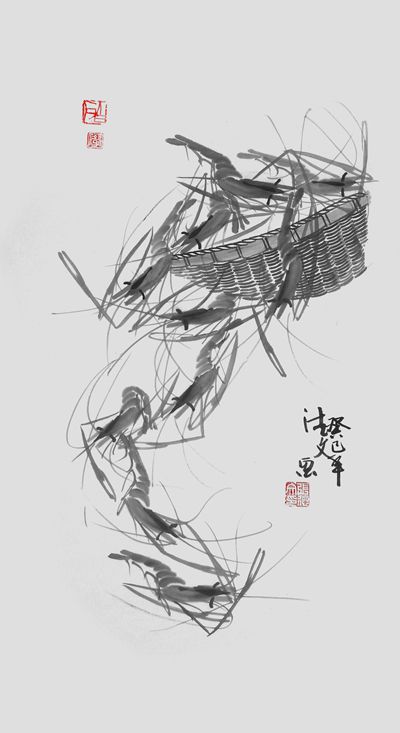 Historically, the shrimp was a common motif in traditional Chinese painting due to its symbolic connotations: of the dragon in the north, and silver in the south. It was also admired for its transparent appearance, representing purity; its freedom of movement, similar to a dragon in flight; and its lack of predatory instincts toward other creatures, representing moral character.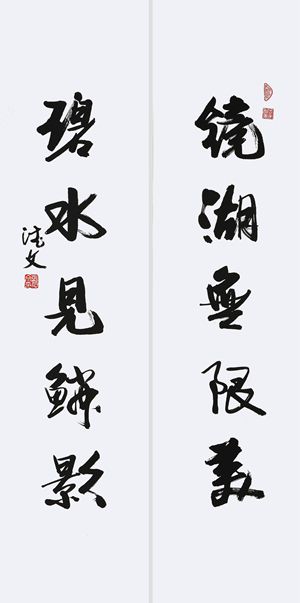 Shrimp painting became a distinct school within Chinese painting in the late 19th and early 20th century owing to the influence of Qi Baishi, whose 1954 "Painting of Hundred Shrimps" (《百虾图》) also known as "Painting of Dragons Entering the Sea" (《群龙入海图》), is the best-known Chinese shrimp painting today. Fetching a record-breaking 120 million RMB at an auction in 2011, the painting exemplified the attention to detail and uncannily authenticity in Qi's repertoire of works.
Over his own 60-year career, Zhang has built upon his teacher's technique to create his distinguished "Baishi Shrimps" style. His lifelike works are praised as "living shrimps on paper" by critics, who have installed Zhang firmly as the country's second-most eminent shrimp painter after Qi himself. In 2014, Zhang's own "Painting of Hundred Shrimps (《百虾图》)" became part of the Chinese state's collection.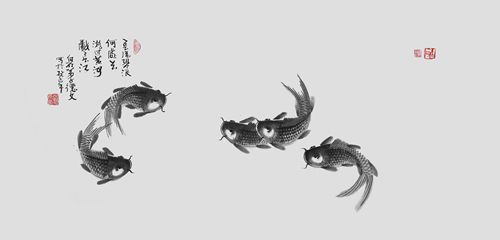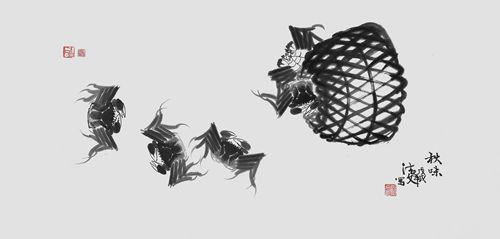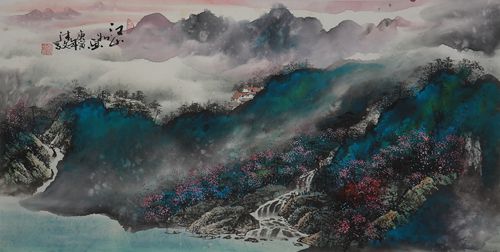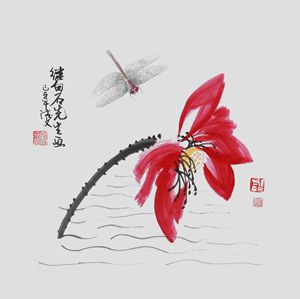 ---