China's once-hyped e-cigarette industry is running on fumes
The exhibition halls of the Beijing Vape Expo were quiet in December 2019. "Exhibitors even outnumbered the day's visitors," joked Blue Hole, a business news website.
The sparse corridors and vacant stands were largely the result of new regulations, announced jointly by eight Chinese government agencies on November 1, 2019, prohibiting the sale and advertisement of electronic cigarettes online. Products have been removed from online stores en masse.
"We were caught by surprise," laments an executive of the China office of one the biggest electronic cigarette companies in the world, who did not wish to be identified. Until the new regulations, his company had dreams of capturing a significant part of the market. "Now, we're nowhere in China, only on the black market."
Electronic cigarettes (or e-cigarettes) are battery powered vaporizers that heat a liquid solution, often but not always containing nicotine, producing a water vapor which the user inhales, or "vapes." The modern product was invented back in 2003 by Chinese scientist Han Li (Hon Lik), but vaping really began taking off in the United States, Europe and elsewhere in the 2010s.
In 2018, there were approximately 41 million e-cigarette users worldwide, up from 7 million in 2011. The US, where there are over 10 million "vapers," is by far the world's most lucrative market.
Han invented his e-cigarette to help smokers quit, but while some experts agree that vaping is safer than smoking traditional tobacco, as e-cigarettes contain less toxins and tar, others fear it may act as a gateway to smoking for young people and lead to nicotine addiction.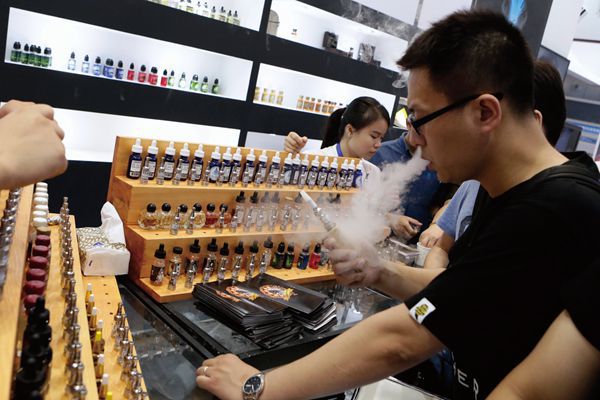 Over the past year, the public health debate has become more urgent, as vape products have been linked to 54 deaths in the US as of December 2019. Several states reacted with bans on flavored e-cigarettes, while the federal government is said to be planning to do the same.
The exact cause of those deaths is still unclear. According to research from the US Center for Disease Control and Prevention, it is thought that most victims became sick after using products based on tetrahydrocannabinol (THC), the psychoactive ingredient in marijuana, which also contained vitamin E acetate, a potentially toxic additive.
A rift has emerged in global attitudes toward the products, with the UK National Health Service actively promoting e-cigarettes to help traditional smokers quit, while others, like authorities in India, have announced blanket bans on the sale of all vaping products.
Before the recent regulatory tightening, China's own domestic vaping market was beginning to grow rapidly. At an industry conference in December 2019, Ao Weinuo, secretary-general of the Electronic Cigarette Industry Committee of China Chamber of Commerce, stated that the e-cigarette industry grew by 175 percent in 2019. Sales for the year reached 1.57 billion USD, making China the world's fifth biggest market for vape products. China's National Health Commission (NHC) estimates that 10 million people in China now use e-cigarettes.
The NHC also found that those between 15 and 24 years old were the most likely to vape, with most buying their products online. China's ban on online sales and advertising, released under the heading "Announcement on the next step in protecting minors from the dangers of electronic cigarettes," referenced the risk that vaping poses to children and took aim at marketing campaigns that used terms like "youth," "fashionable," and "trendy."
Although the number of electronic cigarette users in China is just a tiny fraction of the 315 million that smoke traditional cigarettes, the rise of vaping also presents a conundrum to the state-owned tobacco industry. In China, the sale and distribution of tobacco products, unlike electronic cigarettes, is state controlled and generates nearly 6 percent of the country's total tax revenue, according to government figures.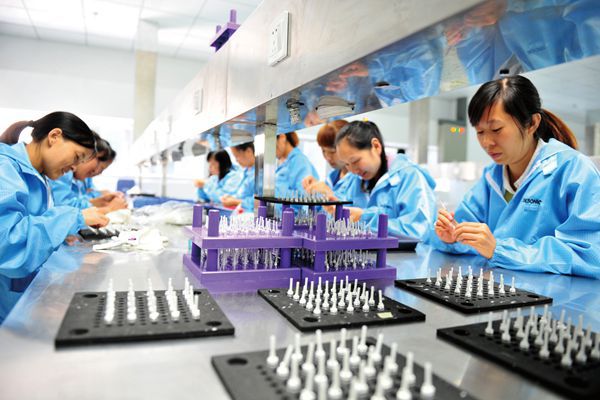 Jin Ruifeng, chief editor of the HK Vape website and industry expert, believes the traditional tobacco industry played an important role in producing the new regulations. "[Banning online sales] definitely has some benefits, but I think the benefits aren't that big. It's just an excuse; an excuse to crush e-cigarettes," Jin tells TWOC. "If they can't control it, it will have a big impact on the traditional cigarette industry."
Some online agree with Jin's assessment. On Weibo, a comment underneath news of the November 1 regulations ridiculed the state tobacco monopoly, gaining 3,000 "likes" in the process: "If everyone smokes e-cigarettes, how will those in the tobacco bureau eat?" A poll of 18,500 users on Weibo found opinions split—nearly 10,000 supported the ban, while around 9,000 were opposed.
Whatever the motives, the online ban means that the search term "electronic cigarettes" on internet shopping platforms Taobao, TMall, and JD returns no results. On December 26, 2019, authorities in Chengdu arrested five people suspected of advertising and selling vape products through WeChat. According to an article published by the China Association for Tobacco Control in December, many brands had taken to selling through informal social media channels, such as Weibo, WeChat, and Douyin, since the ban was enacted.
With 45 percent of China's e-cigarettes sold online before the new regulations, closing this channel has had a significant impact on businesses, some of which were already struggling after regulations tightened in the US in response to a spate of illnesses and deaths related to vaping.
At a conference less than 20 days after the November 1 ban on online sales, Ou Junbiao, chairman of the Electronic Cigarette Business Committee of the China Electronics Chamber of Commerce, said that about 10,000 jobs in the industry had already been lost. In December, Ou told consulting firm China Venture that his own company, Sigelei, had reduced its staff numbers by half, from 1,000, since the new rules came in, while Reuters estimated that 50,000 jobs throughout the industry had been lost as a direct consequence of the online sales ban.
Some brick-and-mortar store owners aren't benefiting as they expected they would when they became the only legal way through which China's vapers could get their fix. Xin Zegao, a store owner in Dongguan, told Blue Hole that brands are dumping their stock on the market.
Tom Genereau, CEO of BI-SO China, says he has lost a big part of his business because many Chinese distributors have stopped buying since the new regulations. BI-SO, a Japanese company, is in the process of analyzing how best to proceed in China. "It's quite uncertain for the moment…many companies are giving up on the Chinese market," claims Genereau.
Larger domestic brands are better equipped to survive, and have struck an optimistic tone, publicly welcoming the authorities' decision on regulation and bending over backward to show their commitment to preventing the sale of their products to children. "The online sales ban is good for us…We want more regulations because at the moment there are no clear standards for the industry, except that you can't sell online," Wang Sa, co-founder of SnowPlus, a vaping brand, tells TWOC.
SnowPlus, founded in early 2019 by a handful of young, US-educated, entrepreneurs, adopted "Keeping electronic cigarettes away from minors" into its "constitution" in November and cancelled its contract with at least one shop that was accused of selling to children, according to Wang.
In December 2019, RELX, the biggest vape brand in China's market with 60 percent market share, claimed to have invested 100 million RMB in its "Sunflower" system, which will use a combination of facial recognition, ID checks, and AI age-prediction technology to verify customers' age before purchase. The company plans to have the system rolled out in all its stores within seven months.
Not all companies have taken the news in their stride. Rumors have circulated online that JUUL, the world's biggest vape company, has essentially exited the Chinese market. The US firm only entered China in 2019.
Some companies worry that these rules are just the first step on a path to much stricter regulation, perhaps culminating in a blanket ban on vape products or, as has happened in some US states, the prohibition of flavors deemed attractive to youths. The anonymous executive who spoke to TWOC believes it could even be a prelude to the industry being taken under state control as part of the tobacco monopoly.
Jin thinks this is a possibility, but the chances are slim. "[The government's] next step is probably to put out a new authentication system and a new industry-wide trial system…the other direction is that they decide offline sales are also not safe, and they might close offline sales."
Much may depend on how the US decides to regulate electronic cigarettes, where investigations are still ongoing into the illnesses and deaths linked to vape products. "The Chinese government looks to the US and Europe for new standards…we can't do much until we see what the US will do," says the executive.
Whatever comes next, vape expos in China might be quiet for a few more months to come as, according to Blue Hole, "the fight has just started."
---
Vape Trails is a story from our issue, "Alpine Ambitions." To read the entire issue, become a subscriber and receive the full magazine. Alternatively, you can purchase the digital version from the App Store.
---