Online medicine aims to close China's urban-rural health care gap
For Li Yan, visiting a doctor used to mean a costly and time-consuming trip to the nearest city hospital, over 150 kilometers away from his home in Hongjingzi village in the northwestern Ningxia Hui Autonomous Region.
Now, however, the farmer can see an expert from one of Beijing's top medical facilities at the local county hospital via webcam, and send medical scans over the internet. "I never realized I could see a Beijing specialist at the door of my own home!" Li crowed to the People's Daily after getting a personalized treatment plan for Hunter's Syndrome.
To alleviate the chronic problem of uneven distribution in China's health care system, the government, tech companies, and hospitals have begun turning to technology. According to China's National Bureau of Statistics, illness is the most common cause of poverty in the country, impoverishing around 30 million people in China in 2015.
Medical facilities in the countryside are often primitive, and well-trained doctors in short supply. In 2018, there were 3.92 practicing physicians in China for every 1,000 urban residents, compared with just 1.59 for those in rural areas. Doctors practicing in rural areas typically have less than a bachelor's degree and run a small clinic alone, and their numbers are on the decline—some villages have no medical personnel at all.
It's hoped that technologies like online consultations, telemedicine apps, Artificial Intelligence-assisted diagnoses, and electronic medical records can plug this gap. In 2014, the Guangdong Number Two People's Hospital became the first in China to offer online diagnosis services. The hospital serves as a hub that links medical facilities across Guangdong via a web platform to provide remote care to over 2,000 poor villages in the province.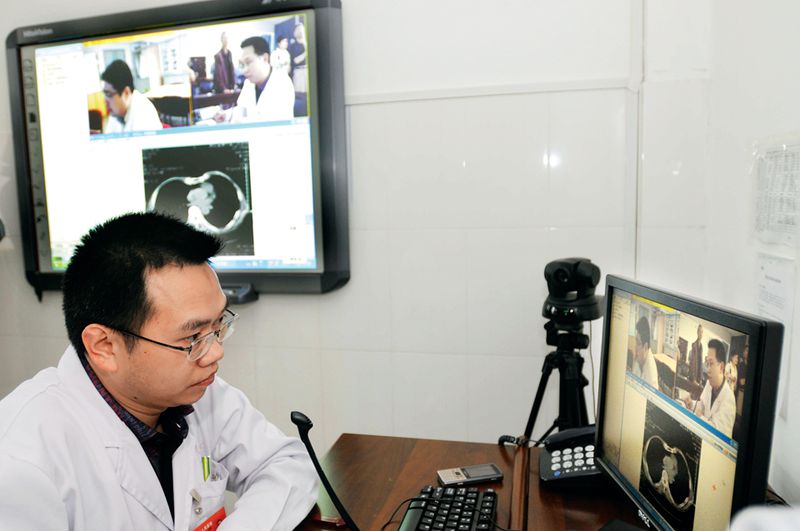 To use this and similar platforms, village doctors install AI software on their mobile phone to get help with diagnoses and consult with specialists at city hospitals for complicated cases. Ningxia set up its own program in 2018, providing an online platform for remote consultations and video links in hospitals for patients to connect with expert doctors in the cities. Since 2018, the autonomous region claims to have provided 1.25 million instances of remote medical services to patients like Li.
"The cost of this system is quite low, not only for patients but for village doctors and for the hospital," explains Wu Shaolong, associate professor at the School of Public Health at Sun Yat-sen University. "It's lower than the cost of training, teaching, or giving one-on-one help [to village doctors]."
During the 1980s and 1990s, as the collectivized system collapsed, millions in China fell out of health insurance coverage. The introduction of profit-motive into the health care system also concentrated doctors and resources in the cities. Rural residents often travel long distances to seek care at superior urban hospitals, where costs are higher and overcrowding is common.
The vast majority of the rural population is now covered under the New Rural Cooperative Medical Insurance Scheme, established in 2003. However, they must still pay a portion of most medical treatments out of pocket, and pay upfront and claim back later. Long hospital stays and chronic conditions that require long-term medication and treatment can still be disastrous for a family's finances.
Remote care initiatives can relieve stressed doctors at urban hospitals, who are often forced to rush through a mounting number of patients. Rural doctors stand to benefit too. In Jinshan village, Hunan province, Yifu Tianxia, a medical technology firm, has supplied "smart" self-checkup kits to residents, connected to a mobile app where the results are stored.
For Guo Genxin, the village doctor, the kits save him from having to painstakingly visit each household with just the "three old instruments" (a stethoscope, thermometer, and blood pressure gauge) four times a year to perform health checkups on each resident, as stipulated by the public health bureau, and then record the results by hand. "Before, even with no rest all year, it wasn't certain that I would complete this, but now, because residents can test every day at home; they've all done it more than four times," Guo told Vcbeat.com, a news site.
Guo's routine harkens back to the "barefoot doctors" of rural China, who first emerged in the 1950s. These physicians, provided with minimal medical training and schooled in the basics of public health, were similarly poorly equipped; but through basic knowledge of common illnesses and prevention methods, they provided essential primary health care to millions of Chinese peasants, and helped increase national life expectancy from 35 years in 1949 to 68 years by the 1970s.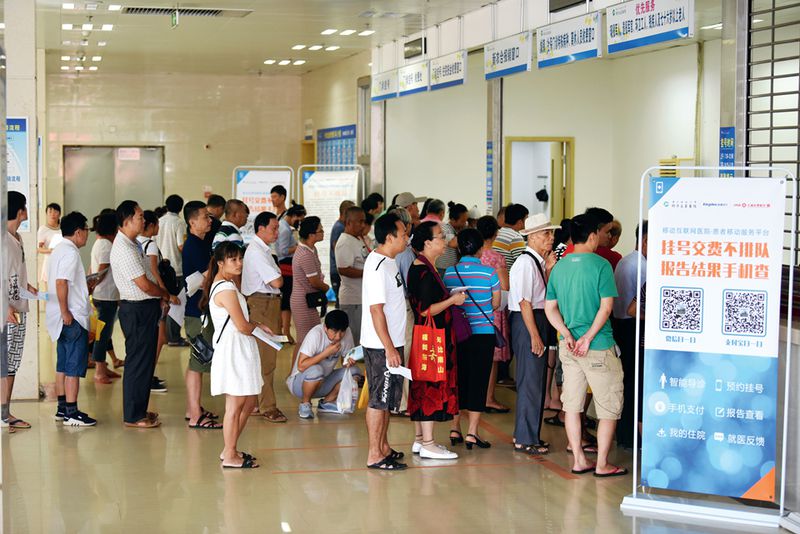 Government policies have begun to address the rural-urban health gap, and identify technology as a major solution. The central government's "Healthy China 2030" initiative, which aims to raise national life expectancy to 79, has emphasized improving rural health care and ensuring "healthy poverty alleviation" through technological innovation; rural anti-poverty campaigns have made similar promises.
According to digital health care company WeDoctor, the number of households in poverty due to illness in Guangshan, Henan province, fell from 41.65 percent to below 20 percent since it partnered with the county government to digitize the local health care system. He Wei, a member of one of China's top political bodies, recently announced he would put forward a proposal at this year's national congress meetings aimed at improving health education, preventing illness among the poor, and improving training of rural doctors, partly by encouraging hospitals, governments, and educational institutions to invest in internet health services.
Previously, online medical services have been limited by regulations to only providing follow-up consultations and repeat prescriptions, and medical spending online was not covered by health insurance policies. Platforms have only been permitted to sell prescription drugs online since July 2018.
However, these rules have been relaxed due to the Covid-19 outbreak, as patients turned to online care to avoid cross-infection at hospitals. In March this year, the State Council announced plans to bring online medicine under the scope of health insurance. In April, the National Reform and Development Commission and Cyberspace Administration published a plan that would allow first-time consultations and diagnoses to be conducted remotely. Some local governments have already begun covering online health care fees.
"Internet diagnosis and treatment entering into medical insurance payment shouldn't be a one-time thing," Zhang Songqi, director of communications at WeDoctor, tells TWOC. "If medical insurance is opened up [to online services]…online health care will really develop rapidly."
The government's cautious approach up to now reflects worries that doctors cannot provide diagnoses over the internet with the same accuracy as they would offline. "With online treatment, there are still some areas where the supervision and regulation aren't seamless, so there must be limits and rules for it; it must protect patient's safety as a bottom line," Lei Chenshi, a doctor at Ningxia Medical University Hospital, told the People's Daily.
But while some illnesses are difficult to diagnose and treat via video screen, others might actually be more suited to online care—for example, mental health issues. "If patients come to the hospital, maybe they'll come with a family member and so they can't talk about their problems…for these types of illnesses, they can use the online video method," argues Wu, the professor.
Not all projects succeed, in part because of poor quality. "For a lot of products, the technology is not as mature as it appears in the media," says Wu. "They often don't have talented medical people working on their products, or it hasn't gone through enough tests."
Others struggle to extend their innovations into the countryside. Poor broadband connections, lack of smartphone use, cost, and low returns all pose barriers to access. National People's Congress member Kan Quancheng claimed in 2019 that remote health care was available in all of Henan's county level hospitals, over 50 percent of townships, but only 20 percent of villages. At present, 10 percent of hospitals nationwide provide basic online question-and-answer services; just 2 percent offer checkup appointments online, and those offering remote consultations are fewer still.
The cost of treatment may not change substantially either. "The reduction in cost isn't directly from the treatment costs," says Wu, but "if you don't need to bring your family to a very distant place to see a doctor, that [saves the] transport fees, food and accommodation."
During the Covid-19 outbreak, a number of telemedicine platforms, such as Ping An Good Doctor and Ali Health, offered their services for free. In February, Ping An claimed new user registrations on their app had increased 10 times, with over 1 billion visits to its platforms since the outbreak. As a result, the remote health care industry is expected to grow to 100 billion RMB (14 billion USD) this year and 200 billion RMB (28 billion USD) by 2026, according to 36Kr, a technology news website.
But this recent boom has been driven largely by middle class urbanites, rather than rural residents. Villagers still need help from government, city hospitals, and tech companies to receive health care on a par with that found in urban areas. Technology "can save patients inconvenience, but it can't increase health care resources," Li Bin, a researcher at Georgetown University Medical Center, tells TWOC. "Of course, seeing a doctor remotely is less effective than seeing a doctor normally."
---
Digital Diagnoses is a story from our issue, "Contagion." To read the entire issue, become a subscriber and receive the full magazine. Alternatively, you can purchase the digital version from the App Store.
---