An Olympic push brings an influx of opportunity for China's emerging surf community
In 2014, 34-year-old Wu Chengze decided to give up a lucrative marketing job in Guangzhou, and move to Hainan province to ride the waves. "I thought it was useless to buy an apartment in the city; I'd rather buy a guesthouse by the sea so I can surf," he says.
Settling on the island province's southern coast in Houhai, a stone's throw from the vacation mecca of Sanya, Wu set up one of the first of now around 50 guesthouses in the small fishing village that has become the center of China's fledgling surf scene. These days, dozens of young surfing enthusiasts live in Houhai full-time among the fishermen, working at the surf clubs that line the beaches.
Originally from the landlocked city of Chengdu, Wu was part of the first batch of Chinese to embrace surfing. He got his first taste of it in 2010, while visiting a friend who ran a small surf shop in Houhai. "At that time, I was at my lowest ebb because of problems in my work and in my love life, so I really wanted to find a place where I could express my feelings, and get some exercise," he recounts.
Hundreds of guests now come from all over China to take advantage of surfing conditions at Houhai, which are considered perfect for beginners: The water is shallow, the bay sheltered, and the ground sandy without rocks. During the day, tanned, chiseled instructors talk their pastier clients through the basics of the sport on land, before leading them into the gentle waves. Recent graduates on gap years also flock to the village to work in exchange for room and board at local hostels, and hit the waves when they clock off.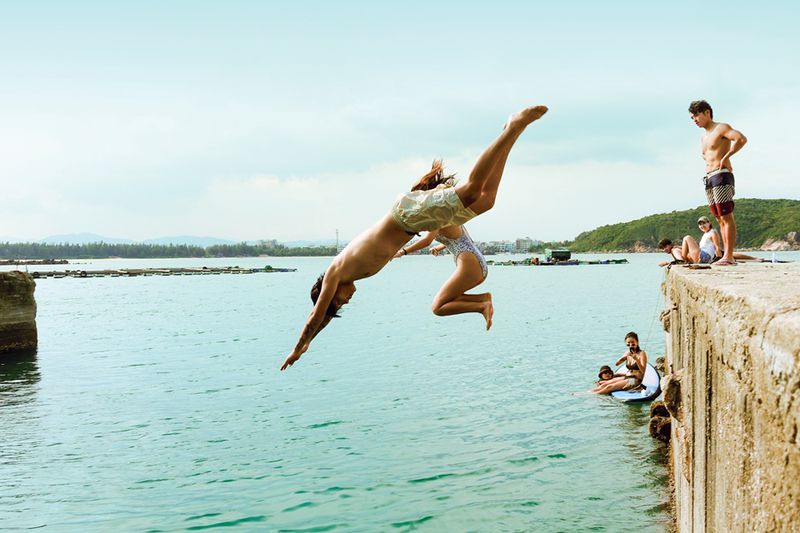 The Chinese may have been among the world's first adopters of surfing. Evidence of people "treading waves" (踏浪) on tidal bores that form on the Qiantang River in Zhejiang province has been found dating as far back as the Song dynasty (960 – 1279).
Despite this heritage, the modern sport of surfing (冲浪) remains niche. Based on an indigenous Polynesian exercise, surfing spread worldwide at the turn of the 20th century via Western visitors to Hawaii; the world's first surf club was established there in 1908. China, though, counted only 1,000 surfers as of 2016 according to the General Administration of Sport, compared with around 23 million surfers worldwide, and 2.4 million in the US.
In the recent past, Chinese authorities demonstrated suspicion of the sport. "If we carried boards on our cars, police would stop us, saying it's dangerous," Li Jing, an employee at a surf club in Hainan's Riyue Bay, told Vice in 2019. In 2016, security guards at Xichong beach in Shenzhen were filmed sawing chunks out of a surfboard after a swimmer allegedly collided with a surfer, leading the beach's management company to ban all surfing in the area.
The same year, though, the sport saw a surge of interest from Chinese authorities after it was announced that surfing would become an Olympic event for the 2020 Games in Tokyo. "We will support even more cities and clubs suitable for surfing development…[and] lead society to set up and run surf training bases," Zhang Liuqing, president of China's Extreme Sports Association, declared after the Olympic announcement in 2016.
With qualification of a Chinese competitor for 2020 as the goal, a gleaming national surf center was opened in 2017 at Riyue Bay, about 75 kilometers up the coast from Houhai. China's first national surf team was established, employing foreign coaches from the US, Australia, and Italy.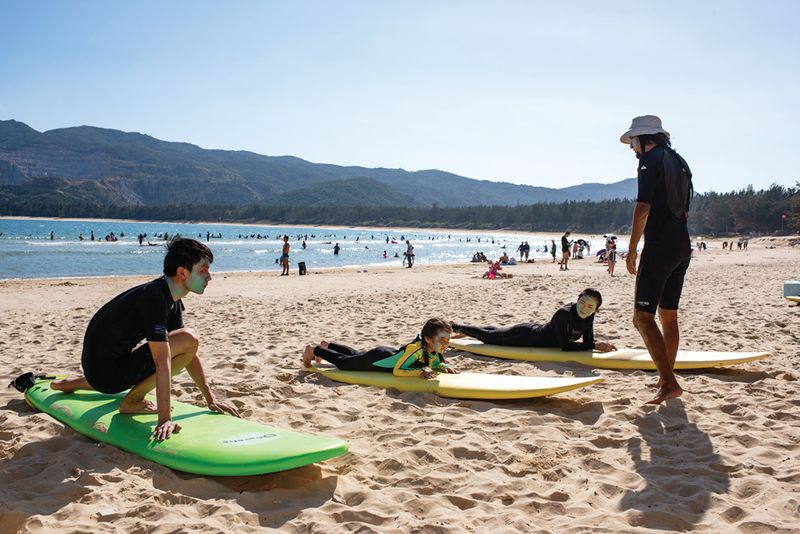 Around 100 Chinese surfers now train at Riyue Bay, most of them under 18. While top level international success has so far eluded Chinese competitors, "China has already done more for surfing than most other nations," Nicola Zanella, an Italian coach of China's national surf team, told sports business website Ispo in 2016, citing Chinese efforts to hold world tour events in China, and to train more internationally accredited instructors.
Monica Guo, one of the first members of China's national surf team, has profited from this increased attention. Guo has won the women's longboard event at the Hainan Open in 2016, and finished second at the Asian Surfing Championships in the same year, the best performance ever by a Chinese woman.
The 33-year-old from Yangshuo, Guangxi Zhuang Autonomous Region, once trained for a career in basketball, and was inspired to try surfing in 2008 after seeing the American surf movie Blue Crush. She later quit her office job to surf full time. "I felt trapped. I wanted more freedom. People who surf want freedom."
By 2011, she was entering competitions and had turned professional, initially without her parents' blessing. "They hated it," recounts Guo. "Number one, I was tanned…they thought there was no way I could get married. That was their biggest worry."
Darsea Liu, another of China's first professional surfers, encountered similar resistance when she decided to move to Hainan in 2007. Liu had initially come for a two-week holiday, but quickly fell in love with surfing and moved to Hainan full-time. "It was very difficult for my parents to accept, because people think surfing is a very dangerous sport."
Liu claims her family in Hubei, the central province where she grew up thousands of miles from the coast, lacked understanding of the sport, as do most in China: "Most of our population doesn't even know how to swim." This has made it difficult for both Liu and Guo to forge a career in surfing: The money from sponsorship and competition prizes has never been enough to cover all of their living expenses, forcing them to teach and open businesses on the side.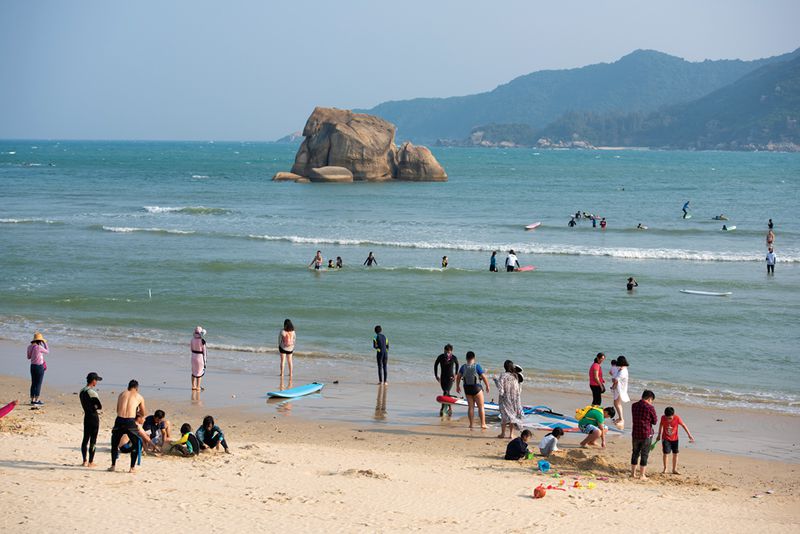 Even for amateurs like Wu, making a living off their passion can be difficult. Wu is the only one of Houhai's first generation of guesthouse founders to have weathered the financial pressures and remained in the community. He stays afloat by selling his guesthouse's own branded clothing and surf equipment, operating a surf school, and making other investments. Business has also been decimated by the coronavirus outbreak at the end of 2019, with no guests at all during what is usually a busy time of year.
Still, encouraged by the swell of government support, Wu opened a second, more luxurious guesthouse in 2019 near the national team's headquarters at Riyue Bay. "After China's surfing develops, our customers may want to improve their technique at a place with bigger waves," he reckons.
Though authorities at the national level have been promoting surfing for the glory of the nation, Wu claims that village officials in Houhai have yet to match their enthusiasm. "During peak [tourism] periods or holidays, they make us put the boards away and don't let us rent them out." While Wu recognizes their concerns about the safety of the inexperienced tourists, "We need higher levels of government to promote the sport more and support it," he argues.
Before this year, though, Houhai was beginning to draw more and more people from across China to experience its unique surfing culture and enjoy a lifestyle far removed from the stress of China's crowded cities. In contrast to the luxury beach resorts at neighboring Yalong and Haitang Bays, Houhai has kept its quaint village feel, with tight alleyways winding between its low-rise buildings, a hodgepodge of local residences, craft shops, family restaurants, beachside bars, and the homes that adventurers like Wu have made in the community.
Houhai has a unique flavor that you can't get anywhere else in China, according to Liu: "In Houhai, I always consider the people around me my brothers and sisters; we surf together, train together, run together, we do beach clean-ups together, we do workshops together." Liu and Guo both intend to stay in Houhai, and have both somewhat managed to talk their parents around to the idea—Guo has even taught her father to surf.
And despite occasionally choppy business, Wu is convinced he made the right choice to follow his dreams. "I don't just surf when I'm in the ocean; I can surf in the sea of people when I work too," he says. "I'm a wave person."
---
Making Waves is a story from our issue, "Grape Expectations." To read the entire issue, become a subscriber and receive the full magazine. Alternatively, you can purchase the digital version from the App Store.
---