Unregulated and unproven folk remedies remain popular in rural China
Vinegar and eggs to clear up acne, peppercorns and alcohol for a toothache, and, in the past, even white arsenic for cancer: These are just some of the folk remedies that have been used by Chinese through the ages.
Prior to the development of modern medicine, grassroots cures were used to deal with a wide range of ailments. Folk medicine, known as pianfang (偏方) or colloquially, tufangzi (土方子), is arguably the foundation on which much traditional Chinese medicine (TCM) is built.
Folk remedies are often highly localized, using easily available natural ingredients, and passed down through generations of the same family or village. Tufangzi may also involve the use of magic, incantations, and religious rituals, whereas modern forms of TCM rely on a theoretical framework of how different elements in the body work.
These local remedies are still applied in many rural areas across the country. Where there is limited access to medical services, medicines based on locally sourced plants and ingredients are cost-effective and convenient. "In my childhood, the only hospital, which my parents couldn't afford, was dozens of kilometers away, so families would resort to natural therapies inherited from our ancestors to treat ailments," Ms. Lu, a 70-year-old villager from Anhui province, tells TWOC.
According to Lu, her mother cured her father's arthritis by applying hot wormwood water, and treated fevers with guasha (刮痧), a method of scraping the skin on the back that supposedly boosts blood circulation and removes toxins.
Some traditional folk medicines may be beneficial, or at least harmless, but others are risky. Cases of serious harm from home cures abound. In 2018, an elderly woman applied chili powder to a wound on her 9-year-old granddaughter's finger, causing it to get infected; doctors eventually had to amputate a larger section of the finger than they would have without the home remedy.
This year, a man in Hunan ground up lead wiring with water and drank it to alleviate insomnia, and was later hospitalized with lead levels in his urine over 173 times higher than normal. Last month, a man in Guangdong province tried to treat constipation by inserting a 40-centimeter long live eel into his rectum, which almost killed him before doctors surgically removed the fish.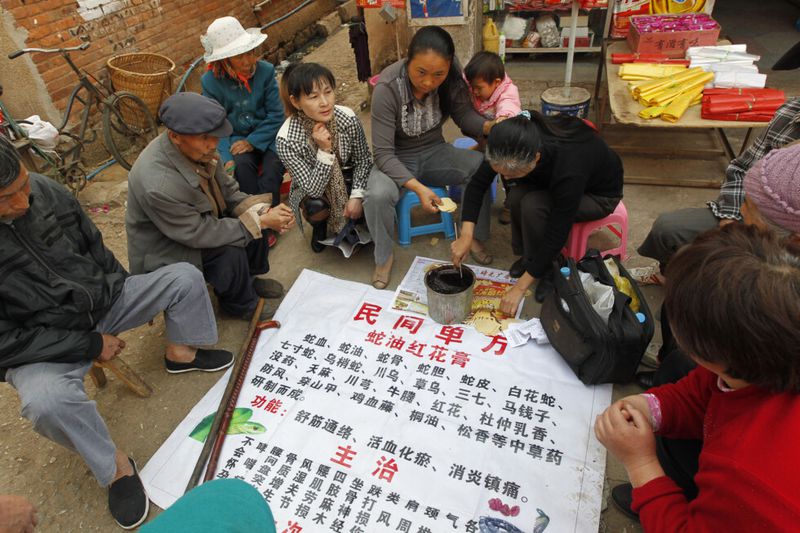 Many "folk remedies" are sold online, with claims that they can treat a range of medical problems, but often without any accreditation. One folk medicine online seller on Taobao with monthly sales of 399 orders claims to have nine products that could cure incontinence.
When TWOC posed as a potential buyer, the seller stated "There are dozens of medicinal herbs in our products. It is very effective in treating such disease." TWOC asked about the specific ingredients, suggesting concern that the folk remedy might interfere with other medicines, but the seller refused to outline the specific contents, replying "It doesn't matter…There will be no chemical clashes." TWOC has yet to find any certification from Chinese authorities for the online pharmacy, which has been active since 2011.
Under the 2017 Traditional Chinese Medicine Law, folk healers are required to acquire certifications, their prescriptions must meet pharmaceutical standards in China, and they must submit to inspection by the National Medical Products Administration. However, the complexity and variety of folk medicines and practitioners means specific laws on folk treatments are difficult to enforce.
"Blindly using folk medicine can get in the way when medical professionals attempt to diagnose a disease, which delays treatment and leaves victims to suffer longer than they would have if the symptoms were kept clear," a "barefoot doctor" surnamed Zhao, who has been working with Chinese medicine for over 20 years in rural Anhui, told TWOC. Dr. Zhao suggests certain folk remedies for minor ailments such as coughs are acceptable because they are more affordable and effective than prescription medicine, but "the one-size-fits-all remedy does not always help cure illness."
While there remains a place for herbal cures passed down from generation to generation, better understanding of what is harmful is needed in future. "I'm not saying that we should abandon [folk medicine] just because it has led to death," says Dr. Zhao, "but we should turn these folk prescriptions into verified treatments with the help of medical workers and researchers."
Dr. Zhao's folk cures (try at your own risk!)
Vinegar and egg rubbed on the skin to clear acne
Gargling peppercorns mixed with alcohol for 2 – 5 minutes to treat toothache
Washing hair with wormwood to reduce hair loss
Rock candy and chicken stew to cure a cold
Eggs boiled with brown sugar to cure a continuous cough
All images from VCG
---