New foreigner rap song, Mobike's environmental honor, and fire destroys pagoda
The Viral Week That Was is our weekly round-up of the previous week's trending memes, humor, rumor, gossip, and everything else Chinese netizens are chatting about. Think of this as a nicotine patch to help ease yourself into the week after suckling on the smokey teat of the weekend.
Welcome back one and all to the wonderful world of the Viral Week. Coming up today, the return of coal, a temple fire in Sichuan, Shawn Yue gets married, and Mobike's new award. But first…
Rap about China
Ever since The Rap of China stormed the net, it seems that everyone and their mother(f*cka) feel the need to express themselves through the medium of MC'ing. The latest one to assault the masses is one from foreigner Dylan Jaye.
Creatively named "Another Day In China," the song follows his raps about daily life, which includes WeChat, Taobao, and horrendous attempts at humor and insight.
According to the Shanghaiist, the song is part of a marketing campaign by Ychina, a social media and video channel that showcases the lives of foreigners in China. To help the start-up, founder Raz Gal-Or was gifted 10 million RMB in funding by his father. Apparently, none of that went toward quality control.
Old King Coal
Previously, TWOC had warned of a potential smog-saturated winter for residents of the northern reaches of China. Fortunately, this has so far failed to transpire, with blue skies dominating much of the Beijing skyline.
However, this may all change as recently the government has temporarily suspended the ban on coal, while China's north experiences a heating crisis.
Millions have been reporting a lack of heating, as China attempted to move away from coal and toward alternative sources of energy.
According to official statements, there are areas where coal-to-gas have not been fully realised, and so led to a lack of heating for much of their local population.
In addition, the ban led to spike in gas-demand, resulting in a shortage of supply and surges in price. Now that coal will be allowed once more, the question remains: What do we prefer—clean air or warm homes?Apparently, you can't have both.
Temple torched
A Buddhist temple in Mianzhu, Sichuan province, was burnt to the ground over the weekend, after it took firefighters four hours to extinguish the flames.
The Lingguan Mansion complex was a 16-storey wooden pagoda made with wood, known as the tallest in Asia. Local papers reported that in the aftermath, all that remained was a pile of charred wood.
However, the temple is no stranger to resurrection—it was originally destroyed in the earthquake of 2008.
Shawn Yue ties knot
The top ranking Weibo post last week was from Hong Kong actor Shawn Yue. In the post, he attaches a picture of himself with his new wife and words declaring his love.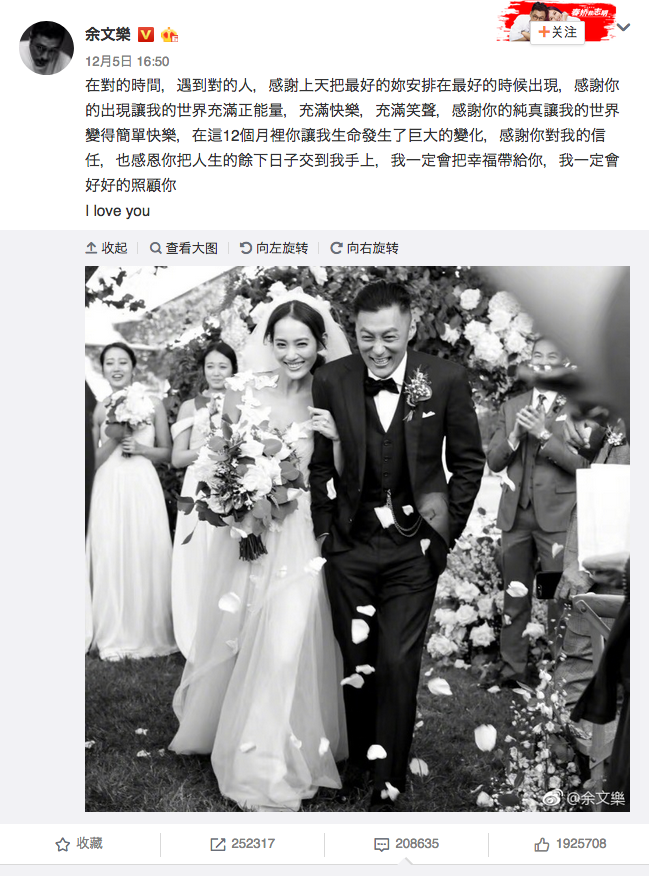 Yue started his career as a model and established himself as an actor in Hong Kong gangster films such as Infernal Affairs. However, he is probably best known for his role as Jimmy Cheung in the Love Trilogy (in a Puff, in the Buff, and Off the Cuff).
Mobike Environmentally Friendly
Bike sharing has been in the news mostly either another brand starting up or failing. However, just last week, Mobike was honored by the UN for their environmental work.
According to data from Mobike, their users have traveled more than 18.2 billion kilometers on their bikes and thus avoided approximately 4.4 million tonnes of carbon-dioxide emissions. The UN seems to have overlooked their many bike graveyards that muddy the landscape.
Still, this comes as good news for users, as bike-sharing in China has been experiencing over-saturation with too many companies to choose from.
---