From shopping online to renting bikes, Chinese citizens are contributing to the fabric of their own supervision
On June 1, the PRC's new internet safety law, requiring users of all internet services in the country to register under their real name, took effect with barely a passing mention in the mainland media. Instead, the main story was about the opening of China's first automated convenience store, BingoBox, in Shanghai, and the similar ventures that followed, nicknamed "viral enterprises" by a rash of tech and commerce publications.
Coincidence? It's hard to say. Either way, the events of last summer are a crash course in Chinese governance in the digital age. Laws, regulations, and a surveillance infrastructure from above are deemed almost irrelevant, compared to the innovations of private companies, many of which have convinced consumers to hand over their personal data willingly—even enthusiastically.
The BingoBox automated store, for instance, operates using steps that are, by now, second nature to most cellphone users in China: Users scan a quick-response (QR) code and register with their government-issued ID number to open a BingoBox terminal, and pay with WeChat or Alipay apps, both systems that require real name registration. Tao Café, the automated outlet of e-marketplace Taobao, adds face-scanning, expediting the process by simply charging the shopper's Taobao or Alipay account for items as they walk out.
A country-sized version of Tao Café seems a likely direction for the Chinese government's controversial "social credit" scheme, which aims to go into effect by 2020. To media in the West, the prospect of databases and "trust" scores assigned to each Chinese citizen based on their society-wide data footprint—in areas like debt repayment, criminal record, job performance, and more—seems like surveillance.
It's telling, however, that in 2015, the People's Bank of China (PBOC) assigned the task of running pilots of China's first nationwide consumer credit-rating system to eight private companies—among them Ant Financial Services, which is owned by Alibaba.
Data giant China Rapid Finance, though not part of the PBOC pilot program, is another major player with access to data from ubiquitous social-media app WeChat and its WeChat Wallet service. Ant Financial, which runs the burgeoning Sesame Credit, has the Alipay app, responsible for a massive chunk of China's online payments.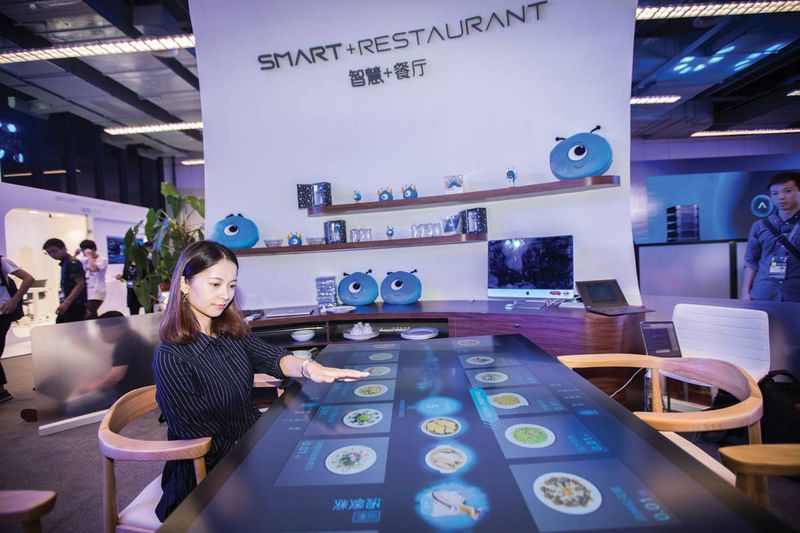 To experts who study the nexus of data and society, this choice was unsurprising. "Data that companies collect used to be seen as the 'exhaust' of the digital age: whether it's your personal information that they ask for, or your activity or even meta-data about your activity," says Peter Chow-White, founder of Simon Fraser University's GeNA Lab, a center for research on the social and organization impact of data. "But for many companies now this is their primary purpose, either to use [the data] themselves or sell to third parties, or even share with the government."
Chinese tech entrepreneur Jack Ma had been more explicit—in a 2015 talk, he called data "the most valuable asset" of his company Alibaba, the developer of Taobao and parent company of Ant Financial Service. Alipay's rating system, Sesame Credit, is currently China's most widespread, with a variety of high-profile partnerships: A high credit score brings benefits like expedited visas to Singapore and Luxembourg, as well as deposit-free bike sharing, hotels stays, and, as of October, apartment rentals from participating developers in eight Chinese cities.
Alipay keeps its calculation of credit scores a secret: It's based on some combination of the user's credit history, ability to fulfill contracts, the submission of personal information, behavior and preference in purchasing, and relationships with other users in their Alipay "friend" list. Generally speaking, though, scores can be raised by frequent purchases with the app or just from making one's information more complete—for example, by filling out the "education" and "work" fields of the profile page. Users have even reported that using the app's "real name purchase" services, such as booking hotels or buying insurance, have benefited their score more than a regular Taobao spree.
At the time of writing, there are no direct penalties for having a low Sesame Credit score, and signing up is technically optional (though opting out is complicated). Yet as commerce and services in China become more technology-driven, simply getting left behind can be punishment enough. In October, a supermarket in Yibin, Sichuan province, courted controversy by making a high Sesame Credit score a hiring requirement; Alipay has already sponsored one campus career fair in Hangzhou in 2016, where recruiters looked at students' scores, supposedly as part of a "lesson" on the importance of good credit.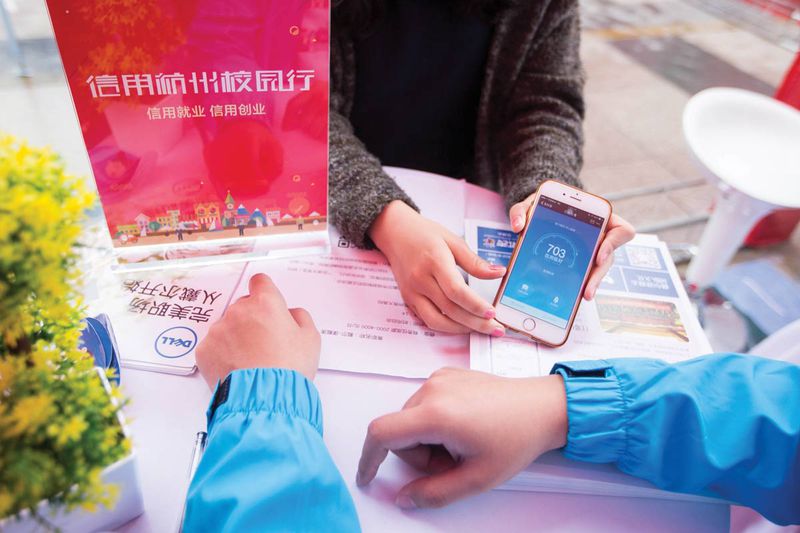 A rash of new app-driven "sharing" services—from umbrellas to power banks—as well as novelty experiences like automated stores, are now available only to those who either borrow on credit or register their name—or pay a deposit with a mobile app, which creates data on "behavior and preference" regardless. Then there's simply peer pressure: Alipay has a button allowing users to show off their scores on Weibo, and users of online dating platform Baihe, can even make the score part of their profile. Editorials advocate Sesame Credit as the "strengthening of middle class values" or "civilized qualities, a sentiment also found in the government's view of social credit, a factor of "social advancement and civilized development."
Globally, according to Chow-White, internet culture is seeing a contradiction "where people are becoming more aware than ever about their privacy, and increasingly concerned about it, but we don't behave like we're concerned." Even Chinese web users, who have never enjoyed robust legal protection for their privacy, this is increasingly true. "Even at the turn of the century, you wouldn't put your face up online, you wouldn't use your real name. Nowadays, we put up our faces, where we're from, our faces' names, our lives."
In China, moreover, web platforms whose main selling point is communication under users' real names—networking tools as Renren or Tencent's QZone and defunct QQClassmate—pale in success to those that practice "background real name, foreground voluntary," which include the likes of WeChat, QQ, Weibo, and online forums. This phrase was essential to the "network management real-name policy," initiated by the National Internet Information Office in 2015 and came to include all SIM card registration—and services that require a phone number to sign up. Netizens wary of revealing their lives to one another nevertheless opt to entrust their identity and information in data form to the company; laws currently protect only against the direct dissemination or modification of a citizen's personal information.
In 2012, during the pilot stages of the real-name policy, Wang Chen, then director of the National Internet Information Office, explained the policy as being instrumental to "civilized internet usage"—a measure to protect against the spread of "unreasonable" or harmful information and challenges to social harmony that could occur under the cloak of anonymity. The State Council's 2014 proposal for the social credit system, in which real-name registration will play a great part, was similarly framed in terms of increasing "trust" and creating a "sincerity culture" in Chinese, currently mired in corruption, fraud, and low trust among strangers.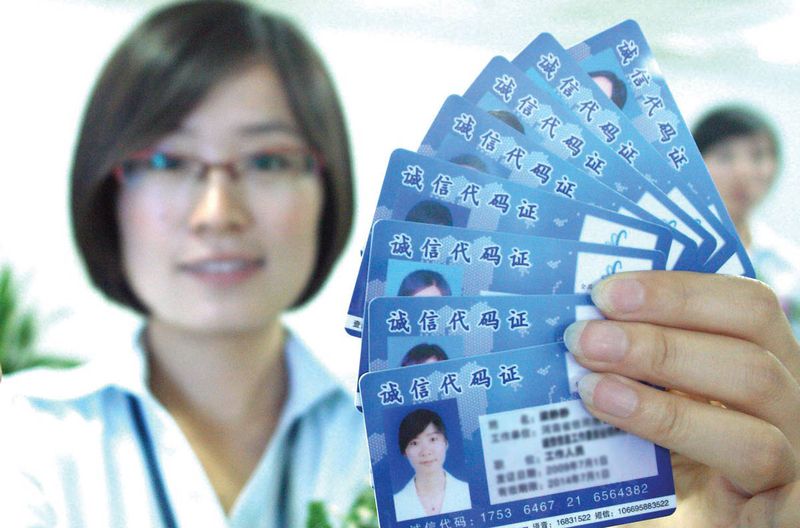 The public's feelings about these measures are mixed. In 2010, when real-name registration was being proposed for mobile phones, a survey by Yesky.com found that 56 percent of respondents were opposed to the measure, while a Netease survey the same year found nearly 70 percent in support of the measure (and most of the opponents were "youths"). An online survey in 2014, shortly after the State Council's release of the planning document for social credit, found that 59 percent of respondents supported the concept of a social credit score, while 29 percent were mutual and 11 percent opposed.
As early as 2010, however, the county of Suining in Jiangsu province had established its own citizen-scoring system—a move that dozens of cities, from Xiamen, Fujian province to Wenzhou, Zhejiang province, are planning to replicate—that Chinese media nicknamed a "modern caste system." The stipulation that "points" would be removed for "besieging government offices" and "bringing false accusations" could target petitioners, and one local complained that people were being awarded points for "attracting business and investment" to the county. However, other projects, such as a debtors' database predicted to be in place at a provincial level by the year's end, or the city of Zhengzhou recent pilot project to rate the credibility of construction companies, appear to be deliberate efforts to satisfy citizens' most pressing social concerns.
One reason for the apathy over privacy could simply be that even the most reluctant of consumers are in too deep to opt out of the data revolution now. Early this year, a 72-year-old Suzhou man surnamed Zhu became an unlikely celebrity when he submitted a 1,500-character, handwritten letter to his local paper on how mobile payments were leaving the elderly and technologically illiterate behind: "I increasingly feel that avoiding modern tools is unwise; today, technology and life are increasingly connected, bringing us unimaginable convenience and benefit…[I hope] seniors will be able to keep pace."
Alipay, however, responded by launching a campaign to locate Zhu and personally presenting him with an "Alipay Introductory Guide for Parents." The formerly uninitiated elder was last reported to be running a mobile payment course for his fellow senior citizens.
---
Open Sesame is a story from our issue, "Cloud Country." To read the entire issue, become a subscriber and receive the full magazine. Alternatively, you can purchase the digital version from the App Store.
---