A gloomy 90s-set serial killer thriller proves a haunting portrait of a society in turmoil
The 1990s has increasingly become the favorite era of a new generation of Chinese filmmakers. From Zhang Meng's The Piano in a Factory (2011), Han Jie's Hello! Mr. Tree (2011), to Zhang Dalei's The Summer is Gone (2017) and Han Han's Duckweed the same year, the era's shifting economic landscape—including massive layoffs among state-owned enterprises—and its physical and psychological effect on individuals and families have proved irresistible to directors who grew up in this uncertain era, forming the central conflict of their films.
Now here comes the ominously titled The Looming Storm, a flick with a suspense-thriller twist set in a decade that's often grimly depicted. Based, albeit loosely, on the infamous Baiyin serial murder case, The Looming Storm received Best Artistic Contribution Award at the 2017 Tokyo International Film Festival, while its lead Duan Yihong won Best Actor for his performance as Yu Guowei, an upright, proud security chief at a declining steel factory who aspires to join the police force.
In the real-life Baiyin case, migrant shopkeeper Gao Chengyong raped, robbed, murdered, and mutilated 11 female victims (including an 8-year-old girl) in a years-long reign of terror between 1988 and 2002 in Gansu and Inner Mongolia. Former cinematographer Dong Yue's debut feature film chooses not to dwell on some of the more sensational and grisly aspects of the case, nor the reasons that Gao was allowed to remain at large for so long.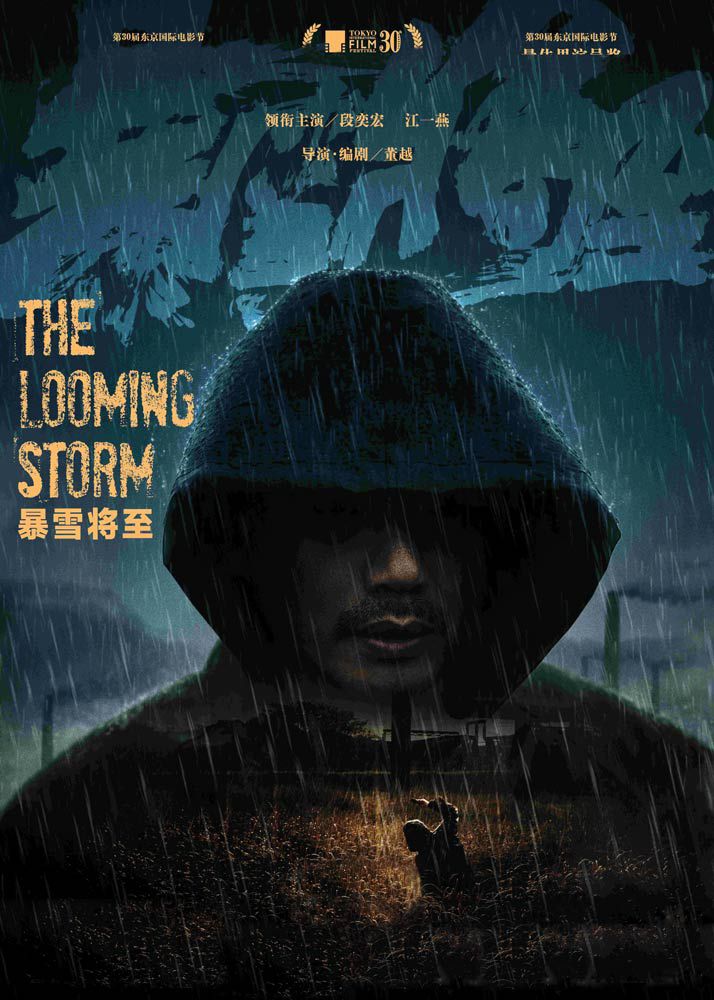 Instead, the film opens in 2008 as Yu is released from prison after a 10-year sentence on unknown charges, and then quickly shifts back to 1997 as a female body is discovered near Yu's factory. Yu starts his own investigation, believing the death may be connected to others with the same MO and victim profile. Along the way, Yu is attracted to Yanzi (Jiang Yiyan), a prostitute with a troubled past, and has a close encounter with the suspect. Eventually laid off by his factory, Yu's obsession and pride soon get the better of him, which ultimately leads to tragic consequences.
Producer Xiao Qiancao also produced the Golden Berlin Bear-winning Black Coal, Thin Ice in 2014, which enjoyed a successful run in Chinese cinemas after its award success. This, and the remarkably similar plot, may account for some of the negative reaction among mainland viewers, who called Storm a "poor man's Black Coal"—both feature a male protagonist in their 30s solving crime in a small town in the 90s, while engaging in a strange relationship with a mysterious woman.
But there's more to the film than simply stereotypes. Xiao's hometown of Hengyang in Hunan province, a failed industry town whose glories were left behind in the 1980s, is the shooting location for Storm and provides a suitably gloomy locale. "It rains nonstop in winter. One year, the incessant rain even made a cat so depressed that it committed suicide," Xiao told The Beijing News. "In this environment, people are easily depressed. It's the effect of the environment, or to put thing in the big picture, it's the effect of an era."
As such, the film is less about the crimes but their circumstances.
Outside the main storyline, we see the full effect of the "looming storm," an overwhelming social transformation that renders many powerless while filling them with anxiety: There is rampant prostitution; people who hang around a dancing square after dark, seeking random sex with strangers; and frequent outbursts of violence. In a crowded tenement building, a laid-off worker kills his wife during a domestic argument.
The Chinese title of the film literally translates to "The Looming Snowstorm." While heavy downpour continues throughout the film, it is only at the film's climax that this long-anticipated snow arrives. In reality, this was in 2008, when China's worst winter weather in half a century caused over 100 deaths and heavy damage, a fact presented in captions before the credits roll. The years 1997 and 2008, both heavy with historical importance—the return of Hong Kong, the Beijing Olympics—combined with the real-life storm, underline the film's depiction of meaningful social transformation and its sweeping side effects.
For those expecting a crime thriller with a tight plot, the latter half of the film may seem unsatisfactory (one of the main characters commits suicide in sudden, almost baffling fashion), as the serial murders that have provided the impetus for much of the plot are resolved with surprising dispatch—similar problems as that afflicted Black Coal. But as an analysis and reminder of recent history, Storm is a movie offering unique insights. Neither the killings nor Yu's arrogance and obsessive nature are a sole product of their circumstances, but are rather depicted as the tragic consequence of the historical period, an era capable of transforming even those who seek to slay monsters into monsters themselves.
---
---