In Guiyang, the world's largest radio telescope is taking astronomy—and the local economy—rapidly into the future
It takes at least five hours' hard driving from Guiyang, plus a vehicle change if using public transport, to reach the place many now call "the future of astronomy."
Kedu has a population of around 30,000, and around 10 percent are on the poverty line; the rest are mostly rice and corn farmers, making an average 8,000 USD per capita. It is also home to the 185 million USD, Five-hundred-meter Aperture Spherical radio Telescope—known as FAST, and nicknamed "the Eye of Heaven." Currently the world's largest radio telescope, FAST nestles inside a vast natural karst depression in remotest southern Guizhou province, silently searching for signs of extraterrestrial activity.
The huge diameter—200 meters wider than the previous record-holder, Puerto Rico's 300-meter Arecibo Observatory (though its maximum illuminated aperture is only 30 meters larger)—isn't simply a matter of bragging rights: The bigger the dish, the more gravitational waves it can collect; the fainter their signals, the further back in time they go: 13.7 billion light years, to be precise. FAST has 4,450 panels, double the Arecibo, and, as one scientist put it, if "filled with wine, each of the world's seven billion inhabitants could fill about five bottles from it." With this vast astronomical receptacle, researchers hope to explore the deepest secrets of space and, perhaps, answer the most pressing question of all: Are we alone in the universe?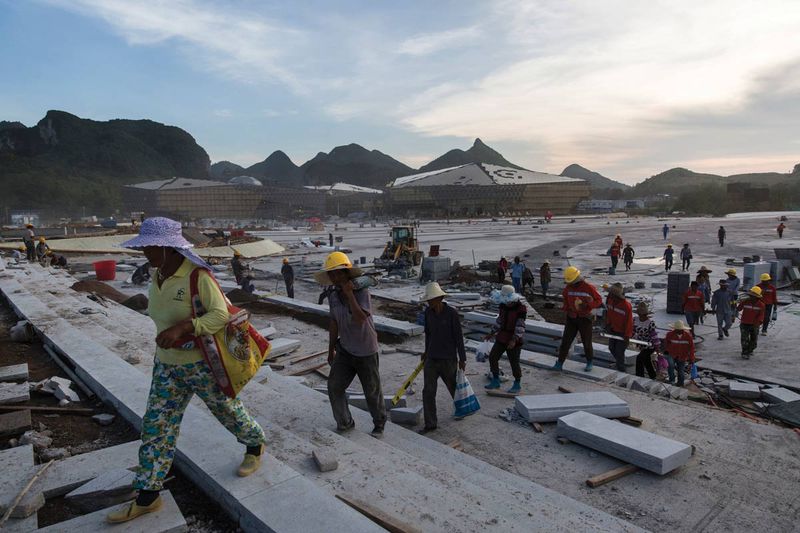 As TWOC arrived in Kedu, we assuredly were not alone: Hundreds of workers were swarming over two large construction sites, from which the familiar sounds of clanking and digging emanated. In the villages of Kedu and Hanglong, a little over five kilometers from the FAST site, another equally eagerly awaited project is going on: the "Pingtang International Radio Science Tourism and Cultural Park," which locals are calling "the future of tourism" (TWOC visited in March, 2017; the park was scheduled for completion in September, exactly a year after FAST officially went into use).
According to a tourism brochure published by the local government, the park will include a welcome square, an astronomy education park, an "astronomical time village," the FAST visitor service center, the Galaxy Vortex Tour Central Plaza, a delicacy street, and a four-star resort hotel—this is in addition to the 46 hotels and over 100 restaurants that have been built in the area to cater for the influx of tourism that's already begun flooding in.
If tourism and cutting-edge research seem like strange bedfellows, they aren't—at least, not for China. In September 2016, when the telescope went into operation, it was hailed by President Xi Jinping as an achievement in "innovation-led development." Articulated in China's 13th Five Year Plan (2016 – 2020), the phrase summarizes a decade of effort by the Chinese leadership to move past an economy based on manufacturing and low-cost labor. Officials in Pingtang county claims that "Big Tourism," as generated by FAST, will "push forward local economic and social development" of local villages.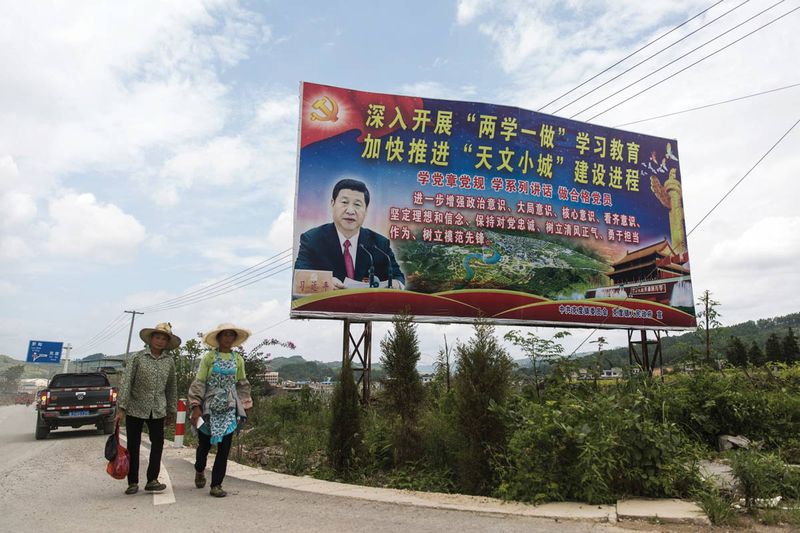 "Pushing forward", or sometimes "pulling forward", is rural officials' version of trickle-down economics: Attracting a flow of national resources and urban capital to their communities, then hoping for the best. Many of those who've lived their whole lives in Kedu do not know what the radio telescope is; nevertheless, they're encouraged to keep up with this extraordinary pace of development by planting specialty produce, selling local handicrafts, and cooking "eco-friendly farmhouse meals" for visitors. Around town, businesses have been putting up new signage—"Astro Computer Repair," "Milky Way Renovation Services."
On the town's narrow main street, almost every household had new extensions like alien growths on their scrappy rural homes. In one partially completed building, 54-year-old Li Changfu ate dinner and drank homemade rice wine with his wife and three fellow construction workers. Li was born in Jinke village, three kilometers from the FAST site, and leased a 420 square-meter parcel of land in Kedu in 1994 for 6,000 RMB (905 USD). He had since taken out a 6 million RMB loan (907, 560 USD) to convert his house into a four-story hotel with a supermarket on the ground floor. "What do you think I should call it?" he asked, his cheeks flush with excitement and alcohol. He had every reason to be pleased: The land under our feet was now worth 5,000 RMB per square meter. Less than a hundred meters away, the Astro Palace Hotel, which opened six months ago, has almost 100-percent occupancy, mostly contractors and tourists. In the lobby of the Astro, there are four clocks labeled New York, London, Paris and Beijing for "international flavor;" only the Beijing one works.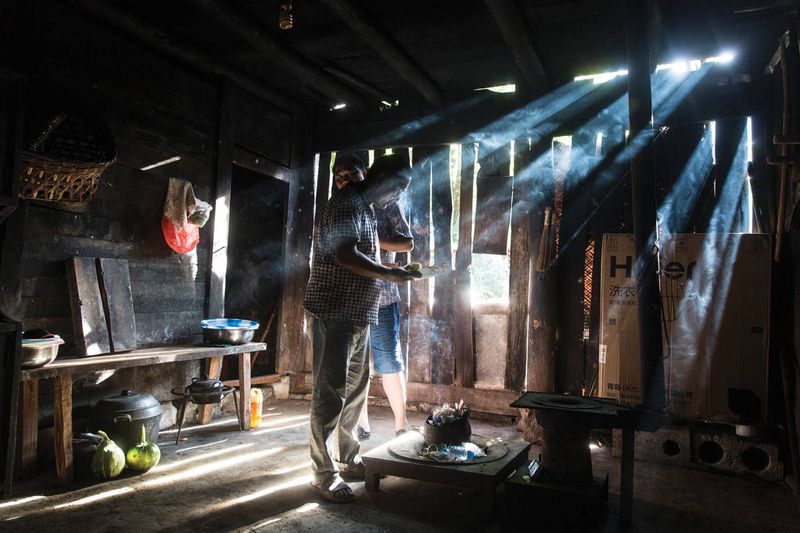 A lack of tourists is not the problem, then. Quite the opposite, in fact, as far as FAST's operators are concerned. In order to properly work, the telescope needs a unique "sound electromagnetic wave environment," according to Guizhou official Li Yuecheng—hence its remoteness. Smartphones are not allowed on site, and a permit is required to use even digital cameras within five kilometers of the site. But with an estimated four million visitors in its first year of operation, a figure that's expected to more than double this year, many wonder how FAST's requirement for complete digital silence can be properly balanced with the economic boom the telescope is bringing to the region.
"We understand their urge to develop the economy and get rid of poverty," a FAST researcher told the South China Morning Post, but the conflict of interests between scientific endeavor and poverty relief may come down to a matter of money, especially if some local officials have their way. The domestic tourism business is expected to bring around 4.6 billion RMB (690 million USD) to the area annually, a figure which dwarfs the daily operational costs of FAST, estimated at 400,000 RMB (or 146 million RMB a year).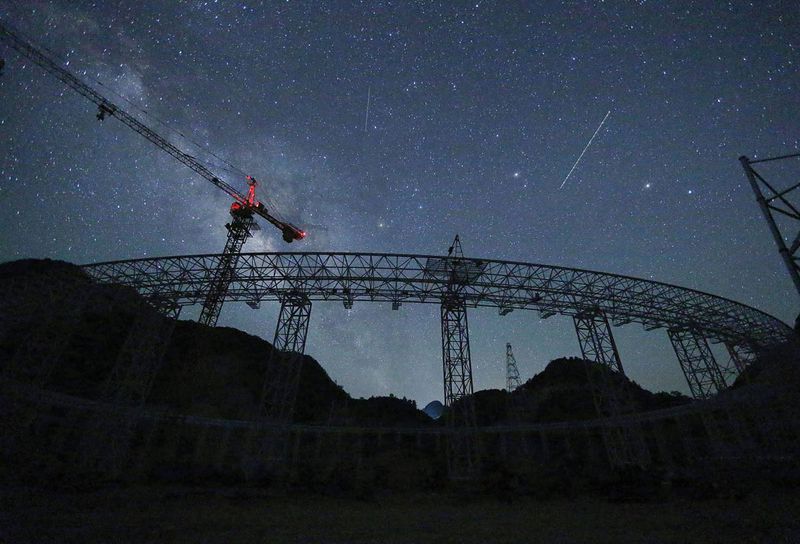 There "will be as many as the tourists to the Great Wall in Beijing," one Pingtang county tourism official told the newspaper. "Here we have a new wonder of the world." A monument to China's vision, the FAST telescope also stands in danger of becoming a victim of its own success.
The scientific side of the project is having growing pains of its own. There's no doubt FAST's capabilities are ambitious; its superlative size allows astronomers to study fainter and more distant space objects than ever before. Currently, its aims are to observe pulsars, study interstellar molecules, and detect "interstellar communication signals"—in other words, look for extra-terrestrial life.
Despite international media interest, aliens have barely made a splash in China's press—for the Chinese Academy of Science (CAS), it may be enough if the FAST can simply "pull forward" the national space program. Born in the 1960s under pragmatic circumstances, as part of a missile program to deter a possible US invasion, the space program received a boost, as well as a more comprehensive aim of national security, with the return of rocket scientist Qian Xuesen from the US in 1955 during the Second Red Scare. The blueprint for a bombastic future in space exploration was arguably set in 1957, after the USSR and US launched their first satellites. The following year, Mao Zedong announced China's intention to get on an equal footing with the superpowers: "We should also do artificial satellites; and if we do, we should do it big."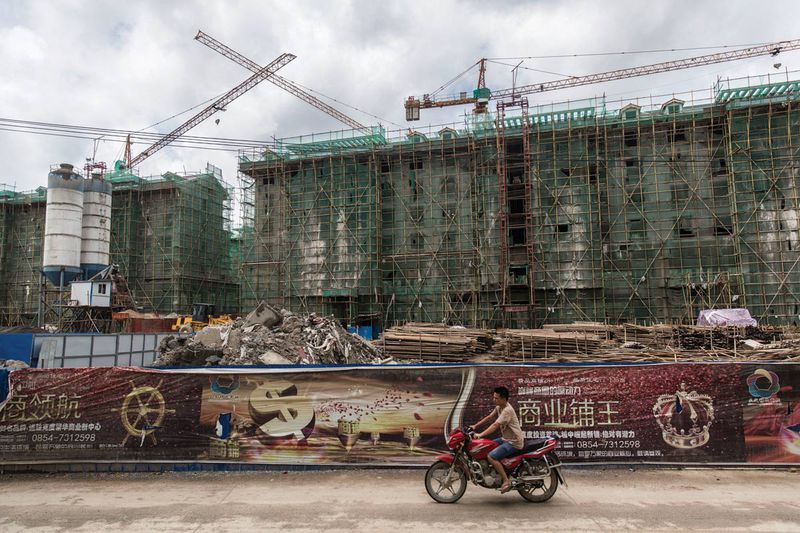 China launched a space satellite in 1970, several months after NASA put the first men on the moon. Now in Beijing there is talk, sometimes feverish, of manned missions to Mars and moon bases; great leaps and astronomical revolutions, with Chinese astronauts riding "divine vessels" into space; China expects to become a great space power by 2030. This field of research, however, still struggles with "brain drain" and lack of experience among mainland scientists—leading to reports, hotly repudiated, that FAST was looking for a "foreign scientist" as its director. The problem has not been helped by China relative isolation on the international space stage, as scientists struggle to get published in international journals. Chinese astronauts are barred certain from international projects—notably the International Space Station—by a US government suspicious of its space program's military ties. CAS has variously stated the goals of FAST as "the national popularization of science," "education of youth," "aid in the development of China's western regions," and "letting China take greater responsibility in the world's astronomical development."
They are objectives that have required vast mobilizations of people and resources. In order to ensure the least electromagnetic interference, 9,110 people had to move out of the five-kilometer range that FAST needed for optimum performance. Though some younger villagers were pleased to leave when construction began in 2009; others were not. "The government only compensated us for our housing space," Yang Tianming, 54, complained. "Farmland was not included." He wasn't done: "They promised me for a job in Kedu, in order to make us sign the relocation agreement, but nobody cares about us anymore now. Now I'm a farmer, without land!" Yang sighed and smoked. He has a hard time getting excited about a telescope that can discover mega-masers, measure their radial velocities with higher precision, detect pulsars, and work as a ground station for future missions to Mars, but can't provide him with work for his growing family.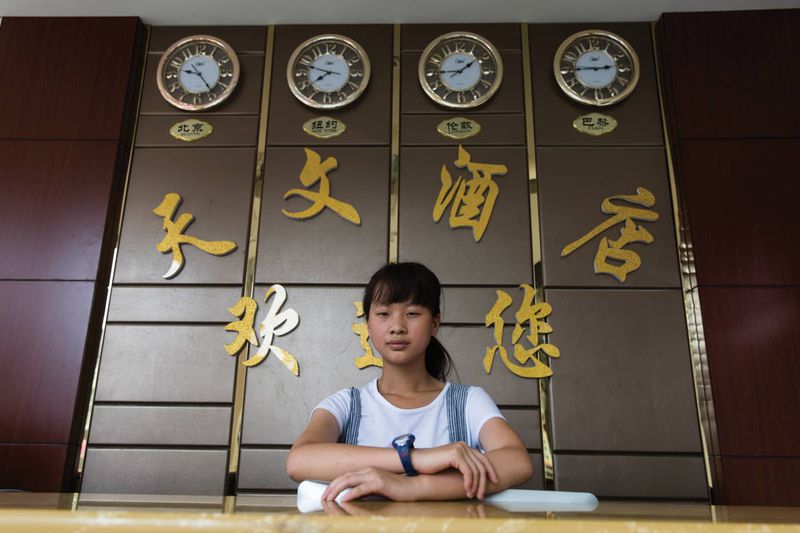 An eight-lane motorway and two expressways are now being built to connect Guiyang, the provincial capital, and its airport with Pingtang, where entire districts are already on the rise. In FAST's "core area," where a relocation office is situated, a blueprint for development can be found the form of a table model displaying shopping centers and dozens of residential and commercial projects; outside, trucks and cranes are putting parts of it into reality with huge quantities of sand and cement. There was more building going on in the hills around Kedu, as farmers frantically erected temporary housing in order to qualify for more compensation.
Cheng Zeyong is one resident still holding out for a handout. Chen said the deal he was offered for his 70-year-old family home, now the sole remaining "nail house" in the three-square-kilometer redevelopment area for the culture park, was less than half the national standard. "The government offered us 1,000 RMB per square meter," he said. "It costs nearly 3,000 [per square meter] for a new house in town. I'll need to pay hundred of thousands even if I get the compensation."
He has mixed feelings about the project. "I'm proud and happy to see the telescope being built in my hometown, even though I don't really know what it's used for… it's good for Kedu and villagers, but I don't think we should pay the price. We are just hardworking farmers."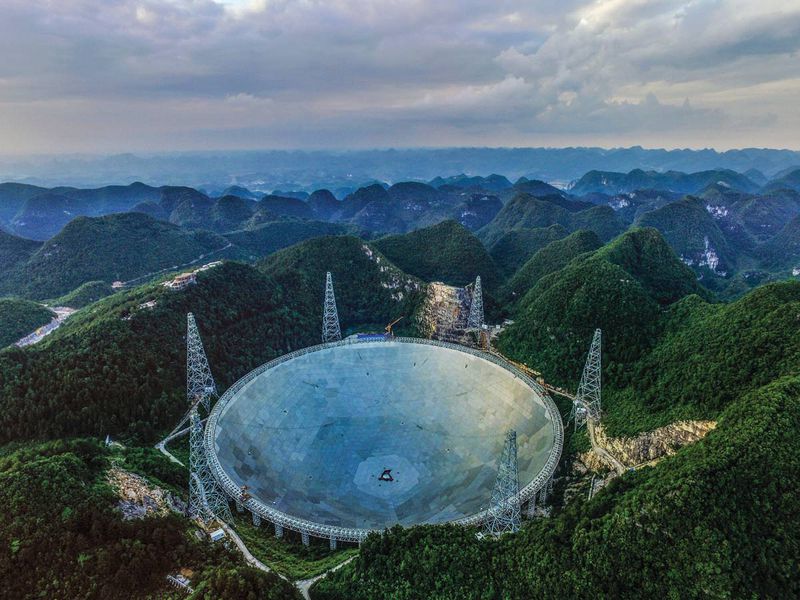 Past 11 p.m., most Kedu people are heading to bed, but the park's construction site a few kilometers away is still brightly lit, with vehicles and machinery rumbling through the night. Meanwhile, researchers and astronomers are quietly getting on with their work. In October, they made their first proper discovery, a pair of pulsars thousands of light years away, spinning stars that create an electromagnetic radiation beam ("pulse") that like a lighthouse in space. The discoveries "symbolize the dawn of a new era of systematic discoveries by Chinese radio telescopes," said Yan Jun, director of the National Astronomical Observatories of China, at a press conference in October. Perhaps the future of humanity lies in looking to the stars—for those on the ground, though, the sky's the limit.
Additional reporting by Hatty Liu and Han Rubo (韩儒博)
---
Starstruck is a story from our issue, "Fast Forward." To read the entire issue, become a subscriber and receive the full magazine. Alternatively, you can purchase the digital version from the App Store.
---