North China appears to be winning a war on smog, but it's not without casualties
The skies were kind to Beijing in 2017. Just this January, the municipal government posted a statement indicating that the city had met its pollution control commitments—at an average of 58 micrograms of smog per cubic meter of air each day throughout 2017, the capital had seen a 20 percent reduction over the previous year. The number of "heavy pollution" days also fell from 39 to 23 in the same period.
Residents noticed a marked difference in the capital's usually hazy atmosphere. While smog was occasional seen on the horizon, the dread "airpocalypse" events of previous years, in which pollution readings could spike to "hazardous" levels of over 500 micrograms for several days running, were conspicuously absent. And not just Beijing either: Surrounding Hebei province also posted dramatically improved results, as did other areas in the coal heartlands of North China.
The region has met its Five Year Plan smog targets, rolled out amid the disastrously gloomy skies of 2013—and not a moment too soon. In late September 2017, researchers at the Energy Policy Institute at the University of Chicago assessed mortality figures from 153 mainland cities, and determined that increased rates of cardiorespiratory illnesses had contributed to reduced lifespans north of the Huaihe River. The researchers concluded that, on average, northern Chinese have been dying three years earlier than their southern counterparts—and smog was the chief culprit.
Given that bad air was now officially lethal, it was in the interests of everybody to clean it up; hence the central government program, launched in March last year, entitled "2+26 cities." By October, 50,000 to 100,000 homes in Beijing, Tianjin, and 26 cities in Hebei were required to shift their heating from coal to gas or electricity. The announcement did not make clear whether each city or the province as a whole should meet this target.
But the top story in China around the turn of the new year demonstrated how Beijing officials had interpreted the document. Foreign and social media fixated on thousands of migrant workers abruptly turfed out of their homes in freezing weather, left with nowhere to go as whole neighborhoods were swiftly demolished.
Technically, the mass evictions came as the result of a fire in Daxing district, in a building clearly not up to code; authorities cited this as the reason to clear out other migrants living in "unsafe" buildings. Issues like traffic and smog, however, have long been intertwined with population control efforts.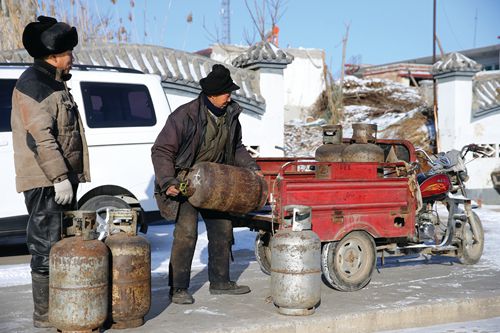 As a cheap resource, coal is disproportionately relied upon to heat up poorer residents' homes in winter. Many neighborhoods' attempt to switch from coal to natural gas, with engineers laying thousands of miles of pipeline and chengguan demolishing coal heaters, resulted in disaster this winter: Shortages due to a 19 percent rise in demand, surging gas prices, and poor infrastructure meant that many schools, hospitals, and homes were left with non-functioning gas stoves which they'd paid for. As temperatures plunged below freezing, more and more residents found themselves left in the cold. China Daily reported that some children in Hebei even suffered frostbite.
Beijing's Beneficent Temple, a suburb near the Summer Palace, is another site where the concurrent master plans of smog reduction, population management, and urban gentrification collided to create unforeseen consequences. Visiting the now-demolished neighbourhood in early January, TWOC—trailed by a law-enforcement officer—found posters that detailed a project to replace the tumble-down tenements with new apartments for the residents by 2021.
Papered over these are announcements that residents would be eligible to receive new electric heaters—dated after the demolition order.
One resident, living in one of the few remaining, heritage-protected houses, told TWOC on condition of anonymity that he never received this new electric option—yet his home was still banned from using coal. A third poster, found near the others, indicated that this area had not been eligible for the heating program as it been designated a slum, but would still be subject to inspections to ensure coal was not being burned. In every sense, residents were being frozen out.
The speed of the switch has also affected industries across north China, as local governments attempt to implement far-reaching crackdowns on polluting industries, and switch from coal to gas, all on the hoof. Xue Huabing, a factory owner in Shijiazhuang, Hebei, told Reuters that due to the rapid switch, gas prices had jumped from 2 RMB per to 6 or 7 RMB per cubic meter. "If we open, we are going to run at a loss," he told the agency.
Reuters cited economists as saying that the campaign could cost the country half a percentage point of annual GDP growth, prompting fears that officials may not have the stamina to stay the course. Ma Jun, director of the Institute of Public and Environmental Affairs, a non-profit environmental NGO, points out that, while existing measures have helped reduce smog greatly, they have been rolled out in an ad hoc manner that will be difficult to sustain.
"So far China has not taken long-term measures based on environmental law; it has been relying on administrative orders," Ma told TWOC. "Local governments are not collating lists of their city's key polluters, and they are not requiring enterprises to release real-time [data]."
Administrative orders can even be twisted around by officials to benefit industries. "Some places use the 'coal-to-gas' switch as an excuse not to shut down their high [coal]-consumption industries, such as by having steel enterprises switch to gas," Ma said. "Though this lowered emission levels, [steel enterprises] used much more gas than people needed to heat homes, leading to gas shortages."
These shortages prompted reports in January that Hebei province will no longer be approving new coal-to-gas conversion projects until a new gas pipeline from Russia can be put into operation in 2020, though the nation's ministry of environmental protection denies that any such plan exists on the provincial level.
Ma Jun points out that until public supervision improves, and top-down approaches are complemented by local action, the blue skies may be too costly to maintain. Photos of workers huddled in the streets and schoolchildren studying lessons outside to keep warm can influence public opinion on pollution control. "It's tarnishing the progress of the 'coal-to-gas' switch," Ma said. "It's giving it a poor public image."
---
The Cost of Clean Air is a story from our issue, "The Noughty Nineties." To read the entire issue, become a subscriber and receive the full magazine. Alternatively, you can purchase the digital version from the App Store.
---