'Artistic consumption'—and a tradition of replicas—drive China's Van Gogh fever
"Van Gogh…[there's] a lot in China," says the cashier at a souvenir shop near the "Little Potala Palace" in Chengde, Hebei. Here, one can send postcards from a Cafe Terrace or buy jigsaw puzzles of Starry Night stacked next to Tibetan Buddhist memorabilia.
Shopping online, or visiting gift shops, breweries, or cafes on the mainland, it's easy to fell under the Dutch master's spell. In October 2015, a Tmall.com sale on the 125th anniversary of the painter's death saw millions of RMB spent on Van Gogh merchandise officially licensed by the Van Gogh Museum in Amsterdam; some listings showed almost 5,000 percent returns. This is not counting the brisk trade in unlicensed kitsch from fashionable Sunflowers phone cases to foam Wheatfield mouse pads, stationery, linens, and umbrellas.
More recently, the December 8 release of crowd-funded film Loving Vincent in China triggered a fresh wave of fever: The world's first oil-painted animation earned 38.5 million RMB in its opening weekend, and has a rating of 8.6 out of 10 on Douban.com at the time of writing. It was a 2016 Dutch-Chinese co-production, however, that first tried to explain the Chinese intimacy with Vincent: Yu Haibo and Kiki Tianqi Yu's China's Van Goghs, which dates the love affair back nearly three decades.
In 1989, Hong Kong businessman Huang Jiang rented property for 200 migrant recruits to mass-reproduce European oil paintings in Dafen, an unremarkable village on the outskirts of the budding Special Economic Zone of Shenzhen. Today, works by Van Gogh are still bestsellers in the "world's painting factory," delivered to galleries, hotels, casinos, and homes around the globe. In the film, menial laborers-turned-painters discuss how Van Gogh's emphasis on rural beauty and poverty mirrors their own upbringing.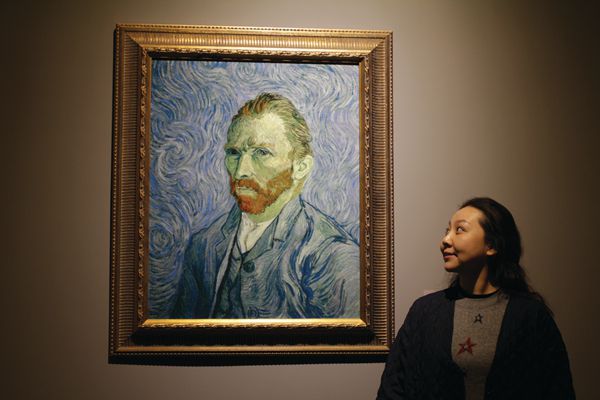 As an IP, however, Van Gogh has decidedly middle class, even patrician overtones for Chinese consumers. Prior to Loving Vincent, 2017 saw the release of Louis Vuitton's A Wheatfield with Cypresses tote bag and Jaeger-LeCoultre limited edition Van Gogh watches in China, as well as the opening of Asia's first Van Gogh Senses restaurant in the heart of Hong Kong's Tsim Sha Tsui district. Hong Kong Long Wise Group founder Priscilla Wong, who bought the Asian licensing rights of the IP in 1993, has seen a 1,000 percent increase in the sale of her Van Gogh merchandise in the last five years.
"After a market surpasses the conspicuous consumption phase, it enters a phase of artistic consumption," explained Wong, whose company also represents brands such as Gucci and Valentino, to CBN Weekly about the success of her 20-year investment. "Conspicuous consumption always exists, but the hardest things to show off are one's class, taste, character, and culture."
But perhaps the real secret to Van Gogh fever is its appeal across divides of "high" and popular culture, allowing all aficionados to plunge into a whirlpool of paints and pattern they can learn by heart. As one Van Gogh appreciator, explaining his passion on Q&A platform Zhihu, wrote: "A pair of old shoes…a café, his room…sunflowers…his subjects are so ordinary, yet come to life in his paintings—I imagine he must have loved life very much." 
---
Vincent in Vogue is a story from our issue, "The Noughty Nineties." To read the entire issue, become a subscriber and receive the full magazine. Alternatively, you can purchase the digital version from the App Store.
---