The critical and commercial success of two recent indie movies shows the growing clout of non-mainstream cinema
In the barren mountains of Inner Mongolia, Zhang Baoming (Song Yang) searches high and low for a son who went missing while herding sheep. Meanwhile, the peace back in his remote village is broken when a big mining company arrives with explosives, excavators, and trucks—along with pollution, disease, and violence.
Wrath of Silence is director Xin Yukun's second crime mystery. The film has so far gained 50 million RMB at the box office. It's fairly humble compared to big-budget films, but still a minor success among a genre that Peking University scholar Li Yang calls "new independent films"—movies that eschews mainstream political opinion without actively rebelling. It is an emerging genre that's relatively free from commercial influence, but still has market appeal.
Like Bi Gan's Kaili Blues (2015) and Zhang Dalei's The Summer is Gone (2016), Wrath displays strong personal characteristics of the director. Born in Baotou, Inner Mongolia's biggest industrial city, known for its production of steel and rare-earth metals, 34-year-old Xin based the story on the mining rush in his hometown in early 2000s.
In reality, the entire autonomous region experienced rapid economic growth; its GPD growth rate ranked number one in the entire country for eight consecutive years, from 2002 to 2009, all while heavily dependent on the mining of rich natural resources such as coal. However, this came at an enormous cost to the environment and health of local people. A few who had the right connections got rich overnight, often only to fall quickly and hard.
But Wrath is no arthouse social critique—it's a riveting plot-driven story with twists and turns, as well as memorable characters. The silent but hot-tempered Zhang, a grassroots protagonist who lost half his tongue in a fight, is drawn into a different world when mining boss Chang Wannian (Jiang Wu) takes a sudden interest in him.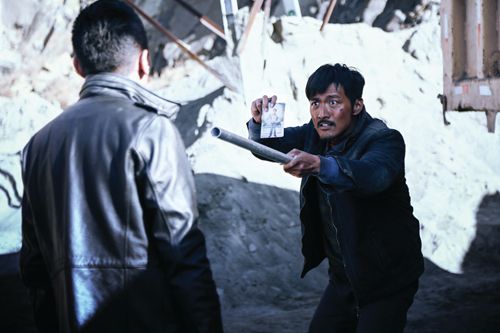 In spite of his taste for tailored British suits, curly hairpieces, and archery, Chang's habits of wearing black cloth shoes and eating lamb hot pot every night hint at humbler origins. Chang's lawyer Wei Wenjie (Yuan Wenkang) is the bridge between these two characters and their worlds—when Wei's daughter also goes missing, he and Zhang form an alliance to look for their children.
Minute clues and details make it an intriguing experience for viewers to try and decode the mystery and read more into the story. Take the three characters' vehicles and plate numbers, for instance: Chang's Land Rover starts with A, Wei's sedan starts with B, while Zhang's motorcycle starts with C—a not-so-subtle classification of their respective socioeconomic status. With this metaphor, the film asks: Will the middle class work with the rich or the poor? And who shares mutual interests, with whom?
A fan of Christopher Nolan, Xin tells his story like a drawing; the truth is outlined and developed stroke by stroke. Viewers have a clear picture at the end, but there's still space left for the imagination.
With its more realistic treatment of a similar setting, Old Beast, the big-screen debut of fellow Inner Mongolian director Zhou Ziyang, captures the aftermath of an unhealthily brief regional economic boom. Winner of Best Original Script at the 2017 Golden Horse Awards, the film was originally titled Old Bastard and is set in Ordos, the coal- mining boomtown better known as China's most infamous "ghost city."
The protagonist Old Yang (Tumen) is a character audiences love to hate. Having gone bankrupt when the bubble burst, most likely due to giving underground loans to mine bosses and real estate developers, Yang still dreams of a comeback and is full of madcap ideas, such as running theme restaurants ("alien yurts").
Meanwhile, he has kept up his extravagant spending habits, wining and dining, gambling, lying, cheating, and even stealing the money that his children raised for his wife to have life-saving surgery. So irresponsible is Old Yang that, at one point, his family ties him up to force the money out of him.
Yet, as the story unfolds, the character of Yang becomes fleshed out: full of shortcomings—arrogant, stubborn, selfish—yet not without humanity, as he tries to make amends and endures humiliation, rejection, and physical harm. Many locals can probably empathize with Yang's experience of downfall, an economic boom-and-bust that no doubt caused psychological issues and upset family dynamics. The movie itself was inspired by a local headline—an old man kidnapped by his own son over a family financial dispute.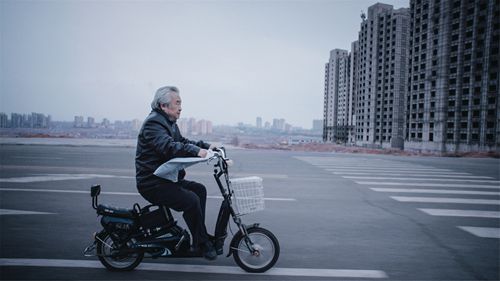 The 58-year-old Ewenki actor Tumen, also from Inner Mongolia, won the Golden Horse Best Actor Award for his portrayal of Yang. Previously typecast in "prairie khan" roles as conquerors and generals (he played Genghis Khan twice), Tumen's breakthrough was 2015's A Simple Goodbye, in which he played a stubborn father reconnecting with his daughter as he's dying of cancer, a scenario that Inner Mongolian director Degena Yun adapted from her own life. Tumen's own career path seems to echo the contrasting themes of toughness and fragility in Old Beast.
The impact of a regional economy's rise and fall are not isolated incidents, but a larger mosaic of social issues and human reactions. Both Wrath of Silence and Old Beast are able to speak to a larger audience in their own ways, while preserving a snapshot of a turbulent time in Inner Mongolia.
---
'Silence' Proves Golden is a story from our issue, "Vital Signs." To read the entire issue, become a subscriber and receive the full magazine. Alternatively, you can purchase the digital version from the App Store.
---