Can China save its struggling fast-food industry?
Mr. Lee, the fast-food chain formerly known as "California Beef Noodle King," is a source of annual bemusement for my overseas relatives on their visits home. "What do beef noodles have to do with California?" my father or uncle ask, without fail, each time they encounter the restaurant's signs in a Chinese train station and airport lounge.
The answer—quite a lot. Mr. Lee, which calls itself China's oldest domestic fast-food brand, has its roots in a Los Angeles beef noodle restaurant founded in 1972 by P. C. Lee, a Chinese-American businessman born in Chongqing. Corporate lore claims that an unnamed "major American fast food chain" approached Lee in the 1980s, when he already had a small empire of seven shops with top reviews in the Los Angeles Times, and asked him to be its partner in China, the emerging market already being eyed by industry juggernauts like McDonalds and KFC.
Instead, Mr. Lee decided to move his entire business, head office and all, to China. According to one customer's reminisces on Weibo, the 1988 opening of the first "California Beef Noodle King USA" in Beijing drew lines comparable to the city's first KFC, which launched the year before. Despite its unremarkable food, already available at hundreds of thousands of mom-and-pops and ordinary homes, the restaurant seduced diners with its sleek interior and Western cachet—the name, the machine-like efficiency of its preparation system, and its claim to be the first Chinese restaurant in the country to offer canned soft drinks.
Today, though, the noodle king—since renamed "Mr. Lee" in memory of its founder, who passed away in 2008—is firmly classified among domestic Chinese brands, whose inability to achieve international recognition on a par with foreign chains like Panda Express and Taco Bell is bemoaned regularly by industry experts. Having opened around 800 locations, after 30 years in the business, Mr. Lee is the most prolific of the national chains. The next biggest is Zhen Gong Fu, "Real Kung Fu," founded in Guangdong province in 1997, with 600 shops.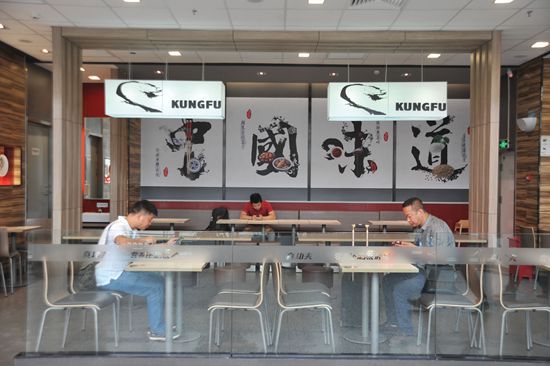 By comparison, there are over 5,000 KFC locations on the mainland alone, making it China's biggest restaurant chain. McDonalds follows, with 2,500 locations, even though it arrived in China two years after Mr. Lee. For further contrast, the American burger franchise had over 1,000 restaurants in its home country by 1968, after just 13 years in business; by 1978, McDonalds surpassed 5,000 outlets and has barely stopped growing.
Restaurant owners are wondering where Chinese chains went wrong. A much-publicized food scandal, in which a Shanghai supplier was found to be repacking expired meat for several US fast food chains in 2014, was tipped as a possible turning point in the fortunes of domestic chains, but those hopes have since petered out—if anything, Chinese brands seem even less competitive than before. According to a 2017 study by Caiyinren Bidu, a social media account for the industry,  brands like Real Kung Fu and Yonghe King have seen their growth plateau since at least 2013, while the listed value of Real Kung Fu fell by 50 percent from 2012 to 2015 due to internal scandals.
"Are Chinese 'lower-end' restaurant [chains] under a curse?" asked one 2016 study by Shenzhen consulting firm Gelonghui. Real Kung Fu co-founder Pan Yuhai has called the present state of the industry a "bottleneck," while Yi Zhengwei, restaurant consultant and co-founder of the 72Street chain, more specifically called it "a curse…to do with standards." In a 2015 essay, Yi writes, "if you just want to invest in a Chinese fast food restaurant, you can easily become a leader in the [domestic] market. But if you actually want to be great, you can think again."
In The Founder, the 2016 biopic of McDonalds co-founder Ray Kroc, an iconic moment is when anti-hero salesman Kroc pulls up at the McDonald brothers' diner in the desert, and finds his food ready just seconds after ordering. More central to the story, though, is what comes afterwards, when one of the brothers shows a slack-jawed Kroc the well-coordinated dance that leads to their speedy and identical delivery: "Every McDonald's burger has two pickles, a pinch of onions, and a precise shot of ketchup and mustard."
Yi believes that, in China, the speed and ingenuity of food prep are not the chief struggles of its "fast" food industry. After all, it's a nation where stores have whole aisles devoted to vacuum-packed instant meals, where roadside vendors can cook and roll up a jianbing with egg and baocui in a minute flat. The reasons China struggles, as Kroc would say, to "franchise the damn thing from sea to shining sea," seem to lie in three areas: standardization, quality, and branding.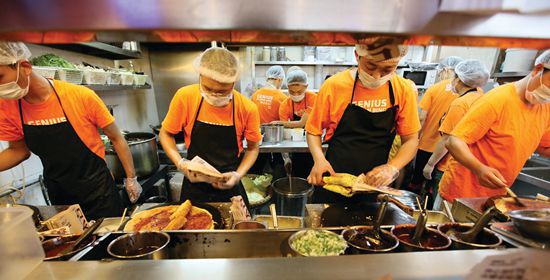 As with every modern Chinese practice, there have been recent attempts to find indigenous roots for fast food in ancient literature. In this case, it's a type of eighth-century banquet know as the liban (立办): According to the Tang Dynastic History Supplement, a courtier named Wu Cou received a major promotion from the emperor, but had little time to celebrate before he had to report to work. His solution: Order every course brought to the table before his guests arrived (the idea apparently caught on).
The modern kuaican (快餐)—literally, "fast meal"—actually predates the arrival of Western chains in the late 80s and 90s, and refers to a type of no-frills diner or roadside stall, popular with blue collar workers. Still common in "third-tier" cities or lower, kuaican vendors offer cut-rate combo meals with rice and entrees kept in steam trays similar to American-Chinese buffets, or "one dollar Chinese food" joints, in all but the actual food.
KFC adopted the term when it landed in Beijing in 1987, calling itself meishi kuaican ("American-style fast food"), and changing the connotation of quick fix forever. When KFC published the recollections of its original restaurant's employees in 2017, they unanimously agreed the speed and (rather greasy) Western food were not what impressed Chinese diners 30 years ago. Rather, the uniformed cashiers (hired with strict height requirements), "white-gloved" sanitation staff, and "95 percent imported equipment," down to the cutlery and pictures on the wall, all spoke of modernity and modishness to 80s Chinese society. "If it happened today, people would post pictures of it every day on WeChat Moments," claimed employee Sun Zhijun.
As fast food fever began in the 90s, the government tried to push for an official definition of kuaican. In 1997, the Ministry of Domestic Trade published guidelines that determined it as "cuisine for the masses that satisfies the demands of the consumer's everyday life," and "fast to prepare, convenient to eat, standardized in quality, balanced in nutrition, handy of service, and economical in price." The same year, the ministry named Beijing's Quanjude Roast Duck, Tianjin's Goubuli Baozi, and Shanghai's Ronghua Chicken (a KFC competitor, later replaced with Lanzhou lamian) as the "Big Three" of Chinese-style fast food.
Helped by these influential "time-honored brands," the ministry hoped to see domestic kuaican take 30 percent of the market by 2010, fulfilling Premier Li Peng's directive of "fast food with national characteristics [and] scientific-scale management." It didn't work. Aside obvious differences in aesthetics, cooking methods, and management styles compared to Western upstarts, Yi points out that "time-honored" foods, by definition, market themselves on local history, memories, and taste—the antithesis of a brand trying to go global.
"American food culture is generally unified—hamburgers, pizza—so McDonalds can open tens of thousands of stores, whereas Chinese kuaican are examples of what's most authentic, grassroots, and popular in a region," he writes. "The South likes rice, the North likes noodles; the East likes sweet, and the West likes savory."
There's also little standardization among Chinese brands. According to Gu Zhenyu, author of a 2002 study on the growth of kuaican, Chinese cuisine has historically relied on the skill and reputation of individual chefs, with personal recipes and local tastes being the arbiters of excellence. An additional problem is that restaurants are unwilling to spend money on employee training, and even the biggest brands still rely on traditional "manual preparation" over more consistent machines and assembly lines. "It's already well known that Chinese-style kuaican has inconsistent quality," Gu's report noted, suggesting that this also leads to "perception of lack of care toward sanitation and nutrition."
"When a [Chinese kuaican] product tries to 'go out into the world,'" Yi concludes, "it meets with pain everywhere."
The government's decision to push time-honored brands hasn't stopped new kuaican upstarts from trying to adapt the Western models and please every regional palate. Mr. Lee's chief rival, Real Kung Fu, started under another name in 1990. By 1997, it was promoting a so-called "computer programmed steaming process" for its rice dishes and entrees, which promised to deliver from kitchen to counter in 80 seconds or less.
Real Kung Fu refused TWOC's request for details on their process—"these are our trade secrets," said the manager of one location—but periodic "Open Kitchen Days," typically held at different locations nationwide on March 15, China's Consumer Protection Day, reveal that the food is simply pre-prepared and packaged in individual servings at a central kitchen prior to delivery. With each order, kitchen staff simply pops the item into its designated "steam cabinet" programmed with a temperature and timer. The forced steam reheats the item in record time, and the meal is then taken out and assembled on the tray.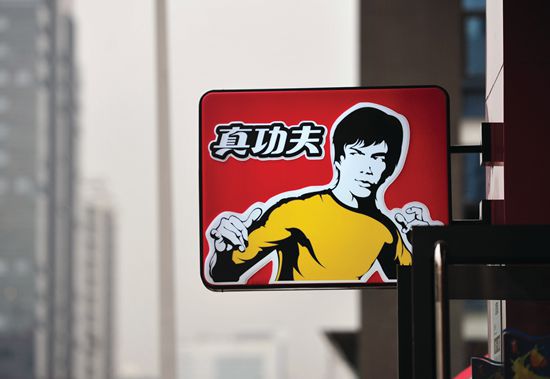 This "digitalization" extends to clean-up, as one location manager proclaimed to journalists at a media session: "All cutlery is soaked for at least three minutes; rubber cutlery at 40 to 50 degrees Celsius, stainless steel at 50 to 60 degrees." A repertoire of "hash-house" lingo is also crucial for the appearance of efficiency and success; Real Kung Fu servers have the habit of shouting dabai (大白, "big white") for every bowl of rice the customer orders. At Dr. Tian, a bargain-basement competitor in the steamed-rice-combo trade, the cashiers' cry of a dish's primary characteristic—"spicy!"—"meat!"—is taken up by the kitchen staff, in a sort of supply chain call-and-response, before the meal is served with xiaobai (小白, "small white"), their slang for rice.
Mr. Lee, though, may have perfected standardization. "I can't talk about our process," says location manager Su Li—seemingly the standard response—but, "It's because I can't explain it. Everything just arrives the way it is, and we are just the 'front line' staff. When the customer orders, we're responsible for serving it. It's that simple." Behind her, a TV screen loops a video of Mr. Lee's entrepreneurial story, ending with footage of a factory in suburban Beijing where "beef is sliced into two centimeter-wide cubes" and mixed in large vats with "broth from 18-month-old hens" and uniformly cut noodles. "Modern, nutritious, the taste of quality," the narrator intones.
For some customers, however, the near-complete mechanization of kuaican is a step too far. On Zhihu, the question "Why is Chinese-style kuaican universally said to be expensive and terrible-tasting?" has been viewed over 15,000 times. One users claims that "mechanization leads necessarily to bad flavor, compared to the handmade," whether it's Western or Chinese kuaican; however, Western brands have better ads and "psychological influence" on the consumer. Similar threads on Baidu, Guokr, and Douban had users chiming in, "every Chinese chain tastes the same" and "you can't even call [the dishes] real Chinese cooking."
What would make a Chinese diner go for kuaican in a nation full of independent eateries with even cheaper prices, longer hours, and better (or at least more varied) fare, anyway? For now, it appears that Chinese fast food joints mostly compete on perceptions of sanitation, and location, however precarious these could be. Chain restaurants, Yi notes, have the resources to open in malls and commercial arteries, while small businesses converge around residential areas; illegally converted storefronts, meanwhile, are at the mercy of officials and developers.
"I'm surrounded by small restaurants where I live…rice noodles, beef ball noodles, Hakka noodles, congee stands…but I'm afraid to eat there too often, due to all the additives," Li Han, an occasional fast food diner from Guangzhou, tells TWOC. As one Guokr commenter puts it, even bland kuaican is "better than gutter oil."
Yet in both quality and location, writes Yi, Chinese kuaican is beaten by Western chains with even deeper pockets and a brand loyalty developed over decades. In any commercial area of a first-tier city today, one can easily find a Mr. Lee's, KFC, Real Kung Fu, and McDonalds clustered together, sharing the same chrome-topped tables that once awed first-time kuaican customers over 30 years, their walls all covered with faddish faux-chalk writing. The Chinese chains also have their own mascots—the eponymous Mr. Lee, and a yellow-clad martial artist that Real Kung Fu (dubiously) insists is not modeled on Bruce Lee.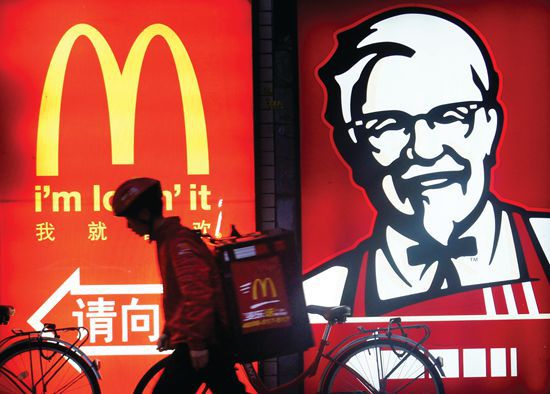 When TWOC visits one such Beijing strip at 3 p.m., the lull between lunch and dinner, the Chinese locations were all but empty, while their Western neighbors were still standing-room only. Children were noticeably absent from the domestic outlets, while in McDonalds, they were screaming enthusiastically for their next Happy Meal (with dessert and tie-in merchandise).
Li says her daughter "will ask to eat [at McDonalds], but doesn't really know any Chinese kuaican brands." Instead, when the 12-year-old wants Chinese food, "I can just make it at home since I'm a housewife." Another mother of an 11-year-old at KFC, surnamed Li, agrees. "My son will actively ask to eat Western food; he likes fries, chicken nuggets, and ice cream. I'll take him to KFC or McDonalds if his grades have been good or if it's a holiday."
These near-cultish associations of fast food with novelty and childhood ritual, cultivated by Western brands over several decades, are completely out of reach of Chinese firms. In the wake of the 2014 food scandal, some media looked to Real Kung Fu as a contender for a domestic fast food revolution: It had the most recognizable (if arguably copyright-infringing) logo and made a minimum effort at community outreach, hosting Open Kitchen Days and hiring Bruce Lee lookalikes to put on kung fu shows.
Yet within a year, the company's listed value had tumbled to an all-time low as the private scandals of the company's two founders—who both served as CEO, and were also ex-brothers-in-law—began to leak out. In 2006, co-founder Chen Dabiao secretly divorced his wife, whose brother Pan Yuhai had been Chen's original business partner. In the ensuing struggle over control of the business, Chen had been ahead, until news of his affair spread in 2009—and in 2011, it emerged he had not only been cheating on his wife but investors and shareholders, moving capital and siphoning funds. Chen was sentenced to 14 years in prison, but the chain's value, to say nothing of its reputation, has never recovered.
Today, business journals cite the saga as a cautionary tale for the family-owned enterprise, a model that describes an estimated 90 percent of restaurant businesses in China big and small. Yi, though, remains optimistic about the future of kuaican in China, pointing out that it was only in 2008 that the GDP in Guangzhou, where his 72Street company was headquartered, had surpassed the 1955 US GDP, the year after which McDonalds began its expansion.
"The time is yet to come for kuaican to become a part of everyday life," he declared. Diner Yu is more skeptical. "We go to [Chinese chains] too; their taste just still hasn't caught up," she says. Not just the taste—on a sweltering afternoon in mid-June in Beijing, KFC was the only restaurant on the street where the thermometer registered below 25 degrees.
---
Quick Fix is a story from our issue, "Modern Family." To read the entire issue, become a subscriber and receive the full magazine. Alternatively, you can purchase the digital version from the App Store.
---