Fentanyl was the cornerstone in reaching the US-China trade truce
There was relief, briefly, over the weekend when a 90-day "trade war truce" was apparently reached over a steak dinner between Presidents Donald Trump and Xi Jinping, both in Argentina for the G20 summit.
Many Chinese, though, were baffled by the second paragraph of the official White House press briefing that circulated on WeChat, before being deleted: "Very importantly, President Xi, in a wonderful humanitarian gesture, has agreed to designate Fentanyl as a Controlled Substance, meaning that people selling Fentanyl to the United States will be subject to China's maximum penalty under the law."
How, they wondered, in a country with such stringent drug laws (indeed, Trump has publicly praised China for its death penalty for drug dealers), could there a drug be exported to America so potent that it would become part of a US-China trade war?
Americans are no stranger to fentanyl though, a drug 50 times more potent than heroin. Not only is it available on the streets, it also has been the culprit in a number of high-profile deaths, including Prince, Tom Petty, and Matt Roberts of 3 Doors Down.
Fentanyl is considered one of the three pillars of America's "Opioid Epidemic," alongside prescription opioids and heroin. However, it is by far the most lethal of the three. Out of the 72,000 drug overdose deaths in the United States in 2017, nearly 30 thousand were due to synthetic opioids (fentanyl and similar chemical compounds.)
In August 2018, Trump declared fentanyl from China as "almost a form of warfare" by "killing our people." Trump has been oddly consistent in prioritizing fentanyl exports from China as early as 2017, even empowering the Department of Justice (DoJ) to go after Chinese opioid manufacturers.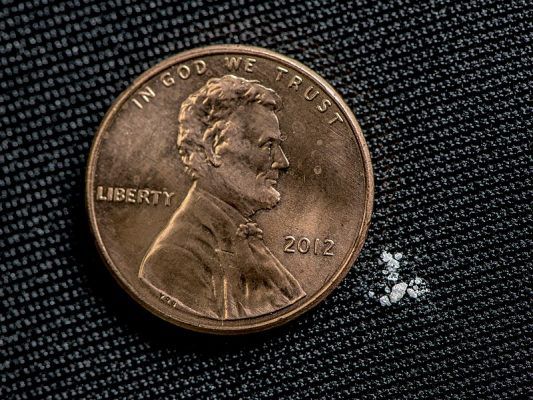 In October 2017, the Department of Justice announced the indictment of two Chinese nationals involved in fentanyl production and distribution. Zhang Jian was charged with the deaths of four individuals, and faces life in prison, as well as 12.5 million USD in fines. Yan Xiaobing was indicted for operating two chemical plants producing fentanyl, though the DoJ was unable to link any deaths to Yan, who faces only up to 20 years in prison and a 1 million USD fine.
However, the investigation fell flat—because Chinese authorities declined to apprehend the two men. Yu Haibin of the National Narcotics Control Commission told VICE News in December 2017: "China does not have solid evidence to show that they have violated Chinese law." (Although fentanyl is already illegal in China, the chemical components to make it has not been banned, leading to legal ambiguity.) Yu later called Trump's continued comments "irresponsible" and "unacceptable."
In May 2018, Bloomberg found Yan living comfortably with his wife and two children in an upscale residential complex in Wuhan. In spite of the evidence against him, which Mississippi law enforcement say is substantial, Yan pleaded ignorance, telling Bloomberg, "This is horrifying. Their investigation must have gone wrong." (US police claim Yan dodged the Chinese law by sending fentanyl analogues, which have a slightly different chemical composition, instead of the real thing.)
While Yan continues to elude US authorities, the Department of Treasury issued sanctions against Zhang Jian in April 2018, alongside four other of his associates. (Their photos, dates of birth, and identity card numbers can be found on this Treasury notice.) His Hong Kong-based chemical company, Zaron Bio-Tech, said to operate factories in China, Singapore, Thailand, and Vietnam, was also targeted.
Chinese Foreign Minister Wang Yi has said that China will tighten controls, update laws, and cooperate with US authorities, signaling major victory for Trump. However, it is yet to be seen if this cooperation will gain any traction, or end up like the 250 billion USD of "empty deals" following Trump's visit to Beijing in November 2017. The fates of Yan and Zhang may be sealed, as they appear to be easy targets to smooth over trade war tensions, but the future of fentanyl remains unresolved—experts say that, like the drug war itself, the end is far from in sight.
---