Millions have opened accounts in the last decade, but China's banks still strive for financial inclusion
Qi Shengli had always been distrustful of banks, figuring the safest place to keep his life savings was buried in his bedroom. "I might forget the password or number code when I decided to make a withdrawal," the 60-year-old Sichuanese farmer explained to China Daily.
The decision would prove disastrous: When Qi dug up the stash in 2016, he discovered that termites had breached its protective plastic and eaten nearly all the banknotes. Out of the 20,000 RMB he had hoarded away, only 600 RMB was salvageable, according to his local Bank of China branch.
Luckily, a Beijing artist heard about Qi's plight and offered to buy the damaged banknotes for their original value in order to create a piece of artwork, warning seniors about the dangers of hoarding money at home.
Qi's story is hardly out of the ordinary: Despite the proliferation of rural banks, as well as today's high-tech mobile payment systems, China is home to an estimated 10 percent of the 2.5 billion global "unbanked" who operate outside of formal financial institutions.
Large as it is, this number has halved over the last 10 years, the result of a widely successful campaign to encourage inclusion in the banking system. In 2011, only 64 percent of the population had a bank account, compared to 79 percent currently; over 200 million people (almost the entire population of Brazil) became "banked" in less than a decade.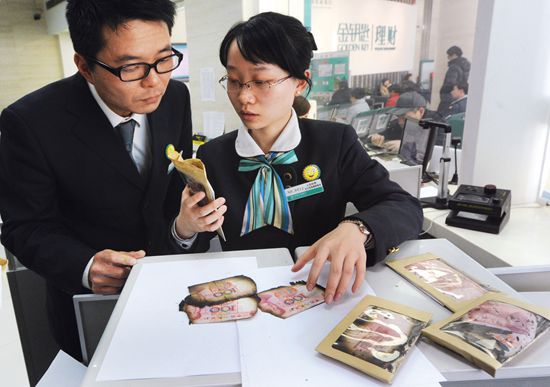 "Most people don't have a good understanding of how Chinese banks operate," says banking expert James Stent. The author of China's Banking Transformation: The Untold Story, Stent served on the board of China's first non-state-owned bank, China Minsheng Bank, as well as China Everbright Bank.
"Although they look like Western banks and act like Western banks, Chinese banks face a more complex set of incentives under a socialist market economy," Stent explains. "Just like Western banks, they need to make money for the shareholders, but they also must support the development initiatives set forth by the party state."
For instance, almost all initiatives of Chinese banks require approval from the Chinese Banking Regulatory Commission (CBRC). According to Stent, just to open a new Everbright branch, "we were told that we would only get regulatory approval if we also opened branches in other locations. That is how our branches in Ningxia and Gansu provinces were started."
While the CBRC's goal here was explicitly to promote a more equitable economic development across the country, Stent believes that other imperatives went unspoken. Chinese banks are expected to provide affordable financial services to everyone, and the government is "allergic to high fees, especially when compared with the United States. It is clear that the government wants the banks to profit from their other businesses, not from managing bank accounts."
Dou Benbin, a risk management officer at the Shanghai Minhang BOS Rural Bank, believes that a lack of banking culture in many places in China also plays a role. "Banks need to reach out to as many people as possible, so we make it very cheap to maintain a bank account." However, "in some places [central and western China], they don't even have a physical bank location."
The lopsided nature of China's economic growth—developed cities along the eastern coast, versus impoverished countryside in the interior—reflects an increasingly large equality gap. The government has tried to mitigate these differences by prioritizing policies that address the "Three Rurals" ( 三农, agriculture, rural areas, and farmers), in which banking plays a vital role.
China's current banking system began with Deng Xiaoping's reform and opening-up policy starting in the late 1970s. The state initially created the "Big Four" banks, each with a different mandate and development goal: the Bank of China (BOC) was in charge of businesses related to trade, requiring foreign exchange services; the Agricultural Bank of China (ABC) was tasked with meeting rural needs; the China Construction Bank (CCB) funded construction projects; and the Industrial Commercial Bank of China (ICBC), a latecomer, was for China's new generation of businesspeople.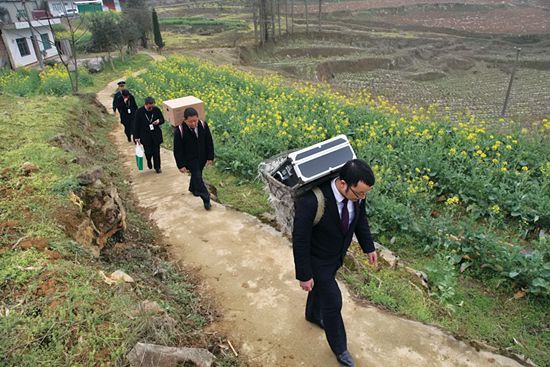 The mandates quickly became convoluted, though, as the economy soared. Additionally, banks had difficulties balancing commercial and policy objectives: In the early years of reform, ABC incurred massive non-performing loans under a poverty alleviation program to subsidize township and village enterprises. During the early 2000s, while banks sought to become more commercially viable to get listed on stock markets, ABC's rural orientation put it at a disadvantage. To prepare for its 2010 public listing (with the time, the world's largest IPO), ABC closed more than 13,000 branches in western and central China, leaving 2,134 towns without a bank.
Accessibility remains a problem even today. Last year, 62-year-old farmer Tan Aiguo opened his first ABC bank account with the help of his children. To get from his village to the closest branch in Buyunqiao, a town in Hunan province's Qidong county, he tells TWOC that he must ride a bus which only runs on "market days" (days ending in a 1, 4, or 7), meaning that he needs to plan any bank trip in advance. Buyunqiao's 63,000 residents don't have many options, either; the town only has an ABC branch, a rural credit cooperative, and a branch of the Postal Savings Bank of China (PSBC).
Although he doesn't have an account with them, Mr. Tan is no stranger to the PSBC. When he ran a small butcher's shop in Yunnan province between 1986 and 2006, Tan frequently used the PSBC's precursor, the Postal Savings and Remittances Bureau, to send money home to his family. He would fill out a remittance application, which included the recipient's address and name, and, after a couple of weeks, his family in Hunan received the receipt via China Post allowing them to withdraw the cash—like a much slower and more bureaucratic version of Western Union.
Migrant workers like Tan have long been among China's most marginalized populations: Barred from their adopted cities' public services due to their rural hukou (household registration), they also face challenges with non-payment of wages, safeguarding their earnings, and sending money home. Tan remembers hearing horror stories where families lost their PSBC receipts, or a stranger intercepted them and withdrew the money.
These concerns are what likely prompted one woman, in a well-publicized case during the 2018 Spring Festival, to climb into an X-ray machine conveying her purse through security at Dongguan train station. Many viewers, who saw eerie neon-laced images of the woman's skeleton online, were incredulous that she would willingly put her body through such radiation—but others were sympathetic that the purse may have contained her entire savings.
Both ABC and PSBC are actively trying to meet the needs of rural and migrant clients. ABC has issued over 96 million Kins Farmers Benefit Cards—debit accounts accessible via phone, internet, ATMs, and partner companies where the bank does not have a physical presence. Two-thirds of PSBC's 39,000 bank branch outlets are at the county level or below, reaching a third of the population with more than 475 million clients (PSBC is also a leader in the microcredit market, with 41 percent of its small loans given to entrepreneurs and 59 percent to farmers).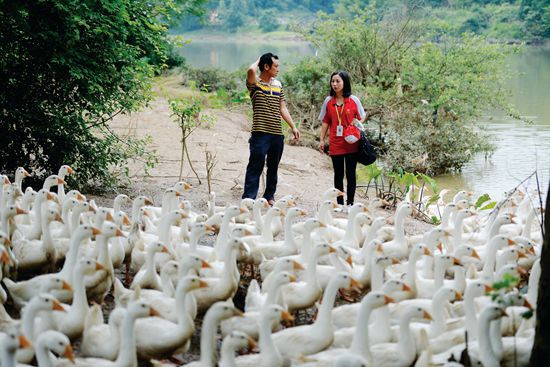 But resistance remains strong among the elderly, illustrated by regular reports of financial disaster befalling hoarders. One elderly woman in Jiangsu province buried 100,000 RMB under her kitchen to pay for her son's wedding; by the time he finally found a bride, the money had decomposed. Worms ate 35,000 RMB of a 67-year old fisherman's life savings after he buried them outdoors (the local bank was able to salvage 21,000 RMB by exchanging his damaged notes for new ones).
Their reasons are varied, but most cite discomfort with opening an account and using ATMs. Tan says he was extremely uncomfortable the first time he used a cash machine: "I felt awkward…because I knew nothing about the way it worked. I did not even know how to insert the card correctly. The other problem is my poor eyesight. I have gotten familiar with the process, but I still need to bring my glasses along."
His ABC branch has staff to help people navigate this interface, but another major disincentive, noted Dou, is the fact that many seniors are illiterate and uncomfortable with putting their hard-earned cash into a machine they cannot understand, or losing face by asking strangers for help.
Moreover, opening a secure account meets only the most basic financial needs, and rural dwellers seeking to borrow, invest, and save are often sucked into the massive network of shady underground peer-to-peer (P2P) lending schemes. "That is where the 'village banks' come in," says Dou.
First established in 2005 in Sichuan, this community-based financial institution has proliferated, with over 1,600 village banks throughout the country (and over 1,200 located in central and western China). They are supposed to fill the gaps that major banks are too big to fit into. "Many villagers have challenges borrowing money," explains Dou. "They lack the specific documents to prove that they have the right to use their lands. Most major banks will not provide loans to them because of the lack of collateral."
Dou's job as a risk-compliance officer requires assessing those individuals who have fallen through the cracks. One of his greatest success stories was lending money to a tulip farmer near Shanghai's Hongqiao Airport who lacked a paper trail to prove his assets, having always paid for everything, including the tulip seeds, in cash.
After a lengthy investigation, Dou determined that the Shanghai Minhang BOS Rural Bank's loan was probably safe: the farmer was a local, with family in the area, a son in college, and reputation for honesty among his neighbors. The village bank gave the tulip farmer a loan—and once he had paid that back, another. Today, the farmer has a robust business, even leasing land in Yunnan for additional crop.
Village banks are a far safer, and regulated, alternative to P2P, which are infamous for turning out to be Ponzi schemes. "People know little about finances and can be cheated easily, especially by bad terms on loans," Dou says.
Currently, state agricultural subsidies, pensions, and medical insurance reach 900 million people, and institutionalizing these money transfers into a formal system has also contributed to enriching financial know-how. Undergraduates may apply for their first bank card by presenting their admission letters, containing detailed instructions about depositing their tuition fees. Pensioners, such as Tan, are provided with cards from the local rural credit cooperative, with pensions deposited directly. "The government opened my account and deposits 100 RMB each month," he tells TWOC.
According to Stent, "China's financial inclusion initiatives are one of the country's greatest success stories—yet very few people know about it." In April, the CBRC merged with the China Insurance Regulatory Commission to form the China Banking and Insurance Regulatory Commission, a massive regulatory authority over the country's financial infrastructure, part of what Stent calls the "next level" of financial inclusion.
The target customers are unlikely to be found among those who remain unbanked, though. Asked how banks could improve, Tan responded, "I am fine the way it is right now. I am an old rural man; I don't need many financial services."
– Additional reporting by Tan Yunfei (谭云飞)
---
The Great Unbanked is a story from our issue, "Curiosities and Quests." To read the entire issue, become a subscriber and receive the full magazine. Alternatively, you can purchase the digital version from the App Store.
---