Shandong's former refuge of hermits now offers temples and spectacular sunrises—from our book "Rivers Deep, Mountain High"
Have you got what it takes to climb a Chinese mountain? Not just any mountain, either—"The First of the Five Sacred Mountains" is arguably the most venerable peak in the whole country, though not actually the highest.
Don't worry. Despite its summit being 1,545 meters above sea level, this is not some gruelling adventure involving ropes, crampons, oxygen masks; and you won't need to bring a knapsack full of supplies and snacks—although plenty of people do, despite the numerous small stands selling a profusion of products (soft drinks, hot instant noodles, chips) that you will encounter along the journey.
Ascending a mountain on the mainland is generally quite a different experience to the rugged hike you might imagine. And once you've done one, you can relax if you don't want to climb them all. As an ancient saying attest, "You will have no wish to visit any other mountains after viewing the Five Mountains." But let's begin with some background.
History and Cultural Importance
You'll be following in the footsteps of 72 emperors, so tread carefully to appreciate the historical significance of your journey.
It was here, in 219 BCE, that the Emperor Qin Shi Huang held a summit ceremony to inform the gods (just in case they hadn't noticed) that he was the first ruler to unify China. And it was here, hundreds of years earlier, that Shandong's most famous son, Confucius, got to the top and declared: "Climb Taishan and the whole world looks small." This view—in both senses of the word—stems from the fact that Taishan Mountain (泰山) is the most easterly of the Five Sacred Mountains; the east was the most sacred direction, because the sun and moon rise in the east (representing the cycle of natural life: birth, death, renewal). The mountain is also surrounded by low-lying topography, so it has a tendency to bring out a sense of wonder in everyone from the modern backpacker to the UNESCO, who added it to the World Cultural Heritage list in 1987.
In ancient times, a thousand years before Christianity began, emperors, poets, scholars, officials, and other important figures began visiting Taishan to offer sacrifices, question the meaning of life, make vital decisions, and philosophize. Some stayed longer than others, becoming hermits, secluding themselves deep in Taishan's caves and crannies to agonize over deep matters for months or years before emerging, ideally having found the Dao (Path). Today, though, the peak is simply on most people's bucket lists for its fame, attracting at least 6 million visitors a year (though it can, at times, feel like it's 6 million a day).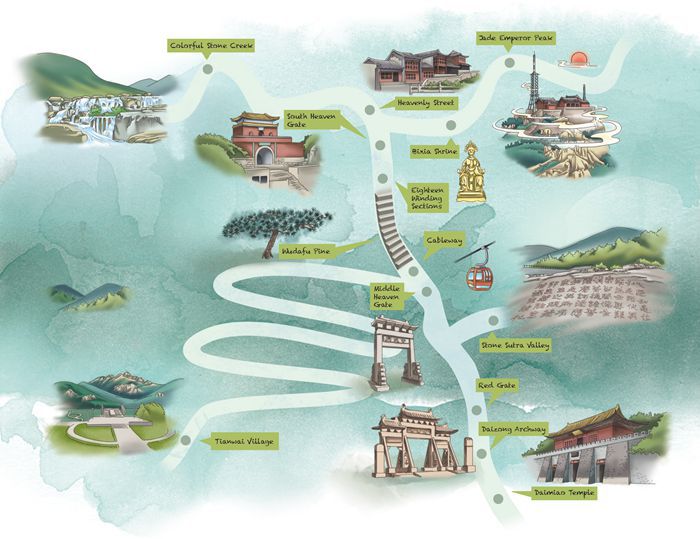 Temples
At the foot of Taishan is Daimiao Temple (岱庙), and at the top is Bixia Shrine (碧霞祠), an extensive and more interesting complex founded during the Ming dynasty (1368 – 1644). With five major halls, two courtyards, and 360 bronze tiles (representing the 365 days of the year), the shrine honors the goddess whose bronze statue can be found inside.
The old temples come with new distractions: Some people like to toss a coin, or several, at a bucket or bell for good luck (most miss, because of the distance). There is also an option to buy a lock, have it engraved with a name or blessing, and add it to a fence that's covered with them.
Even if you don't like wandering around old temples, the path to the top is studded with stone tablets inscribed with thoughtful inscriptions, as well as various important rocks. These "geological remains" are mostly fenced off, with signs warning visitors to keep off.
Climbing Taishan Mountain
Even a journey of a thousand miles begins with a single step. In the case of Taishan, it's about 7,000 steps, or maybe less. Some inclines are steeper than others, but it will take a minimum of three hours (and up to seven hours) to make one's way from the Red Gate (红门) at the trailhead to the South Heaven Gate (南天门). This heavenly gate isn't the top, though—there's still another hour of arduous walking to get to the Jade Emperor Temple (玉皇庙) at the peak, where climbers can view the sunrise.
On the other hand, most sacred mountains don't come equipped with concrete steps, guard rails and rest stops, which is why you needn't be daunted by the thought of tackling this tall trail. You will probably see children and grannies powering ahead of you. Some people take a bus to the Middle Heaven Gate (中天门), then a cable car to the summit. However, ask yourself: What would Confucius do? He would have walked.
Timing your ascent can be a little tricky. Some people start late, around 9 or 10 p.m., in order to make it to the very top in exact time for dawn. This is an extreme tactic that doesn't actually reward the tourist very well; not only will you risk bumbling around thousands of steps in the dark (unless you bring a headlamp or flashlight), you will miss all the views on the way, including the temples (which will be closed), and the temperature will be much colder…and it already gets pretty chilly at the top.
The alternative is to start a lot earlier, and either camp out, or catch some sleep in one of the hotels at the summit, before waking up with the sun. The problem is the hotels, which can be rudimentary, and occasionally rude, especially with the prices. Those who are skilled at haggling, are known to get the cost down by half, though.
Either way, there is no time on any day of the year when you won't have to share the experience with a large crowd. Solo Confucian contemplation, in the still of a silent dawn, is so last century. Selfie sticks and cooing crowds, on the other hand, are very much in vogue, and look to stay that way. That's the price you have to pay for cable car accessibility, stone steps, and snack stops all along the route to one of the most famous scenic spots in China. Still, there's always something to be said about conquering any mountain—even (or especially) one that you were able to climb in less than a day.
Tip: If the mass-mountain climbing vibe isn't your thing, take the western route and try hiking through the Colourful Stone Creek Scenic Area (彩石溪景区). Visit Peach Blossom Valley (桃花峪), which has pine and peach trees, as you might expect, waterfalls, and small natural ponds—and no steps!
---
Cover image is of the Sunrise at Jade Emperor Peak, Taishan Mountain

Excerpt taken from Rivers Deep, Mountain High, TWOC's newest guide to Shandong. Get your copy today from our online store.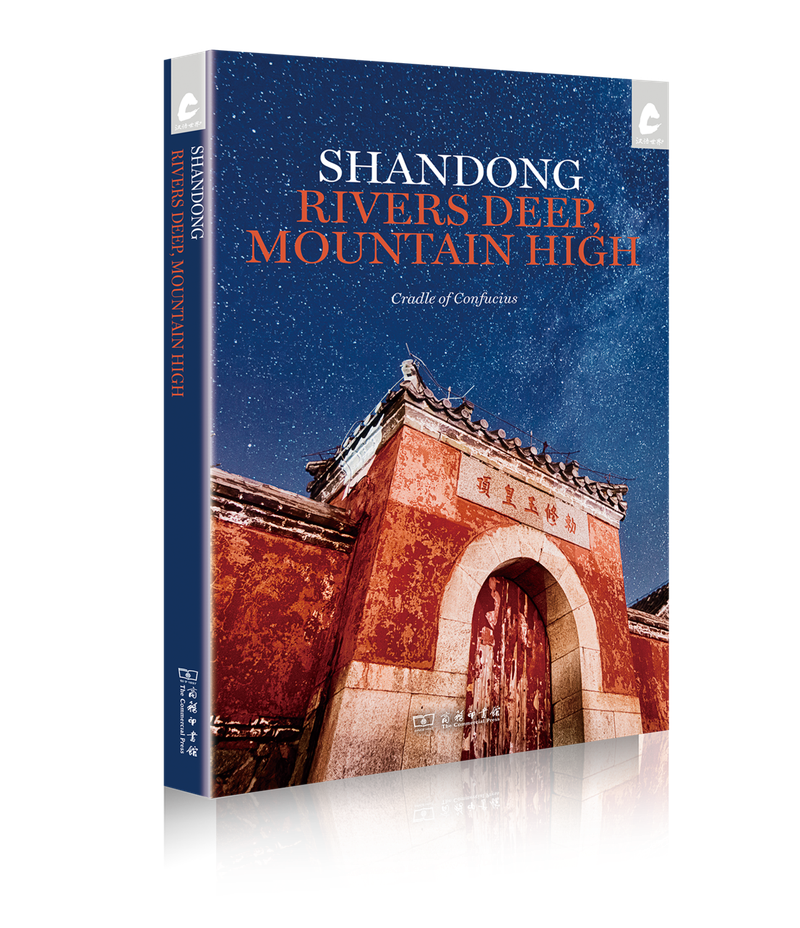 ---