Beidaihe is one of China's best known seaside resorts—and the most important
It's mid-June, and the weather forecast in Beijing predicts temperatures of 35 degrees Celsius. Just two hours away by high-speed train, though, the resort town of Beidaihe is basking in pleasant sunshine and cool sea breezes.
On arrival at Beidaihe Railway Station, I am greeted by a banner reading "Carry Out the Patriotic Hygiene Campaign and Improve People's Health." Though this slogan pertains to public sanitation campaigns that have been ongoing in China since the 1930s, it seemed like a good omen for my trip to one of China's premier seaside "health hubs," where generations of party cadres, workers, and senior officials enjoyed summer vacations in state-run spas known as "sanatoriums."
Beidaihe (北戴河), which gets its name from its location north of the Daihe River, is a district of 120,000 inhabitants in the Hebei city of Qinhuangdao. With 54 percent forest coverage and 22.5 kilometers of coastline, its residents enjoy 119 days of sunshine a year, and temperatures that rarely exceed 30 degrees all summer long. It calls itself one of China's "four greatest summer resorts," and receives over 8 million tourists each year.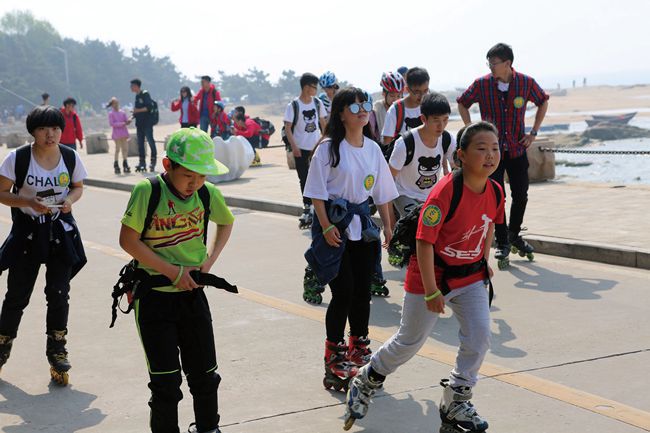 Qinhuangdao (秦皇岛, literally "Qin Emperor Island"), Hebei's northeasternmost city, is the only Chinese city named after an emperor. According to legend, China's first emperor Qin Shi Huang visited here three times to pay tribute to immortals and dispatch expeditions to seek out the elixir of eternal life. Later emperors, such as Emperor Wu of the Han dynasty and Emperor Taizong of the Tang, made similar pilgrimages here. In 1381, Shanhai Pass (山海关), was built here as part of the Ming Great Wall to defend the empire.
Beidaihe itself, though, remained just a small fishing village until 1893, when a British railway engineer visited en route to planning the Jinyu (Tianjin-Shanhai Pass) Railway. Word of the remarkable scenery quickly spread among the Victorian community of missionaries, merchants, and colonial officials in China, who were fond of summer "sanatorium holidays" in clean surroundings with bracing sea air. In 1898, the Qing emperor Guangxu declared Beidaihe open to foreigners and Chinese alike as a summer resort, and it soon became known as the "Oriental Honolulu": According to official statistics, there were 719 villas in the area as of 1948.
Today, however, the majority of these holiday homes are nowhere to be seen, either walled off for government use or replaced by guesthouses, hotels, and the ubiquitous health resorts. "You'll see one health resort every kilometer [in Beidaihe]," one tourist observed online. It's no exaggeration: more than 150 health clubs are reportedly operating in this 112-square kilometer district. They are known as "sanatoriums" (疗养院), "rest homes" (休养所), "cadre rest homes" (干休所), and "training centers" (培训中心), perhaps to give their functions a more proletarian cast.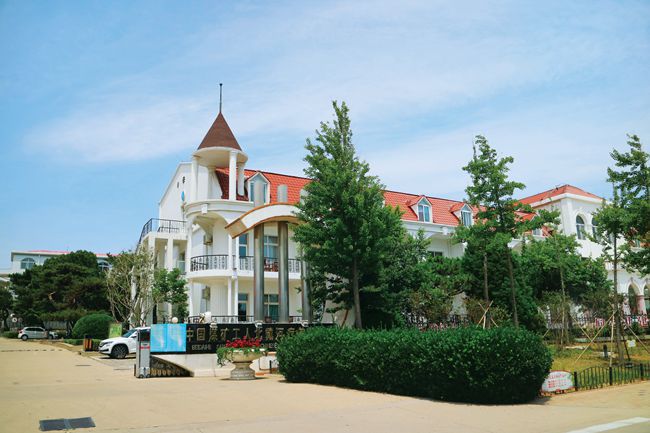 Many were founded after China's central government formalized its "summer working policy" in 1953—namely, the decision to decamp to Beidaihe every August and hold all key meetings in this "summer capital." It was here, in 1958, that the fateful decision to divide all arable land into communes was made by the Party's Politburo. "Beidaihe was selected over other coastal cities like Dalian, Liaoning province, and Qingdao, Shandong province, for the fine sands, flat beaches, few sharks, and proximity to the capital," local chronicler Zhu Xinzhi told Southern Weekly in 2003.
All employees of the central government had already been allowed a one-week sanitarium holiday at Beidaihe since 1952. The policy was based on the Soviet Union's 1936 constitution, which stipulated a "two-week compulsory holiday" for all citizens to boost morale and productivity; indeed, the concept of the "sanatorium holiday" was considered a key manifestation of the superiority of socialist economies, writes author and historian Maryam Omidi.
In China, the holiday was largely offered as a reward for officials, workers, and pensioners of state-run enterprises; model workers recognized for their productivity; and workers exposed to hazardous substances, like coal miners. At Beidaihe, these pillars of the socialist state could rest and recuperate from work, convalesce from illness, and recharge amid the peaceful surroundings, bringing along no more than two family members.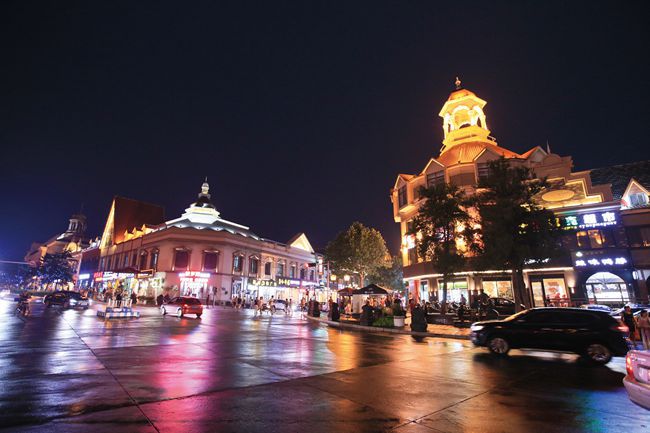 Most state-run sanatoriums were reserved "for internal use only" and closed to the public until 2003, when the government scrapped the summer working policy and suppressed publicity about the summer capital. Despite this prohibition, it's widely known that top leaders and other officials continue to summer here. Visitors can distinguish the affiliation and level of each sanitarium based on their names, which include characters such as 国 (national), 省 (provincial), 市 (municipal), 部 (ministry), 局 (bureau), 委 (commission), and 工会 (trade union).
I head for the Beijing Railway Administration No. 1 Division Beidaihe Sanitarium, recommended by a colleague who summered here as a child with her railway-employee parents, and fondly remembered getting fresh fruit delivered to their room every day. At check-in, though, the receptionist tells me there will be no meals served due to insufficient bookings (I seem to be the only guest). In spite of this inconvenience, the surroundings seem much more comfortable and secluded—if also more isolated—than the usual guesthouse: Four-storey villas are scattered among trees, paths, yards, and fitness equipment, surrounded by walls and a guarded gate.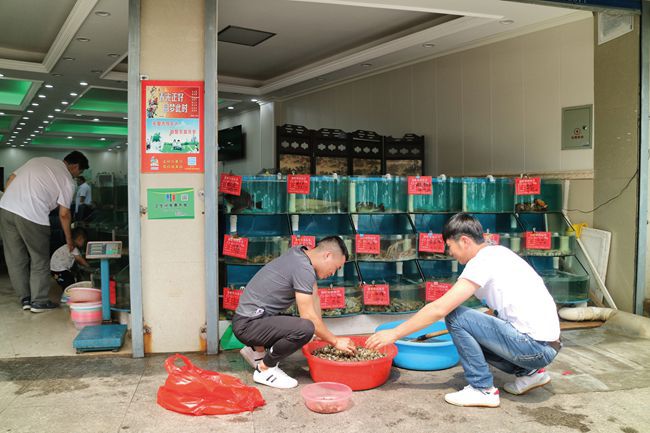 I set out to get sense of a Beidaihe sanatorium holiday. It's only a few minutes' walk to the beach, which is free to access. In nearby Pingshuiqiao Park, a group of locals as well as tourists are listening to an aged local recount tales about top leaders who might have lived in the villas and bathed in the sea on the other side of the fence.
All along the walk, there are groups of retirees on their own without children, grand-children, or guides. Nearby Dragon Stone Park is teeming with seniors in their 50s and 60s, chatting, exercising, and strolling among the dozens of guest residences dotted between lush lawns and trees. From afar, they look like typical elderly tourists in their souvenir T-shirts and wide-brimmed hats, except for the "recuperation permit" (疗养证) worn around their neck, which allows them to access restricted guest areas and join chess games organized by their work unit.
The seaside district's collectivist past is also still in evidence next door at the Beidaihe Sanatorium for Chinese Coal Miners. In 1950, the Ministry of Emergency Management established this retreat so that workers who toiled in some of the country's toughest environments could enjoy Beidaihe's recuperative qualities alongside the country's leaders.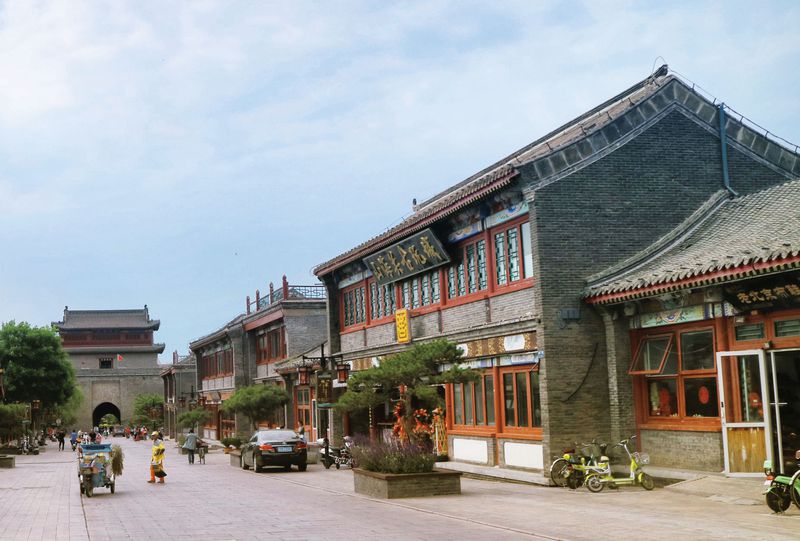 Today, its clinic remains one of several in China that provide medical treatment and physiotherapy to miners suffering from chronic lung diseases caused by inhaling dust, one of their doctors tells me. Many miners undergoing treatment here are elderly, sent by their trade unions "before they're too old to get another chance," explains one 62-year-old resident surnamed Shi—though young party members have also been invited as "backbones of the company." Mr. Shi, who is enjoying his first sanatorium visit after 35 years of work at a coal plant in Baotou, Inner Mongolia, has so far had multiple health examinations and even minor "lung-cleansing" surgery, as well as long walks by the sea.
A younger, more modern, and energetic version of the resort town can be found further inland next to the Olympic Park, which opened in 2004 and is the venue of the annual Beidaihe International Roller Skating Festival. I spend the evening in the downtown Liuzhuang area, which is fronted by three-to-six-storey Mediterranean-style apartment buildings. At the entrance to the shops and restaurants on the ground floor, staff members hail passersby to check out their wares, or pick out fresh seafood from large glass tanks to enjoy for dinner.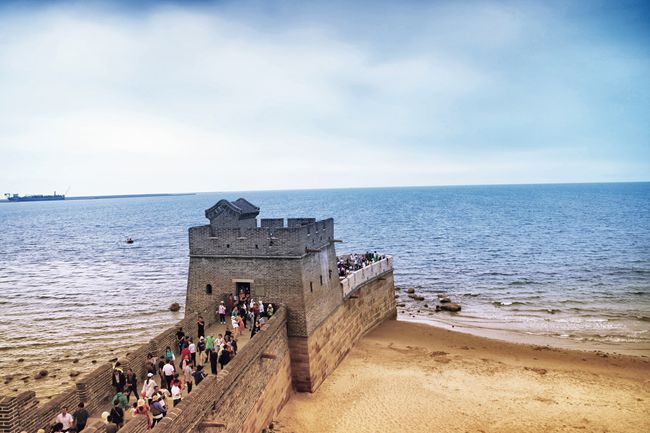 The next day, I leave just after dawn for Shanhai Pass, another of Qinhuangdao's "must see" scenic spots, a journey of 40 minutes by high-speed rail. Located at the junction of the Yanshan Mountains and the Bohai Sea, this strategic fortress was the site of a famous battle in 1644 between the rebel leader Li Zicheng and the turncoat general Wu Sangui, who opened the gates to the Manchu conquerors at the wane of the Ming dynasty. Four kilometers away from the pass, the Ming Great Wall runs into the sea at Laolongtou (老龙头), "Old Dragon Head," a spot so named for the wall's resemblance to a dragon dipping its head into the water.
Today, the historical site is almost indistinguishable from the souvenir shops, restaurants, and hotels that surround it as part of a refurbished "Old City." Most visitors simply snap photos, but even here, the Party offers lessons to those who seek them: One middle-aged tour group seem engrossed by the Jiashen History Museum, which commemorates the 1644 battle, and uses the failure of Li's peasant rebellion as a warning to party members to adhere to "correct ideology."
The tour ends early, and I wonder if I can go home to Beijing that evening. By the time I return to the sanatorium at 4 p.m., though, I've given up on the idea; the return tickets were sold out, and all the promotion of history and health has been exhausting. I think I need a rest.
---
Worker's Paradise is a story from our issue, "Wild Rides." To read the entire issue, become a subscriber and receive the full magazine. Alternatively, you can purchase the digital version from the App Store.
---