Five publicity stunts that backfired epicly
There's no such thing as bad publicity—but try telling that to the foreign brands that have suffered the wrath of Chinese consumers over their "incorrect" labeling of countries, territories, provinces, and autonomous regions.
Before these controversies were the norm, though, there were more creative ways to offend through marketing.  As companies, bloggers, and internet celebrities fight for followers, increasingly audacious publicity stunts have become part of the everyday on Chinese social media. Many of these weird, wonderful, and sometimes crass bids for followers have not ended well, as shown in the examples below:

Tire trouble 
Cultural relics have been used for commercial purposes to various effect. In 2015, 500 stormtroopers appeared on the Great Wall to promote the release of Star Wars: The Force Awakens. However, damaging ancient structures probably isn't the best way to go to drum up business. In 2012, Ferrari drove one of its cars onto Nanjing's 600-year-old city walls, then performed wheel spins on the historic landmark. Predictably, videos of the tire marks left by the stunt failed to impress netizens, and the company had to cancel the celebration for its 20th anniversary in the Chinese market. The word "Ferrari" was even censored on social media for a time—definitely not good for brand awareness.
Controversial contraceptive 
In 2016, Beijing commuters were surprised to have their morning subway ride enlivened by several scantily clad young women unwrapping condoms and "applying" them to their skin and faces. Startled passengers recorded the footage and posted it online. It emerged that the strange behavior was part of a publicity stunt by domestic condom manufacturer Daxiang, and was meant to show that the lubricant on the condoms was so soft that it could be used to improve one's skin (a claim for which no evidence seemed to have been produced). The stunt certainly got netizens talking, but not necessarily in the way Daxiang hoped. "People will do anything for money," decried one Weibo user. 
A lunch too far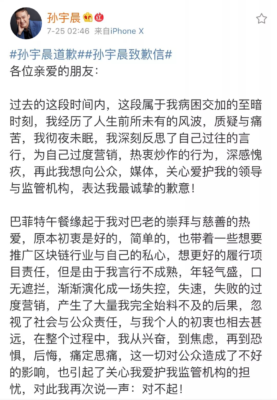 When Justin Sun Yuchen, a cryptocurrency billionaire, announced that he had bid 4.57 million USD to have lunch with Warren Buffet, he enjoyed a huge amount of publicity. The stunt, though, ended up costing Sun more than just his cash. After making his bid, Sun provoked arguments with other CEOs on social media, and even invited Donald Trump to the lunch. His reputation crashed, and he has reportedly come under investigation in China for money laundering and illegal fundraising. Sun eventually canceled the lunch, citing illness, then issued a public apology for "overhyping" the event and promised to "become a better social role model for youth."
Congestion charge
<span data-mce-type="bookmark" style="display: inline-block; width: 0px; overflow: hidden; line-height: 0;" class="mce_SELRES_start"></span>
You've heard of insurance scammers who engineer car accidents for payouts; now comes the online celebrity who deliberately drove into his own mother in an attempt to gain more followers on social media. Last month, a "humor blogger" surnamed Chao staged and filmed a traffic accident in which he pretended to drive a Lamborghini into an electric bike ridden by his 55-year-old mother in Zhengzhou, Henan province. The stunt gained Chao attention—from the police. They put Chao, his mother, and the videographer in detention for five days, since the stunt had reportedly delayed traffic for 40 minutes. The three were also fined 200 yuan each for "disturbing public order." 
Charity or publicity?
The king of philanthropic publicity stunts is undoubtedly Chen Guangbiao. The billionaire recycling magnate gained notoriety outside of China when he announced an event in which he would treat 1,000 of New York's homeless to lunch at a fancy restaurant and give each of them 300 USD. Chen even took out a full-page advertisement in The New York Times the week before to promote his charitable deed. So far, so generous. The only problem was that the details were incorrect: The lunch was for 250 ticketed attendees, not the thousand advertised, and waiters in Red Army-style uniforms served guests while singing "red songs." The promised cash payment did not materialize, resulting in angry crowds outside the restaurant and attempts by those inside to storm a podium and remonstrate with Chen. 
Chen claimed the debacle was the result of overenthusiastic marketing by a PR firm and that he had donated $90,000 to a homeless charity in New York. But Chen has a history of eccentric publicity campaigns, and has admitted that they are part of his persona. He first became known when he claimed to have personally rescued 13 survivors in the aftermath of the 2008 Sichuan Earthquake. He has also been ridiculed for the self-aggrandizing titles he has listed on his business card, which include, "Most Influential Person of China," "China Moral Leader," and "Most Well-known and Beloved Chinese Role Model." 
Cover Image from VCG
---