Art Factory exhibition "All We Love" mixes technology and nostalgia to ponder the meaning of home
Ever wondered what it would be like to live in an alternative universe populated by a new race of humans, all of whom want to dance with you? Ever wanted to live in such a universe and have the opportunity to exterminate said dance-crazed beings?
That's exactly what video visual artist Tian Xiaolei offers in his art piece, "I'm Going to Dance for You," just one of the installations on display at Beijing's Art Factory as part of its ongoing "All We Love" (《我们的家当》) exhibition.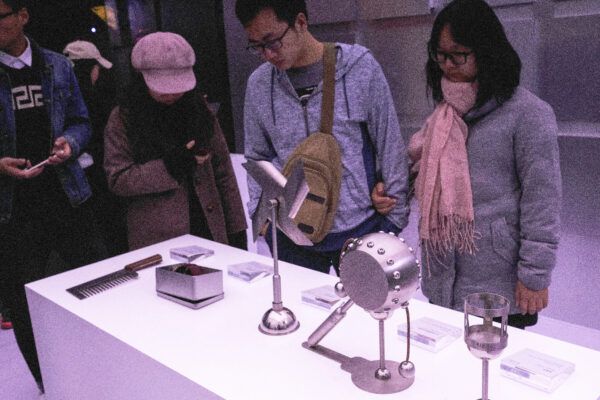 On exhibit at the 798 district until November 20, "All We Love" attempts to show what it has meant to call China home through the ages through work by a number of Chinese artists, using various media. Each of the ten showcased pieces represent a different stage of life throughout China's history, beginning from the 20th century to Tian's post-human, virtual future, where the line between man and machine is blurred.
"All We Love" was commissioned by Weizhong Bank, China's first digital bank, which was established by Tencent this year to mark the 70th anniversary of the forming of the PRC. "By looking at different historical periods and different social class's understanding of 'home belongings,' we hope to use small objects to reflect Chinese families' pursuit and feelings for a beautiful life," Weizhong Bank president Li Nanqing told online lifestyle publication SG.com. He explained the exhibition encourages the public to find emotional meanings for "home" and "family," beyond materiality.
The concept of the exhibition was originally inspired by Heilongjiang photographer's Huang Qingjun's renowned series featuring Chinese families posing with all their possessions, and Huang's portraits are some of the first you see as you enter the museum. His subjects hail from rural to metropolitan China and represent the gamut of socioeconomic backgrounds.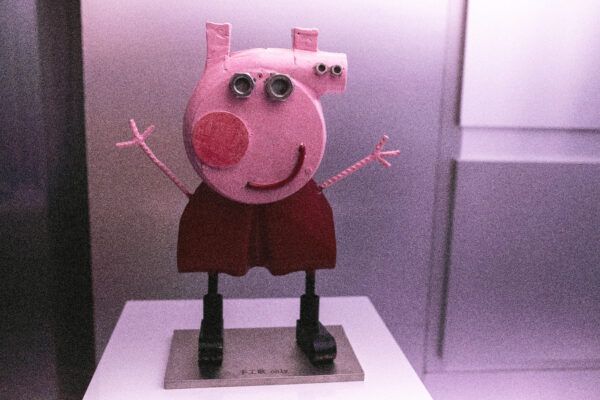 City dwellers are almost camouflaged amongst the vast quantity of their possessions, compared with the more sparse photos of country folk, but these intimate photos of Chinese families show more than just class differences—they also illustrate the necessities of life that everyone share and that make us all human.
The exhibit also features more immersive and interactive artworks, such as Li Linlin's "Childhood Dreams." Li's structure has a sleek and modern exterior—the silver balloons and fluorescent white lights giving it the appearance of an upmarket cocktail bar. But inside the room is filled with old-timey tin cars and action figures in glass displays. With this piece, Li harkens to the 1940s-1950s to evoke childhood nostalgia, and the juxtaposing exterior, perhaps representing maturity and adulthood, emphasizes this sentiment.
"Warm and Cool Rock," a collaboration between contemporary artist Zhang Zheyi and Beijing bar-owner Liu Fei, is a recreation of Liu's School Live Bar, an underground "sweatbox venue" tucked away in the Gulou hutongs. The rock 'n' roll bar scene is true to real life with music posters, neon lights, and liquor bottles. The bar's refrigerator is covered in plastic miniature figures—the dolls also fill the inside and surround a disco ball, basking in glowing pink lights and heavy rock music. For Fei, the figures represent the alternative music lovers that frequent his bar whom he now considers to be his family.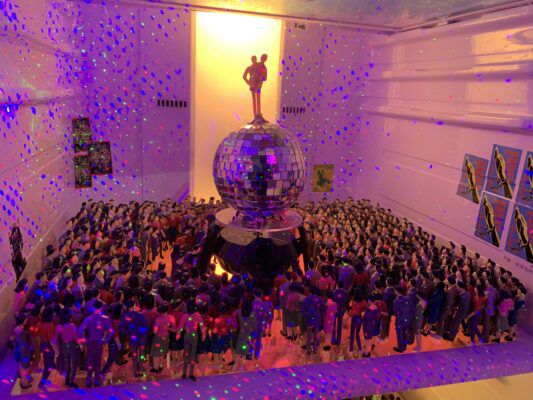 Tian Xiaolei's aforementioned "I'm Going to Dance for You" installation is another stand-out. In Tian's spaceship, one enters a virtual world as a gun-slinging space astronaut. Through digitized, surrealist and futuristic imagery, Tian reimagines a new human existence where people, media, and technology co-exist seamlessly.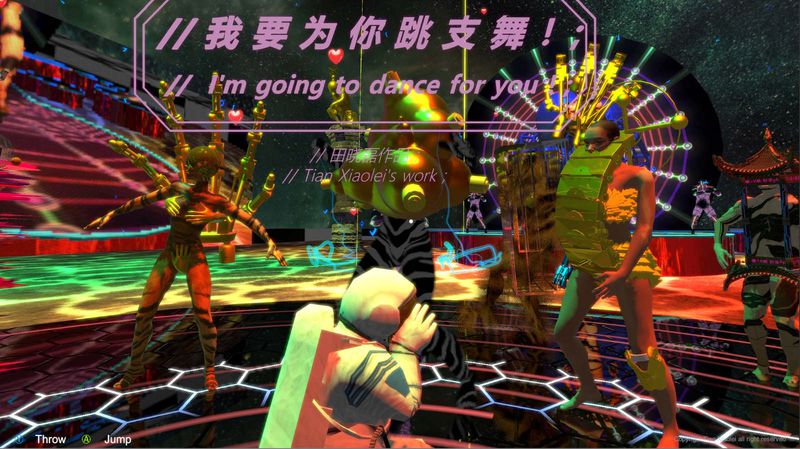 The digital art scene has been criticized for relying on gimmicks and even encouraging pieces lacking artistic value, with a focus on generating social media buzz rather than meaningful contribution to the artistic world. "All We Love," however, is an example of 'contemporary' digital and interactive art done well, purposefully and tastefully curated to not only please the eye, but to also invite the audience to ponder and appreciate what it means to live in China. With continued technological advancements and their growing prevalence in the contemporary scene, interactive installations may well represent the future of art in China.
Cover image from VCG
---