A journey of extremes beneath the world's tallest mountain
I was inching along the trail, but my muscles screamed as though I was sprinting. Stopping to try to suck some extra oxygen from the thin air, I took in the view: Up ahead, shrouded in clouds, Qomolangma rose out of a rocky valley and was reflected in a river of snowmelt.
This view was the reason my sister and I had come to Tibet: to take in one of the world's extremes and tick the mountain known as Everest in the West off our bucket lists, albeit from the safety of the mountain's base.
We were not alone in this quest. Since the early 1990s, the once-isolated peak at the border of China and Nepal has become a feeding frenzy for wealthy Western mountaineers, who pay 30,000 to 100,000 USD for a shot at the summit, alongside ambitious tourists hoping to get a glimpse of the highest point on Earth.
According to the last official figures released in 2015, over 40,000 people visit the mountain's base camp on the Chinese northern side annually. Accessible by car, the Chinese camp is more popular with tourists than the southern approach on the Nepal side, though less visited by serious climbers due to the greater difficulty to summit from the north.
I quickly realized this trip was going to be about much more than collecting bragging rights. Our journey to the mountain began in Lhasa with a whirlwind of color: blue skies, whitewashed walls, and black trapezoids painted around windows. Red, blue, green, white and yellow prayer flags flapped overhead, sending thoughts of peace and compassion to the wind. From there, we followed the Yarlung Tsangpo River—which eventually turns into the Brahmaputra, and flows through India and Bangladesh—west to Shigatse, the second largest city in Tibet and a convenient halfway point to the Himalayas. We continued southwest to Qomolangma, and traced the same two-day route back to Lhasa.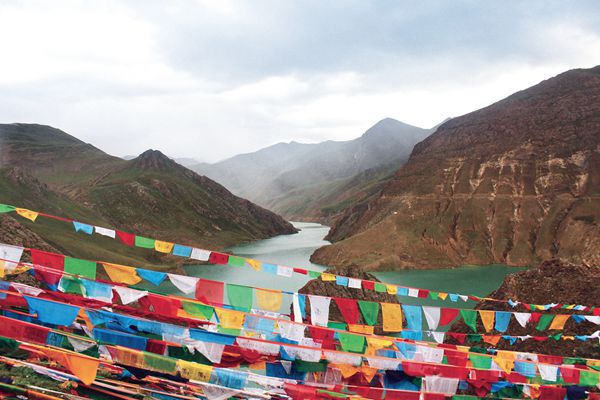 This whole journey was accomplished in a white tourist van with our guide, Damdul, and six fellow travelers. It is required for foreigners visiting Tibet to go with a tour company, and special permits are mandated for entry to the autonomous region.
It wasn't until we left Lhasa that I could comprehend the vastness of the place. Almost five kilometers above sea level, Tibet earns its title, the "roof of the world." The autonomous region is the size of South Africa, and though it's famous for its giant, snow-covered mountains, most of it is a dry grassland plateau where you can often see straight to the horizon in all directions.
Our first stop was a rest area on the side of the China-Nepal Friendship Highway, where we paused for yak butter tea against a backdrop of lush green mountains, filled with Instagram-ready Tibetan mastiffs, kid goats, and yaks. Tibetans have traditionally lived a nomadic lifestyle alongside these shaggy beasts. Yaks, the only large mammals on the plateau, are herded from pasture to pasture according to the seasons by families living in yak-hide yurts.
Many still do this for at least part of the year, and yak features on the local menu in all forms: as gamey meat sautéed with onions, crystallized cheese used to make momos (small steamed dumplings also consumed in Nepal and Bhutan), butter for eating and making the candles ever-burning in the monasteries, as well as the famous butter tea. At an altitude of 3,800 meters, where the wind has an icy edge, the tea was a welcome gulp of warmth for those of us who could ignore the slightly rancid smell.
In mid-afternoon, we stopped for pictures at another pass that was entirely draped with prayer flags, only to find ourselves stuck behind a landslide and forced to wait for a bulldozer to come clear it. The view of blue-green glacial lakes, ringed with patches of yellow flowers, made it easy to forget how dangerous the steep, winding roads were; local highways stipulate a minimum number of hours that drivers need to take from one checkpoint to the next, and there are cameras and guards along the way to make sure they aren't traveling too quickly. Though I was more than eager to get in view of the peaks, my stomach turned a little when I saw the road piled high with rubble.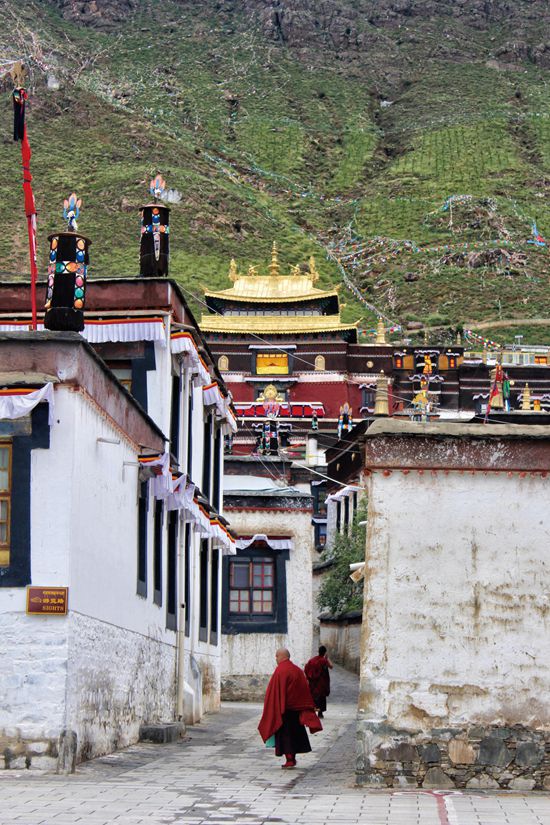 We ended up spending a couple of hours on the mountain, milling about with the other tourists, guides, and hawkers. As it began to rain, we retreated to a shop inside a tent, where Damdul told us about his family. He had met his wife in a similar group he guided several years ago; I was surprised to learn that she was Han Chinese, given how much disdain Damdul expressed for the influx of domestic tourists in Tibet.
Tourist numbers increase at an average of 20 percent a year, driven by the opening of the Qinghai-Tibet Railway in 2006 and the Chinese government's investment in the tourism sector, which makes up around a third of Tibet's gross domestic product. All but around 1 percent of tourists are Chinese nationals, but Damdul has stopped guiding domestic groups, complaining of their disrespect for the environment and misunderstanding of local culture. At one point our van had to swerve around a tourist standing in the middle of the highway for a picture, barely missing her. Damdul said it was this kind of behavior that drove him away from domestic tourists.
Nevertheless, he remained committed to his own cross-cultural union even though his father stopped speaking to him, and ordered Damdul's many siblings to do the same. He has been cut off from his family for four years, and, for the four months of the year he works as a guide, doesn't even get to see his wife, who lives in Chengdu. "It's my karma," Damdul explained.
He didn't mean it in the slight-your-friend, stub-your-toe kind of way, but in the sense that everything in life occurs because of an action before it, either in this or a past life. Damdul wasn't a particularly devout Buddhist, but karma seemed prominent in his understanding of the world.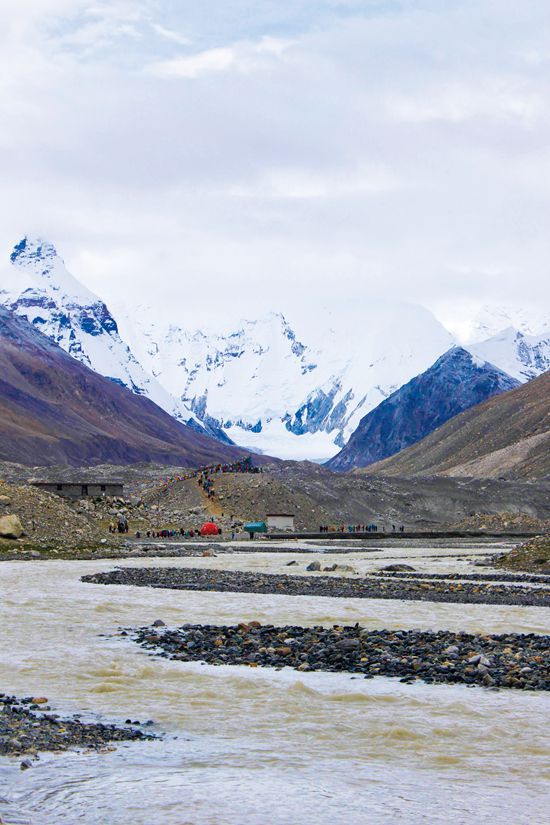 The next morning we visited the Tashilumpo Monastery, the seat of the Panchen Lama. The monastery was founded in 1447 by the first Dalai Lama, and is still home to some 950 monks today. Each chapel was covered in brightly colored tapestries called thangkas, and centered around a statue of Buddha. Devotees stuffed money in the cracks in the walls and piled tables high with fruit, scarves, and other offerings.
Damdul said, however, that oftentimes his fellow Tibetans performed these rituals more out of habit than understanding. Earlier in the trip, he had shown us a hitching post outside a monastery that was covered in yak butter, which local worshipers typically pour into the lamps inside temples. The post had no religious significance, but someone had poured some oil there one day and others followed suit. Now it resembled a giant, purposeless candle.
Leaving the sound of chanting monks behind, we headed for the Himalayas. In the late afternoon, we came to a massive Chinese paifang gate rising up out of nowhere, marking the entrance to the mountains and a mandatory passport check. At the top of a ridge, we caught our first glimpse of the tallest mountain range on Earth stretching across the horizon. It took me a minute to realize that some of the "clouds" that appeared to be hovering above the mountains were, in fact, taller peaks; my brain just wasn't accustomed to processing anything that large. It was impossible to tell which was Qomolangma.
By the time we reached our base camp, at 5,200 meters, it was dark out and we were relieved to find our yurt in the row of tents dedicated to tourists. Each tent is run as a one-room bed-and-breakfast by a local family during the warmer months, and our hosts greeted us with warm bowls of noodles and comfy platforms on which to fall asleep.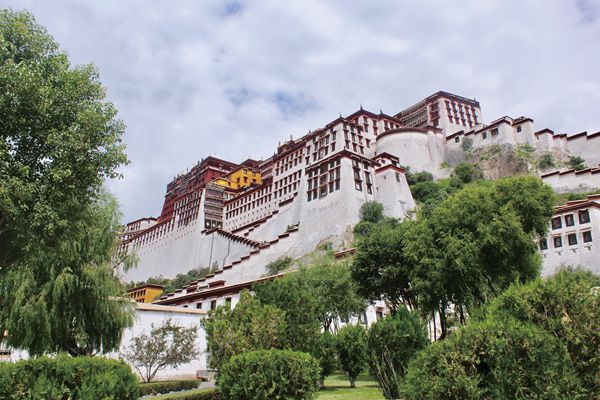 As tourists, we were staying a few kilometers away from the "official" base camp, a spare gravel campground devoted to climbers, their guides, and Sherpas—porters and guides who traditionally come from the Himalayan ethnic group renowned for their mountaineering knowledge. The base camp is the first in a string of five camps that climbers use as they make their way up the mountain. Climbers often have to live in tents at the base for weeks to acclimatize to the altitude and wait for the weather to change, and the whole expedition typically takes two months. In many years, there is only one week in May when it is both clear and warm enough to reach the summit.
These harsh conditions, though, are soon to be joined by a more luxurious option. In 2016, the government announced an "international mountaineering center" featuring a hotel, a mountaineering museum, and a helipad, to be built at the nearby town of Old Tigri. It was supposed to open in 2019, three years ahead of Beijing's 2022 Winter Olympics, but remains under construction. While officials welcome more ways to bring visitors and employment to a long-impoverished region (and make evacuating stranded climbers easier), mountaineers and environmentalists have expressed concern about the unsustainable numbers of tourists that have already been attracted to the area.
The proposed mountaineering center, while offering all the perks and comforts of an alpine resort, is only likely to exacerbate these and other environmental concerns. China seems to have only recently heeded warnings from environmental researchers about growing threats to the local ecosystem and cultural traditions. In January, the Mount Qomolangma National Nature Reserve reduced the number of permits to summit the peak to less than 300 "for an indefinite period," and banned tourists from climbers' base camp due to excessive trash; nine tons of waste were collected in 2017, including camping equipment, plastic bottles, human excrement, and even frozen bodies.
Since then, the reserve has implemented a new waste-sorting system and clean-up program on the mountain, with climbers now required to retrieve all their own waste. And following a particularly deadly climbing season, Nepal has also tightened restrictions on climbers attempting to summit from the more popular southern side.
Our own climb, which we undertook the morning after our arrival, was tamer: a mostly flat walk of a few kilometers to the climbers' base camp. Damdul set off at a brisk pace, while I straggled behind. The sparse air meant that even walking on a paved road required a Herculean effort—it's little wonder that even experienced climbers are far from guaranteed to make it to the top.
The clouds never cleared, but even after driving for two days and braving the cold and lack of oxygen, it didn't seem to matter. I had come to witness one of Earth's extremes, but standing there, I was more in awe of its surroundings. In a land of superlatives, even the tallest mountain in the world couldn't overshadow the vastness of the plateau, the brilliance of the prayer flags against snow, or the warmth of yak butter tea. Looking up at the white monolith, I found myself hoping that China, in the spirit of karma, will try to preserve both the mountain and the culture at its base for future generations of locals and travelers alike.
---
Peak Season is a story from our issue, "Tuning Up." To read the entire issue, become a subscriber and receive the full magazine. Alternatively, you can purchase the digital version from the App Store.
---