TWOC's first cover story of 2020 explores China's plan to get millions involved in winter sports—and the realities on the slopes
"If I don't ski powder, I think I've wasted my time," declares Su Hong, a marketing expert in her 30s in Beijing. The snowboarding enthusiast, originally from Zhengzhou, Henan province, is unequivocal about where the best skiing is—and it's not China.
Instead, Su spends almost every holiday from work riding the reliably deep snow in Japan. But despite her gripes about the domestic skiing scene, Su still recently splashed several hundred thousand RMB on an apartment in Chongli, a once-poor county about 150 kilometers north of Beijing that is now the center around which a cluster of ski resorts have been built to host the Winter Olympics in 2022.
Buoyed by government support, a burgeoning middle class, and the impetus provided by staging the next Winter Olympics, Chinese skiing is taking off. In 2016, the National Development and Reform Commission (NDRC) announced plans to have 300 million people participating in winter sports by 2022—double the total number of skiers worldwide now.
This would mean around a fifth of China's population taking up winter sports. The plans include the construction of over 1,000 ski resorts to make China a renowned international ski destination, creating a 1 trillion dollar industry by 2025.
Development has been frenetic. In 2018, ski resorts in China received nearly 20 million skier visits, up from 10 million in 2014, and just 2 million in 2002. When compared to the US, which averages around 50 million skier visits per year, the potential for growth appears huge still. In 2003, China had 150 ski resorts, none with aerial chairlifts or cable cars. As of 2019, there are 742 resorts, and over 100 with more than five aerial lifts.
Around 20 to 25 of these venues could be considered world class, according to industry expert Laurent Vanat, author of an annual report on the global ski industry that has been translated into Chinese for the past four years. "China is the only country in the world with big potential for growing the ski market," he tells TWOC.
Now, Vanat says, China needs more skiers like Su: committed, frequent consumers who make skiing a hobby, coming back week after week, year after year. These days, when she's not in Japan, Su spends almost every weekend in winter at the Wanlong Ski Resort in Chongli.
The powder enthusiast caught the snowboarding bug eight years ago after visiting ski areas around Zhengzhou with friends, originally just for fun. "When I first started…I bought a season pass and would go every day, and wouldn't go home at New Year—I went up to 100 times a year," Su says. "After I learned to board, I didn't want to stay in Henan, so I organized a job transfer to Beijing."
Su now works on the planning and marketing of indoor ski resorts for Sunac, one of China's biggest real estate companies. The Hong Kong Stock Exchange-listed enterprise owns four indoor "Snow World" theme parks across the country, with two more to open in 2020.

It also owns the world's largest indoor ski center in Harbin, the capital of Heilongjiang province, having purchased it in 2018 from the Wanda Group, another major commercial developer. It opened similar complexes last year in Guangzhou and Kunming.
Sunac's move into the skiing industry is indicative of the vast investment conglomerates have plowed into winter sports in recent years.
The steep growth hasn't come without a few bumps in the snow, however. About 80 percent of China's skiers are beginners, and encouraging them to stay in the sport is proving difficult. "You find places in China that are crowded with beginners that ski in any direction and fall one against the other. It's a big mess, and this makes the first experience of the beginner very bad," says Vanat. "Some resorts are still very basically focused on business, and business, and business, and don't really care about the experience of the skier."
Of the 742 ski areas in China, most are not the large, high-end, mountainous resorts associated with skiing in Europe, North America, and Japan. Over 70 percent are tiny, measuring less than 5 hectares in area, with vertical drops of under 100 meters and often without aerial lifts, while around another 20 percent have two lifts or less. The US, by comparison, has 120 ski areas with more than five aerial lifts, 75 percent of its total ski areas.
The majority of ski areas in China are aimed at what Wu Bin, vice chairman of the Beijing Ski Association and author of an industry report called the "China Ski Industry White Paper," calls "one-time experience customers." It is through these small ski areas, often situated near urban centers or existing as part of a bigger tourist attraction, that the vast majority of Chinese experience skiing for the first time—and the experience can be hair-raising.
***
On December 1, 2019, at the opening weekend of the Nanshan Ski Village 60 kilometers from central Beijing, about 4,000 skiers are packed onto a few strips of machine-made white on what would otherwise be a bare brown hill. Most are struggling on the lower beginner slopes, while two aged chairlifts take more experienced skiers up to Nanshan's modest peak, 250 meters high.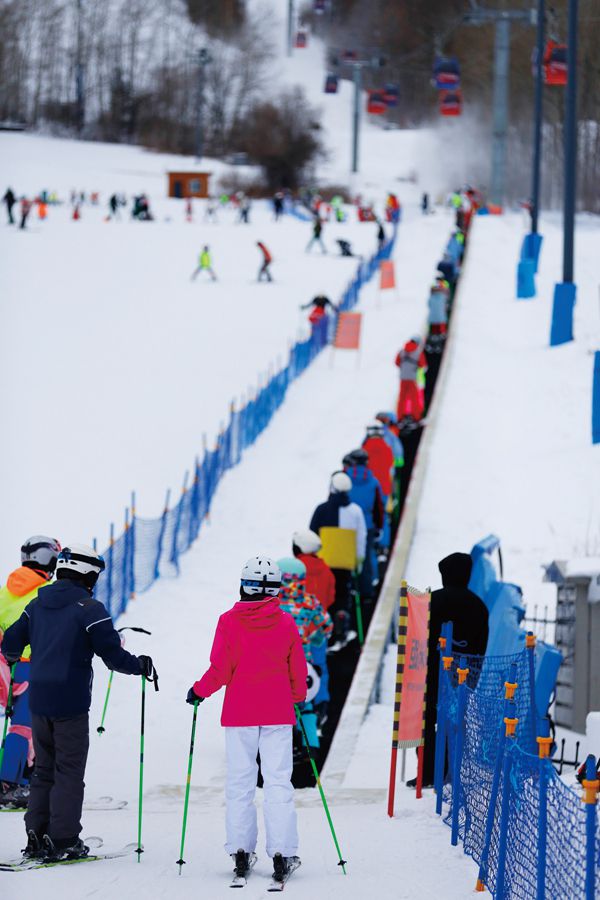 Most are skiing for the first time, clad in jeans and hooded sweatshirts, plus the mandatory rental helmet. Snowboarders come prepared with giant plush toys strapped to their backsides for protection from the inevitable falls. Instructors try in vain to teach the awkward "snowplow" technique to slow skiers down, sometimes by physically manipulating their students into position.
When guests do pluck up the courage to ascend the higher slopes, a 20-minute wait in a rowdy queue is necessary; the lift frequently stalls as inexperienced riders struggle to dismount their chairs. Some reach the top only to balk at the steeper slopes, remove their skis, and slide down on their behinds.
It's easy to see why first-timers might be put off. "In reality [these resorts] are just giving customers a taste,'" says Wu, rather than focusing on developing what he calls a "ski product" that emphasizes the athletic experience. According to Wu's research, customers spend an average of two hours at the smallest resorts, and between two and six hours at resorts like Nanshan. Even if these visitors receive instruction, it's difficult to learn the basics of skiing technique in such limited time, meaning most leave unfulfilled and don't return.
Nanshan visitor Qian Chenshuang, a 25-year-old Beijing native working in the finance industry, started frequenting ski resorts around the capital in 2018. Skimming over the snow with a bright pink plush turtle strapped around her waist, she considers herself a beginner, and reels off a list of dislikes about the current state of the ski business: "Lots of people queuing; the management isn't great; when buying skiing stuff, like clothes or a snowboard, the prices aren't reasonable or transparent."
Nevertheless, Qian is determined to improve: "Once I ski better, I'll go to Chongli, then maybe to northeastern China, then Japan," she says, her eyes lighting up at the prospect. She then dusts off her plush turtle and happily slides down another slope, slaloming between fallen skiers, taking the occasional tumble in her stride—she's planning to come back next weekend.
***
The crowded manmade slopes around Beijing don't do justice to what China's ski industry has achieved in an extremely short period of time. When the Winter Olympics begin, it will be Chongli that the world sees on its television screens.
The cluster of six or so ski areas here are mostly newly built, modern, and fully equipped resorts that attract skiers for a weekend getaway from Beijing (though the area still lacks snow, receiving an average of less than a meter per year. For comparison, Park City in the US receives an average of around 10 meters, and Niseko, a popular resort in Japan, receives 14 meters.) A high-speed rail line opened at the end of December 2019, cutting the three-hour drive from Beijing to just an hour-long trip.
Further afield, in China's northeastern provinces, natural snow and high quality ski areas attract affluent visitors from the south for longer visits. At the Wanda Changbaishan Resort in Jilin province, international hotel brands, well-staffed ski schools, and a base village modeled on Canada's Whistler resort try to offer ski experiences for middle-class families.
Wu Xiangxi, the ski area's general manager, hopes to exceed 1 million visits within three years, a figure that would put the resort on a par with destinations like the internationally recognized Verbier ski area in Switzerland.
Wanda Changbaishan, though, is small by international standards: It has only five detachable lifts and a ski area of seven square kilometers, with no room for further expansion on its single mountain, compared with Whistler's 37 lifts and 33 square kilometers of terrain.
Given these constraints, Wu primarily hopes to develop the Wanda resort into a family vacation brand, focusing on high-quality guest services and activities. "Today's ski resorts aren't competing on which has the highest mountain, but more on which has the most interesting facilities," Wu argues (though he adds that they are building athletic facilities for the teams that will be training at Changbaishan ahead of the Winter Olympics—and hopefully after).
In trying to attract customers from outside their local area and encourage longer stays, resorts across the country find themselves with a broader set of competitors for customers' limited budget and vacation time: not just one another, but tourist destinations like Hainan province's balmy beaches. As a solution, Wu talks about creating a "ski culture" in China, although it is difficult to discern exactly what this means in practice beyond encouraging more people to try skiing and spend more of their time and money on regular holidays to the slopes.
The NDRC's 2016 "Winter Sports Development Plan" also mentions using the Winter Olympics to "promote winter sports culture," and the government has been particularly active in promoting skiing among the young. In parts of Beijing and areas near the Olympic venues, winter sport activities have been added to school curriculums, with free field trips to ski resorts provided for local children.
To create a sustainable industry and ensure China's ski boom doesn't falter after 2022, attracting the next generation of skiers will be essential. For resorts, introducing children to skiing is a long-term business strategy: Wanda Changbaishan offers to pick up children from the airport and provide round-the-clock childcare so that youngsters can ski even without their parents.
In February, the resort intends to host a national youth alpine skiing competition. "For lots of returning families, it's the kids who suggest going skiing," says Wu Xiangxi. Whether these efforts will create the long-term "ski culture" that the government and industry hope is as yet unknown: "It's still a big guess. Everyone is wondering if it will last," says Vanat.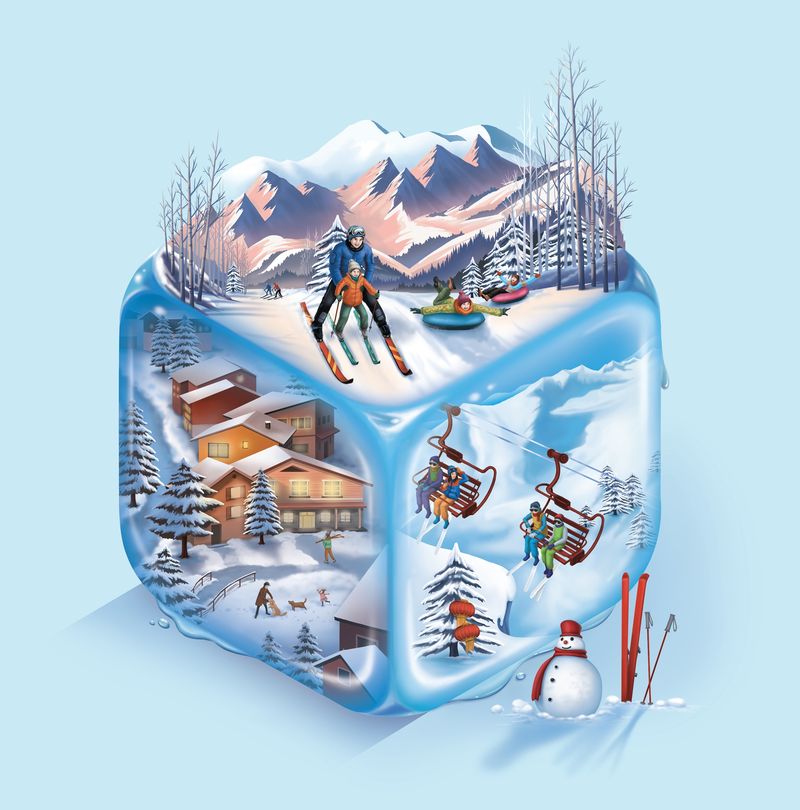 ***
The swank surroundings of a modern Chinese ski resort are a far cry from the skiing Hao Shihua recalls from her own childhood in the 1980s. At that time, most people didn't know what skiing was, says Hao, and Changbaishan "wasn't really a ski resort, it was just a mountain with extremely deep snow…it was very harsh."
As a child, Hao attended a sports competition in her hometown of Tonghua, Jilin province. Based on her stamina alone, she was selected to train as a professional skier for the national team, before retiring and becoming an instructor in 1999. In 2012, she set up her own ski school, Flower Ski, in Chongli.
Having seen first-hand advances in infrastructure, along with the money and visitors flowing into the industry, Hao had high hopes of growing her company. But despite large headline growth figures often quoted by government agencies and ski resorts, the boom hasn't yet reached Flower Ski. Customer numbers are "pretty similar every year," Hao explains.
Flower Ski, as recently as two years ago, hoped to expand to 500 instructors, but has only around 50 now. The problem is that while the ski resorts and developers benefit from government attention, for smaller companies "government support is basically equal to nothing," Hao says, claiming she has received no monetary support, and that policy decisions at the top have no impact on small businesses like hers.
Most ski resorts have their own ski schools, according to Hao, and would rather monopolize the instruction market than share with companies like hers. At Wanlong Resort in Chongli, Hao has to pay about 50 percent of the instruction fee she receives from customers to the resort for the use of their slopes, and must pay separately for the resort's lift tickets.
Hiring coaches is expensive too, with most earning between 20,000 and 30,000 RMB per month. "To put it simply, even if you do more, you won't make any more money. You're giving it all to someone else…if I had 500 instructors, I would be losing money," Hao sighs.
Most skiing instruction is provided by the resorts' own ski schools, with independent companies like Hao's in the minority. But this has not put off some foreign companies from setting up in China in recent years. École du Ski Français, one of the oldest and largest ski instruction companies in the world, opened its first ski school in the country in February 2019 in partnership with Club Med, a French resort company owned by China's Fosun Group. Fosun operates two ski areas in China, and plans to open another near Shanghai in 2021.
Those not backed by wealthy conglomerates are being squeezed. Hao claims many competitor ski schools have gone out of business. Keeping coaches, too, is proving difficult, as they can often earn more by operating alone and offering private lessons, especially if they avoid paying tax by working for cash.
Wu Bin, the researcher, believes a lack of instructors and ski schools is one of the main barriers to creating a sustainable industry in China. "Whether it's managers or accommodation staff or ski instructors, we're short of all these people. We need to resolve this bottleneck."
The profitability of the ski resorts, too, will be key to the long term health of the industry. Exact figures are hard to come by. Some resorts are so new, and required so much investment to build, that it is tough to discern the day-to-day running costs from one-off construction costs.
Some resorts, at least, claim to be making money. But Wu Xiangxi of Wanda Changbaishan is cautious about declaring victory. "Previously, [visitors] would come two or three times a year, but due to economic decline, they may just come once a year," he says, citing cost as the main reason. "Once we lower our overheads, we can bring those visitors back."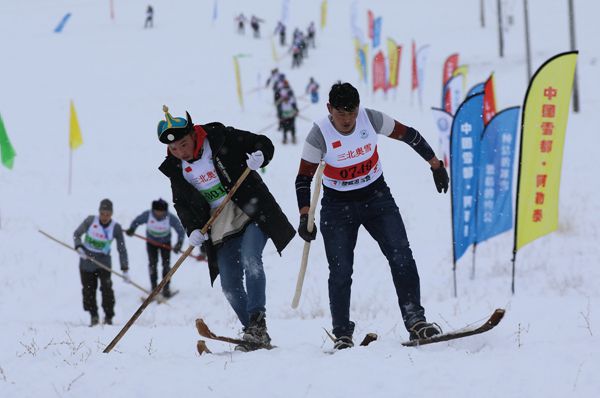 "A section [of the industry] is profitable, but a lot are suffering a loss," summarizes Wu Bin. "In general, the bigger destination resorts, perhaps need more time and more customers to reach break-even point, because their investment is bigger." The Fulong Resort, in the Chongli cluster, opened in 2018 at a reported cost of 5 billion dollars, while Harbin's indoor ski center cost 40 billion RMB to construct—big outlays that won't be recouped straight away.
While the Winter Olympics and government support helped speed up these big development projects, "it's the market leading," Wu Bin believes. While the Olympic venues necessarily have high levels of direct government investment, most resorts are operated and built by private companies, sometimes in partnership with local authorities, but sometimes independently.
Su Hong says the government and market both play roles for Sunac, "But we mainly watch the market, we analyze whether there are customers in each market." As far as successes go, Wanda Changbaishan expects to reach 500,000 visitors this season, and Su points to Sunac's Snow World in Guangzhou: "It's been less than five months [since it opened] and we've already had 400,000 visits," Su claimed in December last year.
Snow-based fun, it seems, is attractive to a mass market—and in the future, there are plans to offer ski packages to other ski areas in China and abroad to those who get hooked indoors in Guangzhou and want to take their skiing to the next level.
***
The government's ambitious targets mean new opportunities for winter sports' ambassadors, like Hao. In the summer, she visits schools in Beijing to introduce children to skiing. She has also capitalized on the upcoming Winter Olympics by providing training camps to medical first responders who will be on duty on the competition slopes, and reporters and photographers from Xinhua News Agency.
But not all outreach efforts prove effective. The general public's attitudes towards skiing aren't always positive, and some consider it dangerous. "Lots of parents are worried that their children will get hurt skiing," says Wu Xiangxi. "The schools are always promoting it, but the parents don't listen. Its impact is very small."
At Changbaishan, as at many resorts across China, safety nets adorn the slopes to prevent adventurous skiers rom entering more exciting terrain and potentially getting hurt. "We don't dare to let people into the woods," Wu adds.
Resorts fear being held responsible and sued for accidents on the slopes, while parents are understandably wary of a sport that was until recently considered niche. Three ski-related deaths in one month in 2017 prompted a national ski safety meeting attended by managers from 30 ski resorts and government agencies committed to compiling new safety standards for ski resorts.
Cost is an issue, too. Visiting the bigger resorts in China, though cheaper than flying abroad, is not an insignificant investment. Lift tickets can be up to 600 RMB per day, compared to approximately 500 RMB at Hokkaido's Niseko resort, a mecca for powder skiing frequented by growing numbers of Chinese tourists every year. It's a place which Su claims resorts in China "in no way compare to."
But wealthy, experienced skiers who look abroad represent a very small part of China's skiers, Wu Bin argues. After all, "China is a beginners' market," he says. The focus remains on new skiers like Qian, for whom the cost can be made more reasonable, and who will likely keep skiing within China for the foreseeable future.
Qian herself is convinced more people will come to love skiing as she does: "This sport has its own beauty. It's a feeling of real freedom," she says. "And when you see other people skiing really well, it looks really cool… when I have kids, I will take them skiing too."
– Additional reporting by Hatty Liu
---
Alpine Ambitions is a story from our issue, "Alpine Ambitions." To read the entire issue, become a subscriber and receive the full magazine. Alternatively, you can purchase the digital version from the App Store.
---