Novels that won China's highest literary honor
"Literature is not intended to provide relief for those who suffer from the ennui of life," but to "shoulder the heavy responsibility of awakening the masses," wrote 20th century novelist, journalist, and playwright Mao Dun (茅盾), who played a passionate part in the intellectual movements that birthed modern Chinese literature.
Born in 1886, in the decaying years of dynastic China, Mao Dun participated in the May Fourth movement of 1919, founded the League of Left-Wing Writers in 1930, and eventually became Minister of Culture of the PRC until 1964. Following his death, the first Mao Dun Literature Prize was awarded in 1982.
Today, the prize is worth 500,000 RMB (70,628 USD), and is granted by the state-sanctioned Chinese Writers Association once every four years to five novels of over 130,000 characters that are authored by Chinese nationals and published on the Chinese mainland. The prize came under fire in 2011 when it was found that eight of the top 10 shortlisted novels were written by leaders of provincial writers' associations. Nevertheless, it remains one of China's most prestigious literary prizes.
With the average age of Mao Dun laureates at 62 years old, winning works tend to reflect the turmoil of the 20th century: serious in tone and sometimes heavy-handed in the themes of class, exploitation, and injustice.
On the 39th anniversary of Mao Dun's death on March 27, 1981, TWOC presents five novels that have received the Mao Dun Literature Prize and have been translated into English:
A Small Town Called Hibiscus《芙蓉镇》by Gu Hua Published 1981 in Chinese; 1983 in English Mao Dun Literary Prize 1982
Gu Hua, born in mountainous Hunan province in 1942, has been called the "Thomas Hardy of Hunan" for his depictions of rural life. His novel A Small Town Called Hibiscus was awarded the inaugural Mao Dun Literary Prize in 1982. Emblematic of the "scar literature" movement, the novel portrays the traumas of life during the Cultural Revolution and under the rule of the Gang of Four. 
The protagonist is an industrious young woman who runs a bustling spicy tofu cart. When the "Four Cleanups" movement comes to town in 1964 to root out "rightists," she is declared a "new rich peasant" and her home and business are confiscated. The ensuing humiliations and misfortunes illustrate the malicious force of small town politics and the suffering of peasants. The novel was adapted into the film Hibiscus Town (1986), which won several Golden Rooster awards in 1987.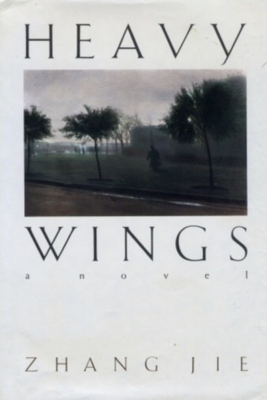 Heavy Wings《沉重的翅膀》by Zhang Jie Published 1985 in Chinese; 1987 in English Mao Dun Literary Prize 1985
Zhang Jie, born 1937 in what was then Japanese-ruled Manchuria, now Liaoning province, is one of few female writers to receive the Mao Dun prize—and became the first author to win it twice, in 1985 for Heavy Wings and in 2005 for Without a Word.
Heavy Wings takes place in Morning Light Auto Works in Beijing, where party hardliners and reformers clash over management. The publisher writes that the novel "provoked a storm of controversy with its frank portrayal of party corruption and mismanagement, its eloquent feminism, and its ringing defense of individualism."
Change is depicted as a slow and painful process spanning generations. The protagonist Zheng Ziyun, a vice minister of heavy industry, reflects to his daughter, "You must allow and accept that I am also a caterpillar in the process of undergoing a painful metamorphosis. Perhaps I won't necessarily turn into a butterfly before I die."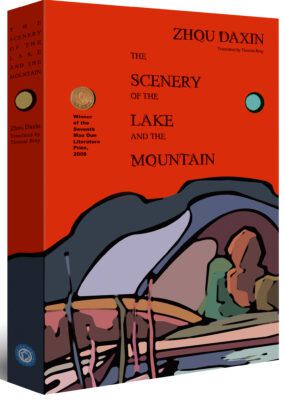 The Scenery of the Lake and Mountain《湖光山色》by Zhou Daxin Published 2006 in Chinese; 2017 in English Mao Dun Literary Prize 2008
Zhou Daxin, born in 1952 to a rural family in Dengzhou, Henan province, joined the army after secondary school yet persisted in his writing, beginning to publish in 1979. He completed The Scenery of the Lake and Mountain in his 50s.
When archeologists discover the 2,000-year-old walls of the State of Chu in her town, Nuannuan's hotel business takes off. Her husband wins the election for village chief, and begins a gradual yet perilous descent into corruption and debauchery. The novel explores a changing economy against the backdrop of entrenched abuses of power, and questions the proper safeguarding of cultural heritage sites amid their commercialization.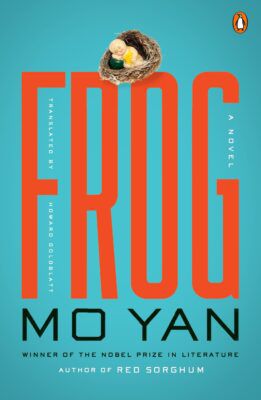 Frog《蛙》by Mo Yan Published 2009 in Chinese; 2015 in English Mao Dun Literary Prize 2011
Mo Yan, born in 1955 to an agricultural family in Shandong province, left school at age 11 with the launch of the Cultural Revolution, and eventually joined the army, where his literary talent was discovered.
Frog, set in Mo Yan's hometown of Gaomi, follows a midwife determined to enforce the one-child policy, overseeing thousands of abortions the policy's introduction in 1979. Drenched in amphibian symbolism, with a narrator named Tadpole and the croaking of frogs mirroring the cries of newborn infants, the novel explores the idea that "Family planning is about achieving great issues of humanity by denying minor ones."
Mo Yan went on to receive the Nobel Prize in Literature in 2012, and was lauded by the Nobel committee as an author "who with hallucinatory realism merges folk tales, history, and the contemporary."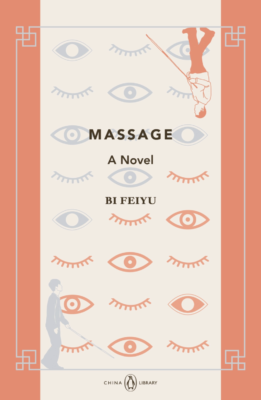 Massage《推拿》by Bi Feiyu Published 2008 in Chinese; 2015 in English Mao Dun Literary Prize 2011
Bi Feiyu, born in 1964 in Jiangsu province, worked at a training school for teachers of the blind and deaf before becoming a reporter for Nanjing Daily. Following a shoulder injury in 2003, he received treatment at a blind massage parlor, where he befriended his masseurs and drew upon their experiences for Massage.
The novel follows Wang Daifu, a practitioner of tuina massage, as he comes to a massage parlor. His life intersects with that of 14 other blind masseurs, as they strike up friendships and romances, undergo feuds and revelations, and even make love in a scene involving the careful and systematic removal of clothing so that they may be found later. Bi insists that the novel wasn't written to highlight the plight of China's visually impaired, but to write a common novel about dignity and respect rather than sympathy and pity. "Not being able to see is a limitation. So is being able to see," a character muses.
The novel has been adapted into the TV series Seeing without Looking (2013), as well as the feature film Blind Massage (2014), which won a Golden Horse Award in Taiwan.
---