China's boutique wine movement comes of age—our Issue 2 cover story
At the age of 22, Emma Gao arrived in Bordeaux to begin a master's program in wine-making, having never even tasted the beverage before. "I told my father that I didn't want to work in agriculture, but he said he wouldn't pay my tuition unless I studied enology," Gao recalls, laughing.
Now co-owner of Silver Heights Winery in China's Ningxia Hui Autonomous Region, Gao found it hard at first to keep up with her European classmates, whose families had been making wine for generations.
Her family vineyard's story was quite different: Although the Ningxia government had been encouraging farmers in this northwestern desert region to plant trees to combat deforestation in the 1990s, Gao's father failed to see how this would lead to long-term profit. After spending five years conducting business over glasses of wine in Russia, he decided to start his own winery instead, but first sent his daughter abroad to learn the ropes in 2000.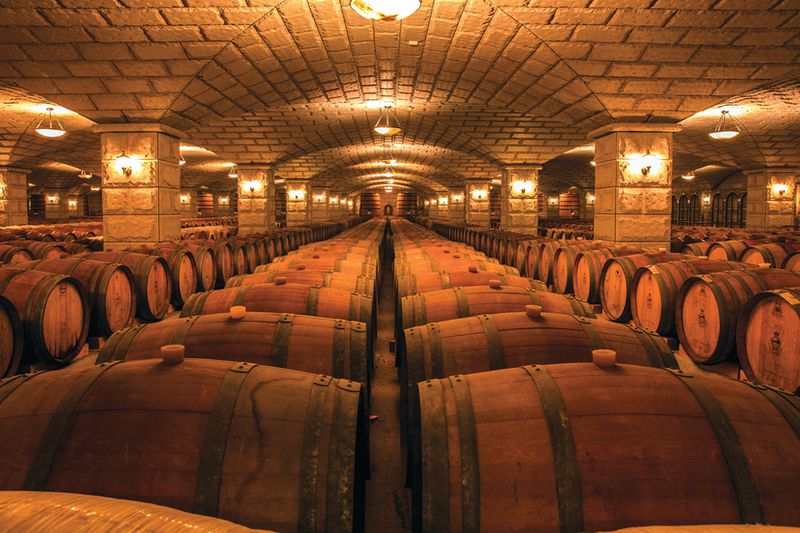 Silver Heights now employs 25 people full-time (and an additional 50 farmhands during harvest season), producing 80,000 bottles per year, although Gao hopes that soon they can increase that figure to 200,000 bottles and become a "mid-sized" winery. It has already been garnering positive reviews: President Xi Jinping toasted French president Emmanuel Macron with a glass of Silver Heights during the latter's state visit to Shanghai last year.
While the vineyard claims to be one of the first in the region, high-end "boutique wineries" have since proliferated as the Ningxia government provides subsidies and loans for the industry's growth, viewing it as a means to stimulate rural economies without polluting the environment.
According to Richard Li, president of boutique winery Domaine Franco-Chinois (DFC), an important component of what the Ningxia government has done for the industry is building an association, which he hopes will be replicated in DFC's Hebei province.
"If every boutique winery invests in its own marketing and promotion, it will be next to impossible for them to grow," he comments, viewing regional wines as a branding opportunity for local governments, especially at international trade shows. "When you hear Bordeaux, you think of wine. As an agricultural product, wine is inherently associated with the land and can be used to promote the region as a whole."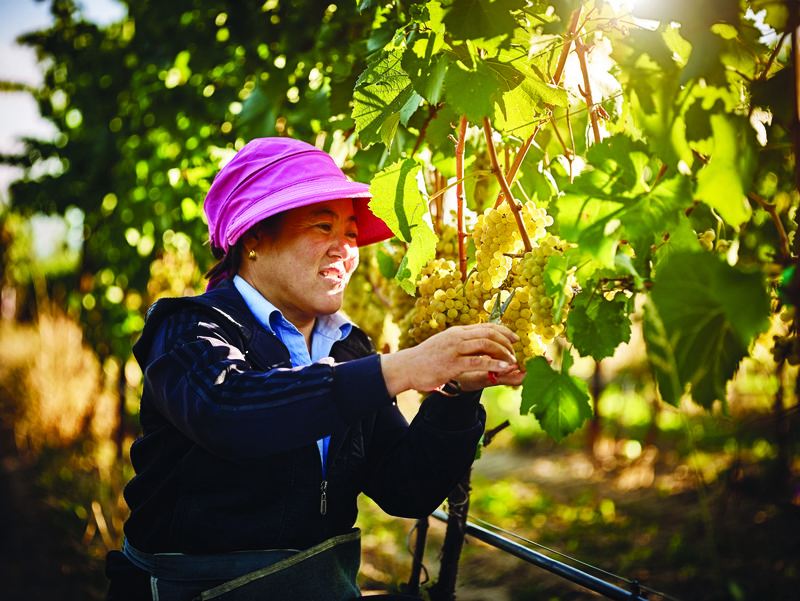 Although Chinese wineries like to claim that they are building on an over 2,000-year tradition of domestic viticulture, wine made from grapes has historically been overlooked by drinkers in favor of alcohols distilled from ingredients such as rice, sorghum, and plums. After the founding of the PRC in 1949, Chinese wineries were kept open and expanded by the state to create wines for hosting foreign visitors and to maintain the foreign exchange rate.
Since the market reforms of the 1980s, monolithic state-owned wine producers have taken over the market, including China's ubiquitous Great Wall banquet wine (which skeptics note has yet to actually turn a profit).
Yantai's Changyu Winery, originally founded in 1892 by Qing dynasty diplomat Zhang Bishi in Shandong province, has developed vineyards that are said to account for one-quarter of the entire country's wine producing areas even today. Over the last decade, however, these big domestic brands have declined, viewed as stale by newly wealthy Chinese who preferred imported foreign wine instead.
Although taken into private hands in 2010, DFC also traces its roots back to the public sector as the brainchild of former premier Wen Jiabao and French president Jacque Chirac. First conceived as a Franco-Chinese joint venture in 1995, it broke ground some four years later, after countless studies to determine a location with the soil composition most conducive for grape-growing.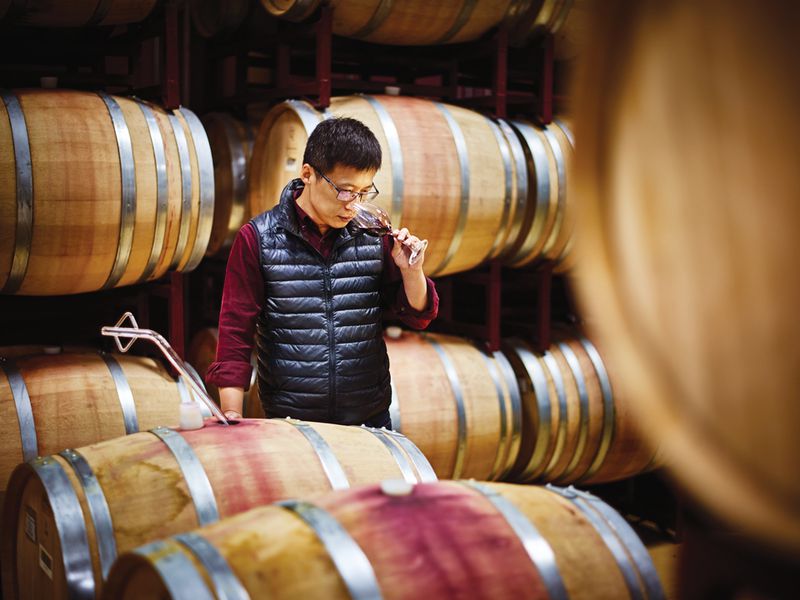 When Hebei province's Huailai county was chosen, vines, equipment, and experts from France were sent to China to create one of the country's first boutique wineries. Although non-commercial, DFC was built to provide a new business model for China's wineries. According to Li, the wine-making industry in the 1980s and 1990s was dominated by wine brands with big production volumes that didn't even own their own vines. Instead, they purchased grapes directly from farmers.
Because farmers often ignored grape quality to get a higher yield, or lacked the technical know-how to grow and pick quality grapes, winemakers found it difficult to produce exceptional wines. "We had to quickly change our method of cooperation with the farmers," notes Judy Chan, CEO of Grace Vineyard in the northwestern Shanxi province, another early player in China's boutique wineries. "Instead of buying grapes from them, we rented out the vineyards and hired them to work for us."
Shandong-based Italian winemaker Denise Consentino says that in addition to the issue of educating farmers, "different wine regions have different challenges—from burying the vines to compensate for the cold winters of Ningxia or Xinjiang to the rainy seasons of Shandong or Shanxi. Even the Yunnan wineries have a logistical issue, as the vineyards are so remote."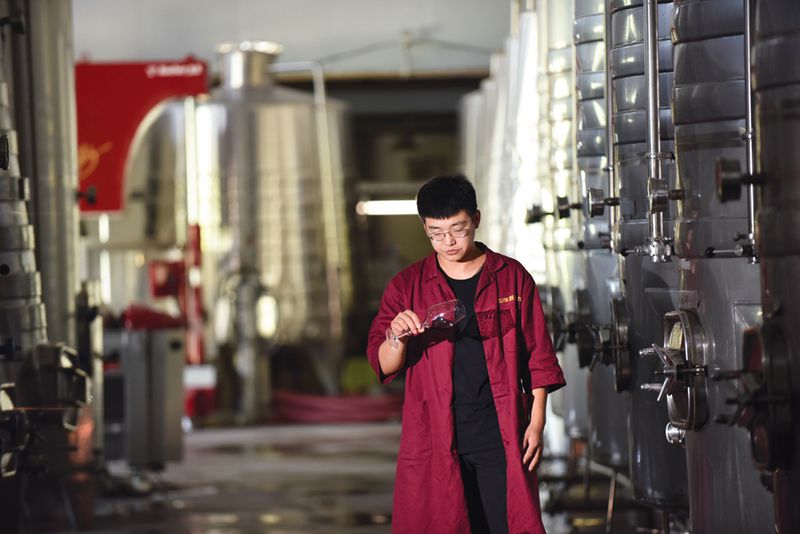 In 2014, Consentino arrived in China to teach "wine culture," wine tasting, and winery management as a professor at Northwest Agricultural and Forestry University in Shaanxi province, the first institution in Asia to provide a specialization in enology. She admits to not knowing much about China at the time, but quickly learned that while different wine regions of the country faced different challenges, all of them led to higher production costs.
Besides climate conditions, there are other components that often render domestic wine pricier than their international counterparts. Gao says that Silver Heights could have cut costs by buying Chinese machinery, but she was afraid to sacrifice quality, and imported all of her aging barrels and machinery directly from France instead.
DFC's Li hypothesizes that China's land policies will also render Chinese wines more expensive in the long term. "In Europe, you have wineries that were passed down from generation to generation, whereas in China you don't own the land—you only have a right of utilization."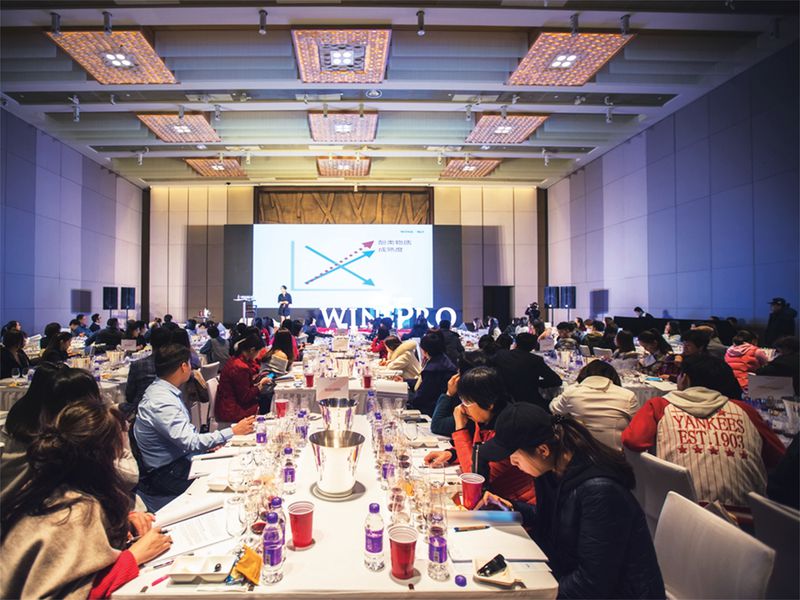 Some industry watchers are skeptical about whether high-end Chinese wines can overcome these challenges. "I personally think that there can't be more than a million people in the entire country who can really appreciate them at this point," says Wang Shenghan, owner of wine education platform Lady Penguin.
After completing her bachelor's degree in the US, Wang attended a sommelier program in France before returning to China in 2014. She believes that the boutique wines that sell for over 500 RMB per bottle will ultimately face a limited audience. "At that price, you are only targeting wealthy bosses for their business dinners, who can buy whatever foreign brand they want."
With over 3 million followers on social media app Douyin (TikTok), Wang has become a Chinese KOL (key opinion leader) on wine. She used to offer a subscription service that introduced drinkers to a wine bottle each month, and has since started her own label that sells entry-level wines to novices, focusing on the 28 to 88 RMB per bottle price point.
Although she promotes some Chinese wines on her platform, Wang notes that they still carry a stigma. Early in her company's development, she included a bottle from Grace Vineyard in her subscription service. Although the pick was high-quality and retailed for more than 300 RMB, "I was contacted by angry customers, asking why I sent them a Chinese wine," she recalls.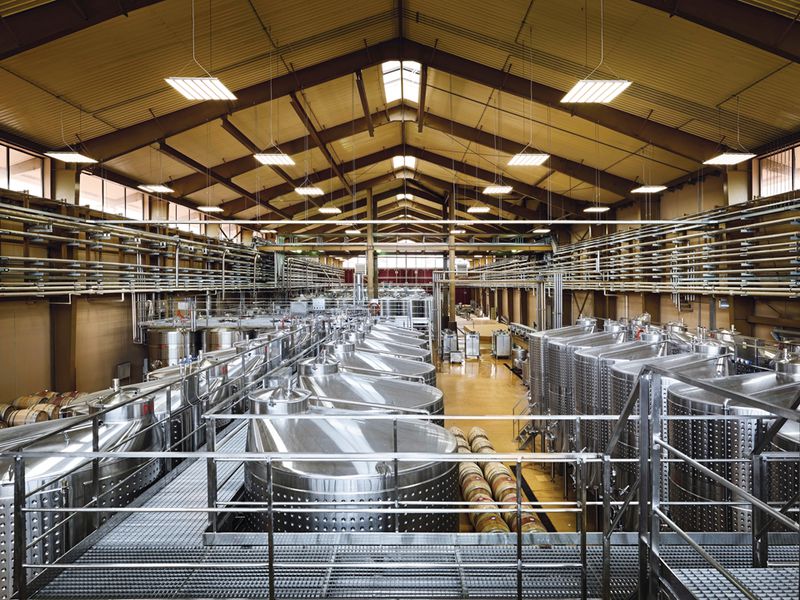 Chan notes that a lot of people thought she was crazy when Grace Vineyard first released its Chairman's Reserve. "It was 2003 and China was dealing with SARS and no one thought Chinese would pay that amount of money for a bottle of domestic wine." Now listed on the Hong Kong Stock Exchange, Grace Vineyard produces about 1.5 million bottles a year, with entry-level wines starting at 72 RMB.
Jim Boyce, a blogger on Chinese liquors, agrees that reputation is one of the biggest challenges for "Made in China" wines moving forward. "For a lot of Chinese consumers, their view on Chinese wines is based on probably some cheap, bad wine that they tasted in college," he comments.
Wang says that most large Chinese wine companies have historically focused on dry red wines, which many Chinese find too sour or acidic. Claiming that "a dry red wine is just like a girl without any makeup; without the coverage of sugar, she reveals all her problems," Wang believes that Chinese vineyards should transition to whites and sweeter wines that better match the Chinese palate.
Hong Kong native Isabella Ko, who has worked in Beijing's food and beverage scene since 2011, remembers that the market used to be flooded with fake wines—something which may render customers additionally wary about Chinese wines. Although fakes can be difficult to detect, many in the industry think that the government could raise consumer confidence by tightening regulations.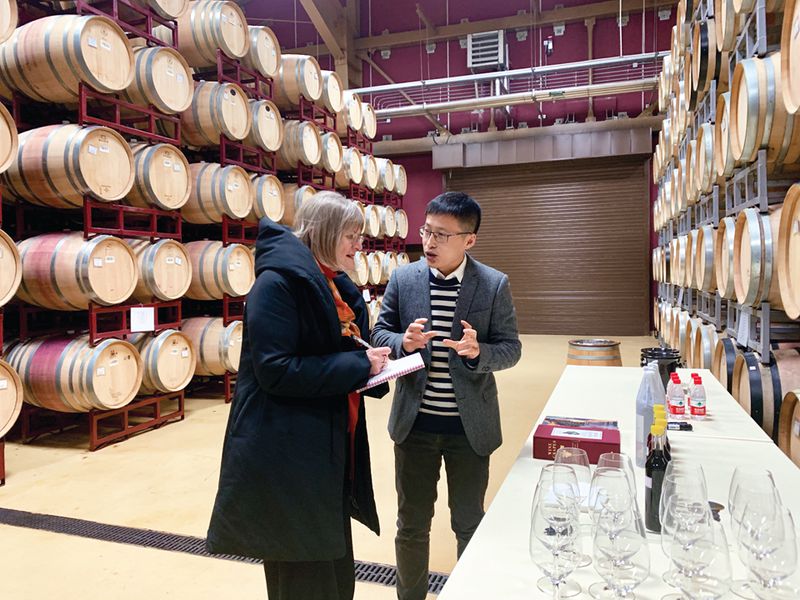 Li of DFC believes that the central government should adopt an AOC (Appellation of Controlled Origin) law, ensuring that a food or beverage product actually comes from the region advertised and meets certain standards. "We need a law that says that if a bottle was produced in Ningxia's Helan Mountains, you know without a doubt that it was actually made there," he says, noting that China's last pertinent law on wine was part of food sanitation regulations passed in 2007.
Ironically, some foreign wine brands are jumping wholeheartedly on the "Made in China" wave, even if the trend hasn't entirely taken off among consumers. International headlines have heralded the rise of Chinese wines, with stories about luxury champagne producer Moët & Chandon opening up its own sparkling wine enterprise in 2017, not far from Silver Heights in Ningxia. Its parent company, French luxury conglomerate LVMH, opened up a new vineyard called Ao Yun in Yunnan province in 2013, with bottles of vintage now available starting at 300 USD.
Many in the industry are hopeful that domestic wines will shake their stigma in the next five years, noting the recent meteoric rise of brands across many industries, like athleisure label Li Ning, that capitalize on being homegrown, often with patriotic undertones. "Nationalism is the ace up the sleeve of the Chinese wine industry," Boyce predicts.
Ko is also counting on it—in 2018, she opened up a wine house and restaurant in Beijing's historic Dongcheng district called The Merchants, focusing on high-quality Chinese ingredients and wines. "Soon, Chinese domestically produced wine will be like Napa Valley wines in the United States," she predicts. "Not only will people drink them because they are delicious, but because they are proud of their country, being able to visit the vineyards and buy them locally."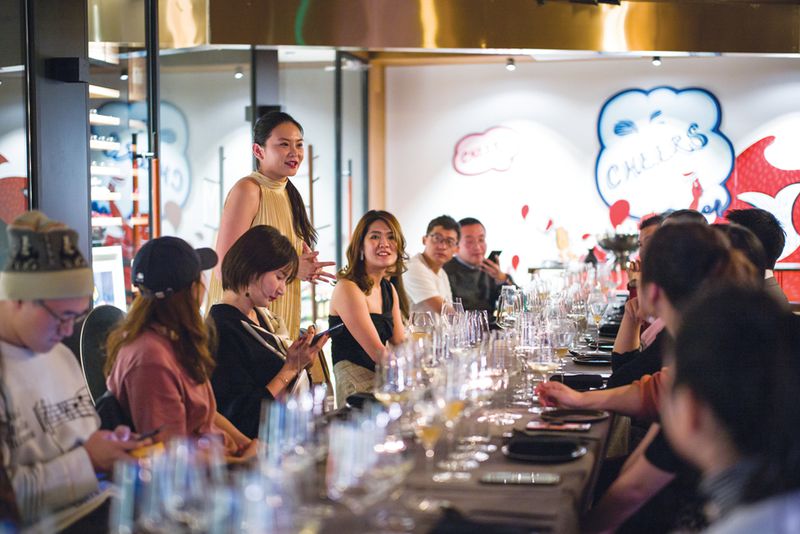 Consentino, who is now the Cellar Master for Chateau Nine Peaks winery in Qingdao, notes that big brands like Great Wall and Changyu are best positioned to benefit from the "Made in China" wine wave due to consumer awareness, but that their spotty quality is ultimately holding them back. She believes that as small wineries continue to develop their personalities by experimenting with vineyards and cellar techniques, they could ultimately gain the most.
In spite of the hype, DFC's Li cautions that wine consumption in China remains quite low—baijiu liquor consumption is 16 times more than wine consumption on a per volume basis. Equally concerning to many is that—in spite of the boutique wineries popping up—wine production in China actually seems to be going down; in 2018, it dropped by around 40 percent.
Blogger Boyce isn't panicked by the numbers. "I think that production could have been vastly overestimated before and now we are seeing the real numbers," he says. "There was a lot of double counting going on, where someone would produce wine and sell it to someone else, who would also count it as production."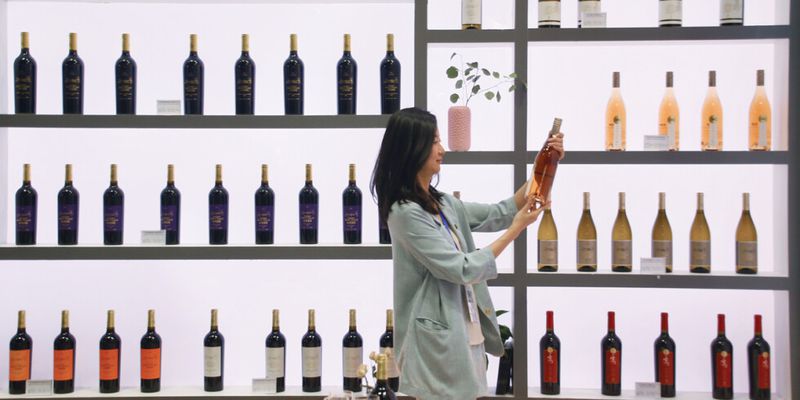 Lady Penguin's Wang, though, doesn't question the numbers, noting that international wine imports have also fallen. But rather than believe that the so-called "Chinese wine boom" is over, she calls this a "healthy" development, as there had been a trend in the market for buying wines and not drinking them, creating a bubble. The central government's continued crackdown on corruption and gifting culture among public officials may also have had an impact.
The situation is puzzling to Boyce. "Chinese wines are winning awards and getting good reviews, and Chinese consumers have more money than before. Yet the industry is still shrinking," he comments. He believes the reason is that most wineries are still focused solely on wine-making, rather than marketing, selling, and distribution.
The case of DFC may support this idea: The winery just started selling their bottles commercially for the first time in 2019, exactly 20 years after the first vines were planted. Li comments that they are in the process of creating a successful brand, but the jury is still out.
"The project started in 1997 and it took three years to prepare the land to plant the vines. Then, we had to wait three years to allow the vines to mature to plant the grapes conducive for making wine. We lost six years right there," he says. After upgrading the facility in 2012, the winery decided to wait to see if they could produce high-quality wines year after year, eventually releasing several vintages at once.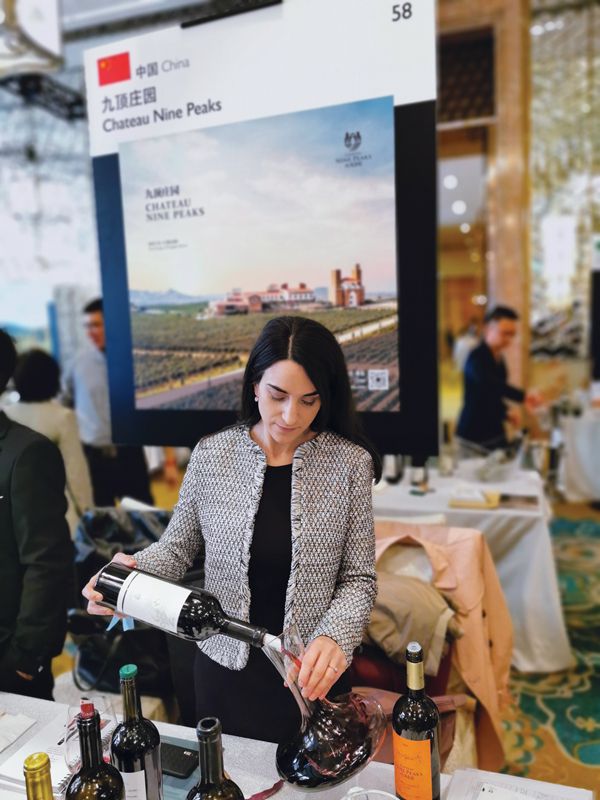 "What's happening right now in China is that we are starting to produce top-level stuff. But the wineries are producing them in small quantities and they aren't developing their retail market—so nobody knows where or how to buy them," Wang suggests. Boyce says that many winery owners rely on their own business connections to sell their wines, rather than a professional distributor that would land them in the nation's hotels and restaurants.
Li notes that branding and marketing are just two of DFC's many challenges moving forward. Although the wine industry has been heralded by domestic media as "developing China's countryside," Li says that it is more complicated than that. "No other wine producing region in the world is like Huailai county and has a metropolis of 23 million people just at its doorstep," Li says, referring to his winery's proximity to Beijing.
"While we can utilize this to develop wine tourism, it means that nobody wants to stay in Huailai county to work [in agriculture]," says Li. "Finding laborers is extremely difficult and some of them end up being not even Hebei locals."
As for Silver Heights, in spite of its national and international ambitions, some 50 percent of the family winery's business is still based in Ningxia. These days, Gao's sister is in charge of sales and public relations, leaving Gao to focus on the perfection of the product. "Vine growing is something almost spiritual between nature and humans," Gao says. "Creating a good wine is like making an artistic masterpiece. It will take us a bit of time yet."
---
DIY Wine
For years, Zheng Tai remembered his uncle making his own wine at home by simply adding grapes to baijiu. Feeling that this wasn't quite authentic, the 32-year-old resident of Tieling, Liaoning province, decided to try his own luck with grapes that his in-laws grew in their yard.
Zheng is one of many Chinese amateur wine enthusiasts who are making their own vintages at home. Although wineries like to note that China has a 2,000-year history of making wine from grapes—often quoting verses by the famed drunk poet Li Bai—much of this tradition seems to have been based in households, rather than vineyards. In ancient times, people made a variety of alcoholic beverages by fermenting grapes in their houses along with rice, sorghum, wheat, and barley.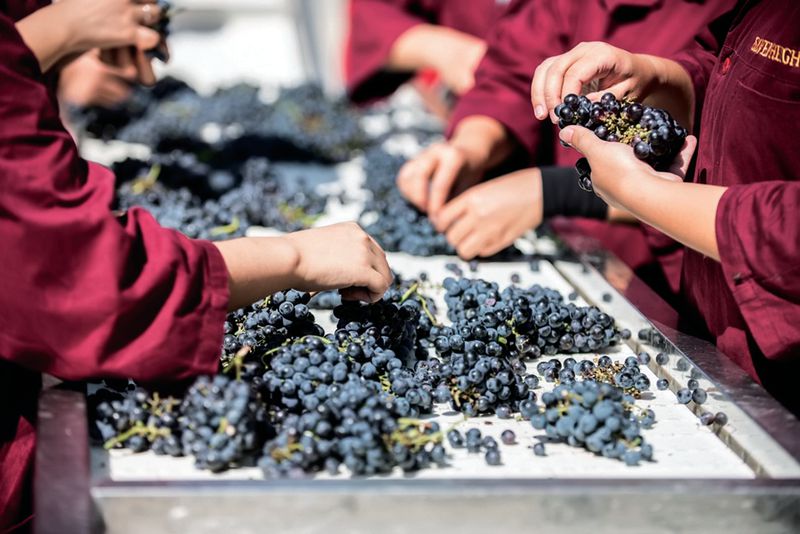 Although Zheng says that it's just a hobby, he believes that his homemade wines are just as good as those he can find for 150 RMB per bottle on the supermarket shelf—and notes that they only cost him 10 RMB per bottle to make.
Sun Changhong, 53-year-old also from Tieling, prefers his wines' sweeter taste to the supermarket's selections. "It tasted better than wine from a bottle because I made it myself; I felt a sense of achievement," Sun says. He got into making wine after trying out a former classmate's home products at a class reunion.
Although Zheng and Sun have had positive experiences, Chinese media has been full of headlines about the dangers of homemade liquors. In 2019, five people died and 14 were hospitalized after a wedding in Yunnan province's Manpan village, where guests were served homemade wine made with industrial-grade alcohol.
After reading the headlines, Sun has decided to give up his home brews, saying that he was afraid of not being able to control the fermentation conditions and poisoning himself. Zheng remains a committed winemaker, having purchased tools online to make the process easier and cleaner.
"Pay attention to sanitation during the washing process and put in enough sugar to make sure the alcohol percentage is high enough," he instructs would-be DIY wine-makers. "And never drink a homemade wine that is more than two years old."– Emily Conrad; additional reporting by Sun Jiahui  (孙佳慧)
---
Boutique Booze
Want to develop your palate for high-end Chinese wines, but not sure where to start? TWOC has listed some representative picks from different regions of China.
Shandong Province
Chateau Nine Peaks: Pinkker Rosé  (126 RMB)
Cellar Master Denise Consentino says that she is always trying to improve Chateau Nine Peaks' grape quality, but "working with Mother Nature can be challenging." Produced at more than 350,000 bottles a year, the Pinkker is a new selection from the winery, described as a zesty and light wine with a bright salmon color.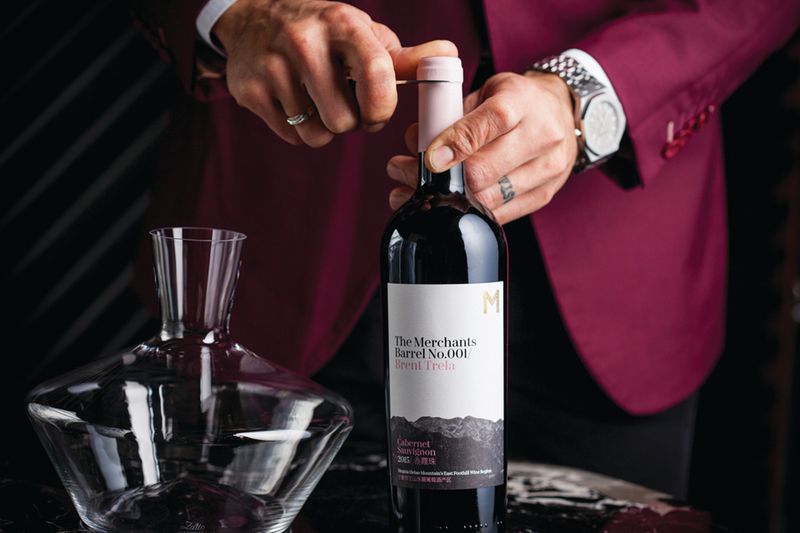 Xinjiang Uyghur Autonomous Region
Tiansai Vineyard: Skyline of Gobi Chardonnay Selection (208 RMB)
Wang Shenghan, the face of the Lady Penguin wine platform, believes that the white wines coming out of Tiansai Vineyard are positioned to take off. Founded by former judge Chen Lizhong, Tiansai has grown beyond a passion project and expanded by getting itself onto the wine lists of five-star hotels and restaurant chains like Element Fresh.
Ningxia Hui Autonomous Region
Grace Vineyard: Tasya's Reserve Cabernet Franc (257 RMB)
Although originally founded in Shanxi, Grace Vineyard has since expanded to a second location in Ningxia's famed Helan Mountains. Its Tasya's Reserve Cabernet Franc won the Gold Medal at the Decanter World Wine Awards in 2019. TWOC's sources, though, also suggest trying out wines from other Ningxia vineyards, such as Xige Estate, Château Pushang, Legacy Peak Estate, and Silver Heights.
Hebei Province
Domaine Franco-Chinois: Reserve Marselan 2011 (1,450 RMB)
Food and beverage entrepreneur Isabella Ko believes that the Marselan (a cross between Cabernet Sauvignon and Grenache) may become China's signature grape. Her wine venue, The Merchants, is currently one of the exclusive retail platforms for the DFC brand and its slightly less premium sister company in Hualai county, Shibaipian (named after the ancient poem "The Eight Immortals in the Wine Cup"). – E.C.
All prices are per bottle at the time of writing.
---
Grape Expectations is a story from our issue, "Grape Expectations." To read the entire issue, become a subscriber and receive the full magazine. Alternatively, you can purchase the digital version from the App Store.
---