Fujian's Pingtan Island offers a gateway to Taiwan and a fragile maritime charm
I felt like an arrow shot into oblivion, not sure where I would land. As late afternoon turned to evening, I decided to put my faith in the taxi driver while the darkness closed in, trusting in his instincts as a local to guide us down coastal country lanes and past dimly lit stone farmhouses perched above the sea.
Why was I thousands of kilometers away from my home in Beijing, speeding down the coast of a small island in the Taiwan Strait? I was spending a few days in Pingtan (平潭) county, an archipelago in Fujian province which runs daily ferries to Taichung and Taipei. I had been interested in visiting Taiwan ever since learning about how the Kuomintang fled to the island at the end of China's civil war in 1949, and decided to travel by boat instead of flying in order to reduce my carbon footprint—as well as give myself time to get lost, find my way again with the help of strangers, and savor every moment of the slow journey.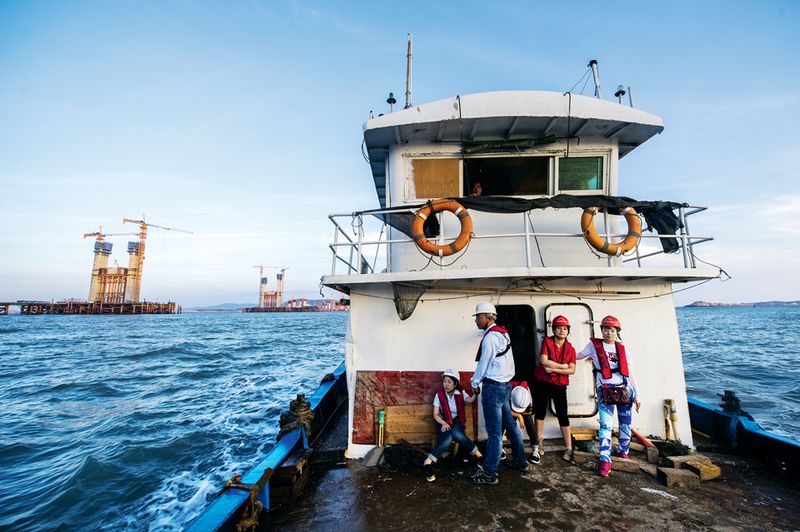 After a circuitous route by train and bus via Shanghai, Fuzhou, and the city of Fuqing, which is connected by a bridge to Pingtan's main island, I arrived in Pingtan a week after my departure, exhausted, and thankful to spend my first night resting in a farmhouse, where the  garden trees were strung with fairy lights. The surrounding community, Mojing, was a sleepy village with a strong sense of seafaring about it. Gray, weatherbeaten cottages huddled together on a peninsula overlooking the East China Sea, as if protecting each other from exposure to the brutal sea winds.
This is subscriber exclusive content
Become a subscriber to continue reading
---
Waves of Change is a story from our issue, "Contagion." To read the entire issue, become a subscriber and receive the full magazine. Alternatively, you can purchase the digital version from the App Store.
---