The deep roots of overseas Chinese in China's southernmost province
Deep in Zhongtai village (中台村), on a peninsula 80 kilometers north of downtown Wenchang, villager Wu Qun thumbs through a battered copy of his clan's genealogical record, or zupu (族谱), which reads like a family tree and a world atlas all in one: "[Wu] Anshu, died in 1759, buried in Annam"; "Angang, died in 1817, buried in Siam"; "Shengrong, died in 1880, buried in Siam."
"In the old days, almost every family in our village had someone go make a living in those two countries," Wu told the Hainan Daily, referring to present-day Vietnam and Thailand ("Perak," now Malaysia, also occasionally appears in the records). A self-appointed historian of the clan, Wu continues to update the zupu handed down from his great-grandfather, and shows it to journalists, researchers, and overseas Chinese "ancestry seekers" who find their way to his remote home.
According to the village elders, the community had been sending emigrants overseas since the Ming dynasty (1368 – 1644). "The village used to be poor, and everyone said it was easier to go abroad to get a bite to eat," Wu said. Historical records show that the Hainanese have qufan (去番), or "gone to foreign lands," since as early as the Han dynasty (206 BCE – 220 CE). The number of migrants rose into the thousands during the late Ming, when famines, natural disasters, and political instability made it increasingly hard for islanders to eke out a living at home.
In those difficult times, the sea surrounding Hainan swelled and seemed to beckon those of brave hearts and enterprising spirits to seek their fortune abroad. Their destination was "Nanyang" (南洋), or the "Southern Seas," the generic name for an area that now includes Vietnam, Thailand, Singapore, Malaysia, Indonesia, and the Philippines. Often armed with funds from the entire village, the migrants made the perilous passage on merchant ships beset by pirates, typhoons, and disease. "Anli, died in 1828, buried at sea," reads one of many somber entries in Wu's zupu.
On reaching Nanyang, the new emigrants often lodged with the clan or hometown associations set up by earlier generations of overseas Hainanese. These mutual-aid organizations also connected new arrivals with jobs and apprenticeships, gave them loans for starting up a business, helped remit money and letters back home, and offered protection from sometimes hostile native populations. Though the majority of emigrants were men—who often left their families behind, sometimes permanently—records indicate some women also set out to join their husbands and sons abroad, disguised as men in order to bypass a government ban on women sailing to Nanyang during the Qing dynasty (1616 – 1911).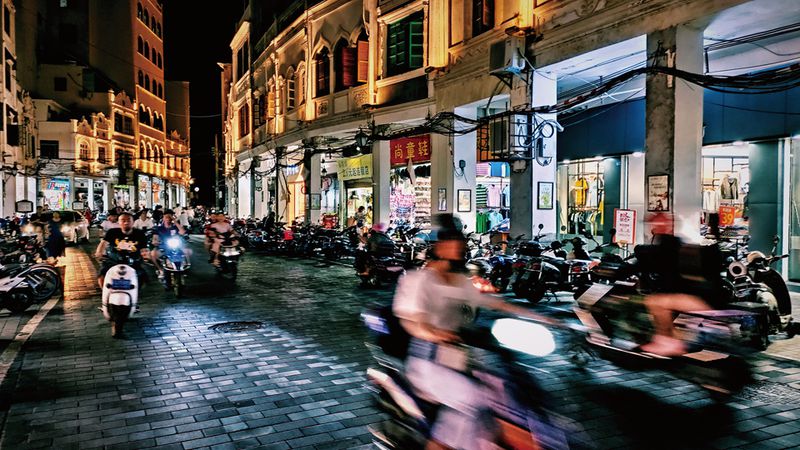 Working as laborers, shopkeepers, and tradespeople, many of these newcomers prospered and put down roots in their adopted homes. Wu pointed journalists to a record of a Zhongtai villager who married a "concubine surnamed Li from Anfu village, Annam," and had three sons with her. Another became a physician in Vietnam and was asked to treat the king. Many past and current luminaries in China and Southeast Asia also proudly claimed Hainanese ancestry, including the Soong family, a political clan with overseas connections during the Republic of China (1912 – 1949); Bun Rany, the First Lady of Cambodia; Abdullah Ahmad Badawi, former prime minister of Malaysia; and numerous Thai politicians and tycoons including the late Chaleo Yoovidhya, the billionaire co-creator of Red Bull.
Giving Back
In the midst of the impolite clamor of Haikou's old prefectural district, the Hainan Overseas Chinese Middle School (海南华侨中学) sits serenely behind a graceful green paifang (牌坊) gate, a testament to the uninterrupted exchange and mutual support between overseas Hainanese and their homeland over the generations.
Founded in 1938 by three Chinese schools in Thailand, the school, originally located in Yunnan province, was a place where diaspora Chinese, or huaqiao (华侨), could send their children to reconnect with their ancestral language and culture. It became a public school in 1941, and was joined by similar institutions in towns and villages all around the island, built with funds from huaqiao individuals and associations who wanted to educate the children of their hometown.
It's said among Chinese communities in Singapore that fewer diaspora Hainanese became millionaires compared to Hokkien and Cantonese huaqiao because they preferred to send most of their overseas earnings back home. Whether or not this is a fair comparison, the island today is full of traces of all the ways in which its diaspora gave back to the community. Schools, hospitals, and office buildings in many Hainanese cities bear "huaqiao" in their name, and there are "overseas Chinese hotels" which originally catered to huaqiao on business or philanthropic trips back home.
The most visible trace of huaqiao on Hainan's landscape, though, is found in architecture. The downtown districts of many major cities, such as Haikou, Wenchang, and Qionghai, boast streets lined with qilou (骑楼) or "shophouses" built in a hybrid Chinese, Nanyang, and European style. Dating back to the 1920s and 30s, they were constructed largely using funds donated by huaqiao who made their fortune abroad and wished to develop business districts in their hometown—and perhaps show off a little of the fruits of their success.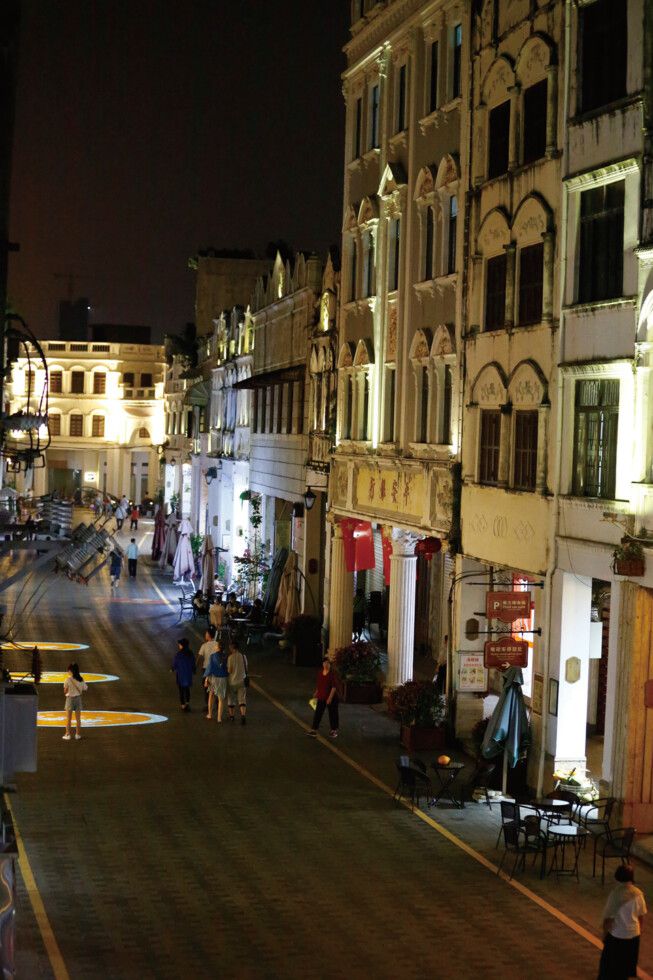 Based on shophouses in Southeast Asia—which were themselves distant descendants of Romanesque arcades—qilou are low-rise buildings with shops on the ground floor and living quarters above. The shop level is recessed away from the sidewalk, forming an interconnected terrace that protects pedestrians against the frequent and unpredictable rains in the region. Ornate columns support these ground-level walkways; overhead, traditional Chinese fanghuoqiang (防火墙), a raised wall on the roof of buildings to prevent the spread of fire, is reinterpreted with scrolls, arches, and decorative moldings adapted from European structures.
The biggest and best-preserved section of qilou in Hainan today can be found at Haikou's Historic Qilou Streets (骑楼老街) area around Zhongshan Road. Formerly fallen into dilapidation, the neighborhood was refurbished by the local government in 2016, and now includes a flower-lined pedestrian section where visitors can stroll between sidewalk cafes, art galleries, restaurants, and antique and souvenir shops.
The qilou also house several free museums, including the Haikou Intangible Cultural Heritage Center (海口非遗文化展示馆), which hosts demonstrations of folk arts like Hainan puppet opera, Li weaving, and even an exhibit on the qilou's restoration process. The Haikou Shophouse Exhibition Hall (海口南洋骑楼老街风貌展示馆) displays photographs showing how the neighborhood looked throughout history. The qilou are no less charming at night, when the muted streetlights give a golden glow to the façades, and diners gather on the sidewalk to slowly savor Wenchang chicken and other delicacies in the balmy weather all year round.
The Huaqiao's Homecoming
"I am huaqiao, and Chinese, and Indonesian Chinese," says Mr. Wu, owner of Vasily's Cafe in downtown Xinglong county, Wanning. The son of an Indonesian huaqiao who returned to China in the 1960s, Wu was raised in Xinglong, yet doesn't resemble most of his neighbors. His creamy accent, stories of relatives in Indonesia, and the variety of Indonesian snacks he serves in his cafe—along with the Thai fare courtesy of his Thai huaqiao wife—hint at a much more complex origin story.
While many huaqiao settled permanently in their adopted societies, becoming leaders and celebrities overseas, reverse migration to China picked up in the 1930s. A number of patriotic young huaqiao volunteered to transport military supplies for China during the War of Resistance Against Japanese Aggression, and settled down in Hainan afterward. Communist sympathizers arrived throughout the 40s and 50s, wishing to contribute to building the fledgling PRC. The biggest reverse exodus of Indonesian huaqiao in particular took place in the 1960s due to pogroms against Chinese by the Indonesian government. The PRC actively recruited persecuted huaqiao back to China, and resettled them on farms in historic "overseas Chinese homelands," or qiaoxiang (侨乡), including Hainan.
A total of five "Overseas Chinese Farms" were established in Hainan in Xinglong, Bincunshan, Wenchang, Chengmai, and Dongfang in the 1950s and 60s. Close to 14,000 huaqiao from 21 countries eventually resettled in the province, with migration continuing up to 1979 due to the Sino-Vietnamese War. The returnees farmed rubber, pepper, fruits, and coffee on the plantations, and experienced severe culture shock. Used to modern comforts abroad, they found Hainan to be an isolated backwater with mud huts and no roads.
Nevertheless, the community thrived. On the wall of Wu's cafe, black-and-white photos show the early huaqiao settlers working on the farm and celebrating the newly constructed town of Xinglong. The overseas Chinese helped build schools and roads, and left their mark in the architecture, accents, and food of the community, including its unique coffee-drinking habit. There are now 6,000 huaqiao in Xinglong, comprising 35 percent of the population, though they once formed over 80 percent.
The overseas Chinese farms have become tourist attractions, serving coffee and regional snacks in aptly named attractions like "Malay Hut" and "Indonesia Village." Indonesian huaqiao Du Tianjiang operates the Istana Indonesian Restaurant near Xinglong's farm, displaying his family's cuisine and photos to curious visitors. Wu's uncle still lives in Indonesia with his entire family, but Wu himself doesn't feel much connection with the country anymore. "I went to visit them many years ago, but I am not used to the way things are there," he says, digging into the Indonesian layer cake he eats with his afternoon coffee.
Huaqiao's homecomings are happier occasions these days, often organized by hometown associations in Singapore, Malaysia, and other countries via charter flights and buses. Overseas Chinese keen to learn about their roots are taken to Hainan's main attractions, the huaqiao farms, and their ancestral villages, where they can sometimes view zupu like Wu Qun's and banquet with phalanxes of villagers claiming distant kinship. Before the feast, they may go visit the family graves, announcing their arrival to the ancestors with firecrackers that echo through time and space to mark a migration story come full circle.
Cover image by Zhong Ming
---
Excerpt taken from Hainan: Jade Cliffs to Ocean Paradise, TWOC's new guide to China's southernmost province. Get your copy today from our WeChat store!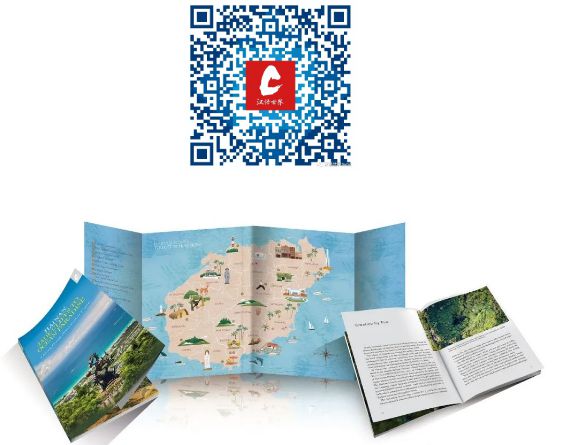 ---