Fashion with Chinese elements surges, but is it just a fad?
"The quality of work does not differ between countries…Everything has to be good on an international level, and only then will we be able to stand proudly and say 'this is made in China,'" Hong Kong entertainer-turned-designer Edison Chen declared in a speech at New York University in 2017, calling on domestic culture and fashion brands to abandon the "good enough for China" attitude.
This is considered to be the starting point of guochao (国潮), or "China tide," a fad for domestically made fashion and other trendy products (潮 is also a Chinese term for "fashionable"). Following Chen's speech, 2018 became known as the "first year of guochao," and "Made in China" has become a new trend in the Chinese fashion industry.
Traditional culture had been infused successfully into modern products before. The 2016 documentary Masters in Forbidden City, which depicted the artisans who restore relics in the ancient palace, significantly boosted the sales of souvenirs. Young consumers were suddenly clamoring for the Forbidden City lipsticks collection, inspired by the red color of the palace walls; handmade action figures of the Yongle Emperor of the Ming dynasty (1368 – 1644), which wear sunglasses and can rap; and the "Forbidden City Meow," a series of figurines modeled on the palace's stray cats.
The term guochao usually refers to fashion brands with traditional Chinese elements in their designs. Edison Chen became the "godfather" of the movement when his fashion label CLOT partnered with Nike to launch a Chinese-style sneaker in 2006. The shoe's design was based on the notion of acupuncture points in traditional medicine. Acupoint patterns appear on the soles, and the shoebox resembles a Chinese medicine book.
Athletic brand Li Ning has become another byword for guochao. Founded in 1990 by Li Ning, China's Olympic and world champion in gymnastics, it was known as a cost-effective sports brand with conservative designs and a mostly middle-aged market in its first 30 years. Due to the declining purchasing power of its customer base, Li Ning was on the verge of bankruptcy by 2018, having lost over 3 billion yuan since 2011.
All of this changed after Li Ning launched its secondary line, known domestically as "China Li Ning," at New York Fashion Week in 2018. In its show, Li Ning designers splashed Chinese elements everywhere: conspicuous Chinese characters, a yellow and red color scheme. This bold transformation was an unprecedented success: Just after Fashion Week concluded, the shoes and apparel in Li Ning's flagship store on e-commerce site Tmall were sold out, and the sweaters with the Chinese characters "China Li Ning" became the season's must-have item.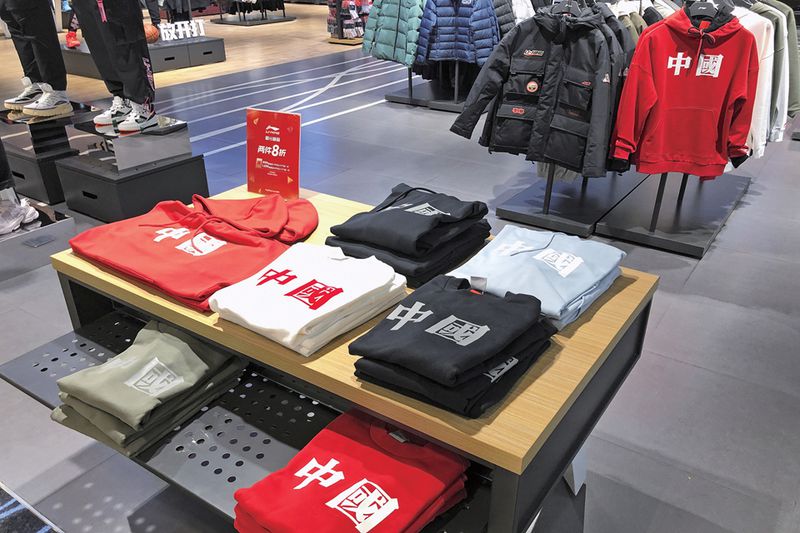 In 2018, the total sales volume of the "China Li Ning" clothing series exceeded 5.5 million pieces, and two years later, Li Ning still firmly occupies the center of trendy brand topics: In early 2020, the brand partnered with martial arts icon Jackie Chan to release the Li Ning x Jackie Chan Essence collection, with some collar and buckle designs inspired by the black and red tones of 1970s kung fu movies.
Compared with the long history of their Western competitors, Chinese brands did not substantially develop until the reforms of 1978 gave back Chinese companies their right to trademark and advertise, and foreign companies began to build factories in China.
During this period, there was state support for private enterprises and entrepreneurship, which established brands such as Lenovo, Huawei, and Haier. China's large and cheap labor force had made it the world's factory. Domestic sports brands such as Li Ning and ANTA were also founded in the 1990s.
As the winner of three gold medals at the 1984 Olympics in Los Angeles, and the main torchbearer of the 2008 Olympics in Beijing, Li Ning's sportsmanship and personal image was once the core competence of the brand. However, with the introduction of foreign fashion labels in the 21st century, competitors such as Nike and Adidas captured the youth market, while Li Ning became the favorite of their parents' generation. Meanwhile, Chinese-made products acquired the label of being cheap and inferior due to the prevalence of low-cost manufacturing in the country.
Changing this reputation has become a hot topic at the national and grassroots levels. In 2017, China's State Council designated May 10 as "Chinese Brands Day," calling on media platforms to promote domestic brands on this day. Enriching cultural products with Chinese style is regarded as a step for China to build its soft power.
The "post-95 generation," referring to youngsters born after 1995, has become the main driver of the guochao trend, according to business research firm CBN Data. The movement is inseparable from the rising popularity of "street culture" based on Black American culture from the 1970s. China's first hip-hop themed reality show, The Rap of China, became an unexpected hit, and competitors' style of dress—oversize shirts, skateboard sneakers, and dreadlocks—were widely imitated by youths.
Guochao brands that were athletic brands to begin with immediately benefited from the collision of fashion and street culture, but other, unrelated enterprises soon jumped on the streetwear bandwagon. Hot-sauce maker Laoganma and Chinese medicine brand Yunnan Baiyao have launched trendy hooded sweatshirts and zipped jackets, turning old domestic brands into trendy fashion symbols for youth.
But there are still many who believe that guochao just benefits from patriotism, and that after the novelty wears off, domestic brands will no longer be competitive. "Many guochao brands' marketing strategies still imitate foreign brands, such as limited sales and licensed products. They have not built their own image or improved their quality much," an assistant stylist at a domestic brand, who wished only to be identified by her surname Guo, tells TWOC.
In June of 2020, Chinese Vogue magazine stated that guochao should not only integrate traditional Chinese culture, but also reflect current Chinese society in all its rebellious ethos. Only then can guochao expand its commercial territory and take a leading role in China's pop culture, rather than be a momentary ripple in the ocean.
Photograph by VCG
---
Turning the Tide is a story from our issue, "You and AI." To read the entire issue, become a subscriber and receive the full magazine. Alternatively, you can purchase the digital version from the App Store.
---