Nearly 30 years after it hosted "China's Woodstock," a small central Chinese city is still home to a music culture that rocks in its own way
It took me three years of planning before I finally decided to visit Xinxiang ("New Township"), a city in Henan province that some people jokingly translate as "New York."
This February, I found out that there was a rock 'n' roll festival in the works for Xinxiang. I was tickled pink when I saw a call for bands from the municipal government—musicians had to be between 18 to 40 years old. No dinosaurs allowed! That aside, I was curious about another bullet point in the notice: What's rock 'n' roll got to do with boosting employment and the local economy?
My motivation to cover the rock 'n' roll scene in Xinxiang came from a video clip I'd once watched. It showed a middle-aged lady rolling up aboard her mobility tricycle just as some band wrapped up a street performance in town. "Show's over, Auntie," the musicians said to her.
Well, Auntie was not having any of that. She got all pumped and shouted to the applause of the crowds, "There's no end, there's only a beginning!"
Comments from viewers poured in as well. "No wonder this is happening in Xinxiang, the city of rock 'n' roll."
The whole thing made me recall a day trip I once took to Xinxiang in July 2005. I was on my way back from trekking through the Taihang Mountains. That sultry summer night had nothing on the bunch of folks I saw downtown, garbed in black leather and carrying their guitars and speakers down the streets. As a tourist from Taiwan, this piqued my curiosity. "There are rockers in this small town?"
What I didn't know was that just a few years ago, in 1998 and 1999, this "small town" hosted two rock concerts that would go down in history.
Later I got to know a few local musicians here through Song Jie, the guitarist of the famous Bejing-based band Miserable Faith, who was born in Xinxiang. However, I've only been able to pay a visit this year, after the severe floods in Henan in 2021 and then the pandemic in 2022. When music-lovers refer to Xinxiang as the "city of rock 'n' roll", they're mostly thinking of the two consecutive editions—June 1998, and November 1999—of the so-called "China New Music Concert" that took place there.
Take a look at the line-up for both editions: all sorts of bands and singer-songwriters such as Black Panther, The Flowers, Sober, Compass, Zang Tianshuo, No. 43 Baojia Street, Cobra, Again, Overload, Zero, Tang Dynasty, and of course Cui Jian, the "Godfather of Chinese Rock." All are the most sought-after bands back then, and no two are alike. These were arguably the two most remarkable musical stages that China has had to date.
In an era when nobody knew what a music festival was, some 30,000 music-lovers rushed from all over China to pack the Sports Center in this anonymous town in northern Henan.
Because Xinxiang Sports Center was the home stadium for Henan Jianye F.C. (now known as Henan F.C.), a special train service connected soccer fans between Xinxiang and Zhengzhou, the provincial capital. For the concerts, the same courtesy was extended to music-lovers. Just imagine! Some 3,000 rock 'n' roll fans huddled together on a train.
Online, an internet user named Shitou shares his memories from that trip: "I hopped on that train with my buddies as a sophomore from Zhengzhou University. The train was packed with rock 'n' roll fans, who slammed on their guitars as soon as they got on. After the concert, their throats were all hoarse. I remember going to the bathroom to find urinals occupied by a line of men with long hair fluttering everywhere. It was pretty unbelievable. "
Onstage, musician Wang Feng rewarded the audience for their overwhelming enthusiasm by changing his song "Goodnight, Beijing" to "Goodnight, Xinxiang". Gao Qi was also there with his band Overload, touted as the first speed and thrash metal band to come out of the Chinese heavy metal scene. His song "Flames of Love" set the audience on fire, quite literally —the audience pulled out their lighters like glow sticks, with some of the craziest fans burning their clothes. Many still get goosebumps from that memory.
The making of a musical legend
"The 'China New Music Concerts' that took place in Xinxiang in 1998 and 1999 dominated the rock 'n' roll scene on the Chinese mainland, tantamount to the live performances at Hung Hom Coliseum in Hong Kong on December 17, 1994. These were unprecedented events that will be hard to replicate in the future," an internet user named Liu Dongbao reminisces. "I was a graphic designer, so I made myself a duplicate of the producer's pass so that I could gambol all around the venue. I got to witness Cui Jian singing his heart (and throat) out in order to cover the stage for Tang Dynasty when they didn't show up."
"I witnessed 30,000 people waving their lighters, some even setting their T-shirts on fire; I witnessed the shock when they changed the lyrics to 'Greenhouse Girl,'" writes Liu, "and I also witnessed Thin Man going completely mad onstage. Man, does time fly. All of us angsty youths are now old folks."
Sun Nan, then a rising musician, was also there, running around the audience with a red flag while singing his song "Flaming Flag" as an opening act for someone else. But the impatient audience knocked him offstage with a rain of mineral water bottles. "I remember some dude behind me shouting 'No Sun Nan! Don't want none of your Flaming Flag, man! Get the fuck outta here, dude!'" an internet user, Echo, recalls. "The audience threw him so many water bottles that the riot cops had to step in with their anti-riot shields."
Plenty of people have written about how sensational both festivals were, but here's the thing—they were not meant to happen in Xinxiang. Zhengzhou was the obvious choice, except the city did not have any appropriate venues. Xinxiang had a sports center, the newest one in China back then.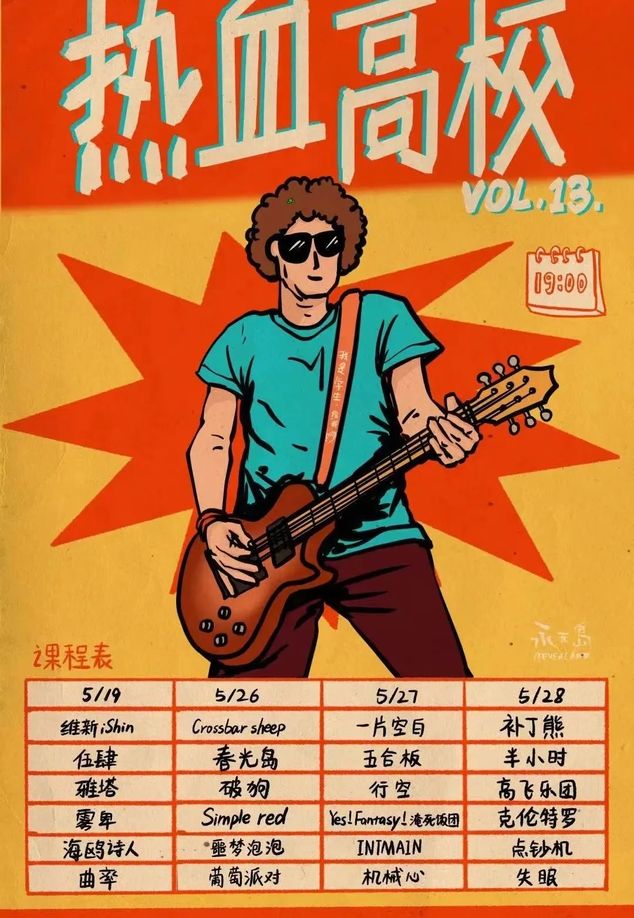 Poster showing the line-up of one edition of Hot Blood College Special, an event at a current local livehouse for student bands
Take the gigs to a bigger city and it'd have been a run-of-the-mill musical event. However, in this small town in northern Henan province, you had yourself the stuff of legends.
What's more, both editions of the concert proved the viability of this type of performance, which became replicated nationwide and eventually evolved into a full-fledged music festival.
It's no exaggeration to say that the concert "parachuted" into Xinxiang. Celebrities rarely graced the small-town streets, but these star-studded concerts made an immediate splash. Rock 'n' roll hit the city like a bomb. Suddenly, rock was playing on every street corner, and everybody was learning music. New bands sprang up like mushrooms.
Twenty-five years have passed since those legendary gigs, and here's what truly piqued my curiosity —is Xinxiang still the "city of rock"?
Live from Neverland
It's a 20-minute train ride from Xinxiang to Zhengzhou. I arrived in Xinxiang at 8 o'clock on a Friday night and went straight to a live house named Neverland. That evening, they'd host the yearly edition of "Hot Blood College Special," an event giving the stage to student bands in Henan. It has been going on for a decade. This edition would feature six bands every night over the course of four days.
Neverland's owner Xu Xiaodong set up his live house in a park that used to be an old flour mill. He was checking tickets at the door when I came in, but later he ran inside to mix drinks and cook noodles. From owner, to doorman, chef, and bartender—he did it all. He also invited lots of local bands to attend, so they were all drinking by the door when I came in.
Tonight's show cost only 10 yuan—unsurprisingly since it was all student bands. You also had to adjust your expectations accordingly. In fact, the kids' classmates made up most of the modestly sized audience—some 60 people. We had them to thank for the few scattered screams.
The scene was already fairly exciting as it was, and then I noticed some of the audience had brought their kids to the gig, and you could see young children running around.
Neverland doesn't have a daily performance schedule. Instead, the venue usually operates like a coffee shop during the daytime before switching to bar vibes at night. Booze is cheap and the atmosphere reminds you of those Japanese TV shows set in some late-night izakaya. Popular bands like Miserable Faith can pull up to 500 people, but for small, unknown outfits, the smallest attendance on record is below a dozen.
Xu Xiaodong's real name is Cheng Tao. His alias is a nod to Xudong (Focus Audio), an audiovisual store he used to run almost two decades ago. Though I'm actually three years his senior, I called him Big Brother Tao, like everyone else.
I asked Brother Tao whether the ticket price was enough to cover costs for the evening and the answer was immediate—not at all. The event was meant to be a welcoming, free-of-charge stage for student bands to perform. Later, when others told me that Brother Tao actually often treated the bands to dinner after the gig, it was apparent that he was actually losing money.
Plenty more was going on in Xinxiang. The next day was really what I came for: the fourth edition of the "New York Rock Music Festival," which took place in front of Powerlong Plaza. Most of the line-up was made up of local bands and student outfits: Pumpkins, Cod Burger, Cyclops, and more.
About 2,000 people flocked to the venue with their tickets, most hailing from local colleges and universities in Xinxiang. Others preferred to just catch the music for free from outside the plaza. In any case, the chatty student bands made it all feel quite provincial. A high-profile, star-studded music festival was happening around the same time in Yuntai Mountain. For those who couldn't score tickets for Yuntai, Xinxiang was the next best option to catch up on the missed fun.
The setup of the event and the food stalls, right in front of the nearby shopping mall, made it so that people just came and went. Parents showed up with their kids, and you could see that some adults were trying hard not to thrash their heads to the music. A dad raised his kid high upon his shoulders as he taught the kid to do the rock 'n' roll sign. "Tuck in your thumb. Otherwise, you'll look like Sailor Moon."
The first day of the festival saw temperatures in Henan plummet; it was still drizzling on Day Two, though that didn't dampen the spirits one bit. Then, at about 7:30 at night, the music came to an abrupt halt. The area residents were bothered by the noise and reported the event to local authorities.
There are over a dozen universities and colleges in Xinxiang. For the many student bands here, as long as they didn't suck too bad, they would never hurt for fans. This year's edition has been particularly popular because students have been going crazy out of sheer boredom over the last few years of the pandemic.
So far this year, Xinxiang has enjoyed five or six music events of various scales—a lot, really, for a town this size. These days, no opening of a shopping mall in Xinxiang is complete without a live performance by some local band. It's said that at the true heyday of rock 'n' roll in Xinxiang, even a noodle joint would invite a band to play on its opening day to add to the fun.
An internet user in their 40s, who claims to have been in a rock band two decades ago, recalls taking odd gigs like restaurant openings to make ends meet. There, they'd perform Dou Wei's "The Higher Being," Kurt Cobain's "About a Girl," and Cui Jian's "Do It All Over Again." When the shop owner pleaded for them to "sing stuff people will understand…we didn't know any, but people gathered around us even if they didn't understand a word," they write.
But I faced a different situation on my most recent visit to Xinxiang. Not many young folks seemed to know about the concerts here from the '90s. I even tried to strike up a conversation with a 20-year-old local woman on Tinder: "Hey, did you know about those two legendary festivals in your town way back when? You guys used to be the 'City of Rock.'" She had no clue. Our conversation ended.
It's not like much comes up to people's minds if you ask them what's special about Xinxiang. I'd check social media in search of influencers and KOLs pinning Xinxiang on their posts but found nothing much. Though hiking groups set out daily to the nearby Taihang Mountains, few would associate the mountain range with the city nearby.
Whether it's because of the flatness of the Central Plains or some other reason, the average visitor seems to walk out of Xinxiang with this indifferent, unimpressed look. After all, all the cities on the Central Plains crossed by the Beijing-Guangzhou Railway really seem to follow the same pattern —square, unremarkable, and forever sprawling eastward.
Xinxiang itself is not big. Pingyuan Road crosses through the entire town, widening from four to eight lanes on its way from Xinxiang Station to Xinxiang East Station. The distance is easily covered in less than half an hour by bike. On my second day there, an auntie riding a three-wheeled electric scooter asked me for directions to the East Railway Station, and I was already confident enough to tell her to find it "at the end of Pingyuan Road."
On the other hand, the word Pingyuan (平原 "flatland") is quite common across Xinxiang: There's Pingyuan Road, Pingyuan Shopping Mall, Pingyuan Park, Pingyuan Museum...This is probably because Xinxiang used to be the capital of the short-lived Pingyuan Province (1949 – 1952).
However, search for "musical instrument shops" (which also often double as music schools) or "music education" and you'll soon realize that such establishments far outnumber those in a similarly-sized city. Local kids are often enrolled in music lessons for piano, guitar, and, most notably, drums.
Xinxiang also has quite a few restaurants doubling as music venues, though nowadays you'll find these under the more fashionable label of "live" in English.
Song Jie, the Miserable Faith guitarist, introduced me to two experienced local musicians, Niu Feifei and Yang Baobin. The meeting took place at Yang's instrument shop, to the background music of young students beating the drum.
Yang and I are the same age, and he belongs to that first generation of Beijing "floaters" that emerged after the famous Xinxiang festivals. Niu is a few years our junior; he sought his own way to Beijing just as Yang returned. Both reckon that the turn of the century proved to be a fruitful period for Chinese rock 'n' roll while the legendary festivals of Xinxiang and everything that followed kind of just rode the wave.
"Those two concerts here are made into legends online nowadays. But back then, a musical event of that scale would have taken over any Chinese city."
Yang switched trades for a while before returning to the music field. He now teaches percussion. Both Yang and Niu are considered veteran drummers whom young bands rely on in emergencies for their ability to immediately step in and vamp up the stage. The youngsters often called them "Uncle."
Moreover, when a local musician gets good enough, they often get snagged by bands from other cities. For this reason, many bands in Xinxiang share the small number of musicians. It's not unusual to see the same five people across six different bands. Yang used to be the drummer for Mad Doctor, Together with Niu, they both successively joined the post-punk outfit Muzzy Mum, where Mad Doctor's lead vocalist Wang Xubo doubled as a guitarist.
Mad Doctor is the most well-known band to come out of Xinxiang, due in no small part to their adaptation of famous Taiwan rocker Wu Bai's "White Dove" with a saxophone prelude. Meanwhile, most of these local musicians hold conventional jobs. For example, Wang Xubo is an editor of the Xinxiang Daily newspaper. Though I'd wanted to chat with the band, they happened to be busy recording in Beijing on my visit to Xinxiang. I've heard that the last track of their album is called "Neverland", a nod to Brother Tao and his venue.
Yang stated that Xinxiang musicians have relied on mutual inspiration and support for the last two decades, inadvertently passing the baton from one generation to the next. "Nobody has airs of grandeur here in Xinxiang. There aren't many music-lovers here, so we must rely on traditional employment. But there's not as much pressure to make a living here either, so we've got time to keep making our own music." Nowadays, Niu juggles tutoring gigs and teaching kids the ropes of instrumental rock 'n' roll at his academy. Some of his students have grown up now.
Our chat didn't last for too long. Yang was in a rush to buy groceries before going home to care for his three children. Here you had these two men, looking every bit like your average cheerful middle-aged guys from central China. But they've got a totally different vibe in their photos.
Later, Yang introduced me to Pumpkins guitarist Zhao Sen. Zhao opened a milk tea shop named Rock Milk Tea in a pedestrianized shopping area, so you can often see him there. When I arrived, I found him boiling a pot of noodles.
The milk tea shop décor consists mostly of vinyl and tapes: a mix of European and American peppered with Japanese favorites such as Haruomi Hosono, Mariya Takeuchi, Taeko Ohnuki, Akina Nakamori and even Eiichi Ohtaki with his album A Long Vacation. Zhao Sen self-identified as a fan of Japanese city pop. I identified him as my kindred spirit.
Zhao did not mince his words. "Calling Xinxiang the 'City of Rock' nowadays is shameful!" Contrary to outsiders' imagination, the genre's true atmosphere had not been cultivated at all in this small town, he argues.
Zhao's folks used to run a pork bone soup shop. After they'd retired, Zhao switched gears to this milk tea shop, which he's now been running for five years. The pork bone soup shop was a favorite gathering spot for local musicians. The milk tea shop somewhat carries the same spirit.
A corner of the milk tea shop sports a series of guitars, speakers, and other equipment. When the city's music festival was suspended due to the noise complaint a few days ago, many fans missed out on Pumpkins' performance, so the band retreated to Rock Milk Tea for a small impromptu live show. "It was pretty neat! After all, the musicians had already been paid," said Zhao.
Later, we saw Pumpkins' lead vocalist, Du Hang, also coming by for a quick visit after clocking out of his job in the credit department of a local bank. He downed his fair share of beer bottles as he chatted with Zhao Sen until eight o'clock in the evening when he went out to a street stall on the nearby road to grab a bite for takeaway at the milk tea shop, where he still had some more beer to polish off. I was privy to this dialogue between art creators—some casual food, booze galore, and deep yet abstract chatter that was not above the occasional nonsense.
Most of the members of Pumpkins are around 30 years old; all of them were first exposed to music during their middle school years. Playing in bands was a staple for local kids their age in 2005. Later came college, with different majors for everyone, just as varied as their jobs are. Still, they'd stayed together, playing their music. Drummer Da Li had also got into music education, teaching kids their way around drums, while former bassist Zhang Yuhao juggled teaching with dentistry.
Du Hang readily acknowledged that they have advantages over their rock 'n' roll predecessors. True, their bands never made it that far, but they started music schools. As young people learned music, they invariably wanted to start bands themselves.
Small town rock
Zhao Sen recalled hitting Brother Tao's Focus Audio video store in his high school years to watch DVDs featuring live performances by European and American bands. He wasn't alone; Xinxiang rockers all flocked there back then. One of them was Mad Doctor's Wang Xubo, then a student from Henan Normal University majoring in oil painting.
A few years later, Focus Audio closed and became SeaMile Café and Bar. Nowadays, half of the facade belongs to a bookstore. The two businesses remain the favorites of local musicians and other cultured folks, along with the bookstore. They've kept the old sign from the Focus Audio times in there, as well as a whole cabinet full of never-opened DVDs.
Upon closing Focus Audio, Brother Tao set his views on opening his own performance venue in Xinxiang. Zhao Sen recalled that SUBARK, Neverland's predecessor, opened indeed two years after Pumpkins was founded by Du Hang and his gang. Whereas bands used to struggle on their own, they now had a meeting place where they could connect with one another, a pattern that would become the norm for Xinxiang bands.
I ended up staying in Xinxiang for a week and met again with Brother Tao at Yiheng Street over platters of red braised lamb hot pot—a local delicacy that I'd spotted everywhere during my first-ever trip to Beijing in 1999.
Xinxiang's hot pot takes culinary influences from elsewhere in the country—the copper pots of Beijing, a little bit of Sichuan's fiery soup base. Mutton is chopped into small, boney pieces that smolder until they melt in your mouth. There's a tangy and thick aroma loaded with strong spices; it's hard to confine to a few descriptive words. I might say it's the taste of the Central Plains.
Brother Tao rode over on his own three-wheeled scooter and mentioned that he'd hardly slept thanks to a pair of customers that hit Neverland last night and downed a dozen drinks until dawn. Then he had to go teach at his school, before finally hitting a meeting.
As we chatted about my impressions of Xinxiang over the past few days, we finally brought up the two legendary festivals. Brother Tao was more than willing to concede to their greatness. "Of course, they were something grand. I'd also say they've remained unmatched."
As it turned out, Brother Tao had his own recollections of the festival. He'd wanted to bring this girlfriend, so he sold an entire collection of coins and stamps that he'd amassed since childhood. The money would have covered nine months of living expenses, but Tao blew it all on two of the best seats in the house. His excitement was still palpable, and he mentioned that, as the 25th anniversary of the gigs approaches, they are hoping to hold some sort of commemorative event.
Man, these festivals were shaping up to be some kind of Chinese Woodstock. We live in this era where marketing is everything, and here was Xinxiang missing out on hyping its own, extremely touching adult fairy tale.
Back to Brother Tao: He found his own definition of success by holding a series of gigs on Xinxiang's network of college and university campuses. He was now hoping to resume these after the pandemic, and find youngsters who love rock 'n' roll.
Countless student bands have come and gone from Neverland's stage. Small bands stand no chance booking big venues, while big bands hardly ever grace small stages. Venues in major cities are also fairly pricey to book, so it's the stages you find in towns like Xinxiang that allow young bands to earn their wings.
Every year before the Lunar New Year, Neverland throws an "end-of-year party" inviting local bands as well as Xinxiang-bred musicians returning home for the holidays. Brother Tao has been doing this for ten years.
At this big party, musicians are free to chat and vent with big questions like "Have you signed with a label?" "Is your album out?" Different bands from different subgenres and generations gather together, like a local rock 'n' roll convention.
Xinxiang is much like that of plenty of other small cities in China. Here, you've got the perfect place to live and work at a leisurely pace, juggling the making of your own family with plenty of other relationships and interests beyond the basic themes of adulthood. It's as comfortable as it is dull.
​The musicians in Xinxiang didn't realize how unique they were, nor did they deliberately place themselves in the so-called rock "scene." They regard their music endeavors as part of their lives. They played their way into history, and kept playing until it became a part of their routine.
Passing the baton
​"I happened to come of age during the heyday of rock 'n' roll in China," writes a 36-year-old internet user called Mao, a local who estimates that "eight out of ten" Xinxiang kids of his generation, born the 1980s, were in a rock band. 
"Playing beside the road was the beginning of our musical journey. Now, even as dads and uncles, we've never given up our love of music; we still play in our band,"  he writes. "University professors, civil servants, owners of drywall companies, even nightclub managers...all these people from different walks of life were Xinxiang's rock 'n' roll youths."
Those music-lovers from yesteryear are now married and running their own careers, but they all believe that kids should learn music and have fun with it. Colleges and universities in Xinxiang teem with music enthusiasts and band members who find it easy to rehearse in a town this size, just as kids elsewhere would go get footbaths or belch together at some KTV. Some kids are there to play, others want to learn, and there just happens to be people willing to provide cheap venues for bands to play in. Those who are about to start on their own musical journeys may always rely on the wisdom of those who came before them.
"In the late '90s, whenever we had school anniversaries or other celebrations, students would organize bands to perform. There were lots of songs we weren't allowed to rehearse, so we chose a song called 'Love is True.' When we submitted the setlist to the school, they asked us to change the song title to 'Mother,'" an internet user called Jen reminisces. "I later married my band's bassist and he became a baker, so we opened this dessert shop together. Our kid is turning 3 soon, and I bought him a Roland electronic drum as a birthday gift."
The last time Xinxiang was touted as the hometown of rock 'n' roll was on the occasion of the severe floods in Henan province back in 2021. At the worst of the calamity, Song Jie returned to his hometown to participate in the disaster relief efforts and rally fellow local musicians into rescue groups. Several memorable group pictures commemorate that moment in time.
​Back then, many thought that the musicians were just putting on a show. Those people had a change of heart when they finally understood the unique ecosystem of Xinxiang bands.
A network of kindred souls, growing older together and helping the youth. It doesn't get any cooler, now, does it?
That night at Neverland, I hailed a cab to my hotel at 1 a.m. As we drove down the Central Plains late at night, with only the street lights passing by in a blur, a song played inside the vehicle. Ah, the world's bound to be better.
My driver was a 50-year-old guy with salt-and-pepper hair. "Do you also listen to Miserable Faith?" I asked him, and he replied in a flat voice, "Did you just go to Neverland?"
The cab driver also knew Brother Tao, as well as Song Jie, who was related to one of his former classmates. The driver added that he, too, had played in a band when he was young.
At a red light, he took out his phone to show me a picture depicting some six or seven musicians.
"You were a guitarist!"
The light changed. The car started, and I was treated to another spell of silence.
"That's a bass!"
Cover image: Members of Mad Doctor
All images from Liao Xinzhong
Find more great stories on our app:
---
---