Robo-doc passes test, Alipay man, and Victoria's Secret goes haywire
The Viral Week That Was is our weekly round-up of the previous week's trending memes, humor, rumor, gossip, and everything else Chinese netizens are chatting about. Think of this as a nicotine patch to help ease yourself into the week after suckling on the smokey teat of the weekend.
Welcome back one and all to the wonderful world of the Viral Week. Coming up on today's issue, we bring you male sexual assault, suicide from over-schooling, Alipay the man, and a robot passes a medical exam. But first…
Victoria's Secret Show
Today, the Victoria's Secret Fashion Show will be held in Shanghai. Although this event is largely known for its display of innovative underwear and the lavish "fantasy bra," the Shanghai event has largely been overshadowed by a string of cancellations.
A number of participants have been refused entry into China for a variety of reasons, the most noticeable being Gigi Hadid (possibly for making squinty eye gestures and angering netizens) and Katy Perry (most likely for draping a Taiwanese flag over her body two years ago, though it's doubtful we'll ever get confirmation). Even those already in the country seem to be having problems. It was reported that Adriana Lima's permission to stay was in peril, and organizers are working hard to ensure that it is not revoked.
As if to pile on more misery, some of the traveling fashion media have also been denied visas to China.
Sexual assault made into a joke
Recently, pictures surfaced on Weibo that showed a man passed out on a street. Beside him was a seemingly homeless individual who was groping him.
While this act was blatant sexual assault, commenters decided to focus on more what they thought was more important—jokes about how embarrassed the unconscious man must feel now. And no, we're not going to translate those jokes.
Suicide Note
Last week a suicide shook the online community in China.
A 10-year-old girl from Xuzhou, Jiangsu province, drank pesticide three days before her mid-term exams. She left behind a three-minute video and two-page letter explaining her reasons: low grades and scolding by her teacher (she was encouraged not to take the exams for fear of bringing down the class average). The girl's mother said that pressure at school might have led to the suicide. However, in the video, the girl says her parents "beat me and scolded me."
A study from 2010 found that a third of all Chinese primary school children suffer mental stress from the pressure of education, both from teachers and parents. Recent years have seen many cases of young children committing suicide due to pressure to perform in school, with pesticide being the leading method.
Many discussion have since been held on Weibo, with some people also sharing their suicidal thoughts. One commenter wrote: "I never had the courage. She is more courageous than I am," a troubling sentiment as it suggests to those in psychological pain that committing suicide is the "brave" option to take.
Alipay Man
Meet Alipay. No, not the e-commerce platform, but the man.
Zhi Fubao is a shopkeeper from Yinan, Shandong province, and became an overnight celebrity after it was discovered that he not only has a name that sounds like the Chinese name for Alipay, but also uses the same characters (支付宝).
Although known as Alipay in English, the Chinese name can be translated into "Payment (zhifu) Treasure (bao)." Similarly, the shopkeeper's siblings also have "payment" in their name: brothers Zhi Fushun ("smooth payment") and Zhi Fufa ("sending out payments" or "prosperity from payments") and sister Zhi Fuhua ("spending payments").
Chinese families often use patterns that have certain meaning of luck attached when naming children. According to the names that they gave Alipay and his siblings, it seems that mom and dad hoped that they would spend much of their life giving money to others.
Robot Doctor
A robot name Xiaoyi has become the first of its kind to pass China's National Medical Licensing Examination.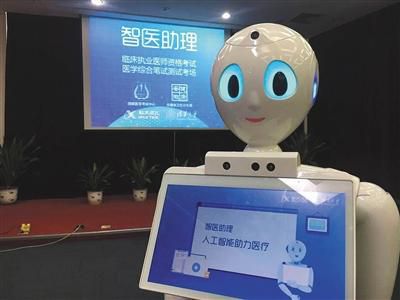 The AI scored 456 in the exam, putting it well above the national human average but at dead center when taken from the pool of AI that have also passed.
Xiaoyi was made by a partnership between Tsinghua University and iFlyTek Co. Ltd, and had studied one million medical images, 53 books, two million records, and four hundred thousand publications before sitting the test.
The team are planning to roll out Xiaoyi robots in March to aid in medical education and training, as well as diagnosis and treatment.
Cover image from Sohu
---