Alpacas at the mall, mail to China's North Pole—here's how everyone celebrates
There's a quote that no Chinese media has figured out the origin of, but repeated repeated all each year as wisdom from a "well-known Beijing performance artist": "[In China], we actually don't care what Christmas symbolizes in other countries; we like Christmas because it gives us an opportunity to connect with friends and relax."
It seems like an appropriate retort for the growing backlash against Christmas from schools and some parts of the Chinese public, as well as criticisms of the holiday's commercialization from those who celebrate it religiously. The ubiquitous "Christmas Eve apple" aside, here are some traditions that have appeared in various parts of the country as part of the Chinese-style Christmas.
Santa Run
Santa Runs are held around the world each December as ways to get into the holiday spirit and raise money for charitable causes. Chinese cities have also gotten in on the action as urban running events become popular for fitness and socializing, as well as corporate marketing. This year, thousands of racers have gathered in fluffy robe and hat Shanghai, and hundreds in Shenyang, for the third year running (the former raised money for leukemia patients, the latter had a toy drive for autistic children). A few elderly winter-swimming enthusiasts in Shenyang also hold an annual "Santa Swim."
North Pole, China
Beijicun, literally "North Pole Village," is another name for Mohe village in Heilongjiang province. It claims to be China's northernmost point, and since developing its tourism industry in 1997, the village has marketed attractions like long summer days, lots of snow, and aurora borealis. Inevitably, it's began to adopt a Christmas theme every winter with a Santa's cottage, Santa's post office, reindeer (an animal traditionally raised by the Evenk ethnic minority group), and—going with the idea of Christmas as a romantic holiday—snow-themed wedding photography and mass weddings.
Christmas alpacas
The earliest internet photos of shopping center exhibits and Christmas events featuring alpacas are from Christmas 2013 in Nanjing. Since then, malls in Henan, Zhejiang, and Beijing have followed suit. It's not quite clear why alpacas were considered Christmassy animals; Visual China referred to the original Nanjing flock by their wanghong name "grass mud horse," and said "they're very popular among netizens because they are cute" (and are a cheeky obscenity). In the Luoyang case, it described the alpacas as "rare animals" and "suited to young people's taste." Perhaps the malls just chose the animal likely to draw the biggest crowd out to shop on this commercial holiday, and copycats made it a trend.
Mail (or email) to Santa

The post office of St. Nikolaus of Saarland, Germany, is one of many destinations worldwide to which children post their letters to Santa. It has reported an uptick in the number of letters in Chinese, with over 1,000 from Taiwan last year (the most from any one place) and hundreds from the mainland and Hong Kong. The post office has now prepared form replies in Chinese. As mentioned above, the post office at China's Arctic Village in Mohe has its own Santa's workshop with souvenirs and Santa-robed staff helping visitors mail postcards. They also operate an "online Santa's post office" through which children from around the country can chat with Santa about their Christmas wishes.
Saxy Santas

There's still no explanation for this.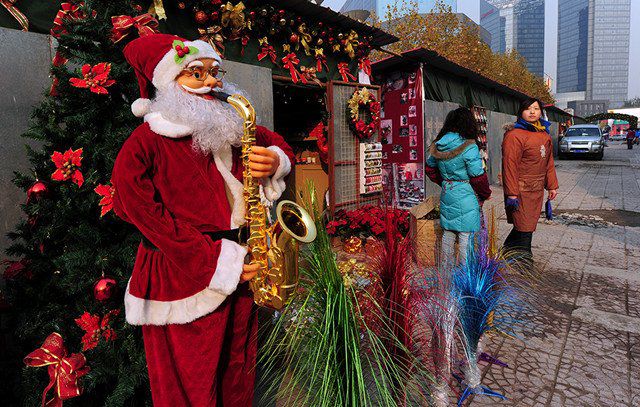 Seriously, why?
Cover image of the 2016 Shenyang Santa Run from Weibo
---