From party crashers to boyish bangs, here are this year's festival highlights
The opening of the 71st Cannes Film Festival on May 8 not only marked a celebration of some of the best new films from across the world, but also a gathering of the world's foremost directors, actors, actresses, and drama queens.
China is now as involved in the fight for media attention on the red carpet as anyone. Here's how the PRC performed:
Jia Zhangke contends for top prize
Director Jia Zhangke, known for his meditations on the nature of violence and contemporary society, is in contention for the prestigious top prize of the Palme d'Or at this year's festival, with his crime-romance Ash is Purest White (江湖儿女), starring Liao Fan, and Zhao Tao.
This is the 42nd Chinese film to have entered official selection at Cannes. According to Vanity Fair, Jia's production, which received a respectable (if not remarkable) 2.9 out of 4 from the jury on screening day, "grapples with large social shifts in such metaphorical and yet still intimate ways, peering in on individual people caught in the churn of time and growth and framing them in the defining context of their surroundings."
Compared to many Chinese celebrities (and "celebrities") who didn't even have any works in the festival program, the Ash delegation took an extremely low-key approach to the red carpet, with director Jia sporting rolled-up sleeves.
Bingbing brings the change
By contrast, Chinese actress/fashion inspiration Fan Bingbing was on hand to promote 355, a movie about international secret agents played by a diverse female cast of four other leading actresses from several different countries. This is Fan's seventh time at Cannes—she knows what she's doing.
Fan had reportedly changed dresses seven times by yesterday, which is conservative given that she wore a total of 19 outfits at last year's festival. She also represented De Beers Jewelry at the festival as their spokesperson.  For the opening ceremony, her wardrobe was a mint-green layered dress with shining diamond necklace and earrings provided by the brand. Her other sartorial contributions can be seen here.
Bring on the branding
A lot of other Chinese celebrities attended as brand spokespeople. Wang Yuan (王源), the 17-year-old TFBoy, was invited by Chopard and L'Oréal. While this is no doubt exciting news for the company, Wang's fans (old and young) were even more excited.
Months before Wang's scheduled appearance at Cannes, Weibo was flooded with messages congratulating him for being the youngest spokesman ever for jeweler Chopard. When he arrived at Cannes on May 13, thousands of his fans gathered at the airport to welcome him.
As Wang began appearing in branded marketing events, fans quickly noticed that his bangs were cut in the shape of a heart, and the topic #王源 心形刘海# (#Wang Yuan heart-shaped bangs#) has 1.3 million clicks on Weibo at the time of writing.
Fakers and non-moviemakers
Every single year, it seems, there are Chinese internet celebrities (wanghong) who manage to get into Cannes events through unclear means, and anger netizens with their attention-grabbing tactics on the red carpet. This year was no exception.
On May 5, wanghong model 赵欣MT posted her Cannes inscription, as well as an invitation letter which she claimed to be written by the president of Guerlain, mentioning him by name. Underneath, the official Weibo of Guerlain commented, in perfect official-speak: "This post contains fake information regarding our brand and has a negative effect on our reputation, and the part which involves the name of our company's senior management is also misleading. Please delete this post as soon as possible! Thank you for cooperating."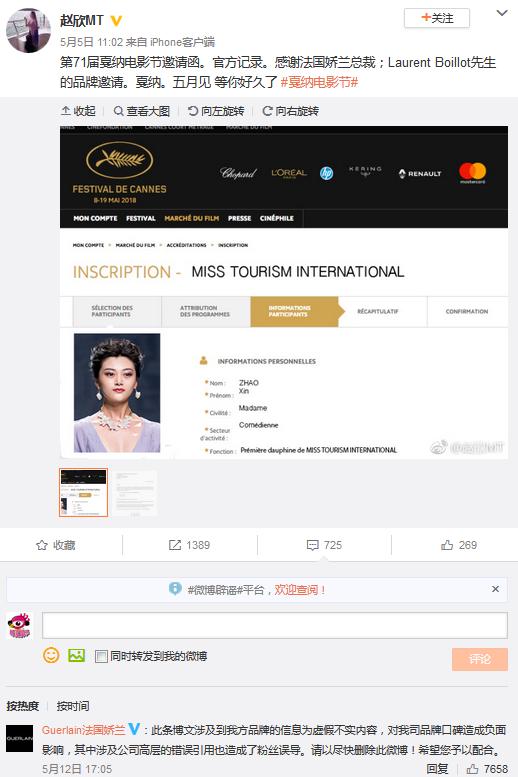 Ouch. The incident is now referred to by its witty online nickname, 官方打脸 ("official slap in the face").
There were more wanghong woes on May 9, when a web-celeb named Scarlet邢小红 took a tumble on the red carpet. From the video, we can see that she was stumbling up the stairs and, well, just fell down. But cynical netizens are accusing her of falling on purpose to get headlines. Scarlet denied this terrible accusation on her own Weibo, but mentioned, cryptically, that "everything worked out for the best."
---